Cheap Accommodations in Bangkok
Location is Key to Choosing Long-Term Rentals
By Chris Mitchell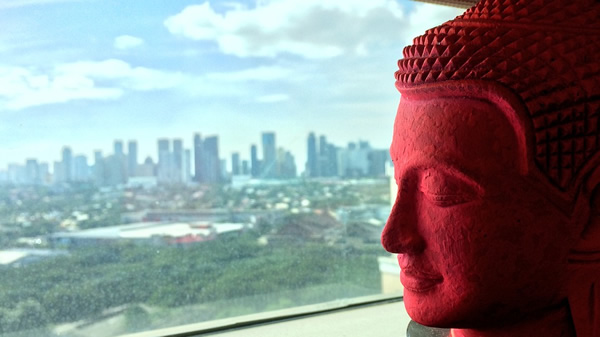 So many apartment rentals to choose from in so many location across Bangkok.
Thailand's exotic capital, Bangkok, is perpetually transforming itself. The constant collision of hypermodern and traditional make it a fascinating place to live. English teachers in Bangkok can typically command better wages than elsewhere in the country and there is a steady demand. Bangkok is also one of the major travel hubs of South East Asia — neighboring countries such as Vietnam, Cambodia, Laos, and others are now only a couple of hours away on a plethora of low-cost air carriers or by train.
Beyond the culture and travel benefits, Bangkok also provides a high comfort level for Westerners. A clean, well-furnished Western-style apartment to come home to after a hard day's teaching becomes increasingly important for those who stay in Bangkok for more than a couple of months. For those on a severe budget, it's possible to live cheaply in Bangkok if you're prepared to live in neighborhoods disconnected from the public transport system.
But for many Westerners, myself included, home comforts and convenient location are vital to enjoying their life in the city. For those prepared to pay what are still extremely reasonable rental prices by Western standards, there are many long term budget accommodation options. Be aware of the cost of living in Bangkok to best manage your budget for rentals and other essentials.
Choose Your Rental Location Very Carefully
"Location location location" is an essential mantra for Bangkok. Being near a BTS Skytrain or MRT Underground station makes a world of difference about how much more you can see of the city, simply because you have easy access to it.
There are two key areas for apartments in Bangkok: Sukhumvit and Victory Monument. Sukhumvit—one of the city's major arteries, like a Thai 5th Avenue—is home to most of Bangkok's expat communities, with the Arabs in the lower section, the British and Japanese in the middle, and the high-society Thai middle classes further up. This makes Sukhumvit a fascinating melting pot, and also quite a pricey one. But the huge range of accommodation available around this area means that you can find bargains if you're lucky. Because so much goes on along Sukhumvit, it is the ideal place to be if you can afford it.
The other main area, by Victory Monument on the other side of the city, is also well connected to the BTS Skytrain route and less touristed than some of Sukhumvit. Since it is the diplomatic quarter where many embassies and ambassadors are housed, it's also a quiet and safe area. I've lived in both areas and know them fairly well.
Apartment Hunting on a Budget
When my girlfriend and I first moved to Bangkok in early 2005 we had a budget of 20,000 baht per month for a 1-bed furnished apartment, including all bills. That's just about $650 a month. Bills include water and electric, obviously, and electricity can be a killer if you use air-conditioning a lot. Budget for 2,000 baht to 3,000 baht per month for your A/C bill. Check what the apartment charges per unit of electricity and the flat monthly rate for water and if there are any extras.
House hunting in Bangkok can be quite frustrating if you're in the 20,000 baht and below bracket. The internet is sometimes of limited use to do research because many properties simply don't bother with websites or the better internet listing sites. Those that are accessible on the web offer are either for more expensive places or have websites so badly put together or incomplete that they're difficult to understand. Real estate agents tend to focus on 30,000 baht ($970) and up as their price range.
Useful Websites
There are several useful websites however. ThaiApartment is an agency offering a number of cheap rentals. Craigslist Bangkok is a spin-off of the original Craigslist. The Bangkok Post newspaper is also an excellent source for finding cheap apartments. Finally here you can purchase an excellent guide to finding apartments in Bangkok.
The cheap staple for English teachers and other impoverished farangs in Bangkok is City Mansion, with long-term rates starting at 15,000 baht a month for a 1-bedroom.
Over on the other side of the city, House By The Pond, tucked away in a tiny soi just off Sukhumvit 22, is a real gem: A truly lovely 1-bedroom apartment in a converted period house complete with gurgling indoor fountain and general sense of tranquility. They have studios from 17,500 baht but they are often full because of the popularity area. If you can afford it, House By The Pond is well worth investigating. Their website doesn't really do it justice.
We discovered what became our home for a year almost next door to House By The Pond—Belleville, which has several studio and 1-bedroom apartments in immaculate condition. We couldn't believe our luck. Hardwood floors, fully furnished, TV, WiFi, fridge, microwave, kettle, bath and shower, kitchen (no oven), apartment cleaning every day... it offers the lot. The 1-bed apartment is pretty compact but has a good use of space and a general good feel to it. The staff is also extremely helpful, and there's wireless internet throughout the building. The price: 16,000 baht for a month, 15,000 baht if we sign a 6-month lease. Belleville doesn't have a website, but they advertise regularly in The Bangkok Post.
In conclusion, there are a lot of places to choose from in Bangkok. The trick is to plan your budget carefully and keep the complete price in mind; i.e., the cost of bills as well as the rent itself. While it costs more to be located nearer to the public transport networks, the time and effort it saves you when traveling around the city can be worth it, especially as it lets you enjoy being in Bangkok even more. After all, that's the whole point of being here.
Chris Mitchell is an experienced British journalist, web designer, and scuba diving instructor who lives in Thailand.