Sage Tea and Starlight in Wadi Rum, Jordan
Scrambling Over Rocks Appeals to Explorers of All Ages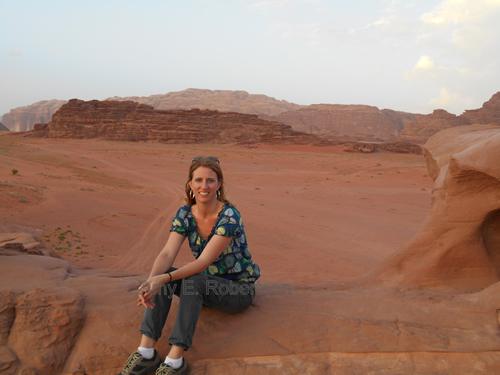 The red tint of the sand and stone in the Wadi Rum comes from iron oxide.
On a recent trip to Jordan, my family and I decided to stay in a desert camp. During the day, our guides took us exploring in a modified pick-up truck, and we scaled soft sand dunes, clambered up rock formations, threaded our way on foot through narrow stone crevices, admired Nabatean rock inscriptions, and imagined the travels of Lawrence of Arabia as we visited the spring and Nabatean house named after him.
Back at the camp, after feasting on chicken roasted in a barbecue buried in the sand, I sipped sugary sage-scented tea and chatted with my Bedouin guide about his passion for sleeping under the stars and his plans for the future. Nearby, my husband received an impromptu oud lesson from another of our hosts, while our kids happily scrambled up the edges of the red stone gorge surrounding the camp. The next day, we returned to the village of Wadi Rum by camel caravan, feeling as adventurous as T.E. Lawrence once did.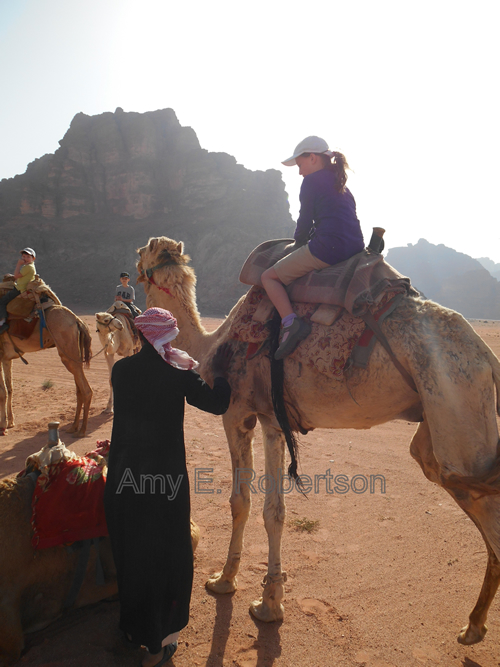 A Bedouin guide prepares a camel caravan.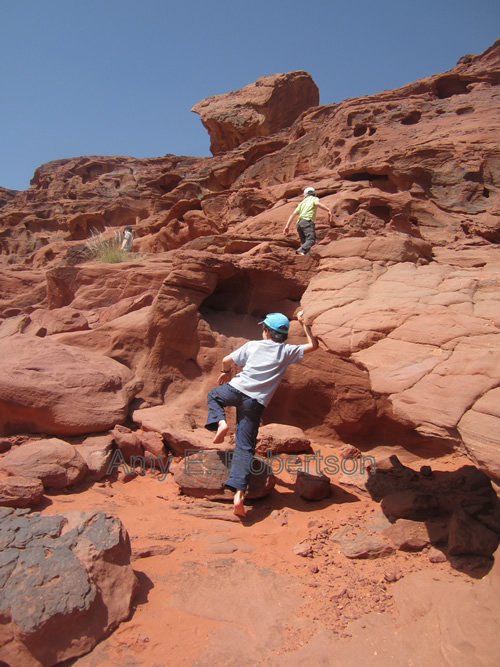 Scrambling over rocks appeals to explorers of all ages.
Visiting the ancient ruins of Petra and bobbing in the salty Dead Sea were experiences that wowed us, yet our time in the desert turned out to be the highlight of our trip to Jordan. It was an irresistible combination of stunning sightseeing with a chance to connect with the people and place. Elsewhere in Jordan the only locals with whom we ended up interacting were hotel or restaurant staff and gift shop owners. Spending a day with Bedouins gave us the opportunity to hear stories about life in the desert, developments in the nearby village, and what it was like to grow up in that spectacular expanse of nature.
There are several Bedouin camps hosting tourists in and around Jordan's Wadi Rum desert. These lodgings immerse travelers in local culture at the same time that they help preserve it, and are another example of what I call localized accommodations.
Localized accommodations:
are locally-owned and managed;
offer an authentic exchange between traveler and host community; and
help preserve cultural heritage.
Offering a more intimate experience than most hotels, yet more privacy than a homestay, localized accommodations offer visitors a unique place to stay, from a cabin to a cave, an apartment to a palace, or in the case of Jordan's Wadi Rum desert, a tent. For the Bedouins, desert camps enable them to tap into Jordan's lucrative tourism industry, helping sustain and celebrate their lifestyle. At the same time, the camps allow tourists to step outside of "the industry" and into someone else's shoes, if only for a night.
* * *
There are numerous desert camps in Jordan's Wadi Rum, as well as near Diseh. We stayed at Bedouin Directions (www.wadirumjeeptours.com) and were pleased with the quality of our guides, who were all pleasant and spoke competent English. We also appreciated Bedouin Direction's flexibility in accommodating our schedule when it changed last minute. While there isn't a centralized listing for Jordanian desert camps, any guidebook or internet search will provide heaps. Check reviews carefully to find one that fits your needs.
Other Ways to Connect in Jordan
Taybet Zaman Hotel and Resort: A twenty-minute drive from the Nabatean ruins of Petra is Taybet Zaman, a village that has been transformed into a hotel (think Italy's alberghi diffusi), complete with swimming pool and Turkish bath.
On Twitter check out the Jordan Tourism Board (@VisitJordan) and Noor Al Hussein (@QueenNoor—a far more interesting Twitter stream than the King's).
For many more activities see the Jordan Tourism Board website.
Guidebook — I used the Lonely Planet guide for Jordan because it was the only guide to Jordan available in the bookstores of Beirut.
Amy E. Robertson is the author of Volunteer Vacations in Latin America (2013, Moon Handbooks). Her writing has been published on NPR, Vice MUNCHIES, Budget Travel, Delta Sky, National Geographic Traveler, Wall Street Journal, Christian Science Monitor and Travel + Leisure, among others. Amy has lived in six countries and traveled in more than 60. Her volunteer experiences include building houses in Washington State and Honduras, monitoring presidential elections in Ecuador, working with youth on social documentaries in Bolivia, and serving lunch at soup kitchens in Seattle and Beirut. She has a background in international development and nonprofit management and has worked in both the private and nonprofit sectors.

You may see Amy's many articles for us, her numerous books, and her expanded bio page here.