A Sacred Festival in Sicily
Sicilian Sagre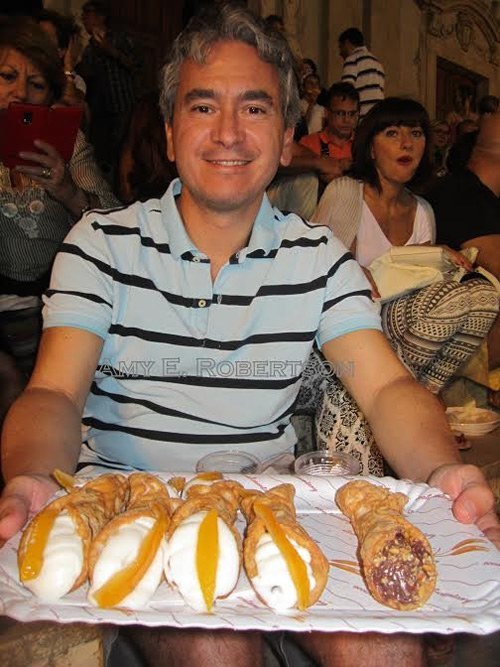 Luca offers cannoli during a festival in Gesso, Sicily.
My Sicilian husband, Luca, is scandalized that I eat cannoli during our summer visits to his native land. Flaky cylinders of crust filled with creamy sweetened ricotta, this Sicilian specialty is truly more delicious there than anywhere else I've ever tried (and I try them in every Italian city and Italian-American neighborhood I visit). But they are rich, heavy, and definitively not a summer food, according to Luca. And in Sicily, it is sacrilege not to follow seasonality in food.
Summers are for cold and creamy gelato or refreshing flavored-ice granite, Luca insists. But all of my in-laws (and there is an army of them) know of my predilection for a good cannolo, so my husband's aunt was thrilled to inform me that in the village of Gesso, not far from where we stay, there would be a Sagra del Cannolo during our visit this August. (Apparently the people of Gesso were favoring the food's market appeal over its unseasonality. I didn't mind.) Auntie and I quickly hatched a plan to insist on this as a family outing.
A sagra in Italy is a community festival held in the main piazza and nearby streets of a town, dedicated to a local food specialty (or sometimes to a locally venerated saint). There is some form of entertainment, and food for sale at very reasonable prices. Sagra (plural: sagre) comes from the Latin word sacrum, meaning sacred, which tells you how highly Italians hold their local food specialties in esteem. In Sicily in the summer, sagre are held in the evening, when temperatures have dropped and it is bearable to gather in a piazza rather than on the beach.
The hilltop town of Gesso was a 45-minute drive on winding mountain roads from the hillside village near Messina where we spend our vacations. A medieval village with a population of 800 isn't equipped for festival parking, so we parked well outside of town along the narrow curvy road and proceeded on foot. Like children after the Pied Piper, we followed the sound of lively folk music through the narrow cobblestone streets until they opened up onto a bustling square. Luca took a place in the food line while the rest of our family pack found a spot to sit on the stairs of the town church, which formed a grandstand of sorts to watch the performances in the square.
A procession of three Sicilian horse-drawn carts, resplendent with detailed painting and driven by swarthy men wearing white shirts, red neckerchiefs, and black coppola hats, paraded through the piazza. A girl who didn't look more than 10 years old sang tunes in incomprehensible Sicilian, accompanied by men on guitar and accordion. The town had organized a set menu for their food, which included a cheese and tomato panino, a glass of red wine, one of their famed cannoli, and second cup of wine (this time sweet golden Zibibbo), all for just five euros.
Folk musicians and folk dance during the festival.
As we munched, a traditional dance group performed in the square, sashaying to folk music with tambourines. The sandwich was nothing special, but the cannolo… Crunchy, creamy, fresh, and sweet. It was glorious.
It was a small event, a community festival in a hilltop village, but I realized that it was probably the best way to visit that tiny town. All the charm and authenticity that tourists ever look for, without any other tourists in sight. The only language besides Italian that I heard was Sicilian. Villages throughout Europe (and in many places around the globe) can be quiet and closed to outsiders when you travel through them on an ordinary day. Visit them on festival day, however, and you have the chance to see its heart as it beats.
I was hooked. I insisted that we next attend the Feste Aragonese (Aragon Festival) in Montalbano Elicona, another village not far from Messina that was named Borgo dei Borghi (Village of Villages) for 2015. (Borgo dei Borghi is a national competition to identify the most beautiful towns and villages of Italy - Sicily is two for two, with the town of Gangi winning the competition in its launch year of 2014.) After watching a reenactment of the arrival of King Frederick of Aragon to Montalbano in the early 14th century, we wandered the medieval streets of the village center where period-dressed people demonstrated habits of the time, from archery and sword fighting to stockades and spiced wine.
| | |
| --- | --- |
| | |
| The reenactment of the arrival of King Frederick II. | A woman in a medieval peasant dress explains the history of the chapel. |
A few days later Luca and I headed to the village of Savoca for an arts festival. At my request we'd made a pilgrimage to the town some 15 years earlier: its biggest claim to fame being that it was the location for the scene from The Godfather when Michael Corleone asks for Apollonia's hand in marriage. During this visit we discovered that there is so much more to see than Bar Vitelli of Godfather fame. Climbing up and down the warren of streets of the hilltop village, we found something new around each corner: an artist exhibiting paintings, a woman selling homemade crafts, a jazz trio, a photography exhibit, a lone guitarist, a winery offering tastings, an author selling her books. The churches and museums were open until midnight, and a town that can be dead in the middle of a summer day (as it was on our previous visit) blazed with life and art and music.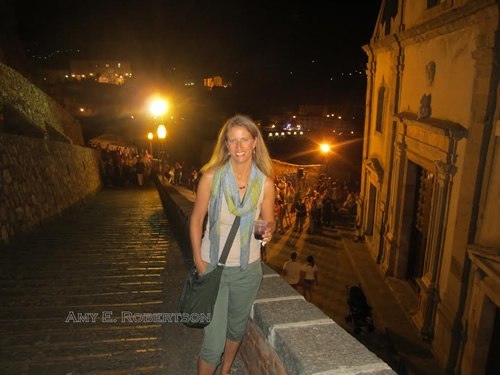 The author in Savoca.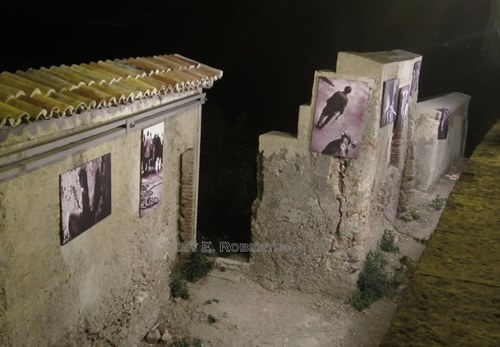 A photography exhibit adorns the ruins of an old wall.
Small-town festivals are designed by and for the local communities, and can be hard to track down for itinerant visitors. Their homegrown appeal can also have its downside: performances and food can be hit or miss, and locals might have a different idea of what they want to share than what you had hoped to experience. (In addition to folklore music and dance, in Gesso we were also treated to a performance by a local belly-dancing group. Not exactly what we'd traveled from our current home in the Middle East to see.)
But overall, the festivals - and towns - were fantastic. In many of the places I've traveled to — Italy, Lebanon, Spain, South America — I've been in villages that are quaint but eerily quiet. You wander alone and see more closed doors than sights, as they aren't tourist destinations. The festivals enabled us to experience villages that were off the beaten path at a time that doors were thrown open and town squares brimmed with life. And at the small-town festivals, I found myself rubbing shoulders with others that came from neighboring villages to enjoy the spectacle, rather than crowds of fellow foreigners. It wasn't always easy to find festival details or directions, but every effort was well worth it. I knew it the moment I tasted that celebrated cannolo.
How to Find Community Events in Sicily
Online
In Sicily I was able to track down limited information online for community events, and only in Italian. If traveling to Italy or Sicily, two online resources for sagre and other similar events are:
www.siciliainfesta.com – Fairly complete guide to events in Sicily year round, searchable by province.
www.giraitalia.it – This site includes events across Italy, searchable by region and month. Dates don't tend to vary much from year to year.
Around town
The best source of information was the local paper, but finding info required a daily scouring. Sometimes we saw signs around Messina announcing events in the surrounding community. If you don't read the local language, ask at your hotel for help.
Amy E. Robertson is the author of Volunteer Vacations in Latin America (2013, Moon Handbooks). Her writing has been published on NPR, Vice MUNCHIES, Budget Travel, Delta Sky, National Geographic Traveler, Wall Street Journal, Christian Science Monitor and Travel + Leisure, among others. Amy has lived in six countries and traveled in more than 60. Her volunteer experiences include building houses in Washington State and Honduras, monitoring presidential elections in Ecuador, working with youth on social documentaries in Bolivia, and serving lunch at soup kitchens in Seattle and Beirut. She has a background in international development and nonprofit management and has worked in both the private and nonprofit sectors.

You may see Amy's many articles for us, her numerous books, and her expanded bio page here.