Culinary Tours and Cooking Classes in Kuala Lumpur
Eating Like a Local
Article and photos by Lies Ouwerkerk
Senior Contributing Editor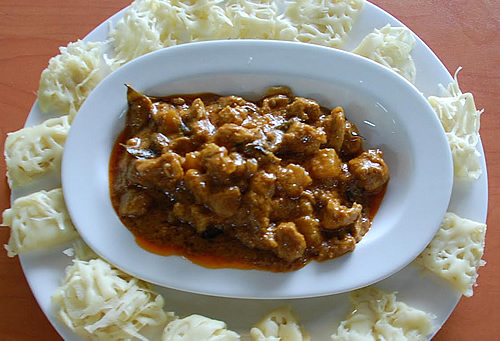 Kari Ayam with Roti Jala as made in the home cooking class in Kuala Lumpur.
Kuala Lumpur is a city of immigrants, with a large variety of cultures that have all left their mark in one way or another. When still a pioneer town in the 19th century, it was mainly inhabited by Malay settlers, Chinese traders and mine coolies, and Indian rail workers. In later years, foreign workers from Thailand, Bangladesh, Sri Lanka, Nepal, Vietnam, Indonesia, the Philippines, and the Middle East also settled in the now booming capital of Malaysia. What better way to experience such a cultural mosaic than eating one's way through the abundance of culinary delights in Kuala Lumpur?
Petaling Street Food Walk
I meet Pauline, guide and owner of "Simply Enak Food Experience," and another participant at the entrance of Kuala Lumpur's Chinatown, Petaling Street.
"Simply Enak" organizes food on foot tours every day of the week, and on this particular day, the "Petaling Street Heritage Food Walk" is offered, which starts at Kedai Kopi Lai Foong, one of the last old Chinese noodle kopitiams (coffee shops) in the city.
Guide and owner of "Simply Enak," examining dried shrimps and squid at a food stall.
Anticipating that my stomach will be heavily taxed this morning, I have skipped the sumptuous Malay breakfast buffet of noodle soup, rotis, and nasi lemak in my hotel, and have arrived with a totally empty stomach. So while Pauline provides us with some interesting details about the history of Kuala Lumpur, I quickly curb my appetite with a cup of cham (a mix of coffee and tea), and a piece of toast with kaya, a sweet and creamy coconut spread made from a base of coconut milk, eggs, and sugar.
Soon it's time for more serious food sampling at the noodles counter. I order a portion of the popular and delicious Penang fried Kuey Teow, made from flat rice cake strips, eggs, onions, prawns, and spices stir-fried over high heat. In the early days, this dish was a cheap source of energy for laborers because of its high pork fat content, but nowadays such abundance of fat is substituted with extra soy sauce.
In order to walk off this meal before we tackle another, Pauline takes us on a tour along the shops and stalls in the narrow alleyways of buzzing Petaling Street, an area mainly populated by Cantonese and Hakka Chinese tin workers in the 19th century. Petaling Street is now famous for its tiny shops where you can bargain for pirated clothes, imitation designer watches and handbags, bootleg DVD's, and other counterfeit items. In the midst of all this hustle and bustle, there are small street food stalls everywhere, with enticing food aromas wafting onto the street beckoning us to sample delicacies like roast duck, Wanton noodles, sweetened smoked meat, deep fried sweet potato balls, and young lotus flower seeds.
Street food on Petaling Street.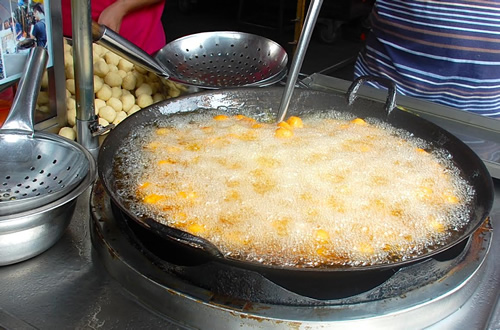 Wok with sweet potato balls.
It's time to dig in again! In the roofed and pedestrianized Madras Street, we sit down on low plastic stools at the counter of a family-run business, handed down from generation to generation, for a fish snack wrapped in eggplant and okra. We also order their famous Penang Asam Laksa, a very appetizing sweet and sour fish paste soup with rice noodles, tamarind, pineapple, and shredded cucumber originating from the Peranakan culture (a mix of Malay and Chinese).
And some lanes further away, at "Kafe Happy Meal" we top it off with a small selection of mouthwatering durian (the Asian "King of Fruits", well-known for its penetrating odor, and therefore banned in several public places!) pastries.
Throughout the walk and food sampling, Pauline has lots of stories to tell about life in Petaling Street, points to foods and produce we have never seen before, and introduces us with a quip to smiling shopkeepers and food hawkers.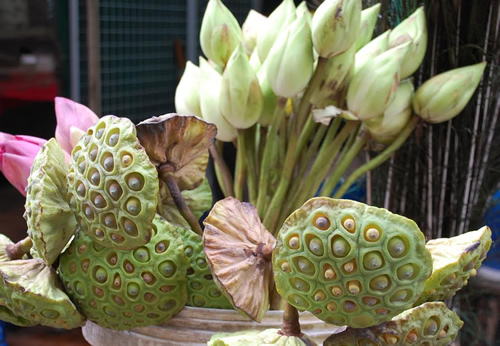 Lotus flower, used in stir-fries, pastries, and for medicinal purposes.
And what are her personal favorites for a meal around town? She has many, including "Purple Cane Restaurant" (where tea is used in creative, healthy dishes), "Le Ann Organic Café" (for the best vegetarian Nasi Lemak: rice cooked in coconut milk and screw pine leaf), and "Songket" for excellent rendang (meat slowly cooked in coconut milk and spices, until all liquid is gone). "Restoran Tuck Cheong" on Jalan Kancil, open from 6 a.m. onwards, is her preferred joint on days she rises early and craves for the famous dim sum, bite-sized food served in small steamer baskets and carted around the restaurant for customers to order while seated at their tables.
Before Pauline drops us off at the closest metro, we finish the tour at "Koong Who Tong," a teahouse selling Chinese herbal teas and jellies, well-known for their medicinal properties such as fighting flu and colds, reducing body heat, and improving blood circulation. To ward off a looming throat infection, Pauline orders a strong, dark, and bitter concoction for me, definitely in need of the honey with which the drink is served. Rumor has it, that Koong Who Tongs's teas and jellies are boiled for hours on end, and contain at least 20 different Chinese herbs. But the mysterious recipe has so far remained a secret, only known to insiders of the famous chain.
As for other walking tours in the city, "Simply Enak" also offers
"Flavours of Malaysia": walking and sampling Kuala Lumpur's vast array of ethnic street food dishes in off-the-beaten-track places
"Pasar Tani": a trip to the Saturday Farmers Market
"Dine with a local": experiencing food in a Kuala Lumpur local's home kitchen.
Although a minimum of two people is required for all their tours, Simply Enak can arrange tailor-made itineraries and individual tours upon request.
Home Cooking Classes in Kuala Lumpur
Sampling ethnic food is very enjoyable, but cooking it yourself adds yet another dimension to the experience. So I decided to sign up for a cooking class at "LaZat," offered in a typically Malaysian house in the lush Penchala hills just outside the capital. Each day of the week there are different dishes on their menu, reflecting the various cultural and culinary traditions of Malaysia, from Malay-vegetarian, Malaysian-Indian, Malaysian-Chinese, Thai, Chinese, to authentic Malay and Malay-Nyonya cuisine. I choose the latter, with an added pick-up from my hotel.
The first part of the course takes place in a very clean wet food market (fresh meat, fish, vegetables and fruits) on our way to the school, where our capable and passionate teacher Sue takes us along the various food counters to show, explain, and buy most of the ingredients with which we will work later that day.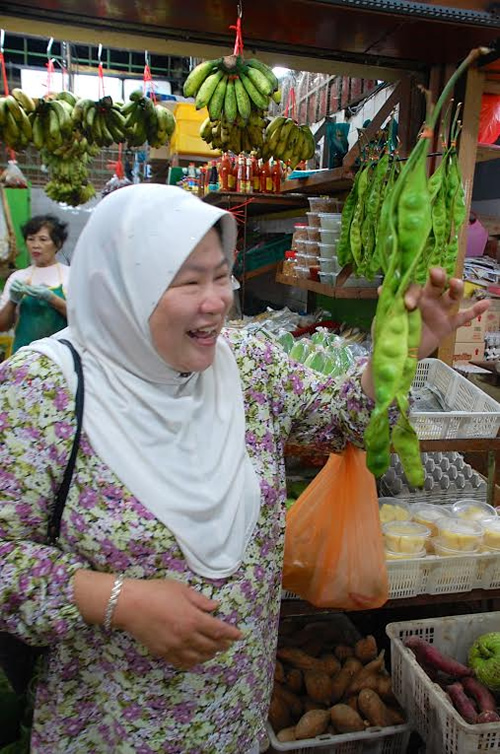 LaZat's teacher Sue with "stinky beans" in wet food market.
Then it is up to the modern and well-equipped kitchen of "LaZat," overlooking the jungle all around us, where we are assigned to individual cooking stations. This is a hands-on course, with two teachers permanently at our side to instruct and watch us closely!
After a delightful welcome tea prepared with lemon grass, palm sugar, pandan (screw pine) leaves and ginger, we put on a "LaZat" apron, and start preparing the appetizer of our 3-course lunch: Otak Otak, fish mixed with spice paste, kaffir lime leaf and coconut milk, steamed in a slightly softened banana leaf, and held together by tooth picks.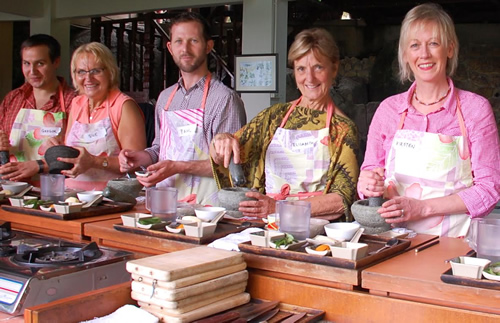 Ready to cook!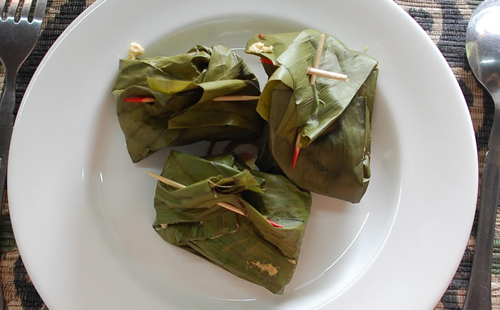 Otak Otak
For the main course, we make Kari Ayam, chicken curry, accompanied by Roti Jala, lacy pancakes. The batter for the latter is poured into a mould that is moved in concentric circles over a heated griddle pan, and once cooked, folded into smaller parcels. Coconut milk, one of the most popular ingredients for all sorts of South East Asia's food, is also used for both the pancake batter and the chicken sauce to add richness and a slightly sweet taste.
Our dessert Onde Onde consists of small balls of dough, made of glutinous rice flour and pandan juice, filled with palm sugar, and cooked in boiling water until they come floating to the surface. Then they are coated with grated coconut and served immediately. Since this dessert is pretty filling, we take most of the balls with us in takeout bags, which will serve me greatly during the long traveling days to follow!
All in all, the experience is great fun and absolutely rewarding. The staff is organized, professional, helpful, and entertaining, the participants from all parts of the globe excellent company, and our self-made Nyonya lunch beyond expectation. Gregarious "Lazat" owner Ana Abdullah makes the experience feel even more welcoming by showing us around her lovely Malaysian home afterwards. And at our warm farewells, I am finally able to snatch the names of her two favorite dining spots: "Bijan" restaurant on Jalan Ceylon, and "Enak" in the Starhill gallery on Jalan Bukit Bintang.
Lies Ouwerkerk is originally from Amsterdam, The Netherlands, and currently lives in Montreal, Canada. Previously a columnist for The Sherbrooke Record, she is presently a freelance writer and photographer for various travel magazines.
Related Topics
Culinary Travel