Rent an Apartment in Nice and Live Like a Local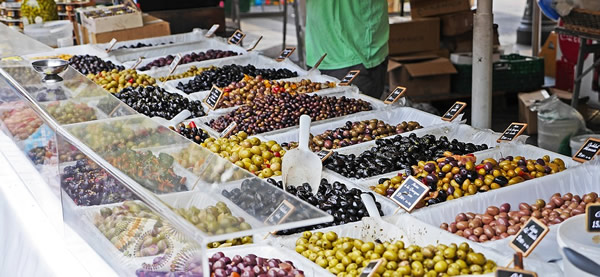 A variety of delicious olives at a Nice flower and produce market.
Nice has an endless supply of hotels, but to truly be Niçois consider apartment vacation rentals to take in the city and culture slow like a local. You will live in a residential neighborhood, have your own kitchen to prepare meals, and pay less for a bigger room. If you go during the off-season—which we recommend—you likely will pay even less, and the good weather extends well into October and begins in April. In a rental, you won't get the hand-holding a hotel staff provides, but you can turn the Nice Tourist Office into your personal concierge. The tourism website offers several vacation rentals in the city, and can easily find them in many of the home rental websites for France or Worldwide. We recommend trying to find an apartment in the Old Town, as you will have almost everything the beautiful seaside city, with its Italian feel (once called Nizza), has to offer nearby.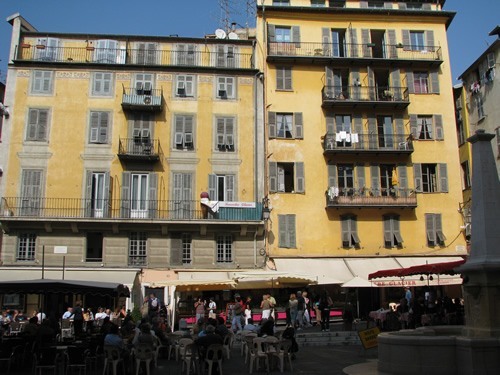 There are many apartments to rent in Nice, especially during the off-season when prices are lower. From an apartment rental, you can shop for food locally and cook the same great meals that would cost you twice as much, or more, on the street. If you are a good cook, you may find you like to eat at home at times due to the great ingredients. Photo © Transitions Abroad.
To eat like a local, take side streets to find neighborhood cafés and bistros. Better yet, visit the Nice Flower and Produce Market at the Cours Saleya to find the freshest and highest quality ingredients for preparing your own meals. Many locals visit bakeries for a great variety of very tasty and filling €5-€8 sandwiches, including the famous Pan Bagnat (essentially a Salade Nicoise on a roll). After lunch, spend a couple of leisurely, unrushed hours at a centrally-located café, sip great coffee in the Italian-influenced city and watch the world go by. For a big meal out, be sure to look on the chalkboards outside restaurants for that day's formule or prix fixe menu. Have this big meal of some of the regional specialties at lunchtime and you will pay less for essentially the same food served at dinner.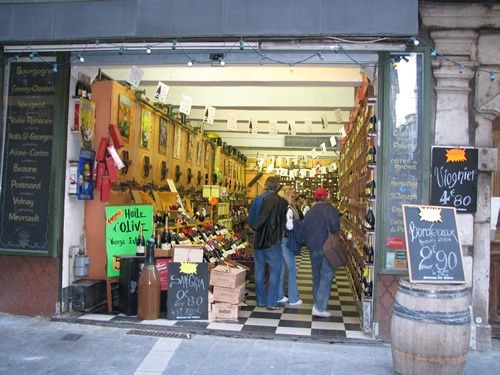 You can buy everything from local olive oil to good cheap wine in the Old Town of Nice. Brie de Melun stuffed with black truffle can even be found, as can great prosciutto or pasta in the Italian part of town. Photo © Transitions Abroad.
Taxis are notoriously overpriced. An affordable alternative is Nice's local bus system. A ticket for a single ride costs a measly €3, and there are several multi-ride options. Ask for the Sunbus map and the route guide at the tourist office, or visit the main Sunbus station at Place Massena. Buy your own ticket for nearby destinations like Cannes and Monte Carlo.
To find good stuff to take home, visit a local grocer for inexpensive cooking items that are impossible to find back home. (Just keep in mind that it is illegal to bring back unsealed fresh food items such as produce or meats.) For good values in clothing and food visit the Galleries Lafayette department store. Hit the Monday flea market at the Cours Saleya to find antiques or old posters. The summertime arts and crafts market there is open Tuesdays through Saturdays. Used and rare books, art, and old postcards are sold at monthly markets in front of the Palais de Justice.
You can get away from the crowds on side-streets and find some good small cafes and restaurants. Photo © Transitions Abroad.
Old Nice is a popular night spot and also a great spot to buy delicious provisions to make your own meals. The port area has a few hip bars that few tourists happen upon. Even near the tourist haven pedestrian zone some great spots can be found. There is no lack of lack of bars in Nice, though we generally recommend staying away from tourist or ex-pat-oriented bars to get a real feel for the place. Opt for carafes of wine to save money.
Finally, try to time your visit with one of the incredible array of festivals hosted in Nice and nearby towns. And don't forget some of the truly great museums to be explored in one of the most spectacular regions in France, known for the unique light and colors that have attracted so many modern artists.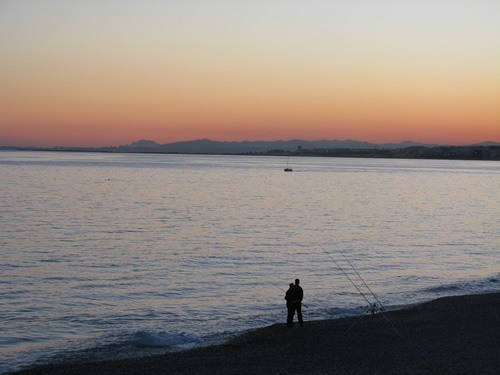 View a typical sunset seen from the famous 4-mile-long Promenade des Anglais after dinner. Photo © Transitions Abroad.