Guide to Cooking Vacations in France
Enjoy Schools Where Food is Studied and Enjoyed as an Art Form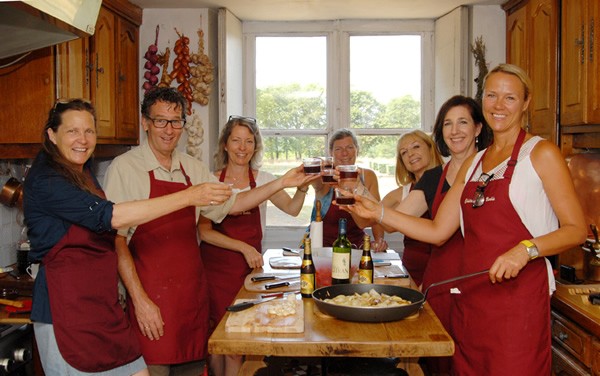 A cooking class enjoying the fruits of their labor at a castle in France.
Photo courtesy of La Vie Du Château.
Few places on earth serve as a better place to learn to cook than France. The nation has elevated cooking and eating to an art form which is practiced as a ritual on a daily basis. Immersing yourself in French culture through a cooking or wine class is a great way to travel, learn, and enjoy the some of the many pleasures offered by a culture rightfully proud of its long culinary heritage.
There are also various ways to learn to cook and enjoy wine, from short classes to tours to intensive weeklong immersion cooking schools.
Things to Consider Before Booking a Cooking Vacation
There are a few things to keep in mind and investigate before booking a cooking vacation in France. Be sure to ask yourself:
Do you want to take a couple classes but spend the rest of your time sightseeing, or do you want to spend your entire vacation immersed in cooking? Would you prefer an organized French cooking tour to see and experience various tastes and sights?
What is your budget?
Do you prefer a class taught by someone famous (such as a Michelin-starred chef or French cookbook author)?
Do you prefer a city or rural setting?
What is your current cooking skill level?
Do you have a particular region of France you'd like to see during your cooking vacation?
Do you prefer to learn popular French classics or to become well-versed on one region's cuisine?
Do you prefer to learn cooking, pastry making, baking, chocolate making, or wine tasting/selection skills?
Is the school you are interested in attending reputable?
Do you want to learn more about the French language and culture during your cooking vacation?
This might seem like a lot of questions, but there are actually many variations and even subtle nuances to the cooking vacation options in France. Cooking vacations are, in fact, one major form of tourism in France, and that means the selection can be so vast as to be overwhelming.
What Are the Types of French Cooking Vacations?
It is crucial to consider your skill and interest level when booking a cooking vacation. You can do everything from a quick 1-hour course to sessions that last several days, teach you chef-level techniques, and immerse you in the French language.
Particularly in big cities like Paris or Nice, it is not difficult to find quick, short courses on everything from cooking to baking to pastries. There are also often organized tours that focus on food if your real passion is to taste it. Or you may choose to get a behind the scenes in order to look at the culinary process, rather than making the food yourself.
There are also more intensive courses that last 2-3 days, or others offering cooking instruction yet do not have overnight accommodations. You can often find those courses in mid-sized to larger cities, and this can be a more affordable way to take a cooking vacation since you can save money on your lodging.
The more intensive level of cooking vacation is the longer immersion style cooking instruction package. You typically stay on-site and sometimes use ingredients grown right on the property. Sometimes, language immersion is part of the learning experience. You may also find such courses in France's regions and even rural settings. Sometimes they include food-related outings to tour wineries and/or shopping at the local produce market. Such cooking classes can be quite expensive, but can also provide an amazing experience for a serious foodie.
Where to Attend a French Cooking School?
The location of your cooking vacation can have a tremendous impact on your experience, and it is important to determine which destination makes the most sense for you.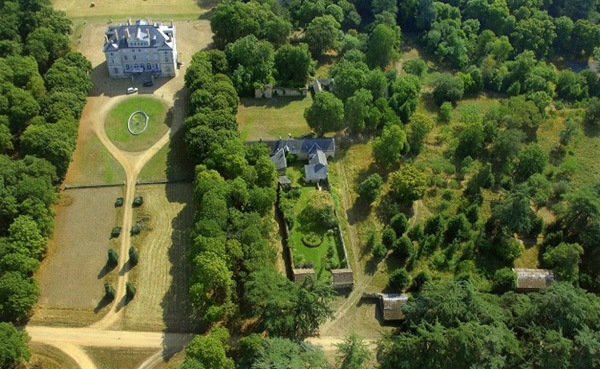 Some cooking schools and vacations in France take place in lovely setttings, such as the private Château de La Barbée in the Loire.
Photo courtesy of La Vie Du Château.
There is no question that the choices for cooking vacations in Paris are downright dizzying. You can find classes for almost any interest, budget or taste. In fact, Paris is home to what is one of the most famous cooking schools in the world, Le Cordon Bleu. The school is not just for aspiring chefs anymore, but also features programs for amateurs such as demonstrations, children's cooking classes, cooking and pastry workshops, and tours of Paris markets.
If you are a locavore who is interested in regional and seasonal cuisine, you can certainly enjoy a cooking school in an urban setting, but you might prefer a rural one for a more local, authentic vacation. Consider beforehand which regional cuisines you prefer, as there are dramatic differences from even one neighboring region to the next. Some good regions for cooking experiences include Burgundy, Bordeaux, Alsace, Provence, and the Languedoc.
Why Take a Cooking Vacation in France?
Anyone can go on vacation. Not everyone can return home with a unique sense of the country they visited, a better understanding of its cuisine, and the ability to recreate memories of the visit in their own kitchen. Whether you take one class or you immerse yourself in French language and culture (which are both closely tied to food), you will walk away with a strong sense of the French people and tastes.
For More Information on Cooking Schools in France
There are dozens of cooking schools in France, but here is one short list:
More resources on cooking schools in France:
Related Topics
Culinary Travel