Adventure Travel: Go Solo or in a Small Group?
Article and photos by Lies Ouwerkerk
Senior Contributing Editor
10/10/2015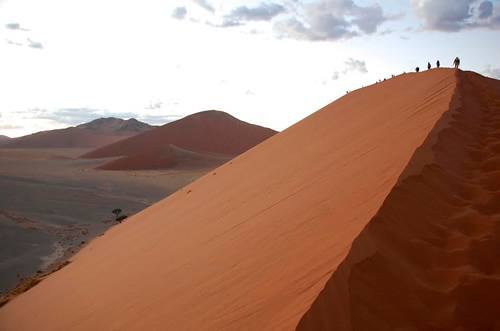 A group adventure climbing a sand dune in Namibia.
What motivates some adventure travelers to go it alone, and others to join small group tours?
The former often claim that you cannot really call it an adventure if you don't immerse yourself solo in foreign lands. They also view group travel as usually stifling their independence and potential for spontaneity. Money can also be a factor: traveling with a group is generally more expensive, because guides, office workers, and subcontractors need to be paid as well.
Meeting a villager in Madagascar.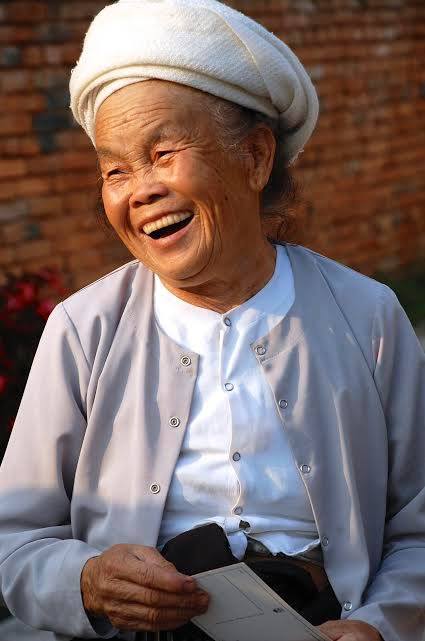 Meeting a local woman in Yunnan, China.
The proponents of organized small group tours prefer to leave the sometimes-complicated logistics of adventure travel in the hands of a tour leader, whether it is because they hope to enjoy a stress-free trip, because they lack the time, energy, or knowhow to do it on their own, or because they believe that traveling alone is boring, lonely, or dangerous.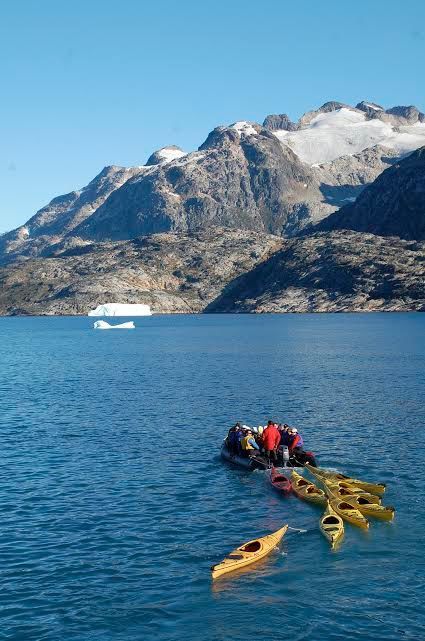 Kayaking in the Arctic is perhaps best done in a group.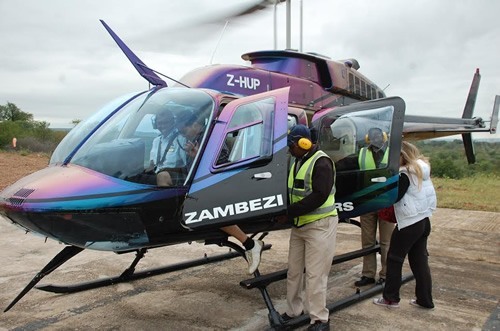 Joining a helicopter ride over the Victoria Falls, Zimbabwe.
Are You an Introvert or an Extrovert?
Whether you are an introvert or an extrovert may also play a role in the decision to travel solo or in a group. Extroverted people feel often more comfortable in a group setting, see it as an opportunity to meet new friends and have fun, and gladly share their thoughts and experiences with others.
Introverted people tend to talk less and observe more, and need more alone time to process their impressions, thoughts, and experiences. Introverts find it usually a chore to be "on" most hours of the day and to adapt to the dynamics and schedule of a relatively unknown group of people for an extended period.
Choosing Between Traveling Solo or in a Group
As for myself, I alternate between both modes of travel. Or I may opt for a third possibility: solo, but in the company of a reliable local guide/driver, who can assure more safety, provide plenty of inside information and speak the lingo of a specific area. In that way, I have shared and learned a lot about nomads in Mongolia and Tajikistan. I was introduced to remote tribes in Ethiopia, Tanzania, Mali, and India. But such travel can come with a hefty price, especially when it involves the rental of a 4x4.
During my most recent journey through various African countries, I traveled solo through South Africa by public transport and via home stays. I joined small groups for both a cycling tour and a camping road trip through Namibia, Botswana, and Zimbabwe. And I headed solo for Madagascar, where I hired a local guide/driver for a 10-day tour along unknown tribes in remote corners of the island. So what made me choose these different formats, and which one seemed to work best?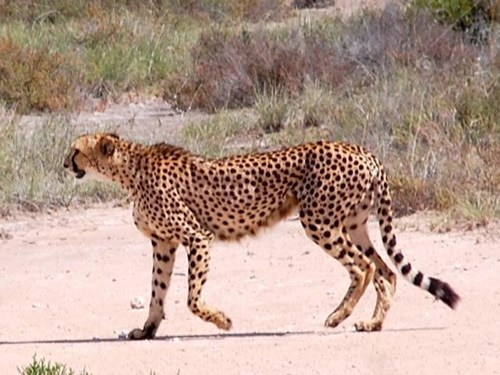 Spotting cheetah on a group tour in Botswana might have been harder traveling solo.
Whether I travel completely solo, with a local guide, or in a small group depends primarily on the kind of adventure in which I am going to engage. Am I going to explore unknown cultures and learn about different customs and ways of life? Will I participate in activities such as white water rafting, trekking through the outback, or more extreme sports? Or is the main goal of my trip to come eye to eye with world's natural and man-made wonders such as the Rain Forest, Machu Picchu, or the pyramids in Northern Sudan? Or all of the above?
When I want to immerse myself fully in a foreign culture (i.e. meet nomads and tribes, learn a foreign language or other particular skill, or live like a local to get the feel of a new place), I definitely go it alone, and if that is not feasible, I research and ask around for a reliable local driver/guide.
Experience has taught me that when I travel in small groups, I often end up conversing more with fellow travelers than with the locals themselves, and that I inadvertently become more wrapped up in-group dynamics rather than in local customs.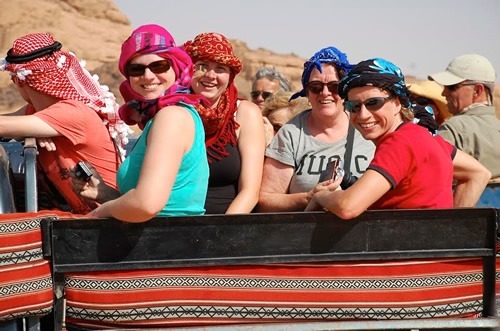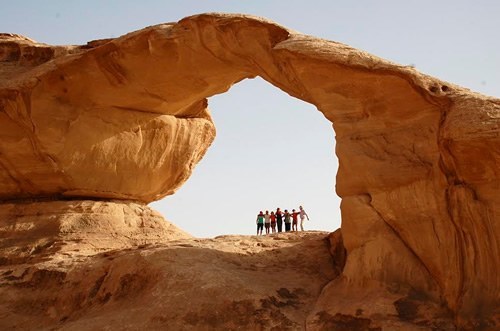 Visting Wadi Rum in Jordan on a group tour, as well as hiking, involved plenty of enjoyable interaction with fellow travelers.
When I travel solo, I am like a sponge: I soak up the ambiance, strike up conversations with locals, walk for hours on end, observe a scene from a particular vantage point, and try to blend in as much as I can. And that paves the way for experiencing the most unexpected, humbling, and memorable situations and encounters.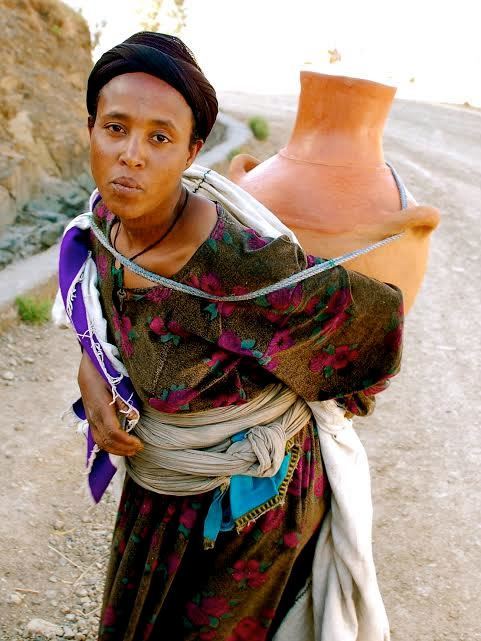 A chance solo encounter on a mountain path in Ethiopia.
The same could be said for immersing myself in nature. Nothing can be more fascinating than being engulfed in the silence of the Arctic, or lie quietly under the starry skies of the Sahara; witnessing the snow-capped mountain ranges and glaciers of Patagonia, the Himalayas, or Kyrgyzstan; or watching rare animal species in the African bush going about their daily life. Who needs banter from fellow travelers during those unforgettable moments? Or a tour leader who reminds you of the next destination on the program, while you would desperately like to linger a little bit longer?
But here's the catch: How do you get to those faraway places? Where do you spend the night in the middle of nowhere? Who will be there to "save" you when you break an ankle or loose your important documents, just to name a few of the potential misfortunes you may encounter on a trip?
When Group Travel is Preferred
So let's be realistic. Although my preference for solo travel is obvious, going it alone is not always viable. In certain countries, it is simply too dangerous for a single woman to travel alone, or, at best, it is heavily frowned upon. In other countries, not speaking local tongues may get you into serious trouble, for instance at police check points or border crossings.
Moreover, certain regions are highly inhospitable, barren, or vast, and may lack any infrastructure. In those cases, solid means of transportation, an experienced driver/captain knowledgeable about the terrain in question (i.e. shifting sands, oases, currents, wild animals), and enough food, liquids, and gasoline, are then absolutely essential. And when hotels or home stays are non-existent and camping in the wild is the only option for the night, safety in numbers might sometimes be the wisest choice.
So for all these reasons, I may decide to join a small adventure group occasionally. But I have to admit that for me—a sociable introvert rather than a hard-core extravert—it does remain a trade-off when it comes to road trips.
I appreciate the relative peace of mind and low stress that a guided group can provide, the fact that lodgings and transportation are already handled, the often excellent know-how of the organizers, guides, and drivers, the meals prepared in the outback by a local cook, the well-stocked first aid kit, and the company of sometimes highly interesting fellow-travelers — many of whom have often seen a much of the world and can provide great tips for a next journey.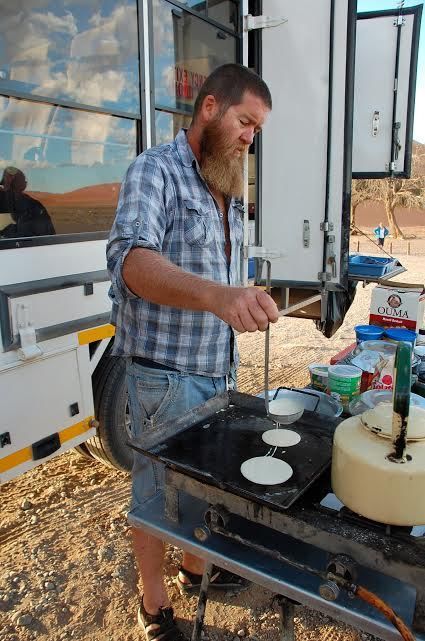 Meals prepared in the outback by a local cook.
But I also long for my independence and space after a couple of days, and I feel sometimes belittled by a tour leader who treats us as if we are on our first outing abroad. I also regret having to let potential opportunities pass by because the show must go on. And yes, at times, I do get annoyed by the occasional buffoon or fusspot.
When Group Travel Can Be a Lot of Fun
When a travel destination is all about activities and sports, however, I have no qualms signing up for small group tours. It is not only safer, but experiencing the trials and tribulations of a particular activity with like-minded people, and reaping the benefits together afterward can be very exhilarating.
On a recent cycling tour over the back roads of South Africa's Cape, we ended up in wine tasting facilities or even estates at the end of each day, and immediately forgot any sign of exhaustion or saddle pain. And eating, drinking, and exchanging travel stories while huddled around a cabin wood stove, never felt so enjoyable as on the nights of a challenging hiking trip deep into the Patagonian wild.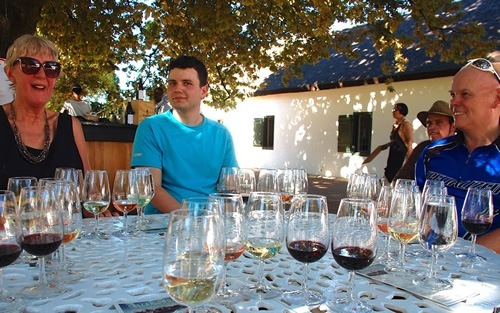 Wine tasting at an estate in South Africa after a day of cycling is very enjoyable.
While sailing along remote islands of the Indonesian Archipelago, we would snorkel the most spectacular reefs and marvel afterward about that magnificent "underworld" that we had experienced together.
During that same trip, we received incredible welcomes by hundreds of locals from bush villages in West Papua, decked out in the most colorful costumes and adornments, and literally popping out of the woodworks to sing and dance for our group: events I would never have experienced on such a grand scale had I traveled alone or with a guide.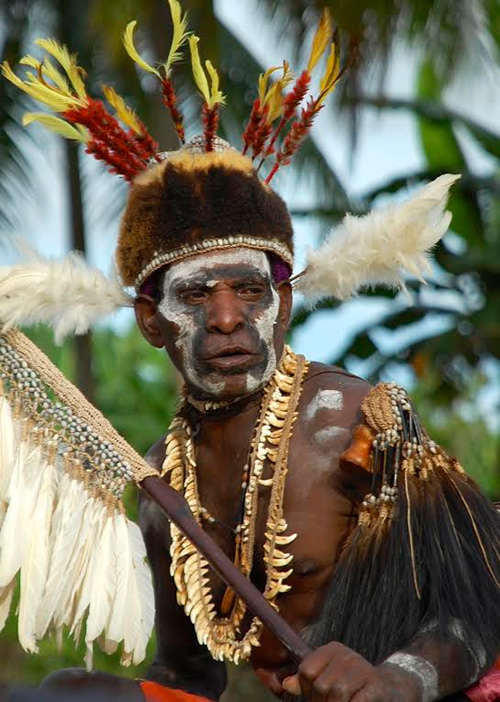 Man in a village in West Papua, New Guinea.
In the end, it all comes down to carefully balancing the pros and cons of each mode of travel, determining what the main focus of the trip will be, and knowing what travel style best suits one's personality. If you are aware of the range of alternatives, adventure travel can lead to the most memorable trips of a lifetime, whether you go it solo or join a small group.
For More Info
Although I personally usually favor local tour companies, I have also successfully traveled with the following international tour operators:
Check out Tim Leffel's piece titled The Definitive Guide to Adventure Tour Pricing for more information.
Lies Ouwerkerk is originally from Amsterdam, The Netherlands, and currently lives in Montreal, Canada. Previously a columnist for The Sherbrooke Record, she is presently a freelance writer and photographer for various travel magazines.
Related Topics
Adventure Travel and Tours
Responsible Travel and Ecotourism
Special Interest Travel and Alternative Tours
Related Articles
Budget Adventure Travel: Tour the World on a Bike by Friedel Rother
The many ways to bicycle anywhere in the world—options which range from independent to luxury group travel.
Camping Safari in Northern South Africa, Namibia, Botswana and Zimbabwe by Lies Ouwerkerk
An illustrated series of varied adventures through remarkable regions and countries while in a small group, camping and seeing spectacular wildlife and natural wonders, while meeting some local people along the way.
Why Zimbabwe is the Best Safari Destination for Ethical Travelers by Rebecca Shapiro
Zimbabwe is undergoing a positive transformation, and is now home to many great ethical safari companies who provide much-needed income to locals while protecting the animals and land.
The Spirit of Genghis Khan: The Stone Monoliths of Kanas, China by James Michael Dorsey
An exploration of the origin and meaning of sacred stone monoliths in Northwestern China, from the era of the legendary historical figure Genghis Khan — shaman and legendary leader.
Why I Travel: The Impact of Exploring the World by Lies Ouwerkerk
Visiting Patagonia with an Argentinean Adventure Travel Company by Lies Ouwerkerk
A low-cost adventure travel tour with a local Argentinean company in beautiful and diverse Patagonia.
9 Adventure Activities in San Carlos de Bariloche, Argentina by Shanie Matthews
Beautiful and eclectic San Carlos de Bariloche provides a plethora of activities for the adventurous.
Around the World by Sailboat by Andy Schnell
The euphoria and the realities of traveling around the world on a large sailboat, with advice and resources on how to find such adventurous life-changing travel and even work.
Call of the Arctic: Voyage by Icebreaker Ship Along the Edge of the World by Lies Ouwerkerk
Traveling on an icebreaker had been on my wish list for quite a long time. Polar expeditions do not come cheap, however, as icebreakers are extremely expensive to run, due to high fuel costs and crew/staff—passenger ratio. But when an extra work contract fell unexpectedly into my lap this year, I jumped on the sudden opportunity to make my dream come true.