Why You Should Learn Spanish in Andalucía, Spain
Sí, Sí y Sí!
There is a place where women still whisk away the heat with daintily embellished fans. A place where just about everyone takes a long midday siesta to enjoy a leisurely lunch with their family. A place where the strains of guitar—sometimes melancholy, sometimes joyous, always emotional—break the silence. A place of twisting cobblestoned pathways, and tiled rooftop gardens, intricate Moorish archways and palaces, of the intoxicating fragrances of jasmine, roses and magnolias, and the seductive aromas of garlic, shrimp and olives. A place where tropical golden beaches, superb diving, and lush palm trees are just a short distance from snow-capped peaks and world-class skiing. This magical place is the province of Andalucía in southern Spain.
For those interested in studying the Spanish language, Andalucía might seem like a long way to go. After all, in North America one can learn Spanish across the border in Mexico, in a host of other Latin American countries, and even right in our own cities in immersion programs. Why Spain? Andalucía, particularly, attracts an enthusiastic international student body, perhaps due not only to its natural beauty and cultural richness, but for many other reasons as well.
Here, your fellow students will be of many different nationalities, not only from North America, which is typically what you would find in Latin American language schools. You will be learning Spanish in its motherland, and while some of the grammar, vocabulary, and pronunciation are not typically utilized in other Spanish-speaking nations, the language you will learn is the pure, unadulterated form. The Spanish spoken is understandable everywhere, and you will understand other accents and permutations without difficulty. You will not only come to know the gloriously diverse region of Andalucía, but if you like, you can easily visit the rest of Spain and many other countries in Europe due to proximity. Perhaps most importantly, the high quality accreditation of Andalucían language immersion schools is impeccable and unsurpassed, and the range of school sizes, locations, and offerings is immense.
There are 33 member schools in Andalucía, located in the provinces of Cadiz (seven,) Granada (seven,) Malaga (thirteen) and Seville (six.) Part of the umbrella group of the Spanish Federation of Associations of Spanish Schools for Foreigners (FEDELE), all of the member schools are accredited by the Instituto Cervantes (an organization based in Spain which promotes the teaching, study and use of the Spanish language, and/or CEELE (Quality in the Teaching of Spanish as a Second Language), both highly respected and internationally accepted certifications of language schools.
FEDELE holds its member schools to rigorous common guidelines, ethics and standards, and inspects and maintains them regularly. Andalucía's member schools have their own specific criteria as well, including:
class size (10 student maximum)
teaching credentials (highly educated and qualified native teachers)
complementary activity programs (including cooking, Flamenco dance, music, and much more…)
accessible student materials (libraries, computers, etc.)
a wide range of accommodations
specified lengths, timetables, differentiation, and structure for Spanish language courses, all of which must involved total immersion.
Here's a sampling of Andalucía's locales and their programs:
CADIZ (population 125,000) is the site of ancient Phoenician city known as "Gadir," surrounded by water on three sides. With a tropical feel and climate, the province of Cadiz offers beautiful warm Atlantic Ocean beaches as well as lively, friendly plazas, ancient Moorish architecture, picturesque "white villages," vineyards, the renowned sherries of the Jerez region, nature parks and a wide variety of recreational activities—including scuba diving and wind surfing. Cadiz also experiences less international tourism than the other locations mentioned here, consequently encouraging students to engage in even more Spanish language and cultural immersion.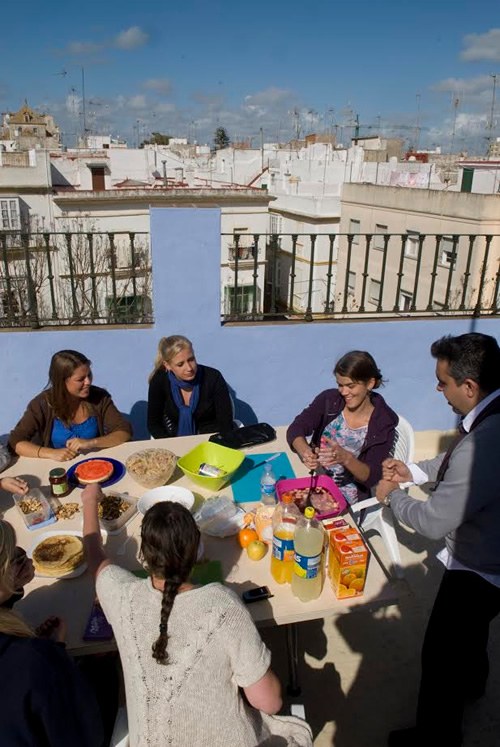 Students enjoying a lunch break on a rooftop in

Cadiz

.
Photo courtesy of Andalucian Association of Spanish Schools.
Academia Andaluza
C/ Confederación, 13
11140 Conil de la Frontera, Cádiz
www.academia.andaluza.net
K2 Internacional
Plaza Mentidero, 19 – 11003 Cádiz
www.k2internacional.com
La Janda IH Vejer, Colegio de Español
C/ José Castrillón Shelly, 22 – 11150 Vejer de la Frontera (Cádiz)
lajanda.org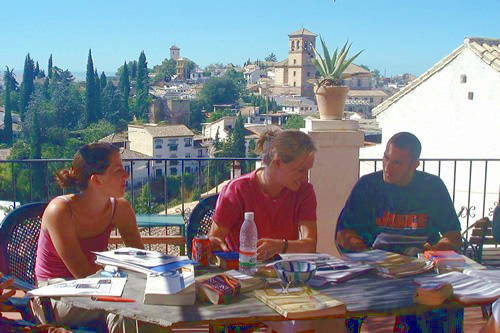 Students on the terrace of Carmen de las Cuevas.
Photo courtesy of Andalucian Association of Spanish Schools.
GRANADA (population 232,000) was where the Islamic and Christian cultures joined together to form a spectacular, multicultural city full of monuments and treasures, including the World Heritage site of the Alhambra. Granada's town center is incredibly vibrant and enchanting, with its twisting cobblestoned paths, its exotic Moorish quarter, ubiquitous outdoor tapas bars, and a glorious glow of pink, sienna, and gold in the skies above. Within an hour or less, residents can ski on high snowy peaks or opt for an afternoon in the azure, palm-fringed seaside.
Instituto Mediterráneo Sol
Enriqueta Lozano, 17, 1ºB – 18009 Granada
www.inmsol.com
Carmen de las Cuevas
Cuesta de los Chinos, 15 – 18010 Granada
www.carmencuevas.com
Castila
C/ Aljibe del Gato, 1 – Carmen de los Gatos – 18010 Granada
www.castila.es
Don Quijote Granada
C/ Azhuma, 5 – 18005 Granada
www.donquijote.org
Escuela Montalbán
C/ Conde Cifuentes, 11 – 18005 Granada
www.escuela-montalban.com
Tropical Coast Languages
Plaza del Teatro, Edificio G – 18690 Almuñecar
www.tclanguages.com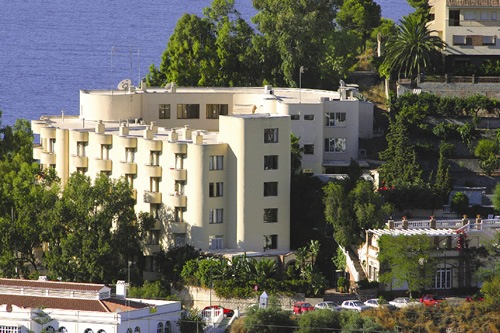 Malaca Institute.
Photo courtesy of Andalucian Association of Spanish Schools.
MALAGA (population 570,000) is the second largest city in Andalucía, and a busy port as well. Another Moorish stronghold, Malaga is host to various palaces, fortresses and monuments, and is also famed as the birthplace of Pablo Picasso in addition to various institutions that honor him. With a gorgeous mild climate, a festive and exquisite town center, cultural wealth and close proximity to the mountains and the beach (this is the heart of the Costa del Sol), students can also travel easily to the famed towns of Ronda and Antequera with their intact artistic and architectural heritage.
Cervantes, Escuela Internacional
Avda. Juan Sebastián Elcano, 69 – 29017 Málaga
www.cervantes.to/
Debla
Camino del Monte, 23 – 29016 Málaga
www.debla.com
Escuela de Idiomas Nerja
C/Almirante Ferrandiz, 73 – 29780 Nerja (Málaga)
www.idnerja.com
Malaca Instituto
C/Cortada, 6 – 29018 Málaga
www.malacainstituto.com
Málaga Plus
Pasaje Antonio Barceló Madueño, 8 – 29017 Málaga
www.malagaplus.com
Spanish Language Center
Avda. Ricardo Soriano, 36 – Edificio Maria III, 3ª Planta
29600 Marbella (Málaga)
www.spanishlanguagec.com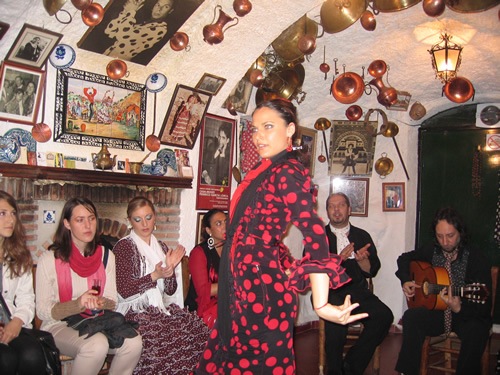 Flamenco Show.
Photo courtesy of Andalucian Association of Spanish Schools.
SEVILLE (population 690,000) is not just a city, it is truly a work of art. Considered by many to be the most beautiful city in Spain, Seville is famed for such architectural gems as the incredibly intricate Alcazar palace dating from its Moorish regime, the Giralda tower, and the Cathedral. Safe, walkable, and bikeable, wherever one roams there will be juicy Seville oranges hanging from trees and tapas served on open-air terraces. Sevillanos are a lively lot, thriving on their sunny warm climate and strolling along the cobblestoned paths until the wee hours. Their festivals are world-famous for their emotion and pageantry, and flamenco is everywhere—a living, essential part of the Sevillano culture.
Clic IH Sevilla
C/ Albareda,
19 - 41001, Sevilla
clic.es
Enforex Sevilla
C/Conde de Ibarra, 2 – 41004.Sevilla
www.enforex.com/school-sevilla.html
Idiomas Carlos V
Avenida República Argentina 27 B, 1ª Planta – 41011, Sevilla
www.idiomascarlosv.es