Study Spanish in Spain
Spanish Language Schools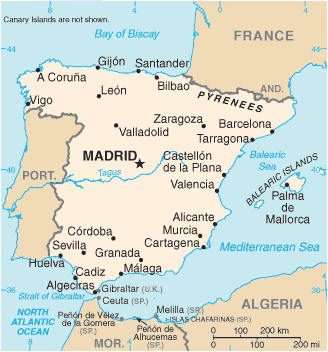 Featured Articles on Learning Spanish in Spain
Language Immersion Vacations WORLDWIDE!
Spain (Barcelona, Granada, Madrid, Malaga, Pamplona, Salamanca, San Sebastian, Santiago de Compostella, Seville, Valencia — Spanish)
We offer a variety of language courses worldwide for all ages and budgets. Immerse yourself in the local culture, pick your accommodation type and enjoy many cultural activities with international students from around the world. We enjoy what we do and that's the difference!
Cost: See website
Dates: See website
Contact: Language Vacation, 1056 Masters Lane, Minden, Ontario K0M 2K0 Canada
Tel: Toll Free 1 888 494 3974 / 416 682 0898
Email: info@languagevacation.com
Website: www.languagevacation.com
Featured
Learn Spanish in Spain
We offer immersion Spanish courses all year round at special prices, jobs in hospitality management all around Spain, affordable internships in different cities throughout Spain, culinary arts in top hotels, field trips for schools and colleges, unpaid volunteer programs, Spanish online courses, and Dele preparation exams.
Dates: All year round, any time, any program.
Cost: From US $100 per week.
Contact: Instituto Hemingway, Bailen 5, 2 Dcha. 48003 – Bilbao, Spain.
Tel.: +34 94 416 7901. Fax: +34 94 416 57 48
Email: info@institutohemingway.com
Website: www.institutohemingway.com

Featured
=elemadrid=
Study Spanish at home and in Madrid! Spanish courses in small groups or private tuition for adults, professionals, Spanish teachers, unique program of Spanish culture classes, Spanish conversation, art seminars, Spanish dances, leisure activity courses, fascinating weekend excursions. Free Spanish word of the month. Conjugate Spanish verbs online.
Visit: www.elemadrid.com
ABACO Instituto Hispanico de Murcia
Quality intensive Spanish programs in Salamanca and Murcia.
Fifteen different Spanish courses year round (D.E.L.E. Erasmus, intensive, super intensive, professional, individual) ranging from one week to one year. Day trips and scuba diving also available. Accommodation is offered either with host families or apartments. Recommended by TURLINGUA.
Visit: www.ihdemu.com
Academia de Espanol Kingsbrook
Spanish Language School in Barcelona
Offers spanish for foreigners, all levels, morning and evening courses, accommodation service, free internet access, leisure and cultural activities, D.E.L.E. preparation and Au Pair program. Recognized by the Instituto Cervantes.
Visit: www.kingsbrookbcn.com
Academia Berceo
Intensive Spanish Language Courses at School in Salamanca
Standard, intensive, immersion and business Spanish language courses and preparation for the DELE exam available for students of all ages in Salamanca.
Visit: www.berceo.com
Academia Delta Language School
Year round Spanish courses in Santander
An elegant resort city with beaches and nearby mountains, Santander is the perfect year-round site to study Spanish: mild temperatures, beautiful scenery, and a pure Spanish accent. Well-equipped school with experienced teachers and small classes. On premises cinema, numerous social activities, excursions, and get-togethers with Spanish people. Accommodations arranged in selected host families, hotels or apartments.
Visit: www.deltalang.com
Academia Madrid Plus
Spanish Courses at a the Madrid Plus Language School
Madrid Plus language school offers Spanish classes in the historical district of the city. The school is open the whole year round except at Christmas time. Starting dates every Monday for not beginners. Small groups, standard and intensive courses, all levels. Highly qualified teachers. CEELE quality qualification. Accommodation provided if necessary.
Visit: www.madridplus.es
Accom Consulting Spain, S.L.
Barcelona University Spanish Courses
We offer students the opportunity to book Spanish language courses and accommodation at the University of Barcelona UAB in Spain.
Visit: www.barcelona-university.es
Ailola Madrid Spanish School
Ailola Madrid was founded in 2001 and is a popular Spanish school when it comes to offering students bang for their buck. In fact, Ailola Madrid combines a superb teaching staff of native-speakers with unbeatable facilities and competitive prices. No surprises! The Spanish school is a modern, spacious place for a language learning experience. Students have the chance to learn the beautiful Spanish language away from the hustle and bustle of the city center, with all the amenities needed for a laid-back, carefree stay. Ailola Madrid has 7 bright, quiet and spacious classrooms and a cozy common room with tea and coffee machines, cold drinks and a library. It offers 2 free-access tablets, free student WiFi access, teaching equipment including TV and DVD and free-access language materials.
Visit: www.ailolamadrid.com
AIP: Internships in Valencia, Spain
AIP offers the possibility to enroll in a Spanish language course in Valencia together with a complete program of internships in companies of Valencia, Spain.
Visit: www.spanishinvalencia.com
BEST Programs, S.L.
Intern and Study Spanish in Madrid and Barcelona
Internship program in Madrid or Barcelona with Spanish companies for candidates who want an international work experience on their resumes. Cut out intermediaries; we are Spain based. This program combines a crash Spanish course to boost your communication abilities with professional work experience. Provides optional lodging in shared apartments or the possibility of defraying room and board costs with English language classes/child care for Spanish families. Starting the first Monday of every month, year long, with 2 and 3 month + options.
Visit: www.bestprograms.org
Centro de Idiomas Quorum
Spanish Language Courses
Centro de Idiomas Quorum offers total immersion programs in our school in Costa del Sol, in Nerja, a small town near Malaga. The Center is accredited by the Cervantes Institute. Courses are offered year-round.
Online Spanish Courses
Centro de Idiomas Quorum offers the option of taking online Spanish courses for those that do not have the time to study in a total-immersion program. Our courses for a total of 60 hours and over a period of 10 weeks, use the same methodology that our total-immersion courses. Prices start at €99.
Visit: www.quorumspain.com
CLIC IH
Spanish Lessons at a Language School in Seville, Spain
Learn Spanish with CLIC IH and improve your day to day knowledge of the Spanish language at all levels.
Visit: clic.es
Cervantes International
Language School in Malaga
Cervantes International Spanish language school of Malaga offers you a wide range of courses and levels to suit your abilities and to ensure successful understanding and perfection of the Spanish language.
Visit: www.cervantes.to
Delta Language School, Santander
Our Spanish Courses teach Spanish where it is actually spoken. We have Spanish programs that teach at a level that provides you with an academic and highly communicative knowledge of the Spanish language. Study Spanish in Santander, a beautiful and elegant resort city with beaches and mountains, a perfect year-round site to learn the language — mild temperatures, beautiful scenery, and a pure Spanish accent. We are a well-equipped school with experienced teachers and small classes. On the premises we have a cinema and provide numerous activities, excursions, and get-togethers with local Spanish people. Accommodations can be arranged with selected host families, hotels, or apartments. Choose one of our specialized courses: commercial Spanish, Spanish for business, lawyers, medical, and DELE exams...
Visit: www.deltalang.com
Escuela de Idiomas Nerja: Intensive Spanish Course
Spanish Language School and Study at Nerja
Our teachers are philologists, specialists in the various courses we offer, who form an enthusiastic, well coordinated team, qualified to help you to learn in the most effective manner possible. The courses we offer are tailored to satisfy the students necessities, both with regard to the language in general terms, and in the specific fields of management, commerce, business, Spanish teaching methodology and official examinations.We combine our professional experience with the most up-to-date technical methods (videos, projections, slides, audio).
Visit: www.idnerja.com
Escuela Internacional de Español
Business Spanish Language Study in Cadiz
A one to one course designed to satisfy the specific needs of students who need to study Spanish in a short period of time. The student will improve his/her business vocabulary using articles from major business papers. The Academic Director, together with the student, will design a program to optimize his stay, including the number of hours of class and the specific Spanish in Cadiz (SIC)
Spanish language school offering Spanish immersion courses in Spain.
Visit: www.spanishincadiz.com
Escuela Montalbán
Spanish Courses at Language School in Granada
Escuela Montalbán offers Intensive Spanish Courses for students from all over the world in Granada since 1986. The school is recognized by the Spanish Instituto Cervantes as a "Centro Acreditado" and is a member of TANDEM International.
Visit: www.escuela-montalban.com.
Estudio Hispanico
Spanish Language Courses in Spain
High quality spanish language courses throughout Spain, taught by native speaking teachers. All levels welcome. Accommodation and cultural activities available.
Visit: www.estudiohispanico.com
Estudio Sampere
Learn Spanish in Spain
Learn Spanish in Madrid, Alicante, Salamanca or El Puerto. Sampere Spain offers a variety of Spanish courses: General Spanish, Business Spanish, Private lessons, University preparation, DELE preparation, etc.
EUREKA
School of Spanish Language
Learn in the center of Madrid in a school whose sole objective is teaching Spanish as a foreign language. Intensive courses are offered in small groups with a maximum of 8 students per class. A variety of other courses are offered, including courses for 50+, one to one, private lessons, language with an internship, and more. See the website for details on all options.
Visit: eurekamadrid.com
FU Tenerife Language School
Learn Spanish under the sun of Tenerife! Visit our website to see for yourself!
Visit: www.fu-tenerife.com
Go Study Spain
Learn Spanish Abroad in Spain
We offer Spanish courses at the best universities in Spain. An important part of all GSS programs are the many Free Time Activities we arrange, like excursions and social or cultural activities, where you will get to know other US and European students as well as Spanish students.
Visit: www.gostudyspain.es
Hispania, Escuela de Español
Spanish Courses for Foreigners in Valencia, Spain
Study Spanish in Valencia, all levels, small classes (10 person max), no inscription fee, qualified teachers, affordable, activities, preparation DELE exams, Spanish for special purposes, flexible timetable, free internet service. Accredited by Instituto Cervantes and EAQUALS.
Visit: www.hispania-valencia.com
Hola! Sitges Spanish Courses
Language School in Barcelona
A small-medium sized personal school which has been open in Sitges (Barcelona) for the last 10 years. At Hola! Sitges you are treated as an individual; we have a very friendly warm approach to teaching as well as a social program for our students. Groups are multinational and small, with an average of 6 students and maximum of 8, enabling teachers to give attention to individual needs.
Visit: www.holasitges.com
Instituto Mediterráneo Sol
Learn Spanish in Spain—Spanish Courses in Granada—School in Andalusia
IMSOL offers Spanish courses in Granada during the whole year and for all ages and levels. The wide range of Intensive Spanish Courses we offer, the type and also the number of Spanish lessons per week, will make your choice easier whether you are a professional or a University student, a teenager, a retired person, or simply someone who wishes to study Spanish in Granada just for fun. We take care of all the aspects of your stay: Spanish classes, accommodation, activities, transfer...
Visit: www.inmsol.com
International House Barcelona
Spanish Courses in Barcelona
Offers Intensive Group Courses, Intensive Plus Courses, DELE Preparation Courses, Business Spanish Courses, Summer Courses for Teenagers in Tarragona (13-17), Courses for the Over 50s, Private Classes, The Executive Plus CourseS, and Intensive Group Courses in different cities.
Visit: www.ihes.com/bcn
International House Madrid
Spanish Courses in Madrid
Spanish courses for young learners, students, adults, professionals, in Madrid, with one of the most reputable language learning centers in the world -International House. Accommodation available.
Visit: www.ihmadrid.com
Inhispania International Language Center
A language school offering Spanish courses in Madrid.
Visit: inhispania.com
La Aventura Española — LAE Madrid Spanish Language School
Intensive Spanish Courses
With this course you will study Spanish intensively with a small group of other students. The hours are 9:30 to 13:30 Monday to Friday. The Spanish Adventure Program (cultural activities) is included in the price for this course which takes place 3 times a week.
Many other courses are available including Spanish DELE Exam Preparation, Part-Time Spanish, Business Spanish, as well as an Internship Program. See website for details.
Visit: laemadrid.com
Malaca Instituto
Spanish Language in Malaga
Widely recognized to be one of Spain's leading language schools, Malaca Instituto-Club Hispanico S.L offers language and cultural programs at all levels for adults of all ages. Qualifying American students can apply for academic credit. Courses qualified by the Univ. of Alcala. EAQUALS guarantee of quality (see www.eaquals.org). Accredited Center of the Instituto Cervantes.
Visit: www.malacainstituto.com
Pylmon Languages
Learn Spanish in Barcelona
Intensive and extensive Spanish courses in small groups. Communicative personalized methodology, cultural activities, Business Spanish, golf, private classes, accommodation, - we adjust our programs to your needs. Discover the world of Spanish with Pylmon!
Visit: www.pylmon.com
Quorum Language Centre
Spanish Language School in Nerja
Offers intensive and semi-intensive Spanish courses in the beautiful small town of Nerja, Malaga. Courses are for anyone who wants to improve or study Spanish. Also offers housing, airport transportation and many activities in a very open and friendly environment. Quorum gives the student the ideal location from which to base Spanish language studies, blending extensive language teaching experience with the warm character of the Andalusians and the enviable climate of the Costa del Sol.
Visit: www.quorumspain.com.
San Diego State University — College of Extended Studies
Spanish Language Immersion Program in Madrid, Spain
The Spanish Language Immersion Program in Madrid is a four-week, intensive study of the language and culture of Spain. Open to SDSU students, students at other colleges and universities, and the general public. Participants earn four units of SDSU resident credit in Spanish; up to six units can be earned for an additional unit purchase fee. Living accommodations with Spanish-speaking families throughout Madrid. Courses are taught by the faculty of the Center for Spanish Studies at Antonio de Nebrija University in Madrid. Universidad Antonio de Nebrija is a small private university founded in 1985 and noted for its emphasis on Spanish language and literature instruction for international students.
Visit: www.ces.sdsu.edu/travel/
SpainBCN Cultural and Linguistic Programs in Barcelona
The program is designed to provide students with an immersion in the Spanish way of life. A homestay program includes scheduled Spanish lessons at SpainBCN, sightseeing and cultural activities.
Visit: www.spainbcn.com
Speakeasy
Spanish Language Courses in Barcelona
We are a Spanish school offering high quality intensive Spanish courses with an effective study program at cheap prices in the centre of Barcelona!
Visit: www.speakeasybcn.com
ToLingua
Spanish Language Courses
ToLingua is a small Spanish school in Central Spain. We attach great importance to quality and small groups (max. 5 students). Language studying at all levels combined with Spanish culture. New: Spanish and Wine Course, deepen your knowledge of Spanish and learn all about wine.
Visit: www.tolingua.com
University of Malaga
Spanish Language Courses
Varying in length and intensity as much as type and group size, all to fit your every needs. Check the website for up-to-date detailed information.
Visit: www.malaga-university.org
University of Salamanca
Spanish Language Courses
There is a wide availability in Spanish Language Courses, from intensive- to summer- courses, from semester- to yearly- courses, from personalized studies to study with Spaniards courses. Also provided is help with accommodation, and our office is ready for any questions at any given time. Check the website for full up-to-date program information.
Visit: www.salamanca-university.org