Learn Flamenco and Study Spanish in Granada, Spain
How to Experience a Rich Culture on a Short Immersion Program
If your body and soul are enflamed with passion and fascination by the sights and sounds of flamenco, Spanish language, and Moorish history, then Granada is the place to satisfy your thirst for cultural immersion. Nightly flamenco shows, the ancient Moorish Alhambra palace, and colorful Moroccan tapestry and tea rooms make Granada a unique Spanish city offering interesting programs for international students. In Granada, there is a long and complex history of tolerance and culture to this very day.
This past spring, I enrolled in a 2-week intensive at Carmen de las Cuevas, a school for foreigners, offering Spanish language and flamenco classes. I found affordability, value, a friendly atmosphere, and an experience unparalleled to my previous travels.
Flamenco Aficionado
After studying flamenco dance for three years in Los Angeles, California, I took the leap to go study with the authentic teachers in the birthplace of flamenco, Andalucía, Spain. Initially I thought I would have to make a big time commitment and spend lots of money. But that was not the case with Escuela Carmen de las Cuevas. The school offers 1- to 12-week immersion programs where you can learn flamenco dance, flamenco guitar, Spanish history, and language all in one place. You can learn an entire flamenco choreography in two weeks or receive daily flamenco guitar lessons, at various levels. See the website for the many course durations and costs, but overall the it is very reasonably priced. There are three levels in the flamenco program: beginner, intermediate, and advanced. The teachers at Carmen de las Cuevas are some of the most reputable in the whole of Andalucía, Spain, and occasionally include notable visiting artists. My own flamenco teacher from Los Angeles had recommended this school where she had once studied.
Although I did not study Spanish language there, the school has a high-quality language program which is accredited by the Instituto Cervantes—the highest level of accreditation in its class. Carmen first started out as a language school only and was the first to offer Spanish for foreigners in Granada. So, if you are looking to brush up on your Spanish while learning flamenco, you can also add on intensive language immersion courses.
During my stay there, I met students who traveled from as far as Australia and Japan and who share the same passion for flamenco and all things Andaluz. I also took advantage of Carmen's free cultural program, which consists of daily guided morning walks and lectures highlighting the historical sites of Granada. The cultural program is available to all students enrolled in at least one course. It doesn't matter if you are only interested in either language or flamenco. All classes are offered a la carte and don't conflict on the schedule. And the friendly office staff will help you meet your requirements. They will even work with you to drop or add a class after the start date. Language classes typically run in the mornings, and dance and guitar sessions are split between morning and afternoons.
The schedule leaves plenty of time to take in the sights. I did feel a bit exhausted from three hours of daily dancing, but saved my energy for socializing and catching nightly flamenco shows or enjoying tapas with friends. However, you will find that you have to pace yourself, especially when enrolled in multiple courses per day. There is just so much to see and do in Granada. While two weeks is the minimum program enrollment for flamenco, language courses have a minimum of a 1-week commitment. Carmen will allow you to extend your stay for months at a time. The school runs year-round and is only closed during the Christmas holidays.
A Rich Cultural Tradition
Carmen de las Cuevas is the only foreign language and flamenco school situated right in the heart of the Albayzin—the old Arab quarter which was declared a world heritage site by UNESCO in 1984. You can walk a few minutes uphill and reach the Sacromonte, where the famous gypsy-dwelling caves have now been largely converted into flamenco venues. Still, the art of flamenco continues to be carried on there as a rich and pure tradition, or flamenco puro. Ask anybody in Granada and they will share with you their passion for flamenco, and they may even share their family histories.
In Granada, the gypsy culture is respected as an essential part of Andalucian history. While in other areas of Europe I have had some negative experiences with gypsies in the streets or in train stations, in Granada I found Spanish gitanas to be approachable and warm, a valuable part of the regional culture. Still, as with any new place you travel, it is advisable always to be polite to the locals, never assume anything, and show a genuine interest in learning about their way of life.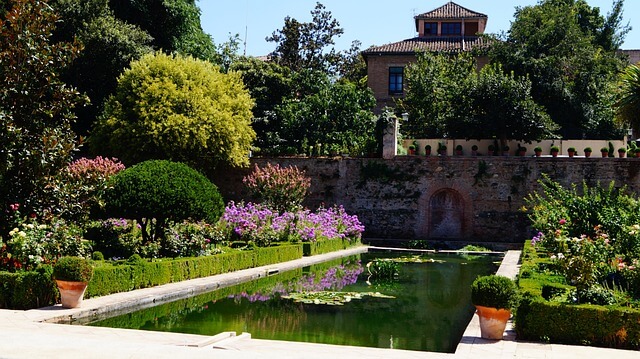 While the local vibe in the city center is infectious, the magnificence of the Alhambra took me deeper into the history of the Granainas. To see the Alhambra, I had to pre-book my ticket at least a day in advance. Carmen de las Cuevas will help arrange this service for you. You can't leave Granada without spending at least a half day at the Alhambra. You may have to visit the site over two days to soak it in, much like the Louvre in Paris. During the weekend, when there were no classes, I booked a guided day tour to the Alpujarras mountain villages high up in the Sierra Nevada mountains. There I found a world apart from the city life. The string of small mountain villages are known to prepare some of the best jamon Serrano, the cured ham for which Spain is notorious. It is worth the money (roughly 40-50 Euros) for an all-day bus and walking tour, if for nothing else, the breathtaking views, a dose of pure mountain air, and fabulous photo opportunities.
While enrolled in your intensive courses, be sure also to spend a few afternoons indulging in the traditional Moroccan tea rooms or teterias, in the lower Albayzin, where you are served an authentic Moroccan tea and perhaps a pastry or two. Don't forget to negotiate a good bargain for the scarves, teas, and a variety of other souvenirs in the booths and shops adjacent to the teterias.
What Makes Granada Special
Whether you have two weeks or three months at your disposal, you will receive the most value for your time in Granada without the hindrances of a larger city: tourist traffic, rude or uninviting locals, and costly meals. For students, this means it is possible to stay longer if they so choose without cutting too much into their budget. For example, take the tapas experience. Unique to Granada, tapas are served free with each alcoholic beverage you order. Another welcoming aspect of Granada is its small town feel. I found myself running into the same person twice in one day. If you like such an intimate atmosphere, this is the place for you. Also keep in mind that most of the neighborhoods are safe enough to walk alone at night. And if you stay in the famed Albayzin neighborhood, as I did, you will likely be mingling with the friendly residents, most of whom have lived there for many generations.
For More Information on Spanish Schools in Granada
Escuela Carmen de las Cuevas — The Spanish school in Granada can book your accommodations for the entire length of the course, as well as any additional nights outside of the program, in an affordable hostel or hotel.
Other Reputable Spanish Language Schools in Granada:
See our article on Learning Spanish in Andalusia, Spain for many more language school options in the region.