Going Local in Porto
Small Tours Take You Off-the-Beaten-Path
Article and photos by Lies Ouwerkerk
Senior Contributing Editor
1/7/2019
Old Porto seen from Vila Nova Gaia.
Porto looks absolutely postcard perfect when you watch its cityscape from Vila Nova Gaia on the southern banks of the Douro River, where a host of British port houses with names like Sandeman, Taylor's and Graham's offer buyers and tourists their famous cellar tours and wine tastings. The view is equally stunning from Ponte de Dom Luís I, built by a disciple of Gustave Eiffel, and connecting Vila Nova Gaia with Porto's old city center.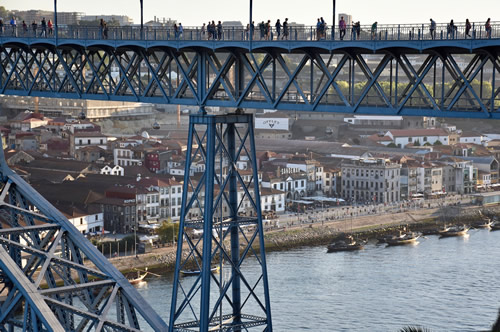 Ponte de Dom Luís I in Porto offers great views as well.
Along the Porto side of the Douro River, on Cais da Ribeira, wine sipping and people watching are the order of the day in cozy tascas, quaint restaurants, and lounge chairs on the pavement; street musicians and vendors roasting chestnuts try to entice the many passers-by. The barcos rabelos, in the old days used to transport wine from the vineyards in the Douro Valley to Porto for shipping abroad, are bobbing along the water edge. The late afternoon sun casts a magical spell on the pastel-colored houses lining the riverfront promenade.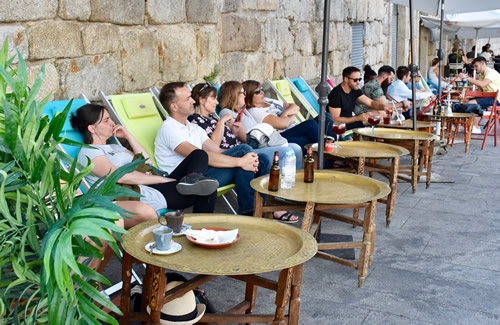 Lounging and people watching along the river's edge.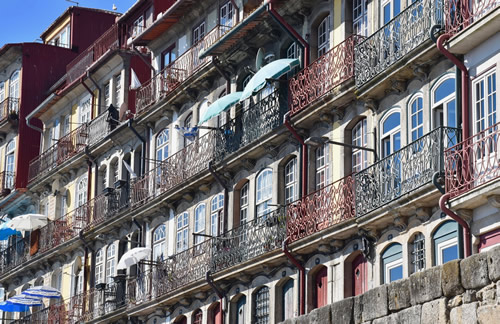 Typical houses in Porto, often painted in various pastel colors.
Being a picture perfect Unesco World Heritage Site comes with a price, and mass tourism has clearly "discovered" Porto. You will not be the only traveler walking around the city's major landmarks or hunting for restaurants serving the famous bacalhau (codfish) or the over-commercialized francesinha, Porto's iconic meat sandwich. I recommend an off-season visit if you want to avoid hordes of tourists!
Luckily, the city has also plenty of less touristy neighborhoods, sites, and activities to offer, which I discover in the company of some very interesting and enthusiastic locals. Known as tripeiros (tripe eaters, a nickname originating from the time of great discoveries in the 15th century, when most of the city's meat went to the sailors and soldiers of Portugal's fleet and army, and Porto had to make do with the tripe leftovers), the inhabitants of Porto prove to be very proud of their city and eager to share their local culture and treasures.
Exploring the City
From my rented studio in centrally located Clerigos, I walk on my first day in Porto to the Praça da Liberdade. There, each day a local insider from Porto Walkers starts a free 3-hour-long walking tour that captures the highlights of the city. It is a great way to get your bearings in a walkable city like Porto!
Via numerous old churches (Portugal was once the most religious country in the world), charming plazas, pretty parks, and impressive palaces, we zigzag behind our animated guide through the narrow alleyways of one of the oldest quarters of the city, medieval "Bairrio do Barredo," down to the riverside. Porto Walkers also organizes paid wine tasting, food, and pub tours.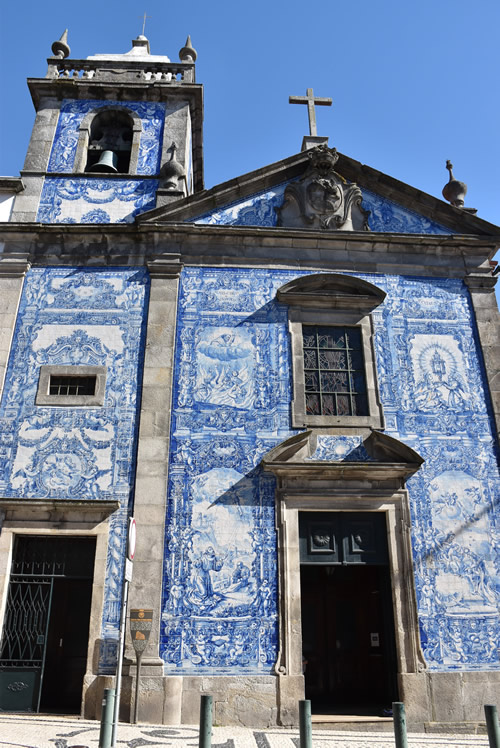 Capela das Almas, with "azulejos" depicting the lives of various saints.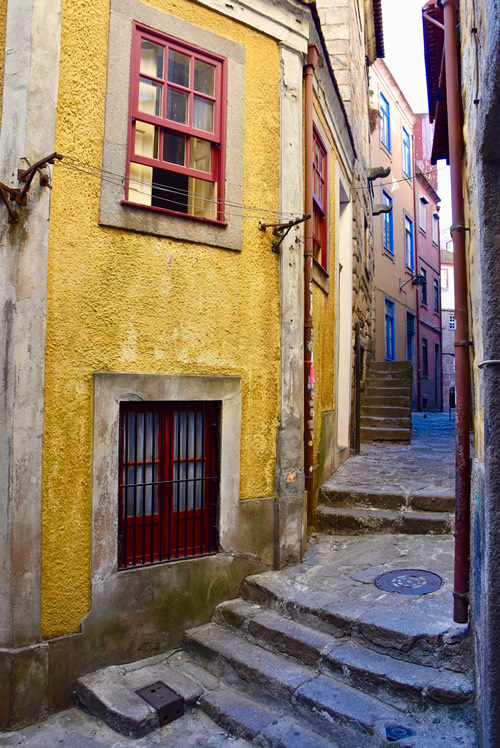 A little alleyway in the Bairrio do Barredo.
Porto's Sweets and Confeiterias
In the old days, Portugal's convents and monasteries would use enormous quantities of egg whites to starch clothes like nuns' habits. From the remaining egg yolks, they used to make pastries and cakes, such as papos de anjo (angel cheeks), toucinho do céu (fat from heaven), and barriga de freiras (nun's belly).
To this day, the small puff pastries filled with custard called pastéis de nata, made according to an ancient recipe from the 500+ year-old Jerónimos Monastery in Lisbon, are the most popular. At bakery Manteigaria near the Bolhão market, where they prepare the natas from scratch in their open kitchen, it is custom to ring a bell in the street when fresh pastries have just come out of the oven and are ready for sale and consumption.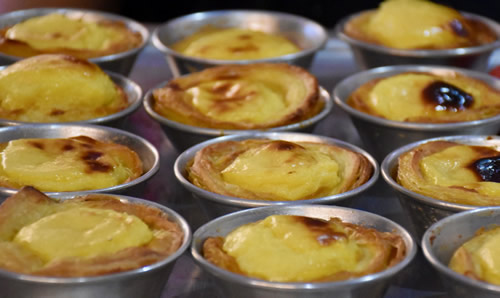 Pastéis de nata.
I learn how to make these delicious pastéis de nata, by joining a workshop with Joana, a dynamic local woman who teaches baking and cooking in her parents' restaurant. In the company of a group of equally curious foreigners from all over the globe, I learn each step of the process—including some tricks to achieve the best results. Honestly, the highlights of this interactive class, for me, are watching the magic unfold in the oven and enjoying a couple of the phenomenal natas afterwards! Check out Learn How to Make Pastel de Nata' in Porto Experiences for an illustration.
A (Japanese) student rolls the dough and the teacher makes the custard filling.
Apart from the previously mentioned Manteigaria bakery, there are many other confeiterias in Porto that offer fresh natas and other sweet delights, which you can enjoy with coffee or port wine, including Padaria Ribeiro, Nata Lisboa, Fábrica de Nata, Majestic Café, Confeitaria do Bolhão, and Pastelaria Tupi.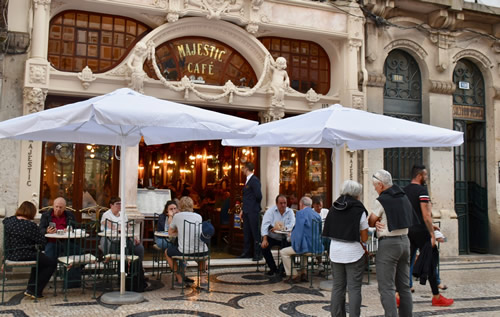 Majestic Cafe.
Fado Houses and Other Music Venues
Miguel, author of a soon to be published book on the hidden treasures of Porto, and founder of website Portovore — an extensive resource for atmospheric local tascas, bistros, cafés, and restaurants in Porto — takes me to one of his favorite restaurants, Mal Cozinhado, to dine, wine, and listen to professional fado singers. The restaurant is located in a 14th-century building close to the Douro River, and has seen many renowned fado singers passing through, including the "Queen of Fado," Amália Rodrigues (1920-1999), who made the music genre popular worldwide.
Although its true origin is not entirely clear, it is generally assumed that the melancholic fado music became a well-known genre in Lisbon's cafés in times of political chaos and economic hardship in the early 19th century. Singers, accompanied by musicians with 12-string guitars and violas, expressed their feelings of loss, injustice, longing, and hope, often associated with lives of sailors who had to leave for cod fishing in the Arctic waters. Once popular in Lisbon, the genre traveled fast northwards to the cities of Porto and Coímbra.
Some other popular Fado Houses on Miguel's list: O Fado, Casa da Mariquinhas, Taberna Real do Fado, Café Guarany (Thursdays and Saturdays), and Adega Rio Douro, where the Tuesday afternoons are reserved for fado vadio (non-commercial performances by and for true fado aficionados).
Alexandre, a local singer and songwriter with several CDs and years of performing in cafés and music halls under his belt, shows me a string of venues for cool music events, varying from church organ and fado music to jazz, blues, and hard rock.
We start at Maus Hábitos, a venue that promotes all forms of cultural expressions and consists of a bar, a restaurant, a concert hall, and a gallery, highlighting both local talent and international artists.
Via Coliseu de Porto, also a venue for music and other cultural events, and the Hot Five Jazz and Blues Club, we end up for a drink at Mirajazz, a hidden gem high up on a serpentine alleyway, where great live jazz on an outside deck goes hand in hand with magnificent views over the Douro. If you want a seat, be there around 4 pm!
Then it's up to concert hall and music club Hard Club, located in the restored Mercado Ferreira Borges, also host to other artistic expressions such as cinema and literature, and via the various street musicians in Rua das Flores, to Igreja dos Clérigos, where tube organ concerts take place every day at noon.
Close to Galerias de Paris, one of the trendiest streets in Porto when it comes to nightlife, we end the evening at Base bar in garden Jardim das Oliveiros, on top of a parking garage. Not on Alexandre's trail, but also worth visiting, is the innovative Casa da Música (2005), designed by Dutch architect Rem Koolhaas.
Casa da Música.
For more info on nightlife, concerts, etc., check out: Timeout's guide to nightlife in Porto and viagogo.com in Porto for other events, such as sports.
On the Street Art Trail
For a better appreciation of Porto's eye-catching street art, I join a small group of people for a city walk, organized by Miguel, a local historian. We meet in the fabulous São Bento Station (1900) where Portugal's history is displayed in hand-painted azulejos on the walls of the departure/arrival hall. From there, we roam the streets of the old city in search of Porto's contemporary urban art.
"Azulejo" in São Bento Station.
Although street art is still young and at times erased in Porto, works of local street artists like Costah, Hazul, and Vhils are usually spared. In fact, street artists are nowadays invited by local authorities to spruce up public spaces, run-down neighborhoods, and neglected buildings with their vibrant art, using methods like painting, stenciling, and paste-up. To join Miguel's walking tour, check out on the street art trail in Porto. Streets offering examples of interesting street art are suggested by Timeout Porto.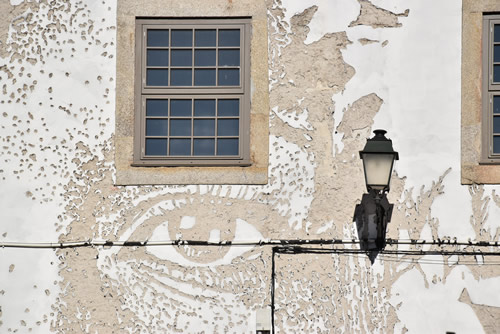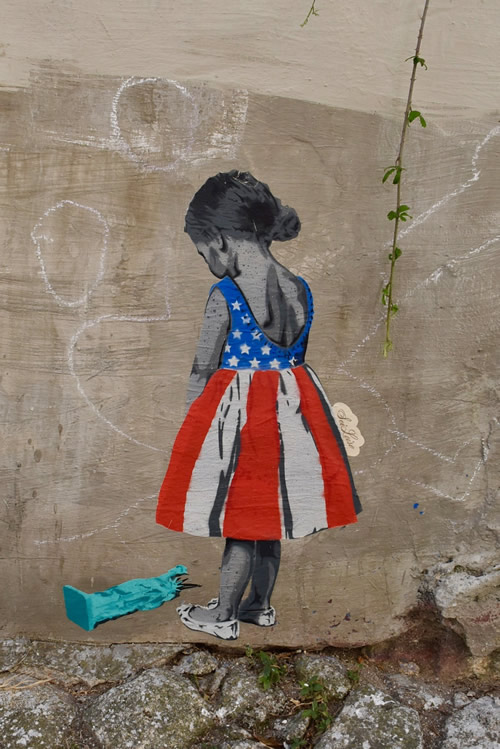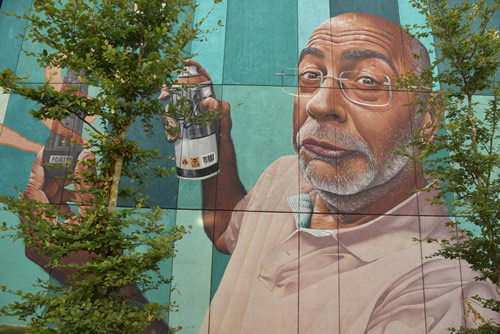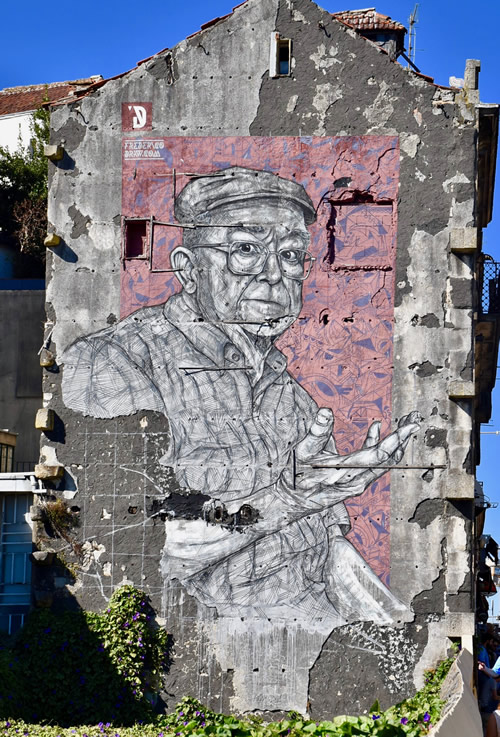 Urban art in the streets of Porto.
Port Wines
Tasting port wines in the wine houses of Vila Nova Gaia or the Douro Valley wine estates is an absolute must when visiting Porto!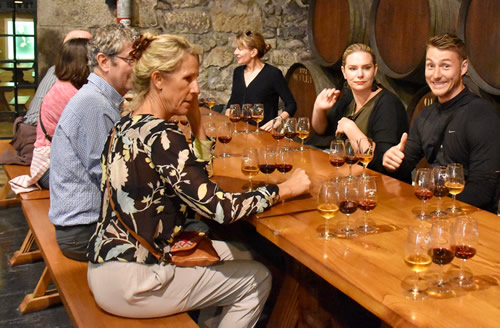 At a port wine tasting in the cellars of Vila Nova de Gaia.
I take a highly informative tour to the cellars of Ramos Pinto and Quinta de Santa Eugenia with David from Porto Walkers. With Bruno from BL Heritage Tours I spend a marvelous day in the Douro Valley, tasting wines and enjoying food in various quintas. I go boating with Bruno along the Douro while taking in the vistas of the pretty hillside terraces, and engage in stamping grapes (still common practice in the Douro Valley) at Casa do Bucheiro, an old-fashioned quinta of 8 generations of wine producers.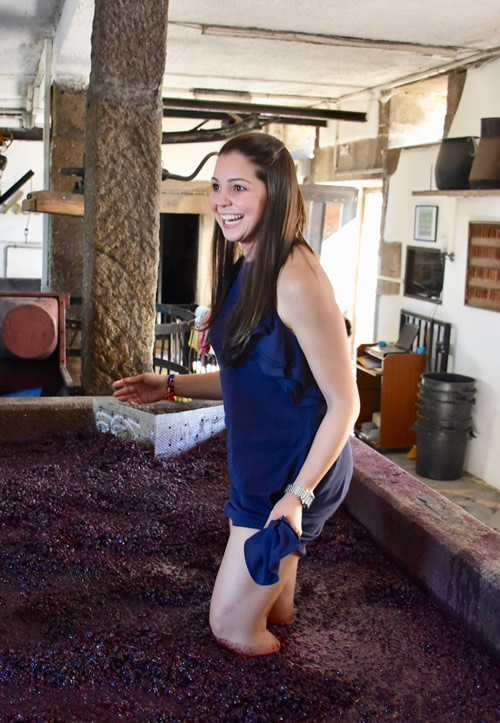 Stamping grapes at a "quinta" in the Douro Valley.
Port wine is produced from a blend of grapes, including the local touriga nacional, exclusively growing on the hillsides of the Douro Valley. Port wine is mostly served as a dessert wine due to its sweetness, a consequence of summer heat being trapped in the valley because of the surrounding mountains, which contributes to more ripeness and flavor of the grapes.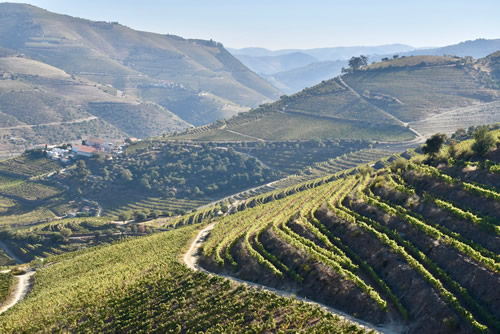 Landscapes in the Douro Valley.
In the 17th and 18th centuries, when they were involved in wars with France, England turned to Portugal for wines and fortified them with brandy to maintain quality during the long trips across the sea. Originally, transport from the vineyards to Porto was done in flat-bottomed wooden cargo boats, the barcos rabelos, but damming of the Douro for hydroelectric power ended this mode of transport.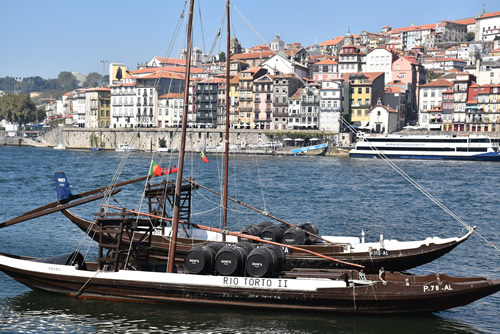 Typical "barcos rabelos."
Port wine is aged in oak barrels, and bottled at a later stage. The ruby wines are young and transferred to bottles earlier than the more aged tawny port. The barrels for the latter tend to be smaller (less contact with oxygen gives a darker color). Vintage port, made of the best grapes, best vineyards, and best years, is only declared every three out of 10 years on average, and stays the longest in the oak vats.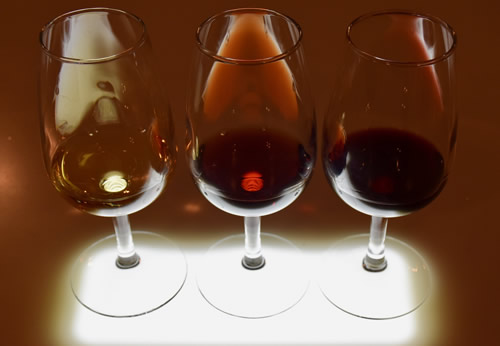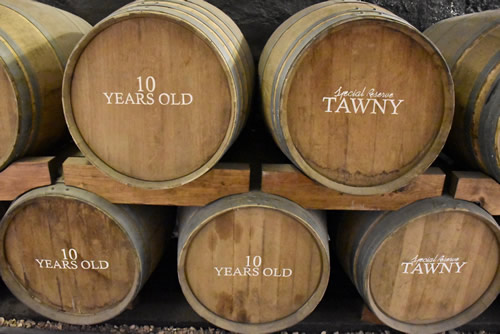 Some of the port wines enjoyed at the Vila Nova de Gaia.
Bicycling Along the Douro and Atlantic Ocean
Although bicycling through hilly Porto might be a bit of a challenge, there are great opportunities to cycle outside of the downtown core, primarily along the Douro towards the Atlantic Ocean, with a return on the other side of the river via Vila Nova Gaia and Ponte de Dom Luís I.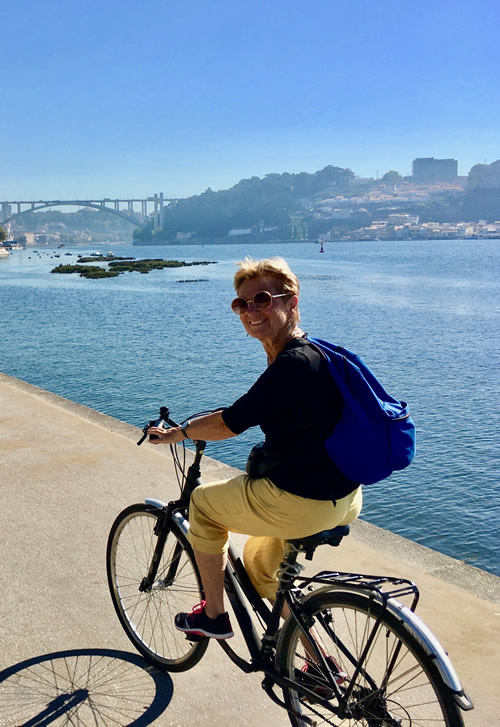 Bicycling along the Douro River.
My hostess Esther, a local art historian, guides me via Miragaia to the coastal towns of Foz do Douro with its beach bars and restaurants, and Matosinhos, known as a prime fish and seafood destination.
Taking a ferry, we cross the Douro, and cycle on the south side of the river to the small, un-touristy fishing village of Afurada. Old-fashioned stone washtubs in the communal laundry are still widely in use here, local fishermen operate along the Douro, and those at home are preparing their BBQs in front of their homes — decorated with ships and saints — in anticipation of the catch of the day. In tasca A Pedra Furada at the waterfront, it cannot get better with their super-tasty finger-food (petiscos) and a glass of cool, fizzy vinho verde!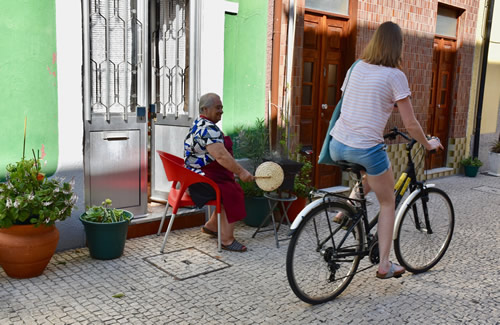 Bicycling past a BBQ-fanning "dona" in the fishing village Afurada.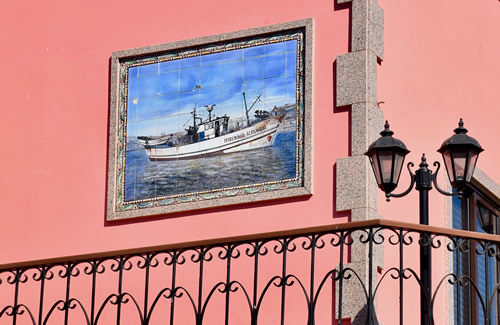 Boats are depicted on the walls of houses in the fishing village Afurada.
Bicycles can be rented at L&L which organizes bicycle tours as well.
Foz do Douro can also be reached by vintage tram #1, leaving each 30 min. in front of St. Francis Church. The trip lasts 20 minutes and ends at Passeio Alegre in Foz do Douro. Leave early, though, as the tram can be overcrowded later in the day.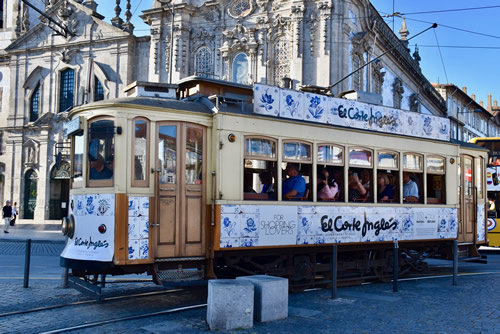 Vintage tram #1 which runs between Porto and Foz do Douro.
For a longer bicycle trip, head to the seaside town of Furadouro, about 25 miles from Porto, by pretty bicycle paths via the Douro Estuary, pine forests, boardwalks, and along the Atlantic Coast. Exodus Travels organizes a week-long bicycle trip from Porto to Lisbon.
Day Trips from Porto
Many worthwhile destinations around Porto are just a short train ride away, such as historic Braga, Guimarães, Coimbra, and Aveiro.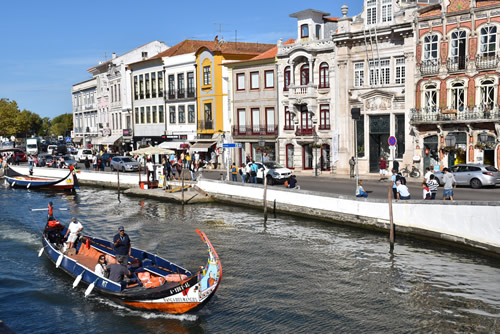 Cruising the canals of Aveiro in "barcos moliceiros" (originally used for collecting seaweed).
I join Jão from Living Tours on a half-day trip to Aveiro, Portugal's Venice, for a moliceiro ride through its canals and along its saltpans (salinas). The small strip of land that eventually turned into the nearby seaside town of Costa Nova is famous for its candy-striped beach houses, originally used by local fishermen as shacks to store their fishing materials, and today a hot commodity.
Lies Ouwerkerk is originally from Amsterdam, The Netherlands, and currently lives in Montreal, Canada. Previously a columnist for The Sherbrooke Record, she is presently a freelance writer and photographer for various travel magazines.