Volunteer in Guatemala for a Small Fee
Work with NGOs and Provide Needed Help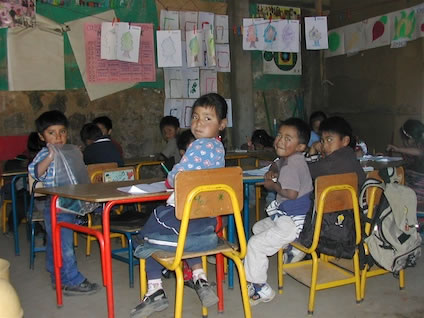 Working with children is popular with volunteers in Guatemala.
Guatemala is no doubt among the most beautiful and diverse countries in Central America. The country is not only home to steaming jungles and ancient Maya ruins, but is also dotted with volcanoes, mountain ranges, and shares both the Pacific and the Atlantic coast. Although tourism is growing and the economy is fairly stable, Guatemala still faces many social and economic problems, which are, in part, the result of a civil war in the past. After the peace agreement was signed in 1996, numerous international aid organizations set up camp in Guatemala to help rebuild the country and assist the indigenous communities—who had suffered most during the war. This large presence of NGOs and aid organizations—they are literally found everywhere in Guatemala—has turned the small country into a mecca for international volunteers.
Guatemala: A Country Still in Need of Help
Guatemala is among the poorest countries in the Western hemisphere. A large percentage of the population consists in native Mayan people who often live in remote and impoverished villages. According to a UNICEF PDF, Guatemala ranks number one in child malnutrition in the Americas and number 11 in the world. Thousands of children are given up for adoption every year, as many families cannot adequately provide for their children. At the same time Guatemala has the lowest investment in social development in Central America, only 10.2% of its Gross National Product, compared to 17.5% in Costa Rica. The minimum wage is about US$6.30 a day (around $190 per month), but many Guatemalans of working age don't have jobs, especially in indigenous Mayan communities. They often depend on subsistence farming and on the sale of small quantities of cash crops such as corn or beans for their meager incomes. In addition to economic hardship, Guatemalans are also affected by poorly developed and under-funded health, social services, and education sectors. This is why many NGOs work in these fields, filling an important gap between government services and community needs. Due to its geographic location Guatemala is also frequently affected by natural disasters such as hurricanes and earthquakes, which go a lot of damage and further impede Guatemala's development.
A Diversity of Options for Volunteers
There are many different types of volunteer opportunities for every skill and commitment level. Many NGOs depend on long-term volunteers for their projects, but there are also many short-term volunteer opportunities. Although often the impact of short-term volunteering is not as great as that of a long-term volunteer, short-term volunteers have the opportunity to get away from Guatemala's tourist destinations and get an idea of the realities of daily life in Guatemala.
Volunteer opportunities in Guatemala involve every imaginable activity in the social service, health, environmental protection, education, human rights, employment, infrastructure, and construction sectors. If you have professional skills, chances are you will be able to apply them while volunteering in Guatemala. And even if you don't have specific job skills or professional experience, there are still countless hands-on volunteer positions where your help is urgently needed. In addition to assisting indigenous communities with their needs, NGOs in Guatemala are also committed to monitoring human rights, promoting environmental protection, and teaching agricultural techniques and other job skills.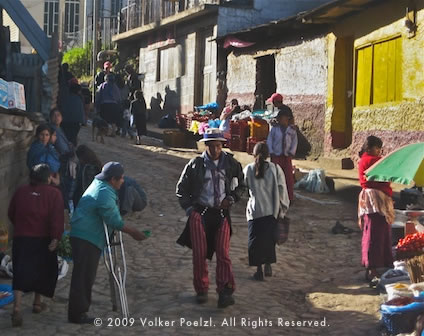 Fighting rural poverty is the main goal of many NGOs in Guatemala.
Are Spanish Skills Required?
To find out about the Spanish requirements for volunteers, I talked to Rebecca Archer, the director of Entremundos, an NGO in the city of Quetzaltenango that connects volunteers with aid organizations. Although most volunteer positions require some knowledge of Spanish, Rebecca told me that there are several short-term volunteer opportunities, such as working at an organic coffee cooperative or helping with construction projects, where no language skills are required. Non-profit organizations that work with short-term volunteers usually provide a bilingual coordinator for volunteers that are not familiar with Spanish. But according to Rebecca, most volunteers are eager to attend a Spanish class, and most Spanish schools in Quetzaltenango can put students in touch with non-profit organizations, where students can volunteer, have contact with the local people, and practice their Spanish.
Where to Volunteer?
Antigua and Quetzaltenango are the most popular destinations for international Spanish students and volunteers. Antigua is a charming historic town with a well-developed tourism infrastructure, cafés, bars, and restaurants. Quetzaltenango is the second-largest city in Guatemala, and offers many amenities international volunteers desire, such as cafés, bars, movie theaters and even a shopping mall. This city is also the center of volunteer activities in Guatemala. The number of local NGOs that work in the city and surrounding indigenous communities is enormous. But in addition to these popular volunteer destinations, there is also a great need for volunteers in remote villages and towns all over the country. Your volunteer work is especially important if you don't mind working for a small NGO in the remote Cuchumatán Mountains, or in the low-lying rainforest region of northern and eastern Guatemala. However, these areas offer fewer amenities for volunteers, and there will be fewer foreigners with whom to socialize. When deciding on a location for your volunteer work, it is important to consider your personal needs such as creature comforts, access to entertainment and social venues, contact with other volunteers and foreigners, as well as access to the internet and telecommunications. I met a Peace Corps volunteer in the remote town of Nebaj in the Cuchumatán Mountains, who left every weekend for some relaxation and entertainment around Lake Atitlán, a few bus hours to the south.
Finding a Volunteer Position
There are several different ways you can search for a volunteer position in Guatemala. There are many international NGOs that work in Guatemala, and there are numerous international placement organizations that help match volunteers with suitable projects in Guatemala. But you can also look for volunteer work after you arrive in Guatemala. The best place to find a volunteer position after your arrival is "Entremundos," an NGO in Quetzaltenango that refers volunteers for free (although they ask for a small donation). When I visited the office, Rebecca Archer, the director, showed me two huge binders filled with information about local projects that accept volunteers. According to Entremundos, volunteers who come to Guatemala can usually find a placement within a few days after their arrival, with the help of their large database of NGOs and other resources they provide. You can also contact Entremundos before your arrival and make arrangements for volunteer work ahead of time. In this case it may not be necessary to travel to Quetzaltenango to get all the details and referral information.
The cost of doing volunteer work varies from program to program. If you would like to keep your expenses low, it is best to find volunteer work after you arrive in Guatemala. The need for volunteers is great, and most NGOs are grateful for your help and do not charge any fees for your participation. In most cases the only contribution volunteers make to the project is their work. Many NGOs, including Entremundos can also refer housing, most commonly a room with a local family, where you will pay a modest fee for room and board. If you book a volunteer opportunity with an NGO or referral organization in your home country however, you will most likely be charged a fee. Some organizations charge quite a lot for their placement and services such as orientations, volunteer coaching, accommodations, etc, while others charge only a modest referral fee. It is advisable to do some research before making a decision in order to insure that you find a volunteer opportunity that you like and are able to afford.
Aid work in Guatemala is largely based on small grassroots organizations that work with a small number of volunteers on specific projects to help the local population. The large number of NGOs looking for volunteers—and the relative ease of finding a volunteer position—make Guatemala an excellent destination for independent travelers who want to seek out their own opportunities and commit to a project they like and that needs their help.
Resources for Volunteering in Guatemala
Here is just a selection of resources and volunteer opportunities in Guatemala. You can find more in the dedicated Volunteer in Guatemala section of this site.
Entremundos
This NGO, based in the city of Quetzaltenango (locally also known as Xela), offers numerous resources for volunteering in Guatemala, including a free database with descriptions and contact information for over 100 NGOs in Xela and the Western Highlands as well as in a few other regions of Guatemala. Their headquarters, El Espacio, is a center for fundraising events, capacity building workshops, live music, and conferences. El Espacio also provides housing for long-term volunteers. (See Volunteer in Guatemala with Entremundos for more on this organization.)
Quetzaltrekkers
Quetzaltrekkers is Guatemala's only volunteer non-profit trekking and hiking organization. All proceeds from the treks go to support a school for homeless children. Volunteer guides are always needed. Quetzaltrekkers, Diagonal 12, 8-43, Zona 1, Quetzaltenango, Guatemala.
Peace Corps
For a long-term volunteer commitment in Guatemala, you might want to consider the Peace Corps, which assists rural communities in Guatemala to move from bare subsistence to small-scale commercial agriculture, manage and conserve natural resources, improve health and nutrition, and increase off-farm incomes.
Asociación Nuevos Horizontes
Nuevos Horizontes is a Guatemalan NGO that assists women victims of domestic violence and their children and operates a shelter for abused women.
Guatemala Human Rights Commission/USA
Founded in 1982, the Guatemala Human Rights Commission/USA (GHRC) is a nonprofit, nonpartisan, humanitarian organization that monitors, documents, and reports on the human rights situation in Guatemala, advocates for survivors of human rights abuses in Guatemala, and works toward positive, systemic change. The website provides useful information about current events in Guatemala.