Volunteer in Guatemala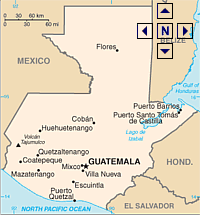 Featured Articles on Volunteering in Guatemala
Volunteer Abroad in Guatemala with Cross-Cultural Solutions
As a volunteer in Guatemala, you'll begin to explore this heart of Mayan civilization and quickly understand why so many people have a special place in their heart for Guatemala. As a volunteer in Guatemala, you will work alongside an incredibly diverse population struggling to cope with the effects of urban migration.

On each program, after volunteering for the day, you'll be able to walk around your neighborhood or explore some of the gorgeous spots nearby. We proudly believe we provide the perfect mix of quality work, cultural immersion, adventure, and relaxation—all while having 24/7 access to CCS staff and support. Make that life-changing decision to become a CCSer today!
Dates: One Week to Three Months
Costs: Contact Us for Pricing and Availability
Contact: Cross-Cultural Solutions, 2 Clinton Place, New Rochelle, NY 10801.
Tel: US Toll Free: 1-800-380-4777
Email: info@crossculturalsolutions.org
Website: www.crossculturalsolutions.org/destinations/volunteer-guatemala

Featured
Volunteer Abroad in Guatemala from US$275
International Volunteer HQ (IVHQ) offer affordable volunteer abroad programs in Guatemala from only US$275. Volunteers can participate in a wide range of projects including Teaching English, Childcare, Medical, Elderly Care, Construction and Renovation, Animal Care/Animal Rights, Lake Conservation, Eco-Agriculture Conservation, Turtle/Environment Conservation and Special Needs. IVHQ sends thousands of volunteer travelers worldwide annually—you will not find a more affordable, high quality and trustworthy volunteer travel company.
Cost: Program Fees start from US$275
Dates: Programs start on the 1st and 3rd Monday of each month. Duration: Volunteers can volunteer for periods ranging from 1 week to 24 weeks.
Contact: International Volunteer HQ, PO Box 8273, New Plymouth, NEW ZEALAND.
Tel.: US/Canada Toll Free: 1-877-342-6588; UK Toll Free: 0-800-234-1621; Australia Toll Free: 1-800-557-380; International: +64 6 758 7949.
Email: info@volunteerhq.org
Website: www.volunteerhq.org

Featured
A Broader View Volunteers Corp
Volunteering with a Non Profit Charity Overseas
A Broader View Volunteers is an U.S. Non profit charity.
We work in 24 countries with over 245 programs, including Belize, Chile, Peru, Ecuador, Colombia, Costa Rica, Nicaragua, Honduras, Belize, Guatemala, Uganda, Tanzania, Kenya, Ghana, Zambia, South Africa, Cameroon, Rwanda, Nepal, India, Vietnam, Philippines, Cambodia, and China.
With A Broader View (ABV), you'll be immersed in another culture, collaborate with your host community on a development project, and work side by side with local youth while building your own leadership skills. ABV works year round from 1-week to 12-week programs.

Dates: Ongoing programs, year round, you choose your dates of arrival and departure.
Cost: From US$895 for one week to US$2240 for 12 weeks (you can tax deduct the expenses). Program fee includes: personalized Volunteer Placement, cultural education, meals, accommodation, pre-departure guidance, 24/7 country staff, tax deducted fees, the option to fundraise within our website, and more.
Contact: A Broader View Volunteers Corp, 236 Glen Place, Elkins Park, PA 19027.
Tel.: 866-423-3258 or 215-780-1845 (US), (020) 3289-9896 (UK), (02) 8003-3474 (AU).
Fax: 215-887-0915 / Skype: Abroaderview.org
Email: volunteers@abroaderview.org, info@abroaderview.org
Website: www.abroaderview.org

Featured
Make a REAL difference in Guatemala — From just US$225/week!
Become a Love Volunteer in Ecuador and The Galapagos Islands and get a truly memorable experience whilst helping those in real need. Love Volunteers, the world's fastest growing independent volunteering organization, has provided meaningful volunteering abroad programs to thousands of volunteers seeking safe, responsible and affordable ways to help needy communities! Visit our website to check out our range of community-based projects and find out how you can make a REAL difference!
Dates: Flexible/Open Start Dates
Cost: Program fees start from just US$225!
Contact: Love Volunteers
Tel.: US: +1 415 800 4993, UK: +44 1865 522 688, NZ: +64 21 443 243
Email: help@lovevolunteers.org
Website: www.lovevolunteers.org

Featured
Academic Programs International
Volunteer in Guatemala
Enrich your life and the lives of others by choosing to lend a heart and hand to at-need projects. API offers service work in Guatemala on a variety of projects.
Contact: 301 Camp Craft Road, Suite 100, Austin, TX 78746 United States; tel. 5126008900; api@apiabroad.com, www.apiabroad.com
Cooperative for Education
Bring Education to Needy Children in Guatemala
Experience a short-term volunteer vacation at its best! You will deliver badly-needed textbooks and inaugurate brand-new computer centers at impoverished Guatemalan schools through nonprofit organization Cooperative for Education (CoEd). Week includes opportunities to interact with the children and families CoEd serves. Your presence will make an important contribution to CoEd projects by showing the communities that the programs are well-supported and around for the long term.
Visit: www.coeduc.org
ELI Abroad
Guatemala, the land of eternal spring, is an enchanting country and an incredible backdrop to the ELI volunteer programs. These opportunities benefit the locals while giving participants a unique cultural experience. Volunteers can work with at-risk youth, community development projects, income generation projects, women's empowerment, conservation, health, or children.
Contact: info@eliabroad.org, www.eliabroad.org
EntreMundos
EntreMundos works with over 160 local NGOs in Guatemala with the aim of building their institutional capacities. Included in the services we offer is a free-of-charge volunteer placement program. We can place volunteers either long- or short-term, with basic to advanced level Spanish in all fields of work. You can contact us by email for advice or assistance or apply directly to one of the NGOs we work with via the volunteer opportunities database on our website.
Contact: EntreMundos, 6a Calle, 7-31, Zona 1, Quetzaltenango; tel. (00 502) 7761 2179; mail@entremundos.org; www.entremundos.org.
God's Child Project
Provides an education for slum children in Antigua, Guatemala and uses short- and long-term volunteers who pay about $180 a month and live with a local family after doing a Spanish course.
Contact: P.O. Box 1573, Bismarck, ND 58502-1573; 701-255-7956; www.godschild.org.
Niños de Guatemala Antigua
Niños de Guatemala, is an NGO that provides underprivileged children with an education. NDG runs two primary schools and a secondary school which houses over 500 Guatemalan children that would otherwise not have been able to attend school. Your participation would be greatly appreciated. See the website for more details.
Contact: 4 Calle Oriente #28 La Antigua, Guatemala +502 7832-8033; info@ninosdeguatemala.org; ninosdeguatemala.org.
Quetzaltrekkers
Hike Guatemala, Help Kids as a Volunteer!
At Quetzaltrekkers we have been guiding hikes for 20 years to support the Hogar Abierto and Escuela de la Calle. These projects give housing and education to children in need.
At Quetzaltrekkers, we are all working as volunteer guides and we manage virtually all aspects of the organization. In our office you won't find a boss or a supervisor but you will find a tight-knit team of dedicated volunteers. Working as a Quetzaltrekker guide is an incredibly rewarding experience and a lot of fun!
Contact: Quetzaltrekkers, Diagonal 12, 8-43, Zona 1, Quetzaltenango, Guatemala; +(502) 776-55895; xela@quetzaltrekkers.com, www.quetzaltrekkers.com.