Volunteer in Guatemala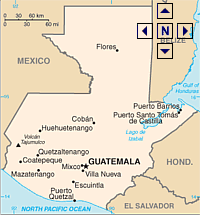 Featured Articles on Volunteering in Guatemala
Volunteer Abroad in Guatemala from US$275
International Volunteer HQ (IVHQ) offer affordable volunteer abroad programs in Guatemala from only US$275. Volunteers can participate in a wide range of projects including Teaching English, Childcare, Medical, Elderly Care, Construction and Renovation, Animal Care/Animal Rights, Lake Conservation, Eco-Agriculture Conservation, Turtle/Environment Conservation and Special Needs. IVHQ sends thousands of volunteer travelers worldwide annually—you will not find a more affordable, high quality and trustworthy volunteer travel company.
Contact: International Volunteer HQ, PO Box 8273, New Plymouth, NEW ZEALAND.
Tel.: US/Canada Toll Free: 1-877-342-6588; UK Toll Free: 0-800-234-1621; Australia Toll Free: 1-800-557-380; International: +64 6 758 7949.
Email: info@volunteerhq.org
Website: www.volunteerhq.org

Featured
A Broader View Volunteers Corp
Volunteering with a Non Profit Charity Overseas
A Broader View Volunteers is an U.S. Non profit charity.
We work in 27 countries with over 245 programs, including Argentina, Belize, Chile, Peru, Ecuador, Colombia, Costa Rica, Nicaragua, Honduras, Belize, Guatemala, Uganda, Tanzania, Kenya, Ghana, Zambia, South Africa, Cameroon, Rwanda, Nepal, India, Vietnam, Philippines, Cambodia, and China.
With A Broader View (ABV), you'll be immersed in another culture, collaborate with your host community on a development project, and work side by side with local youth while building your own leadership skills. ABV works year round from 1-week to 12-week programs.




Contact: A Broader View Volunteers Corp, 236 Glen Place, Elkins Park, PA 19027.
Tel.: 866-423-3258 or 215-780-1845 (US), (020) 3289-9896 (UK), (02) 8003-3474 (AU).
Fax: 215-887-0915 / Skype: Abroaderview.org
Email: volunteers@abroaderview.org, info@abroaderview.org
Website: www.abroaderview.org

Featured
ELI Abroad
Volunteer or Guatemala
Guatemala, the land of eternal spring, is an enchanting country and an incredible backdrop to the ELI volunteer programs. These opportunities benefit the locals while giving participants a unique cultural experience. Volunteers can work with at-risk youth, teaching, microfinance, women's empowerment, conservation, or health and medical.
EntreMundos
Volunteer Service in Guatemala
EntreMundos works with over 100 local NGOs in Guatemala with the aim of building their institutional capacities. Included in the services we offer is a free-of-charge volunteer placement program. We can place volunteers either long- or short-term, with basic to advanced level Spanish in all fields of work. You can contact us by email for advice or assistance or apply directly to one of the NGOs we work with via the volunteer opportunities database on our website.
Love Volunteers
Volunteer in Guatemala
Become a Love Volunteer in Guatemala and get a truly memorable experience whilst helping those in real need. Love Volunteers, the world's fastest growing independent volunteering organization, has provided meaningful volunteering abroad programs to thousands of volunteers seeking safe, responsible and affordable ways to help needy communities! Visit our website to check out our range of community-based projects and find out how you can make a REAL difference!