Teaching English in Latin America: Finding Jobs by Country
English Language Links Visitors and Residents
By Susan Griffith, Author of Teaching English Abroad
Resources updated 4/21/2019 by Transitions Abroad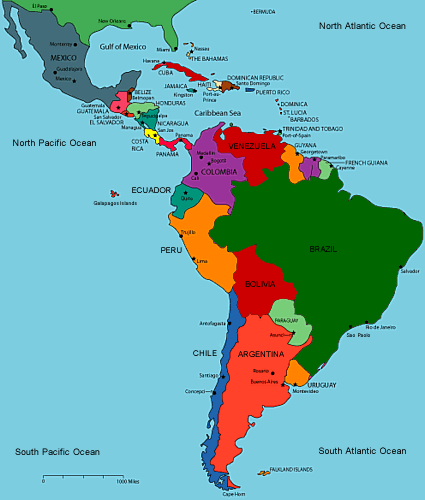 The vast continent of South America holds an almost infinite range of opportunities for anyone who aspires to share his or her native English. From the specialized training for the business communities of Santiago and Caracas to the informal conversation exchanges with Mexican fishermen and Peruvian waiters, the English language provides a key link between visitors and residents.
Apart from a few popular cities, seldom do you find the glut of teachers you find elsewhere in the world, possibly because South America is often pictured as a place of poverty and crime, danger and corruption, dictators and drug barons. In fact, South America is home to a staggering variety of charming and generous people from café-culture urbanites to street kids, many of whom are eager to meet travelers and improve their knowledge of the gringos' native tongue. The stampede to learn English seems unstoppable.
In the big cities, the greatest demand for English comes from the business community. And because of the strong commercial links between the two American continents, the demand tends to be for American English. The whole continent is culturally and economically oriented towards the U.S.
Novice teachers are more likely to be employed by one of the language school chains like English First and Wall Street Institutes which at first offer part-time contracts and relatively low wages. (Note: See all links to job and training sites in the box out below.)
Several South American nations have American- or British-style bilingual schools and colegios. Although they normally hire state-accredited teachers, a number take on students and university graduates looking for brief periods of work experience as classroom assistants
Voluntary and international exchange organizations which arrange for fee-paying young people to do English tutoring include WorldTeach, with alternating programs in Costa Rica, Chile, Ecuador and Guyana. An increasing number of language schools offer Spanish instruction to paying foreigners in the mornings and arrange a community volunteer program in the afternoons, for example, CIS-MAM in El Salvador.
International TEFL and TESOL Training (ITTT) is a language training company offering TEFL teacher certification and job placement assistance programs in Latin America and worldwide, as does LanguageCorps. International TEFL Academy and CIEE also offer training and placement assistance for paid jobs in a variety of Latin American countries.
Even the poorest of Latin American nations offer possibilities to EFL teachers, provided they are prepared to accept a low wage. In contrast to an hourly wage of $10-$30 in Europeanized cities like Santiago and Rio, the wages paid by language schools in La Paz and Quito may be closer to $5.
Picking up Casual Work
Many aspiring teachers find that the response to sending their resumés to addresses abroad is a disappointment. It is better to present yourself in person although having sent a "warm-up" resumé beforehand can do your cause no harm. Finding casual teaching work is a matter of asking around and knocking on enough doors.
English language bookstores are another possible source of teaching leads; try for example the English Book Center in Guayaquil (Ecuador) or Books and Bits in Santiago (Chile). Many foreign teachers are simultaneously learning Spanish, so a good place to link up with people in the know is to visit the local Instituto de Lengua Espanola para Extranjeros or its equivalent. Check the telephone directory for schools or agencies.
Teaching Credentials Not Always Required
Teachers tend to agree that Latin American students are a joy to teach because they love to talk. If you have plenty of enthusiasm in addition to a good education, are carrying references and diplomas, and are prepared to stay for an academic year, it should be possible to fix up a contract with a well-established language institute. Many institutes offer their own compulsory pre-job training.
The academic year begins in February or early March and lasts until December. The best time to look for work is a few weeks before the end of the summer holidays. However, many institutes run 8- to 12-week courses year round and will hire a native speaker whatever the time of year.
In-company teaching usually takes place early in the morning; a popular starting time is 7 a.m. People learning English outside their workplaces usually sign up for evening lessons. Most teachers enjoy the off-site teaching more than classroom teaching, which tends to be more textbook-based.
Work visas require gathering a battery of documents—including notarized and officially translated copies of teaching qualifications, a police clearance, etc.—and paying a hefty fee. Consequently, a high percentage of teachers work on tourist visas. These must be kept up-to-date by applying for an extension from the immigration department or by crossing into and back from a neighboring country.
Not only will a stint of teaching be good for learning a language, it will give you the chance to experience the notorious Latin zest for life.
Multi-Country Job Placements in Latin America
Bureau of Educational and Cultural Affairs, English Language Specialist Program. Part of the State Department, this office runs a network of overseas field offices based in U.S. Embassies, many of which have English teaching programs employing native speakers of American English. Binational Centers offer English instruction in most of the countries of Latin America; contact details are available online.
International TEFL and TESOL Training provides training and job placement assistance in Latin America.
WorldTeach is a nonprofit organization which places several hundred graduates as volunteer teachers of EFL or ESL in several countries including Chile, Colombia, Costa Rica, Ecuador and Guyana for the summer or for 1 year.
CIEE: Council on International Educational Exchange in Chile. Offers teaching placement throughout Latin America and worldwide.
International TEFL Academy offers TEFL TESOL Certification in Latin American locations and helps with job placement.
LanguageCorps Inc.. Programs in Argentina, Brazil. Chile, Costa Rica, Ecuador, Mexico, Panama, and Peru provide TEFL training, job placement, and support.
International TEFL and TESOL Training provides training and job placement in Buenos Aires.
International TEFL Academy offers TEFL TESOL Certification in Buenos Aires, Argentina and helps with job placement.
Brazil
Britannia Schools, Central Department. Employs native speaker teachers with TEFL certification for schools in Rio de Janeiro and Porto Alegre. Despite name, North American teachers are hired. CELTA Certificate course offered.
International TEFL Academy offers TEFL TESOL Certification in Rio de Janeiro, Brazil and helps with job placement.
Typically these schools may offer a newcomer no more than a few hours of teaching work, gradually working up to a full timetable after a probationary three months. American job-seekers, especially those with a TEFL background, should approach one of the Institutos Chileno Norteamericano including the one in Santiago listed here.
Berlitz Language Centers. Several other branches in Santiago.
CIEE: Council on International Educational Exchange in Chile. Teach English in 3 cities in Chile.
EF English First. Several EFL branches in Chile.
International TEFL Academy offers TEFL TESOL Certification in San Jose - Heredia, Costa Rica and helps with job placement.
Colombia is even more strongly oriented towards the U.S. than elsewhere in South America with an extensive network of Colombian-American Cultural Centers around the country including the following which teach English:
EF Education First. Part of the EF chain.
International TEFL and TESOL Training provides training and job placement in Manuel Antonia, Costa Rica.
Pro-English offers corporate language training.
The market for English, particularly American English, continues to thrive despite economic difficulties in the country. Dozens of language academies and institutes can be found in Quito, the second city Guayaquil, and in the picturesque city and cultural center of Cuenca in the southern Sierra.
CEDEI - Centro de Estudios Interamericanos. Needs university-educated native speakers to teach for at least 6 months. Recruitment information available online. CEDEI offers TEFL training courses.
EF English School Quito (English First). CELTA-qualified teachers required. Accommodations arranged.
Inlingua. Seeks native speakers.
Guatemala
International TEFL and TESOL Training provides training and job placement in La Antigua, Guatemala.
Mexico
International TEFL and TESOL Training provides training and job placement in Chiapas.
International Teacher Training Organization offers training and courses in Guadalajara.
International TEFL Academy offers TEFL TESOL Certification Guadalajara, Mexico and helps with job placement.
Wall Street Institute (Mexico) is one of the most important language training organizations with many franchise schools, most of which are located in greater Mexico City.
Peru
International TEFL and TESOL Training provides training and job placement in Cusco, Peru.
TEFL courses in Cusco, Peru via ITTO offers training and job placement.
International TEFL Academy offers TEFL TESOL Certification in Cusco, Peru and helps with job placement.
SUSAN GRIFFITH is co-editor of Work Abroad and author of the book Teaching English Abroad. See Susan's bio for more information about her extensive bibliography or to purchase the most recent edition of her book.