Working in Valencia, Spain without Speaking Spanish
Creative Ways to Find Jobs Teaching English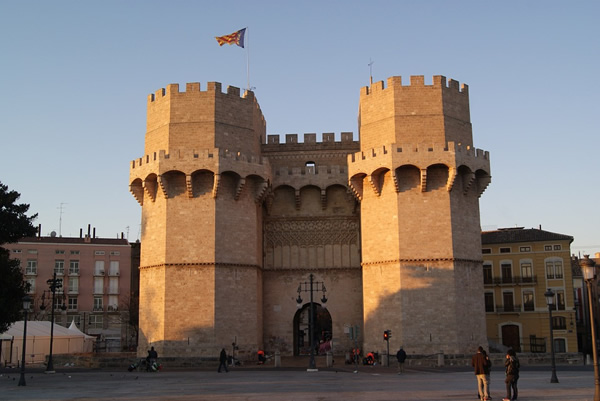 A castle in the old town of Valencia.
I came to Valencia, Spain qualified in IT but "unqualified" in Spanish. Naturally my first thought was that I could teach English for a few months until I had learned the language and could get another job. This ended up becoming a little trickier than I had expected, but in the end I managed. This article tells you what you need to know about the possibilities of getting a job in Spain.
Can I Work in my Professional Occupation without Knowing Spanish?
Being fluent in English and experienced in the world of information technology, I hoped that with my very basic knowledge of Spanish I might be able to get a job working in my field for a Spanish company with international ties. My assumption turned out to be basically false in Valencia.
Madrid and Barcelona are by far Spain's largest and "most internationalized" cities. Jobs are regularly advertised in English or as requiring English natives, so depending on your field and skills it may be possible for you to get a job there knowing only English. Outside of Madrid and Barcelona, you will currently find it tricky to find a white-collar job if you don't speak Spanish. Even blue-collar jobs are very difficult to find at the moment with the current economical crisis that Spain is facing (particularly in the construction industry), so jobs will naturally first go to those who can actually speak the language.
There's Always Teaching English, Isn't There?
I briefly visited Valencia about six months before I was actually going to move here. I went to all the English schools (escuelas de idiomas or academias de inglés) in and around Valencia, about 10 of them. All showed interest, took my resume, indicated that I should contact them when I returned, etc. However when I moved to Valencia in July and went back to the schools, there was very little interest. This taught me perhaps the most important lesson about English schools in Valencia:
Demand is Extremely Seasonal
Research is essential to complete before you come to Valencia wanting to work. The entire month of August, for example, everyone goes on vacation and the city virtually "closes down". So one can imagine the response I received from most of these schools as I showed up in mid-July trying to get a job!
Teachers are Fleeting and Schools Know This
If the school does not need your services right now, they are unlikely to enter you into their database and call you as soon as a position comes up. You are better off returning every few weeks to show that you are still interested and to see whether a job has become available. Teachers come and go; people get other jobs, so schools do not make a great effort to keep track of old applications—but they are more likely to give a job to someone that they know is interested right now.
Guaranteed Work?
There are various opinions on the likelihood of gaining work as an English teacher. Some say it's quite easy or virtually assured, others say you need qualifications to Teach English nowadays. The truth, at least in Spain, is between these two extremes. Some institutions demand their teachers have a TEFL (Teaching English as a Foreign Language) certification, other institutions prefer their teachers not to have traditional qualifications because this inhibits them from learning to teach using the school's own methodology. It is definitely possible to get a job without a traditional qualification, but having a qualification opens up more opportunities.
Often schools are looking at you as a person, whom they see as much more important than paper qualifications. Can you encourage students, communicate effectively, are you likeable and fun? Generally these skills are much more important in teaching English. Nevertheless, always take people's words about the ease of gaining a job with a pinch of salt. Many will tell you this, many companies will even tell you how interested they are in you and the great possibility of work at some future stage, even "soon," but be aware that Spanish are quick to talk yet tend to be a bit complacent when it comes to action. Until you teach your first class you would be advised to retain a little healthy skepticism about peoples' words.
My Work at a Language School
So what happened to me in the end? Abla Lenguas language school took me on, originally to help out with their website and IT issues, and eventually to teach English as well. Abla Lenguas turned out to be the "young, dynamic and fun" counterpart to the older, more rigid and long-established schools like Berlitz and Wall St. Institute.
The Bottom Line
Like everything in the economy, jobs are based on an equation of supply and demand. There is no guarantee of work, but if you turn up at the right moment—when schools need staff as courses are starting—then you are more likely to have luck. Mid-to-late September is a good time to look for work teaching English in Spain. If you are outgoing, enthusiastic and fun, then you are probably a good fit for the job and schools will notice this when they meet with you.