Teaching English as a Language Assistant in Spain
Being a Cultural Ambassador in Barcelona (or Anywhere in Spain) is a Great Way for North Americans to Work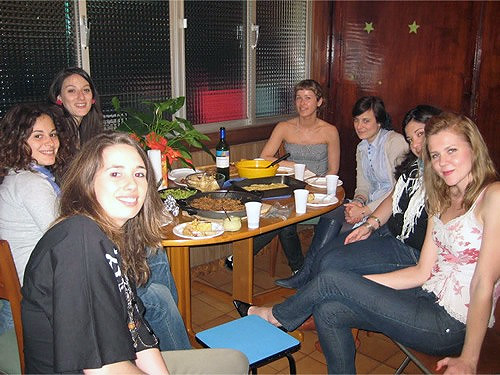 English Teachers enjoying lunch in Barcelona.
Barcelona is, in many ways, the ideal city to teach English. It is difficult to avoid sounding cliché when describing Barcelona with its stunning beaches, Mediterranean climate, uniquely rich culture, and legendary nightlife. The cost of living in Spain is also comparatively cheaper than other western European countries. Moreover, there is plenty of work for English teachers. The problem for North Americans is how to find teaching work legally. The barrier is especially daunting for those people sitting at their computers thinking of making a move to Europe, but who understandably want to secure a job before they cross the Atlantic. Working as a language assistant is a great way to experience legally living abroad in Spain with job security.
The Language Assistant Program in Spain
The language assistant program starts at the beginning of October and finishes at the end of May. Language assistants are assigned to public schools throughout Spain where they assist English teachers. The term "assistant" is open to interpretation, but it fundamentally means helping the teacher in Spain bring to life the English language as well as cultural lessons from your home country, and helping students learn vocabulary and grammar. Another aspect of your role as an assistant is to help local English teachers (who are usually Spanish or Catalan) with their own pronunciation and English skills. I have done everything from teaching small groups of students vocabulary using flash cards, designing presentations on American holidays, helping the students perform in Christmas plays, to making photocopies of activity sheets for the students.
The beauty of the language assistant program is that you are hired by the Spanish government and given a job contract and a student visa for the duration of the program. That means you can travel and leave Europe without worrying about overstaying your 3-month tourist visa. You are only required to work 12-15 hours a week at your school, leaving you plenty of time to pursue other interests such as sightseeing, traveling around Europe, learning Spanish, joining a rock band, or whatever you desire. In addition, you are given health insurance, paid holidays during Christmas and Easter, and a free pass to museums. Another notable aspect of the program is that you are already hooked into a network of people who are all doing the same thing as you and therefore you have many potential friends before you even arrive in Spain. Most language assistants are in their early to mid-twenties, but there are a few who are in their thirties and forties as well.
A square in Barcelona.
The Challenge of Budgeting
All of this sounds great, but here is the catch: how to survive on only 700 euros a month in Spain (the program does not pay for travel or living expenses). Fortunately, 700 euros can go a long way in Barcelona through careful budgeting. For example, rent is usually around 300 euros leaving you 400 euros a month to spend on food and entertainment expenses. A liter of milk, for example, is only 60 cents in a supermarket and a bottle of beer is usually around 1.50 at a bar.
Of course, one option is to supplement your income with other jobs, a bit of a the grey area because legally you are not supposed to work on a student visa. The monthly income from the Spanish government is technically considered a "grant." However, at the program orientation we were discreetly encouraged to find other work through teaching private English lessons.
Here are some options to make your budget to live in Spain work:
Teach Private English Lessons ("clases particulares")
Putting ads offering to teach English lessons is one way to go. Another alternative is to see if parents and teachers at your school are interested in taking private English lessons. One of my friends, also a language assistant, is teaching classes to a group of mothers at her school for 60 euros an hour.


Work for a Language Academy
You can also try your luck at language academies or agencies. The problem with this is that most language academies only want to hire English teachers with a work visa or European Union citizenship, though many places tend to look the other way if you are a qualified English teacher


Work Wherever You Can
Depending on your Spanish skills, you can also try to work at a bar, shop, or restaurant.


Save Before You Come
I know a few language assistants who saved money before they came and are doing well while traveling plenty on the 700 Euros a month combined with their prior savings.
One Experience of the Best Teaching Options on the Side
Personally, I did not have much luck finding work teaching private lessons on my own. There is a big demand for private English classes, but there are also a ton of English teachers advertising their services. I ended up eventually getting another job teaching private English classes for an agency (who did not seem to care whether I was legal or not.) It seems that most people would rather pay more money to an official language institute rather than to a random person they contact on the Web. I was charging a measly 12 euros an hour for my private classes and was only able to find six classes over the period of three months, while with an agency I teach 12 classes a week and charge 24 euros an hour (of which I only make 15). I would recommend working for an agency because it does offer you some job security. Also, with classes I was teaching independently, my students often canceled and I would lose out on making supplemental income as a result. With the agency, however, the rules are more standardized, and if a student cancels, then the classes are made up at another time, so your monthly income remains consistent.
Requirements for the Language Assistant Program
To participate in the Language Assistant program, you should be a junior or a senior at your university or already hold a B.A. or M.A. You do not need to have TEFL certification, but it is a good idea to get the certificate if you are planning to find other teaching work on the side. Also, your chances of being accepted are better if you are fluent in Spanish or have some experience living or working abroad. It is a good idea to have some money (about US$1,000 is the minimum) saved up for the move as well. You will need to pay a deposit for an apartment, and you do not get your first paycheck until the beginning of November for your work in October. Keep in mind that dollars are worth less than Euros these days (see an online currency calculator).
Another thing to consider when applying for this is program is that you are not allowed to choose where you want to be placed in Spain. You are given the opportunity to select the top three areas of Spain which you would prefer. It is then a matter of chance whether you will be placed in your first choice and if you will be placed in a big city or a small town within that area.
How to Apply:
Visit the North American Language and Culture Assistants Program NALCAP webswhere you will find a list of the following requirements:
A submitted an application online, which is in Spanish.


You will also need to attach and send by post the following for the application:
A copy of your passport photo page (you must be between ages of 18-60)
A printout of your application with your handwritten signature and a photo attached to it
An original, official college transcript or a copy of your University diploma
A letter of recommendation
A letter of motivation


Once you are accepted, you have to apply for a student visa at your nearest Spanish Consulate before coming to Spain, which is a lengthy and often frustrating process. For the visa, you will need to get a letter of good health from a doctor, a police record, and copies of your passport. All of these must then be sent to the Apostille to verify that they are legal documents. After all of this, you will get a student visa sticker attached to your passport.


Once you arrive in Spain, you will have to find an empadronamiento (a resident of Spain) who will be your sponsor. Then you have to apply for a NIE (national identity card of Europe).
Is All This Worth It?
Definitely. As the year comes to a close in Barcelona, I have a learned so very much about other cultures and subcultures, new ways of living, and myself. I have made many great friends in and out of the language assistant program. I am also happy to say I have improved my Spanish and even learned some Catalan. I have considered renewing my contract, but for personal reasons I have decided to leave Spain. However, I do know many people who are renewing their contract for the next year. One of my friends was even offered a full-time job at his school making a much better salary. The program can be a great opportunity to live abroad in Europe for a gap year or sabbatical, or it can even be a stepping-stone to better international work opportunities.
If you are interested, apply to North American Language and Culture Assistants Program NALCAP well in advance due to great demand for the over positions eligible for those ages 18-60.
| | |
| --- | --- |
| | Lara Nylander grew up on the central coast of California. She studied literature at the University of California, Santa Cruz and earned her teaching credentials at California State University-Cal Poly. Lara taught first grade in California for several years before moving to Europe. She has traveled extensively throughout Europe and Central and South America. |