Markets and Catalan Food in Barcelona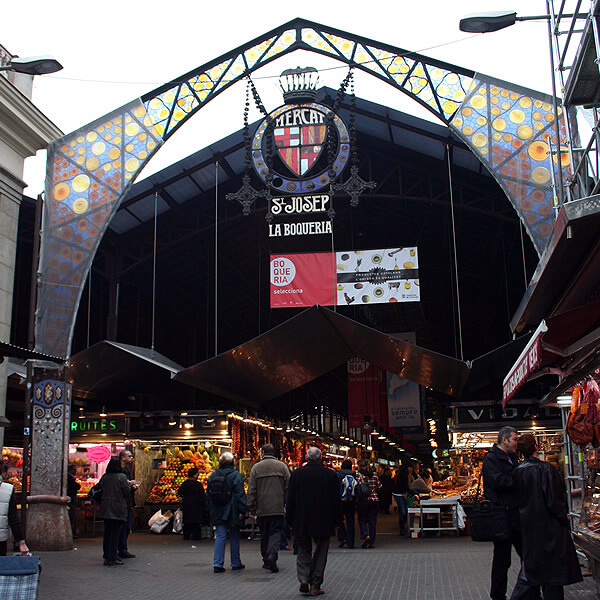 Entrance to La Boqueria market.
There's no doubt about it — you eat well in Catalonia. In fact Catalans might argue that you eat better here than anywhere else. Catalonia prides itself on being different from the rest of Spain in a variety of ways and its cuisine has its own very distinctive flavors, with a number of dishes dating to medieval times. One of the richest regions in Spain, this northeastern corner can easily come across as a place blessed with sheer abundance to the visitor — a foodie's heaven full of gastronomic delights. Barcelona, the region's capital and Spain's second largest city, is at the heart of Catalan cooking and continues to attract influences from near and far, something that is reflected in its long-standing culinary traditions.
The market culture is alive and kicking within the city limits of Barcelona, where there are some 40 neighborhood markets, many selling a wide variety of fresh local produce. The largest, best-known, and perhaps the most visually pleasing is the central Sant Josep market, known as La Boquería. If this market, just off La Rambla — Barcelona's principal avenue and a tourist attraction in its own right — is your first introduction to the wealth of Catalan produce, you are in for a treat. Little old ladies, tourists, and restauranteurs all jostle for space to browse and shop on an early Saturday morning, or anytime for that matter. La Boquería is constantly busy and the pace rarely lessens until late in the day.
Each Barcelona neighborhood has its own main market as well as various smaller ones. Taking a leisurely walk from market to market is an excellent way of getting to know the city and its people. Many of the best markets are within walking distance of each other. Starting off from La Boquería, a quick jaunt through the quirky area of El Raval, little known to most tourists, takes you to Sant Antoní market. This old market inaugurated in 1882 is actually a "three-in-one", with food sold in the covered part, general goods and clothes sold in the outside market, and on Sundays there's an antiquarian book fair as well.
Moving up through town to the University and along Passeig de Grácia — one of Barcelona's main thoroughfares lined with several of its best known buildings, such as La Pedreda, a testament to the genius of Catalan architect Antoni Gaudí - leads you into the area of Grácia in the northern part of Barcelona. This area is chiefly residential, which is a sure sign that there will be several good markets to explore. La Llibertat market and L'Abacería Central are two of the best to visit for the intrepid culinary visitor.
Visiting local markets is often an excellent way of getting to know a new place, seeing what people eat, how much things cost, how people deal with one another, and how language is used. In fact, I have found that I'm learning more Spanish than I thought possible in such a short time just by shopping or browsing at the market. Even for those fluent in Castilian Spanish, the Catalan language presents quite a challenge. Catalan people, fiercely independent, speak it as often as they can, regardless of who understands them. Given that the language was banned for decades under Franco's regime, the current nationalistic streak is quite understandable. While in La Boquería you hear a variety of international languages spoken and find that many a stall holder speaks English, once you move out into the smaller markets Catalan predominates (I have attempted to use the original Catalan names for places and food throughout this article).
Everyone shops at the markets. The haggling, bartering, squeezing, and prodding that goes on is part of an everyday food ritual. But what do Catalans eat? What should you sample in Barcelona? Catalan cooking, whether home-style or restaurant fare, is often centered around four basic "sauces"; the allioli (literally garlic and oil in Catalan), the picada (with a variety of ingredients, but often nuts-based), the samfaina (aubergine-based), and the sofregit (olive oil, onions and tomatoes). These are not so much sauces but bases that can be added to almost any meal to enhance the flavor. As a region, Catalonia is abundant in naturally available ingredients. Much of the cooking is seasonal; e.g. certain types of fish are prepared at certain times of year, wild mushrooms in autumn, berries and fruits in summer, etc. The long coastline provides ample opportunities for fishing and the seafood is excellent. The Catalans are notorious for their lack of fear in mixing elements that others might balk at, such as fish and meat, and chocolate and chili (did they introduce this to the Aztecs?). Many a Catalan dish will combine the sweet, the sour, and the salty.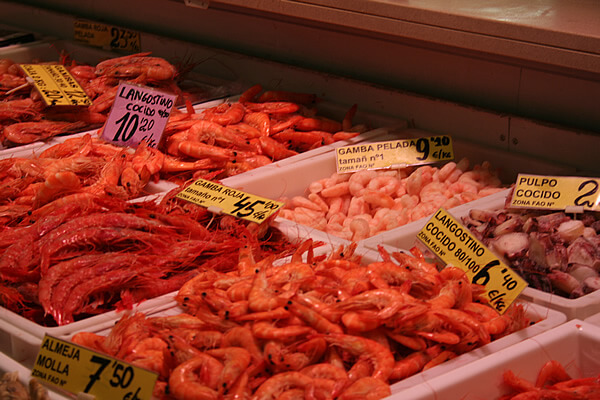 Prawns at Santa Caterina market.
In medieval times, what was then Catalonia stretched across the Mediterranean as far as Sardinia, Sicily and even parts of today's Greece. Little wonder there is such a variety of influences at play in Catalan cuisine. From Roman and Greek to French and Moorish, all cultural influences have been successfully incorporated into the gastronomic traditions, not forgetting of course "the New World." It was only after the conquest of Latin America that such a Catalan staple as the tomato was introduced to Spain. The varied influences can be spotted at the region's markets where the elements that shape the Catalan diet make for wonderfully colorful displays. Onions, tomatoes, garlic, and olive oil are in fact so ubiquitous it's practically impossible to find a dish that doesn't include at least a couple of these ingredients. Although tapas abound, the emphasis is often on more substantial fare, including hearty stews, casseroles, rice dishes, and fideus; a type of noodle. Other popular foods include wild game, snails, and salt cod. Some of the dishes, such as offal, are not for the faint-hearted.
The last of the main Catalan culinary delights is pork in all shapes and guises. There is no part of this animal that isn't used. Some of the best hams and sausages in the world can be found dangling from market stalls. Botifarra blanca (white sausage) or botifarra negra (blood sausage), fuet, and somaya are just a few of the 17 officially recognized types. Although Catalan people can sometimes be hard to approach, a sure way of starting a conversation is to ask who invented the paella, or whether mixing seafood and chicken in the same dish could be considered sacrilege? Any restaurant owner or nearby client will undoubtedly want to share their thoughts on what makes Catalan cuisine so special. After a few nibbles you're likely to be singing its praises yourself.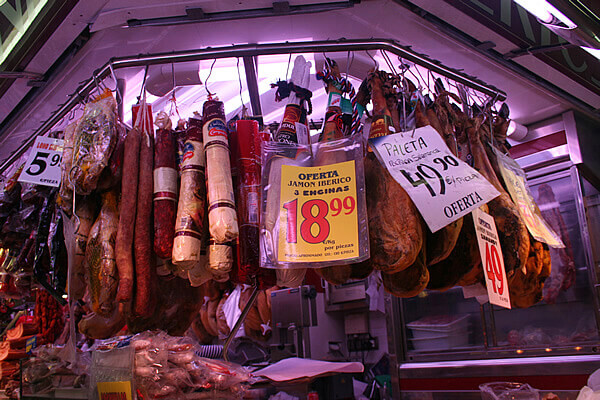 Sausages and hams (Jamon Iberico Riserva is recommended) at the Santa Caterina market.