Montreal is a Great Culinary Center
Ethnic Food and Local Fare with a Dash of French Flare in Canada
Within Montréal's city limits you can kayak the Saint-Lawrence, cross-country ski atop Mont Royal, or hop a new BIXI (bicycle +taxi) for a ride around Mile End. And yet some of the best adventures to undertake here are of the indoor variety, especially during Québec's prolonged winter season. Given its size as the second largest city in Canada, one expects Montréal to have the restaurant scene to match, and it does not disappoint.
Think of yourself as a gastronome, a foodie, or simply an eater, but a few days in French Canada's melting pot and you won't be able to tell anyone that you are hungry. As with most large urban areas, expensive fine dining establishments abound in the city center, but a plethora of ethnic eateries, excellent brewpubs, and restaurants serving Québécois cuisine will tempt travelers to venture beyond the heavily-touristed areas downtown.
Quebecois Cooking in Montreal
In Québec, as in France, a long, indulgent meal is often the preferred way to spend an afternoon, an evening, or both. So if you are in town to dine like a French Canadian, start with this group of eateries—but don't even think about counting calories. You will need them for the cold walk home.
Au Pied de Cochon. Pickled tongue. Foie gras poutine. Duck in a can. There are two places to taste such dishes: a sugar shack deep in the wilderness, or closer to civilization, at a little restaurant that has been described as a "great bastion of carnivorism." True to its title, Pied de Cochon prides itself on a kitchen that pursues happiness to the very limits of healthiness. Expect to quickly become sated on their fatty offerings and enormous portions.
Joe Beef. Here on Notre Dame West, hearty is the operative word. Another small establishment a few blocks further from the center, Joe Beef, like PDC, elevates rustic fare to something that has been referred to as haute comfort food. Again, meat rules supreme, but pork takes a back seat to seasonal seafood. Lobster appears in several dishes and a chalkboard hanging above diners advertises fresh fish daily.
Le Binerie Mont Royal. This historic restaurant sticks to tried and true recipes and has satisfied many a diner since opening its doors north of the park that gives the city its name. Baked beans, meatball and pigs' feet ragout, and a filling pea soup are a few of the favorites that have kept customers returning to this tiny spot on St. Denis since 1938. Try the poor man's pudding if you have room to spare.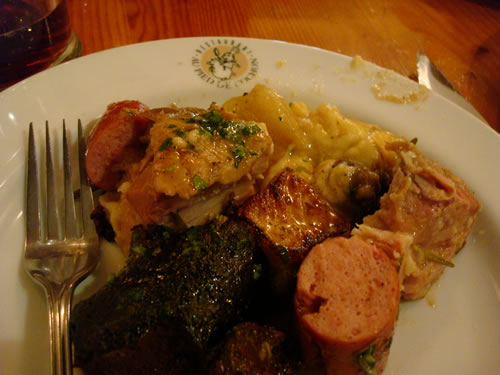 Pied de Conchon.
Delicatessens
Besides a fanatical devotion to sesame bagels, Montrealers swear by the meat smoked at their delicatessens. And they have a point—perhaps only the old guard delis of New York can rival the best in this category. Locals all have a favorite, but any of the following are fine places for an initiation meal.
Schwartz's. Much has been made of Montréal's smoked meat, and thousands of pilgrims trek here every year to taste the brisket made at Canada's oldest deli. Debate rages over the superiority of the Schwartz sandwich compared to those sold by its competition, but participating in this argument requires sophisticated taste buds. When served with a pickle between two slices of rye however, a flavorsome pile of their spiced, marinated meat is not easily resisted. A definite highlight of a stroll along Boulevard St-Laurent.
Snowdon Deli. Another venerable outpost for smoked meat devotees, this deli on Boulevard Decarie is considered by many to be an essential stop for an authentic sampling of Jewish food. In addition to thick, unadorned sandwiches served on fresh bread, diners will also be treated to lox, knishes, and matzo ball soup. Its unassuming exterior disguises a menu brimming with flavors, not least of which are the savory spices used to season their "old fashioned," hand-sliced beef.
Main Deli Steak House. Hungry travelers who want smoked beef on rye but are not willing to wait in the snow across the street at Schwartz's should not think twice about visiting The Main. Like its neighbor, the menu is heavy on red meat, the service equally brusque, and the décor hasn't been updated in decades. But these details won't seem important after a bite of Montréal's quintessential sandwich.
Waiting in line for the famous fare at Schwartz's delicatessen is worth braving a little snow.
Coffee and just a bit of smoked meat.
Ethnic Eateries in Montréal
Nearly one quarter of Montréal's citizens immigrated to Québec from another country, and the city's foodscape reflects this defining characteristic. In other words, despite an abundance of excellent French bistros, Italian cafés, and Spanish tapas bars, diners are not restricted to European cuisine.
Byblos. Persian food is not an everyday option for most diners in Montréal, which would make this Iranian teahouse worth investigating even if they did not serve some of the best omelets north (or south) of the Saint Lawrence River. Fortunately, they do. A generous number of teas and homemade jams to choose from offer another reason to visit, perhaps after an afternoon of ice skating in nearby Parc La Fontaine.
Magdala. If trekking all over the city to nibble on unusual dishes does not sound irresistible but you would still like to try something different, then Magdala may be an ideal compromise. The Ethiopian stews prepared here in city center have earned the praise of numerous Québécois who cannot get enough doro (chicken), miser (lentil) or beg (lamb) wot, served with the traditional sourdough flatbread known as injera. Spicy and satisfying.
Nonya. Like many North American cities, Montréal has its own Chinatown, a neighborhood with a wealth of Cantonese and Szechuanese dining options. The more adventurous would do well to head to Mile End for a taste of Indonesia. Start by ordering the crispy lumpia goreng—fried spring rolls—before trying the beef rendang, slow-cooked for hours in coconut milk and Sumatran spices.
Bars and Brewpubs
Elsewhere in the world, pub grub usually translates to fried food smothered in cheese or some sort of dipping sauce, but most bars in Montréal take their menus as seriously as they do their selection of Canadian beers. Yet even when judged on their tap lists alone, the alehouses here are far from ordinary.
Le Cheval Blanc. As it approaches the quarter-century mark, Montréal's first brewpub remains a dependable location for a craft beer and a Hungarian style hot dog or an affordable panini. East of downtown on Rue Ontario, this is the best place for a quick bite accompanied by one of eight reasonably priced ales on tap. Live music and occasional art exhibits provide further reasons to savor your pint.
Le Saint-Bock. With a rotating draft list of 20 beers brewed either on the premises or elsewhere in Québec, Le Saint-Bock offers curious travelers an opportunity to sample a wide range of styles at a single establishment. Enormous salads, juicy hamburgers, European sausages, and meat or vegetable-filled graals—the house specialty—appease the appetite but do not outshine the hoppy IPAs or malty stouts.
Brasserie Artisanale L'amère à boire. While the ales and lagers at L'amère à boire should not be missed, the items on the menu elevate it above the pub fare typically found at other bars with kitchens. Case in point: the majority of the beef and bison served in their burgers is sourced from farms in the nearby Petite-Nation valley. And if that weren't enough, when it comes to dessert the decadent crème brûlée à la stout is nothing short of inspired.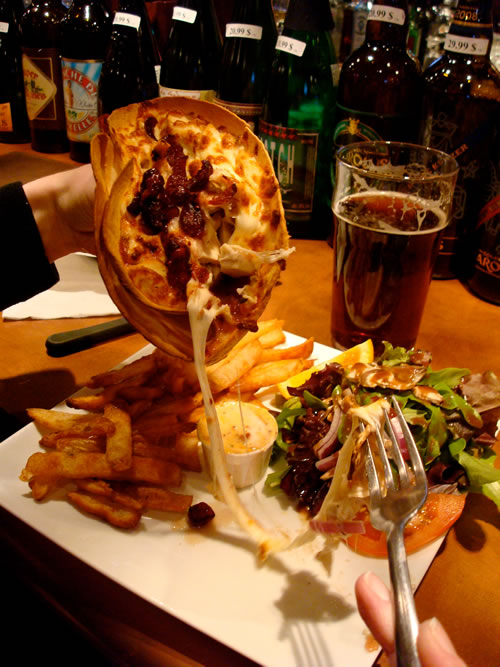 A gargantuan meal with fries.
For More Information
Pied de Cochon
536 Duluth Est
Montréal, QC
Joe Beef
2491 Notre Dame West
Montréal, QC
La Binerie Mont Royal
367 Avenue Du Mont-Royal Est
Montreal, QC
Schwartz Deli
3895 Saint-Laurent Boulevard
Montréal, QC

Snowdon's
5265 Boulevard Decarie
Montréal, QC
Main Deli Steak House
3864 Saint-Laurent Boulevard
Montréal, QC
Byblos
1499, Avenue Laurier Est
Montréal, QC
Magdala
1222 Rue Bishop
Montréal, QC
Nonya
151 Rue Bernard Ouest
Montréal, QC
www.nonya.ca
Le Saint Bock
1749 Rue Saint-Denis
Montréal, QC
L'Amère à boire
2049 Rue Saint-Denis
Montréal, QC