A Guide to Summer Pleasures in Vibrant Montreal
Article and photos by Lies Ouwerkerk
Senior Contributing Editor
6/4/2018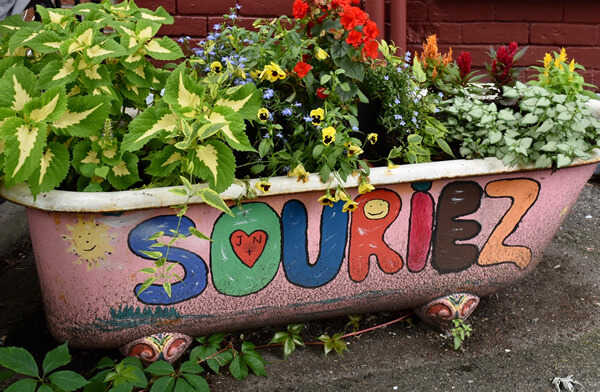 Souriez (smile) painted on a bathtub full of flowers is one of many welcoming Montreal summer sights as festivals are celebrated throughout the vibrant city.
Anglo-français Montreal—vibrant, bohemian, creative, multicultural, and the nearest Euro-fix for Yankees—is a city of innumerable indoors, outdoors, and underground activities year-round. Even in the dead of winter locals bundle up for festivals like "Igloofest," "Montréal en Lumières," and "Fête de Neiges." But it is when groundhog days are over, snow has finally melted, and fresh green is returning to the trees, that the city bursts out in full force.
As spring turns to summer, locals dust off their bicycles and take over the streets, food trucks return with their yummy specialties, outside terraces, parks, and the historic Lachine Canal are brimming with life again. Countless festivals and outdoor activities are enjoyed daily until well into the fall. To get a grasp of all the city has to offer, I have identified some cool suggestions for a great summer escape in Montreal.
Festivals and Events
Mural "The Sun Keeper" by Spanish artist Ricardo Cavolo, International Mural Festival 2017.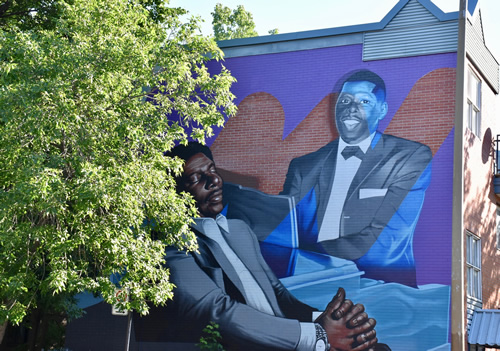 Mural of famous jazz pianist Oliver Jones near his childhood home in Little Burgundy by Montreal-based muralist Dan Buller.
From street food parties, Croissant Day, open-air concerts and dance performances, parades, sidewalk sales, and Sunday tam-tams, to firework competitions, street art, comedy, circus, film, and literary festivals, to marathons, car races, and cycling events, Montreal has it all.
The yearly International Festival "Nuits d'Afrique" (African Nights) in July.
Some of the most famous yearly events are:
The Mural Festival (June)
The Formula 1 Grand Prix (June)
The International Jazz Festival (July)
Just for Laughs Festival (July)
International Fireworks Competition (July)
The Gay Pride Parade (August)
World Film Festival (August)
Osheaga Music Festival (August)
For a complete list, month by month, see: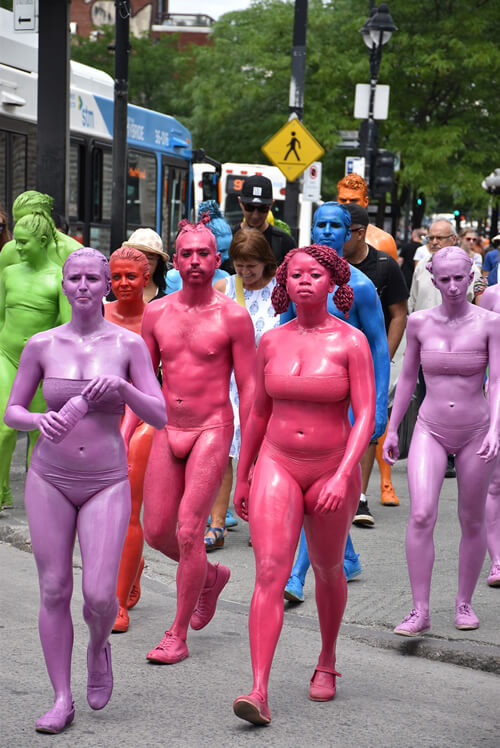 Open Theatre "Ilotopie" takes to the streets, a celebration of freedom highlighting diversity in Montreal through body paint.
Montreal's Food Scene
There is no city like Montreal when it comes to fine and eclectic food. Montrealers can choose from thousands of holes-in-the-wall, cafés, bistros, and restaurants (some with a BYOB─bring your own booze─option), representing cuisines from all over the world.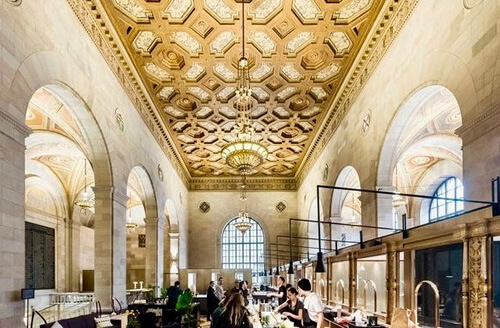 Crew Collective Café in a former bank building (photo credit: Crew Collective Café).
To work your way through the maze of possibilities, check reviews on
You can download an up-to-date guide to Montreal's food scene, Glutton Guide Montreal: the Hungry Traveler's Guidebook─collected by two accomplished foodies─for less than $10 at Amazon and Round Table Tours.
A lunch or dinner prepared and served by students of hotel and chef schools, supervised by their teachers, is so popular (and affordable) that reservations are necessary at the following locales:
For an authentic lunch or dinner at a local's home use the Eat With website.
For the best French pastries in town see this Foursquare round-up.
Quaint and cozy tearooms in the city include:
Le Parloir, 4354 Christophe-Colomb
Kusmi, 3975 St-Denis
The Ritz, 1228 Sherbrooke W
Ming Tao Xuan, 451 St-Sulpice
La Maison du Macaron, 4479 de la Roche
Gryphon d'Or, 5968 Monkland
Qabane a thé, 1428 Mackay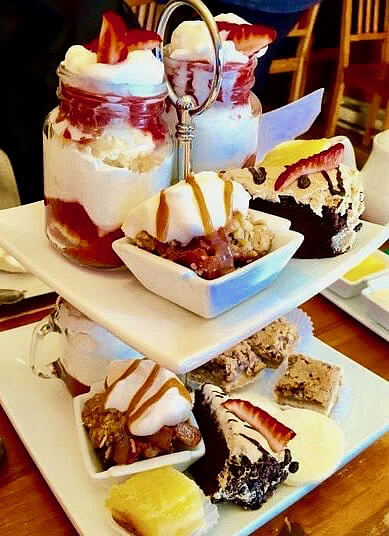 Sinful treats at tearoom Gryphon D'Or (photo credit: Gryphon D'Or).
Best vintage coffee hangouts
Café Olimpico on 124 St-Viateur
Bar Sportivo and Caffè Italia on resp. 6804 and 6840 St- Laurent
Vegetarian, Vegan, and Vegetarian/Vegan-Friendly Restaurants
Montreal's restaurants are becoming more and more health and environment conscious. Many excellent and innovative vegan, vegetarian, and vegan/vegetarian-friendly restaurants have sprouted up across the city:
Lov, 464 McGill
Aux Vivres, 4631 St-Laurent
Arepera du Plateau, 73 Prince Arthur E
Chuchai, 4088 St-Denis
Resto Végo, 1720 St-Denis
Invitation V, 254 Bernard
Lola Rosa, 545 Milton
Pizzeria Gema, 6827 St-Dominique
Résonance, 5175 du Parc
Crudessence, 2157 Mackay
Birona Hummus Bar, 5417 St-Laurent
Ice Cream
Montreal summers can be hot and humid, and fleeing into air-conditioned department stores and underground pedestrian passageways that connect them, diving in one of the many pools, or skating on indoor rinks like Atrium Le 1000, are some of the ways Montrealers deal with the heat. But the city also boasts terrific ice cream shops where you can cool off with heavenly ice creams, gelatos, sorbets, and frozen yogurts in the most intriguing flavors such as caramel-pear, maple taffy, Oreo & ginger, and Porto & fig.
Mtlblog.com has done extensive research on the best ice cream shops in Montreal and offers an ice cream round-up for the summer. Also check Eater: Best Montreal Ice Cream Shops.
Rooftop Terraces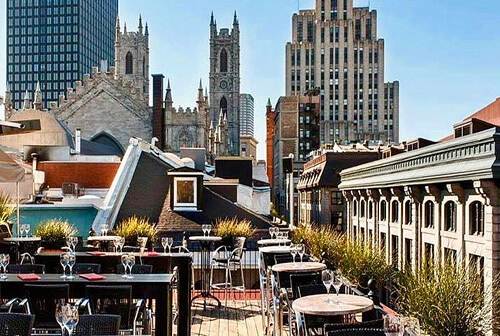 Roof terrace Nelligan in Old Montreal (photo credit: Nelligan).
For chilling out with the best views of the city, a sunset, a gentle breeze, and a divine cocktail or ice-cold beer, nothing can beat Montreal's many rooftop terraces on a hot afternoon or balmy evening. Check out these cool locations, which also offer delicious food:
Laboculinaire, 1201 St-Laurent
Terrasse Sur L'Auberge, 97 de la Commune
Terrasse Nelligan, 106 St-Paul
Muzique, 3781 St-Laurent
Tokyo, 3709 St-Laurent
Unity, 1171 St-Catherine E
Six Rest Lounge, 1255 Jeanne Mance
Complexe Sky, 1474 St-Catherine E
More Terraces
For drinks, breakfast, brunch, lunch, or dinner en plein air, there are also plenty of wonderful street-level terraces, gardens, courtyards, or boats, including these charming locations:
Café Santropol, 3990 St-Urbain
Terrasses Bonsecours, 364 de la Commune E.
Bar Alexandraplatz, 6731 Esplanade
Il Cortile, 1442 Sherbrooke W
Le Filet, 219 Mont Royal
Croissanterie Figaro, 5200 Hutchison
Accords, 212 Notre-Dame W
Kampai Garden, 1616 St-Catherine W
Joe Beef and Liverpool House, 2491 Notre-Dame W
Canal Lounge, 22 Atwater
Hipster Hoods and their Hangouts
The island of Montreal is divided into 19 boroughs, each of them further subdivided into ethnically, linguistically, socially, and architecturally diverse districts and neighborhoods.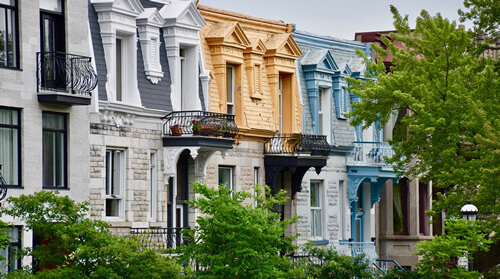 Houses in the Plateau neighborhood.
Doors in The Plateau, one of Montreal's most trendy and laid-back neighborhoods.
The following are some of the most sought-after:
Mile End and Mile-Ex
The Plateau
The Village
Quartier Latin
Griffintown
Verdun
St. Henri
Little Burgundy
Little Italy
Rosemont
Notre Dame de Grace (NDG)
Each neighborhood has its typical hangouts, too many to cover, but there are a few quirky ones not to be missed. Here are some to check out:
La Petite Floride (Mile End)
Chez José Café and Café Falco (The Plateau)
Agrikol (The Village)
Anticafé (Quartier Latin)
Comptoir 21 (Verdun)
Arthur's Nosh Bar (St-Henri)
Escondite (downtown)
Crew Collective Café (Old Montreal)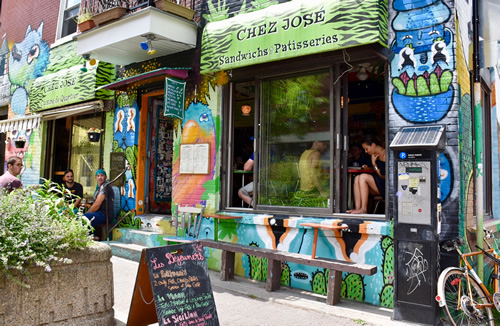 Café Chez José.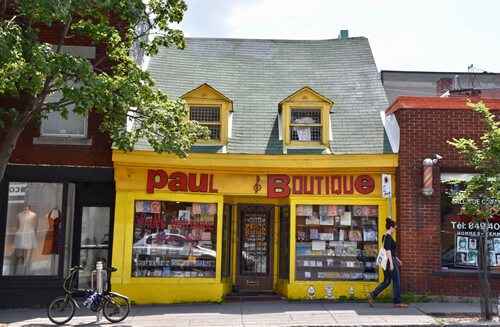 Paul's Boutique: Montreal's coolest CD & vinyl records store.
If you fancy Quebec's most emblematic food, the greasy poutine (French fries, cheese curds, gravy), try:
La Banquise (Le Plateau)
Restaurant A.A.
Greenspot (St. Henri)
Are you a cat or dog lover? Then head to:
Happy Cat Café on Duluth E
Le Doggy Café on Papineau
Brandy's on Rachel E (They not only serve good coffee but also welcome furry felines and canines, off-leash.)
Old Montreal, with its centuries-old buildings and cobble-stoned streets, is certainly a must-see but can be crowded with tourists, especially during the summer.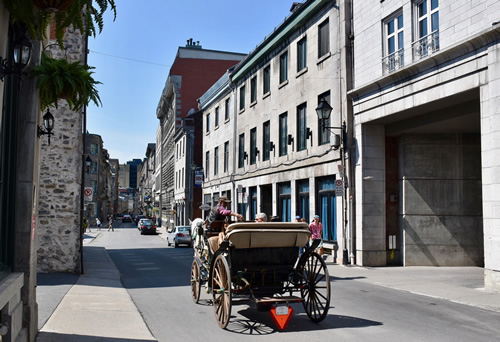 Old Montreal.
Some great rest spots can be found on St-Paul, such as:
Modavie
Philémon Bar
Pub St-Paul (with a view of the waterfront)
Olive & Gourmando, Santos
La Champagnerie
For Cuban drinks in the smallest bar of the entire country, head for El Pequeño, 401a St-Vincent
Nightlife
Here is simply the best and most complete guide on Montreal nightlife.
Also, include a visit to a clandestine bar or speakeasy.
Wine and whiskey bars are not in short supply either. Some suggestions:
Le Vin Papillon on Notre Dame W
Rouge Corge on Mt-Royal E
Pullman on Park
Mon Lapin on St-Ziotique
Whiskey Café on St-Laurent.
Public Markets
For fresh food, in particular vegetables, fruits, cheeses, bread, and meats, as well as for plants and flowers, Montreal locals frequent their public markets.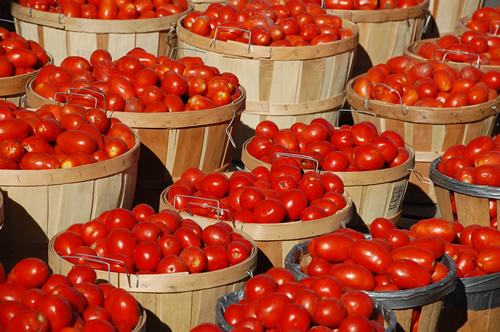 Some of the fresh produce at the Jean-Talon Market in Little Italy.
The most well-known ones include:
Jean Talon Market in Little Italy
The Atwater Market in St-Henri
The younger farmers market Marché Maisonneuve in Hochelaga
Check out this guide for an extensive list of public markets.
Viewing the City
The many different facets of Montreal are enjoyable from various vantage points: hop-on-hop-off buses (Gray Line), boats over the St. Lawrence River, scooters, bikes, outdoor spas, helicopters, and on foot. Whether you join the experts or engage in a self-guided tour, here are some outdoor "activities with a view":
Bota Bota, a floating spa in Old Montreal (photo credit: Bota Bota).
The Arts
Arts and culture are everywhere in the city: museums, galleries, concert halls, theaters for plays, improv shows, circus arts, and dance performances, Shakespeare in the park, and movie shows under starry skies, with or without BBQ and music on the forehand. Not to be missed is the amazing street art against the backdrop of Montreal's marvelous old and new architectural gems.
For Information About Up-to-Date Events:
The country's most famous murals are along St-Laurent and its side streets. A tour along major street art works is organized by a local Montreal tour company and Art Public Montreal tours. For tours along Montreal's architectural highlights, see Heritage Montreal.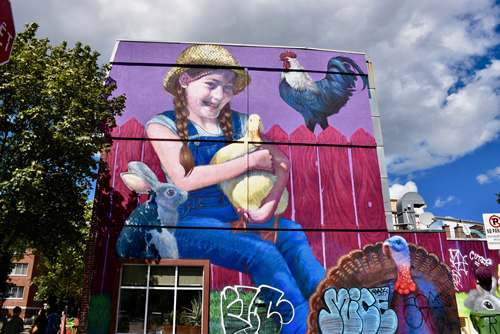 Mural by Polish artist Natalia Rak.
Victorian architecture in Montreal: outdoor winding staircases, turrets, balconies, and bay windows are an integral part of its cityscape.
| | |
| --- | --- |
| | |
| Montreal architecture juxtaposing the old with the new. | A reflection of an old building from a newer skyscraper. |
Also, some museums offer tours, among them the Museum of Fine Arts and the Museum of Jewish Montreal. You can also take free self-guided walks along commemorative monuments and contemporary works in the city, including museums.
Family Activities
No reason for kids to get bored in the city of Montreal! Activities also include those that might enchant people of all ages:
Trampoline Park iSaute has many locations, some just outside of the city.


Rock Climbing is an eco-conscious indoor and outdoor activity.


Biodome is a science museum of unique flora, fauna, and ecosystems of the Americas.


Planetarium is great for hands-on astronomy.  


Biosphere is a museum dedicated to the environment, located in Parc Jean Drapeau on St. Helen's Island, formerly the US pavilion at the 1967 World Fair.



Biosphère in Jean Drapeau Park, St. Helen's Island (former US pavillon Expo 67).



The Swings are a musical installation including swings located neighbouring a science faculty and Montreal's opera house.   


Montreal Water Parks and Beaches lists the many water parks and beaches near the city.



Summer in a park.



Hiking Mont Royal (you can bring a picnic) and more on the best parks in Montreal.


Museums with exhibitions of special interest to children include Montreal Science Museum, McCord Museum, Stewart Museum, and Pointe à Callière Museum


La Ronde Amusement Park is the largest theme park in Eastern Canada with a tall and fast roller coaster among other rides and family activities.


Centaur Theatre offers a seasonal variety of options in Old Montreal.


Enjoy an interactive, educational laser tag game at Laser Quest.


Bicycle along the Lachine Canal and the St-Lawrence River. Children's bikes are for rent along the Lachine Canal, opposite the Atwater Market. Avoid weekend days!

Evening Sound and Light Show in the famous Notre-Dame Basilica.


Cirque du Solei and TOHU, the performance centre for the Circus Arts.


Dim Sum in China Town, at family-friendly Maison Kam Fung, 1111 St-Urbain.
What You Also Might Want To Know
$1.00 CD = $0.75 US, or $1.00 US = $1.34 CD, at time of publication. (Use your favorite of the many online currency converter to verify before your trip.)


Montreal has a metro. If you plan to use the system regularly, it might make sense to purchase an OPUS card. This smart card can also be used for the express bus 747 to and from the airport. For more info, see the Société de transport de Montréal website.


Parking downtown can be a nightmare. Finding a parking spot is difficult. You must pay hefty prices for garages or parking lots. Street signs are sometimes quite confusing. Better a 10-minute metro ride than a towed-away car!


On parle français! French is the sole official language in the province of Québec, and spoken by the majority of people, although many Québécois speak English as well.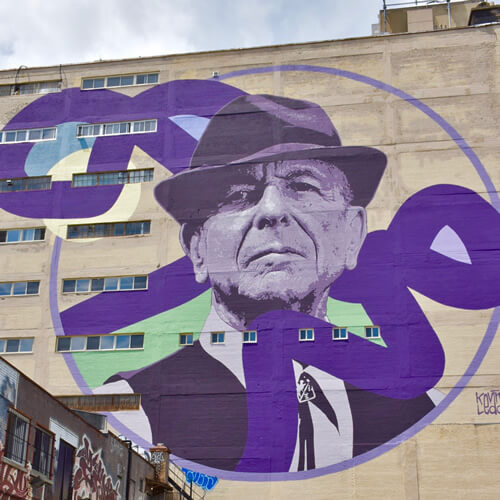 Mural of Leonard Cohen by Montreal artist Kevin Ledo.
Lies Ouwerkerk is originally from Amsterdam, The Netherlands, and currently lives in Montreal, Canada. Previously a columnist for The Sherbrooke Record, she is presently a freelance writer and photographer for various travel magazines.