Cooking and Independent Travel in Vietnam
A Feast for All the Senses!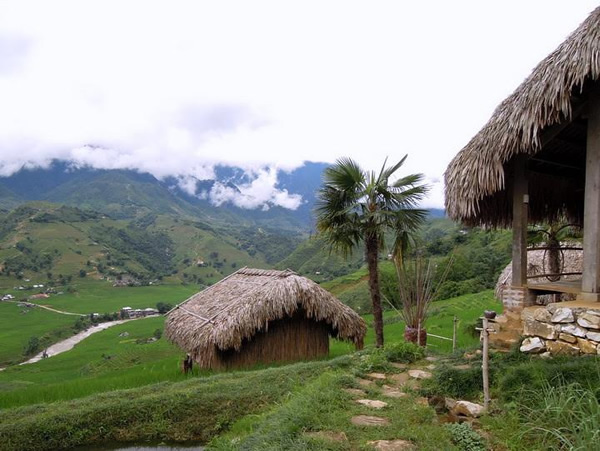 Sapa — H'mong Cooking School location.
Rural Vietnam is a wonderland for adventurous food lovers. Throughout the countryside, fresh, local ingredients and flavorful meals are the norm, with recipes passed down from generation to generation. One of the best ways to learn the essence of Vietnam's regional specialties is to enroll in classes with native chefs. On a recent 1-month trip to Vietnam, I did just that—participating in a cooking class in Sapa and then on Cat Ba Island.
Sapa, Vietnam
Located in Vietnam's remote, craggy Northwest Mountains, tourists travel to Sapa for the illustrious mountain surroundings, fascinating minority cultures, and access to authentic local markets. The area is an outdoor enthusiast's mecca with hiking, biking, and adventure activities galore in one of the world's most visually stunning regions. And by visually stunning, I mean magically beautiful, almost surreal. Throughout the area, rolling emerald-colored rice terraces cloak hillsides tended by colorfully clad locals. Waterfalls flow down from the mountaintops, and sharp, pointy peaks soar to cloud-speckled azure skies.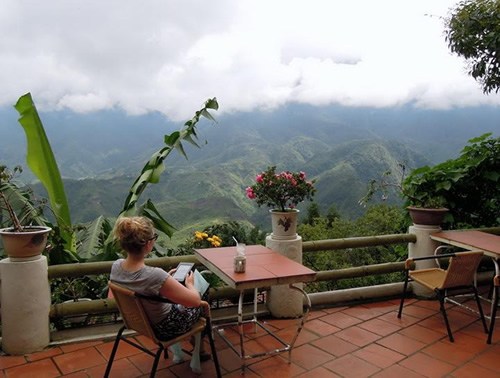 Gazing at the surrounding spectacular mountains.
There is another important reason to visit this off-the-beaten-path town—the simple, yet delicious food. In fact, the food is so scrumptious that visitors frequently schedule impromptu cooking classes upon arriving in the hopes of recreating meals at home. They come for the mountainous hiking, but leave as enthusiastic beginner chefs.
I know this well. After a few days in Sapa, I decided to put away my hiking shoes and enroll at the popular Hmong Mountain Retreat Cooking School. Since the Hmong Mountain Retreat is approximately a 20-minute bus ride from Sapa's town center, students begin the day by meeting at a sister hotel in town, Sapa Rooms. Mingling students sip piping hot Vietnamese coffee and sweet fruit juices in the hotel lobby before walking to Sapa's colorful outdoor food market.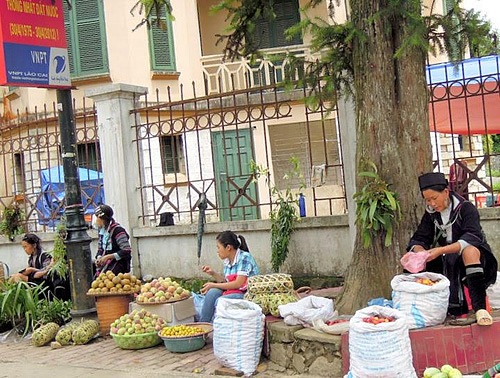 Sapa — outdoor market.
At the market, instructors point out local vegetables, fruits, and herbs such as multi-colored chili peppers, bright orange carrots, bulbous papayas, green lemongrass, fragrant ginger, long coriander, and basil. Non-vegetarian fare exists as well including pork, chicken, and fresh water fish. The instructor emphasizes that we'll be using these fresh ingredients just as the locals do to create simple, yet delectable dishes. No imported or boxed ingredients that have been sitting on the store shelves for months—here in Sapa, we'll be making dishes solely with ingredients grown in the surrounding mountain communities.
After an hour in the market, students hop on a bus to the celebrated Hmong Mountain Retreat Cooking School. Taking full advantage of the region's striking scenery, the school sits in the picture-perfect Muong Hoa Valley surrounded by the Hoang Lien Mountain Range. Cooking classes take place in an 85-year-old open-air thatch house with more than 40,000 palm leaves woven on the roof. Floors are made of red bricks, and thick wooden beams spread throughout the structure.
Making The Famous Fresh Vietnamese Spring Roll
In the basic, but spotless kitchen, students are equipped with an apron, cutting board, sharp knife, and ingredients for the first recipe of the day, traditional Vietnamese papaya salad. We slice and dice papaya, assorted herbs, peeled cucumbers, carrots, and a tiny, perfectly shaped red chili pepper. Then we throw in spicy meat jerky, the secret key ingredient that makes the flavorful dish so recognizable.
Next, we learn to make the ubiquitous dish listed on practically every Vietnamese restaurant menu, fresh spring rolls. We finely shave a series of colorful vegetables, whip up a simple, but flavorful peanut sauce, and learn the art of rolling rice paper. The rice paper is thin and easily rips, but our chef makes it look easy. He has been practicing since he was a young boy, and expertly fills and reels the thin paper into a perfectly shaped roll. Unlike the chef, I flounder when it's my turn. Twice I overstuff the roll, which causes it to rip, but by the third try I've successfully rolled my first spring roll.
Wild Sapa Pork and Chicken with Lemongrass
Afterwards, we move to the stove to sauté wild Sapa pork and chicken with lemongrass (vegetarians can opt to skip this section). Special local oils and garlic infuse the meat with flavor. The cooking methods may be simple, but the result is utterly delectable. Dessert is simple too. We slice fresh produce from the surrounding hillsides—mangos, jackfruits, bananas, and a couple of fruits without English translations.
Finally, we sit down to enjoy our food. The flavors of the papaya salad, spring rolls, sautéed meats with lemongrass, and dessert combine to create a simple, but undeniably scrumptious meal. I chat with newfound friends from Australia, pepper the hospitable Vietnamese chef and his assistants with questions, and relax over the unique, simple foods from this blessed region.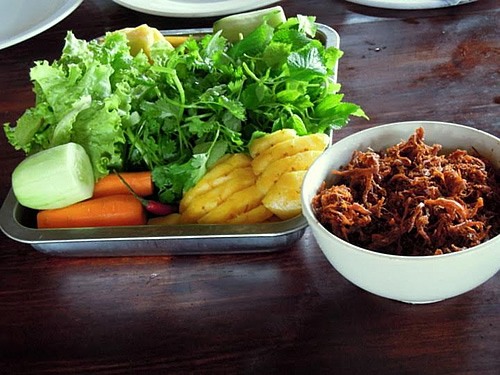 Sapa — papaya salad ingredients.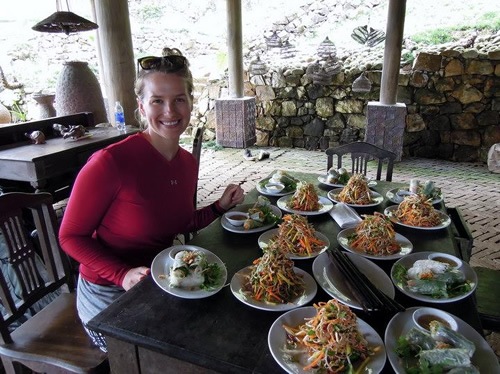 Sapa — meal assembled.
A few more moments of photo taking, and then I'm back on the bus to town to prepare for the next day's departure to Cat Ba Island.
Cat Ba Island
Generally, when I mention a stay in Cat Ba Island, people respond incredulously with "where in the world is that?" Located in the north of the country near well-known Ha Long Bay, Cat Ba Island has all of the illustrious allure of Ha Long Bay without the crowds. The surrounding waters feature thousands of limestone karsts that jut up at random, and the island itself is covered with thick green steamy forests and age-old rice paddies. For somewhere so tantalizingly beautiful, it's still relatively undiscovered by tourists. Such discoveries are music to my ears!
I reserve a room at the Cat Ba Eco-lodge, a basic yet comfortable lodge located towards the center of the island in a sea of jungle green treetops and colorful flowers. Along with helping to organize an array of outdoor activities including hiking, biking, and kayaking, the eco-lodge also runs a cooking class. Though the class is markedly less formal than the Hmong Mountain Retreat's Cooking School, the key components are the same—a local chef, fresh and locally grown ingredients, and simple dishes created in a spotless, yet very basic kitchen.
Cat Ba Island — author cycling amidst beautiful landscapes.
This time my husband joins me in class and we walk together to the eco-lodge's kitchen to meet the chef, a homegrown expert on the island's simple, tasty dishes. After eating every meal at the eco-lodge for over a week, I'm well acquainted with her cooking. Though the chef may not have formal training, she expertly combines the island's produce, bountiful seafood, and unique herbs to create delectable meals.
A Regional Spin on Vietnamese Fried Spring Rolls
At the start of the class, she tells us that the first dish will be fried spring rolls. Disappointingly, I envision repeating the same recipe already learned in Sapa. But as is the case throughout Asia, each region has its own spin on creating staple dishes. In Cat Ba, spring rolls are made with flat-topped rubbery mushrooms, spindly green onions, crispy sprouts, and carrots. Instead of spicy jerky, fresh shrimp is added into the mix. We slice and dice all of the above, then marinate the mixture in locally produced vinegar.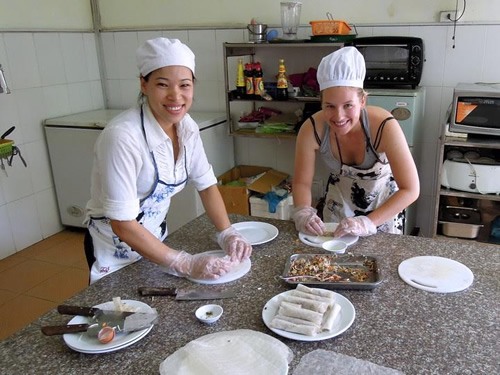 Cat Ba Island — practicing rolling spring rolls before frying them.
Next up, we begin rolling the concoction into pieces of rice paper. Since rice papers are much smaller in diameter in Cat Ba, each roll is a bit more difficult to craft. Certainly not impossible though, and after a few attempts I'm able to mimic our expert chef. Afterwards, we move over to the stove to dip each spring roll into a vat of boiling peanut oil.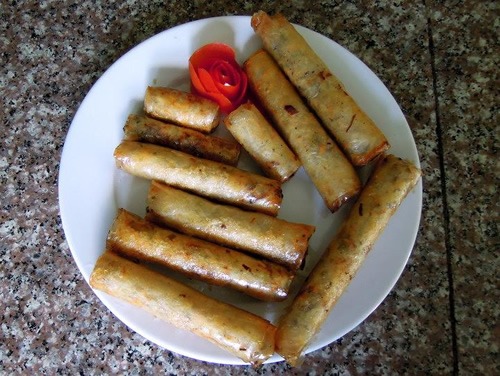 Cat Ba Island — final fried spring rolls.
While the fried spring rolls cool, we sauté shrimp caught from the waters surrounding the Island. Again, the recipe is simple—peeling and deveining the shrimp, and sautéing them with oil, onions and garlic. White rice is added and our meal is complete with crispy fried spring rolls, rice, and flavorful shrimp. My mind circles back to the numerous outdoor markets that I've seen on the Island, bustling with locals eating the same fulfilling meal. Just as they do, we pair our meal with beer, banter, and a table full of laughter.
The next morning it's time to return to mainland Vietnam and then onward to my next destination. I certainly don't leave Sapa and Cat Ba Island empty handed though—I've learned the art of simple, rural Vietnamese cuisine. Vietnam's off-the-beaten-path, rural chefs have reinvigorated my passion for cooking. And, for this I am eternally grateful.
Cat Ba Cooking School
Cat Ba Island Cooking Class
Cat Ba Island Eco-lodge
catbaecolodge.com
Cooking classes run every day (times change to accommodate guests), and are free of charge with stay at Lodge
Katherine Sazdanoff is a freelance travel writer, outdoor enthusiast, and avid cook who recently returned from a yearlong trip around the world.