Culinary Travel in India
Saying Namaste in Udaipur
Some of the colorful spices.
"Come, come in, and sit down," she said with a kind, shy smile. "My name is Shashi and I will be your teacher. I hope you're ready to learn and eat."
She then lowered her eyes and continued prepping the cooking stations, pulling out the renowned colorful spices used in Indian cuisine, along with fresh herbs and canisters of grains. Intermittently, she stirred a sweet smelling mixture on the stove and once it started to boil, shared it with the class. As we sipped the aromatic Masala Chai, which I would later learn is a combination of milk, sugar, black tea, cardamom, peppercorns and ginger, Shashi continued with her introduction.
"I try to share a little bit about myself before beginning class," she said while nervously fidgeting with her colorful sari. "Though cooking has always been a big part of my life, I never intended to become an instructor. Then my husband died, and I had two sons to care for. To help support them, I began teaching cooking classes out of my home and now, my class is very popular. Today I will teach you how to cook fine Rajasthani food."
Shashi's candor on how she unexpectedly became a cooking instructor led to a few introspective thoughts of my own. Just how did I get here—to a modest home in Udaipur, India learning to cook local cuisine from this lovely woman?
***
I had grown up in a small town in Ohio and didn't travel internationally until college. However, that certainly didn't mean that my mind didn't wander to distant lands. In fact, I read and dreamt about travel all of the time. What would the Taj Mahal's marble feel like? What did the quetzals in Guatemala sound like? Were the Himalayas that tall? Did people smile all around the world? Did pasta taste different in Italy?
By my mid-twenties, I'd answered several of my questions—traveling at every opportunity and squeezing as much as possible into short one to two week trips. However, it wasn't enough. I needed more. So, I scrimped and saved, planned for a year, and finally worked up enough courage to embark on a yearlong voyage. It certainly wasn't an easy decision to make, and was often times fraught with indecisiveness and fear. Where should I go? Had I saved enough money? How would I communicate in foreign lands? Would I stay safe?
But then I landed in Vietnam, my first destination, and my doubts turned into excitement—jubilation, really. I watched the motorbike traffic swirl by, touched age-old ruins, listened to rhythmic Vietnamese folk music, and smelled and tasted tantalizingly delicious Vietnamese food: thick noodle seafood soups, dumplings stuffed with sautéed garlicky vegetables, and sweet exotic fruit juices. It was only the first month of my yearlong journey, but I already understood the immensity of the opportunity that I had seized—a year to learn about the world around me, and deepen and create new passions.
Learning to cook would become one of these passions, and throughout Asia and Europe I took cooking classes at every opportunity.
***
Cooking School
By month seven I was in India, learning and absorbing everything I could about the mighty, colorful region of Rajasthan, which is home to towering historical and religious ruins, bustling food and fabric markets, and a delicious, richly flavored cuisine. From pungent chutneys and intense curries to decadent paneer cheese and buttery naan, every meal introduced new tastes and textures that I yearned to replicate at home. But, these were not simple recipes; I would need to find a cooking instructor. I consulted my guidebook and a host of other travelers, and all pointed me to Shashi.
Learning to Cook
Thus, here I was in Shashi's tiny kitchen learning my first recipe of the day, Potato and Onion Pakora—the savory, vegetable laced pastries that I had been munching on for weeks throughout the region. I followed Shashi's instructions and combined chickpea flour, garlic, ginger, coriander, and water, and then folded slices of potatoes and onions into the runny dough. Next, I fried the pakoras for a few minutes in a hot, oiled stovetop pan and then started on a dipping sauce while they cooled.
Shashi had no need for measuring cups, only estimates such as "pinches," "a little," "dollops," and "handfuls." To make a pakora dipping sauce I following her lead, adding a pinch of red chili powder, a little water, a dollop of sugar and salt, and a clove of garlic, to a handful of finely diced green mango and then stirred. An intense, sour mango chutney emerged serving as a perfect complement to the spicy, heavy pakoras.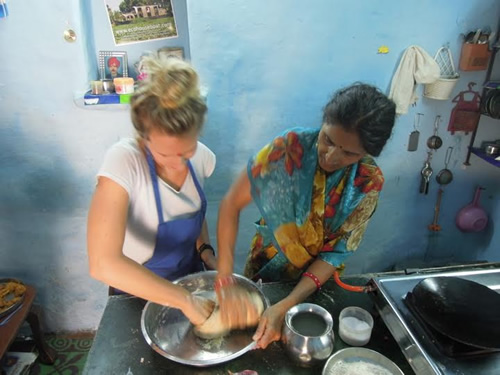 Folding a pakora with Sashi.
After a quick taste testing, Shashi reset the cooking stations with ingredients to make our first curry of the day, Aubergine and Tomato Masala. She whipped up a so-called "simple sauce," but in actuality the process was quite laborious. Using a mortar and pestle, she finely ground garlic, ginger, onion, and salt, and then poured the dry-mixture into a piping-hot, oiled stovetop pan. Cumin and a diced onion were added next, then coriander, red chili, turmeric and finally, the aubergine and tomatoes.
Once the simmering mixture began to boil, Shashi lowered the heat and started what would become three full hours of curry instruction. From Chana Masala (chickpea curry) and Aloo Palak (spinach and potato curry) to Palak Paneer (spinach cheese) and Lentil Curry, Shashi patiently demonstrated how to create flavorful, aromatic curries from scratch.
Then, we would begin my two favorite recipes of the day—Malai Kofta, creamy fried dumpling balls, and chapatti. On my first night in India, I serendipitously ordered Malai Kofta and ever since had become giddy at the mere sight of it on a restaurant menu. The kofta (fried dumpling balls) are chockfull of bold, unique flavors, and the malai (creamy curry) perfectly balances sweet and spicy. A mixture of raw vegetables, chili, aniseed, oregano, coriander, garam masala, coconut powder, a bit of flour, cashews, raisins, and the skin of milk, Malai Kofta certainly isn't a simple or easy meal to make. But, it is delicious. Shashi's soft touch and thoughtful, patient instructions expertly guided the class in mixing the ingredients, rolling them into balls, and carefully sautéing everything on the stovetop. Finally, she topped the "vegetable meatballs" with curry and paneer, and then introduced us to a special guest.
Shashi's son, the resident "expert chapatti maker," would be teaching us the intricacies of creating chapatti (aka chapati), the wholesome flatbread that is a staple of practically every meal in Rajasthan. To create chapatti, whole-wheat flour, salt and water are kneaded, and then shaped into a small ball before being rolled flat with a special rolling pin. Flattened dough is placed on a simmering hot plate and slowly rotated as it inflates into a disc and bubbles begin to form. Though Shashi and her son made the process look easy, it was in actuality the most difficult task of the day—one in which I, for one, failed at miserably time after time.
Enjoying a Shared Meal
Finally, it was time to eat. We dined on the fruits of our labor; course after course of rich vegetable curry dishes paired with chapatti, and all the while chatted about our lives in the U.S. and in India. From Shashi I learned more about Udaipur and her family, and shared details about myself including my childhood dreams of traveling the world. Throughout my travels, I'd discovered that cooking and eating together often does this—uniting people from drastically different backgrounds with the ritual and tradition of food.
Around Shashi's small table, we ate, shared, and learned together. Seconds turned to minutes, minutes turned to hours, and before long it was becoming dark and time to move on. On the walk back home, my mind returned to childhood travel dreams—all of the places I wanted to see, and the questions I hoped to answer. I certainly wouldn't be able to see everything on my yearlong trip and the list of questions was ironically growing longer instead of shorter, but the journey following my dreams and pursuing my passions was well underway.
Learning to cook with Shashi will stay with me forever—both in the memories of the fleeting moments we shared together enjoying our meal and in the Indian food that I now cook at home. To this, I say, Namaste.
See reviews of Shashi's Cooking Classes in Udaipur, India for more information.
Katherine Sazdanoff is a freelance travel writer. She recently returned from a yearlong Round the World Trip, and is now settling back into her home in Boston.