Return to Mochlos, Crete
By Linda Lappin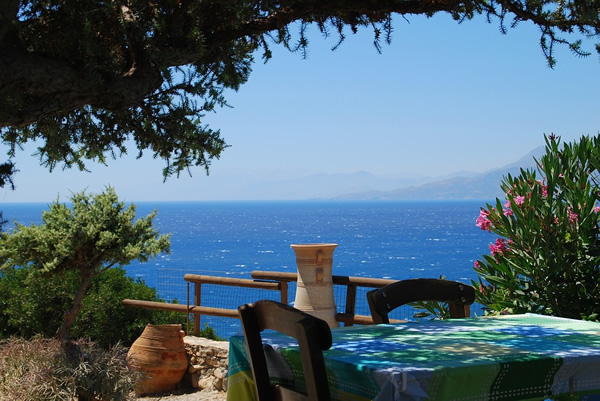 View from a tavern in Crete.
Over 30 years ago, on a bright day in June, a bus deposited me near a precipice along the old road from Heraklion to Sitia in eastern Crete.
A wooden arrow pointed the way to my destination. A gravel track descended, snaking through glinting olive groves and salt-glazed vineyards couched low upon the ground. The entire landscape was finely powdered with chalky dust from a nearby gypsum quarry eating a hole in the mountainside. Wearing an ankle-length granny dress and red hiking boots, carrying a second-hand suitcase that weighed a ton, I started down.
I was on my way to visit a friend from college who had decided to marry a fisherman and make a new life in a village where the winter population numbered twenty souls. I met no houses along the way, though a few heaps of stones indicated that some ancient dwellings had once stood there. Tethered to stunted carob trees were goats nibbling thorns.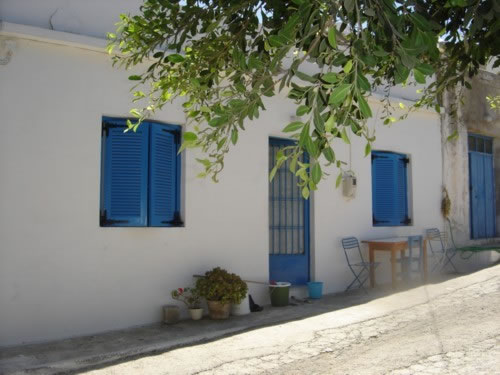 An old house in Mochlos, Crete. Photo by Linda Lappin.
The sea was still hidden on this side of the mountain, though from the bus I had glimpsed jewel-like flashes of turquoise and aquamarine. Yet I was not quite prepared for the vista that opened to my eyes as I stumbled around a curve and beheld the Gulf of Mirabello in all its majesty.
To the left extended a promontory where at the base were sprawled the pink and white bungalows of Ayos Nikolaus; to the right an imposing wall of magenta cliffs shielded the eastern tip of Crete. Below lay a handful of cube houses tossed at the water's edge, clustered around a little church shaped like a loaf of bread. Just offshore was a tiny island, bald, barren, and perfectly round, where another tiny white church was built just above the shoreline. That island was the site of the Minoan palace of Mochlos, then under excavation. I did not yet know that the modest little fishing village that took its name from the island would prove itself to be one of those secret spots you never tell anyone about, for fear of spoiling your personal paradise. To know about Mochlos, you had to know someone who had been there. At that time, it was not in the guidebooks. I was even made to promise never to name the place if I wrote about it—a promise I have kept until today.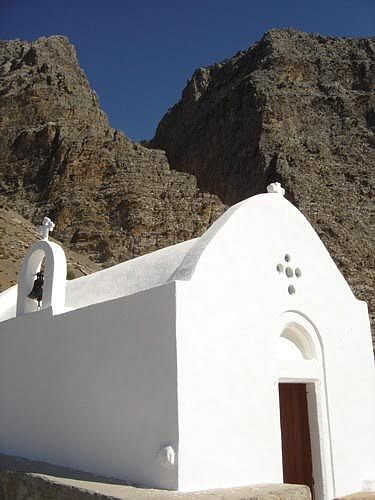 A church near Mochlos, in Crete. Photo by Linda Lappin.
That first morning I crossed paths with an old woman in black plucking snails from sage bushes and a farmer sidesaddle on a depressed-looking donkey, transporting fodder. They both hailed me with the ritual greeting given in these parts "Yah" to which I replied with a polite "Yassas—or "your health." I don't remember how long it took me to reach the village, or how I found my friend. I probably went to sit in the kafeneo and waited while someone went to fetch her. That first night, I slept in a room illuminated by kerosene lanterns, packed with mildewing books, giant sponges, and diving suits. I remember opening the door in the dead of night, and gazing at a thick swirl of stars above the invisible sea.
Next morning, I went down to the kafeneo—coffee house, tavern, restaurant, hub of civic life, and took my place among the regulars, quickly noting the types: women crocheting lace, fishermen drinking raki, watching the weather, and waiting for night when they would take out their boats, tourists with thick novels, and even a writer, with a portable Olivetti, hammering the keys, and looking very much the writer as he sipped his retsina. Old men, playing with worry-beads, drank tiny cups of sweet coffee sludge (or so it appeared) very, very slowly. All these people seemed to have succumbed to a form of indolence partly, I reasoned, because of the topography of the place. There was no through road. Once you had wound your way down that steep track, only an emergency could make you go up again. Mochlos felt like a last outpost at the world's end. The only escape was by sea.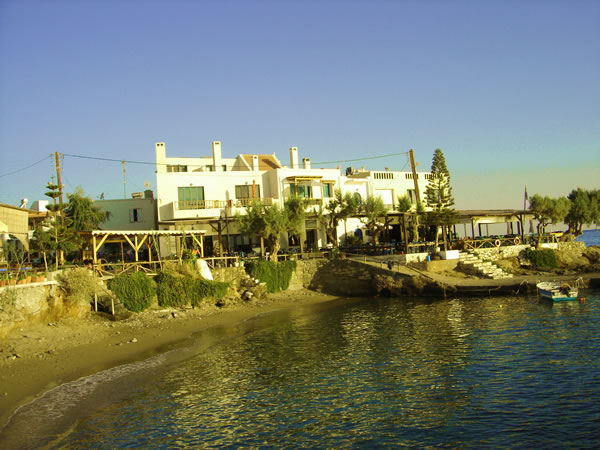 Kafeneon Moclos. Photo by Linda Lappin.
There was nothing to do there, except be, if you do not count swimming or fishing. No shops, bookstores, discos. No newspapers, TV, or telephone. I helped my friend wash sheets by hand and harvest chickpeas. I learned to crochet lace, play backgammon and how to milk a goat. I swam to the island and explored the excavations irritating the guard who would stare at me through binoculars from the kafeneo, afraid, perhaps, that I might pocket a shard or two and hide them in the bra of my swimsuit. I went on boat trips and picnics and learned a bit of Greek. I gathered wild herbs and lit beeswax candles in solitary chapels on mountain peaks.
The Return
For over 20 years, I returned again and again to spend my summer vacations there, sometimes alone, sometimes accompanied, then with the man I would later marry. Then for no special reason, in the nineties my husband and I spent our holidays elsewhere, and for fifteen long years, we did not return. But one morning we woke up knowing that we had to go back to taste again that unique atmosphere—basic, rough, and rustic. But was it still that way?
British writer Vernon Lee once claimed that when we leave a place behind, we shed a little part of ourselves which merges with the spirit of that place. Upon returning, we take it up again. I think that's why summers in Mochlos always seemed endless, as if their duration defied the logic of time. I experienced time differently there: days were not stretched horizontally across a calendar, but vertically, through the years. But after such a long hiatus, would I be able to connect with that resonance?
Friends had moved elsewhere. The old roads had been paved and a major hotel built a few miles away. The whole of Crete had been subjected to devastating development. Still, we booked our ferry tickets, arranged to rent rooms, packed our car and set off for our 3-day journey from Rome. Disembarking at dawn, we sped along the new National Road threaded high on the cliffs of Crete, gale winds whipping the eucalyptus trees. We found the turn-off still marked with a faded sign, and the gypsum quarry, depleted now, soon to cease operation.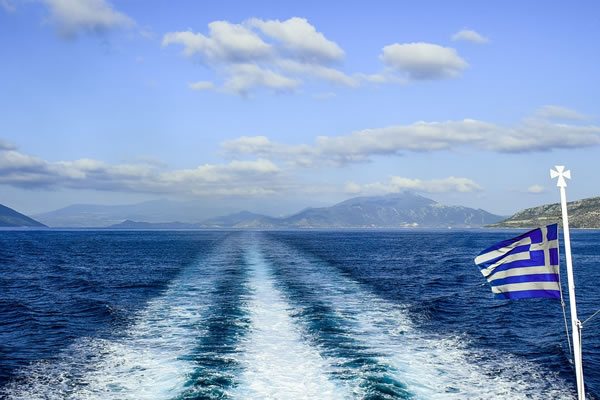 View from a Greek ferry.
Rounding the curve, we saw it: the blue sweep of the gulf of Mirabello, still as magnificent today as it was from memory. Down in the village, we found more people, more houses, and more cars. Fewer hippies and more children, but no discos, shops, travel agencies, banks, or drug stores—only a minimarket stocked with essentials. Mustached men were sitting in the kafeneos tinkering with worry-beads, but instead of coffee in tiny cups, they were sipping frappe through straws. Set right inside the door of one house was a washing machine, a status symbol here. From next door came the blue flicker of a plasma screen running Windows. On the front step of a house where I stayed 25 years ago was a row of starfish drying in the sun. Inside, a woman was talking on Skype.
To our great dismay, as we walked westward, we saw that the coves outlying the village had been bulldozed out to make a harbor. Bungalows and a tennis court had been built on the parched hillside above the artificial harbor. The secluded beaches where lovers went at sunset, where German nudists used to camp—are gone. It is no small irony that the harbor has been built for pleasure craft, after fishing as a way of life in this area was phased out by the European Union decades ago.
That evening, after a swim, my husband and I dine at our favorite tavern, where the teenager, Spyro, who once waited tables after school, is now gray-haired and most efficiently in charge. As we sit watching the island, late swimmers return, climbing up from the beach below. At the neighboring tables, a group of friends drinks glasses of raki; a woman, alone, is crocheting; another reads email on a laptop; two boys are playing chess. I sense that the village atmosphere, although changed, is still satisfying to these people in some deep and necessary way. Some people travel to see new places, others, perhaps myself included, to experience themselves differently. What is it about these simple things: a swim in clean water, a hearty meal, a good book, or astonishing scenery that makes life in this place so irresistible?
Today the road leading west to the new harbor dies at the foot of a promontory.
One day it will probably be extended to connect the harbor straight up to the national road leading back to Ayos Nikolaus. Till then, Mochlos will remain an outpost attracting artsy types, extremists, misfits and dreamers—among whose ranks I like to count myself.
Later, back in our room, the island and the stars above it seem to float in through the front windows, filling the entire space. It has taken over 30 years for the ruined palace over there to be brought to light, for its treasures to be yielded up. In those years I too have been discovering myself, layer after layer going down to the foundation, to see what has been buried, what has crystallized over time. We desire, once wrote Barry Lopez, to become "the companion of a place." There are some special places in this world where you may also become the companion of your deeper self. Despite an absence of 15 years, Mochlos is still that to me.
For More Information about Mochlos
Getting there:
Ferry service runs from Piraeus, the port of Athens, departing in the evening and arriving at dawn. Minoan Lines is the most efficient and reliable service running year round. Minoan Lines also has a ferry service between Italy and the port of Patras, with bus service to Piraeus for passengers wishing to continue on to Crete.
Renting a car is the ideal solution for reaching Mochlos, but car rental is not the only option. If you would rather not deal with the Greek style of driving, Crete has a very good public transportation system, connecting many of its furthest flung spots with its major towns by bus. From Herakleon, you take the bus in the direction of Sitia and get off at Sfaka, where, by asking at the kafeneo (the bus trip is about eight Euros) you can get a taxi down to Mochlos. Or, if you have arranged to rent rooms in Mochlos, you can pre-arrange a taxi with your host from the village of Platanos, a little closer to the Mochlos, but without its own taxi service. If you get off here without arranging for taxi beforehand, you might have to walk.
Where to stay:
Rooms are abundant, starting at 30 Euros for bed and shower—45 Euros a large room with private bath, kitchenette, and electric fan. 60 Euros will provide you greater comfort with air conditioning.
Maria Tsagarakis runs a charming establishment, Stu Mandora high on the hill with a spectacular view of the island. She can also arrange for accommodations in other rooming houses and hotels down in the village, including Spiros' Pension owned by the tavern Ta Kavouria.
Other possibilities are the Hotel Sofia and Hotel Mochlos, neither of which have a website.
Where to eat:
Ta Kavouria, run by the Galanakis family for decades, is famous for its seafood and especially its fish soup.
The tavern next door, Mesostrati, which is slightly cheaper, offers similar fare and cooks wonderful grilled meat and delicious desserts. The tavern next to that is Ta Kochilia—a bit more expensive and highly professional.
What to eat::
Fish soup, grilled fish, octopus, tsa-tziki, boiled chickory, moussaka, stuffed vine leaves, stuffed zucchini flowers .
What to drink:
The vineyards of the Sitia area produce excellent wines at excellent prices.
The reds and roses of the Kritikos Topikosare especially prized
For whites, try the Toplou dry whites.
The raki, or the Greek form of aquavit, is served in the taverns here, is locally produced, and of top quality. Most visitors will have many opportunities to try it: Offering raki is a gesture of hospitality.
Tap water is drinkable in Mochlos.
What to do:
Visit the excavation on Mochlos island.


You can go by boat: Ask at Ta Kochilia to arrange this.


Many people swim to the island, but currents can be dangerous, so only go if the sea is very calm and you are a good swimmer. Be sure to wear rubber bathing shoes as the rocks are very sharp.


Walking and hiking is fine in any season, but especially in spring when the island is all abloom. Since ancient times, Crete has been renowned for its wildflowers, herbs, and medicinal plants, including wild tulips and the miraculous dittany. In Mochlos, you can organize a private walking tour to get to know the plants with local experts if you ask at one of the local taverns.


Go fishing: Basic equipment can be bought at the minimarket in the village. For those who would like to arrange a fishing trip by boat out to the island of Psira and try their hand at the traditional methods, Mochlos boat tours are available locally (just ask a local tavern).


Take a walk in the labyrinth built on the edge of the village. Not the original Cretan labyrinth of course, but a replica of the labyrinth of Chartres, built several years ago from stone on the hillside along the road to the harbor. Despite winter rains and goats, it is still intact.


Dance: If you happen to be there on a week end when a concert, wedding, or festival with traditional Cretan music is taking place, don't be afraid to jump up and join in the dancing.
Nearby places of interest:
Do not miss the excavations of the Minoan Palace of Knossos and the Minoan museum of Heraklion, one of the world's major archaeological museums.


Hikers will want to see HA Canyon, one of the Europe's most mysterious and challenging canyons, only 1,800 meters long, and first explored from tip to tip in 1987. It is not to be ventured into without proper guides and equipment. The town ofto the south satisfies all shopping needs and has a wonderful beach. From here you may take a boat trip to the beach on Chrissi, an uninhabited island.


Sitia, to the east of Mochlos is an exotic, Levantine seaport. From here a ferry will take you to the wilder island of Karpathos, or even on to Rhodes.
Reliable Guides:
The Rough Guide to Crete is fairly accurate for the area. Many hotels, restaurants, travel agencies, museums, and other services in this part of Crete do not have their own websites and may tend to ignore email, so forewarned is forearmed. Web directories and forums like Tripadvisor are a good way to ferret out updated tips and information, including phone and fax numbers.