Sleeping Beauties of the Far East: Japan's Ryokan, South Korea's Hanok, and Mongolia's Ger
Traditional Guesthouses and Inns Offer More Authentic Views of Respective Cultures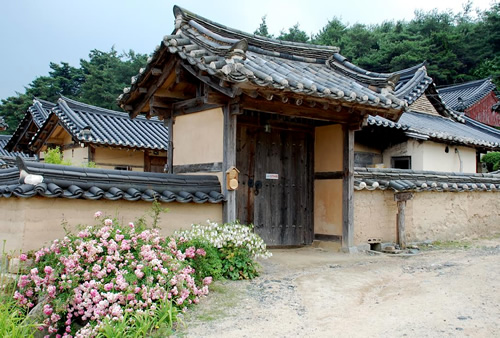 Hanoks in Hahoe village, South Korea.
Staying at traditional guesthouses where architecture and atmosphere of days long gone have been preserved, can be a unique cultural experience when you travel abroad. Recently exploring several countries in the Far East, I had a peek into ancient rituals and ways of life in old-fashioned Japanese inns, traditional Korean houses, and Mongolian nomad tents.
Ryokan in Japan
The earliest ryokan, Japanese-style inns, date back to the Edo era, when fatigued travelers along the busy road between Tokyo and Kyoto needed a place to eat and spend the night. In today's Japan, ryokan exist in all parts of the country, varying in styles, amenities, and prices. They all have these characteristics in common: a small entrance area where you take off your shoes and put on slippers; rice paper-paneled sliding doors opening into the actual guestroom; tatami (reed) mats on the floor; sleeping quilts, and futons that are laid out after dinner in your room; and a yukata, a cotton robe, to wear in the guestroom or walk to the onsen, the common bath inside or outside the guesthouse.
Bathing in an onsen—a distinct feature of Japanese culture—is usually done before dinner is served. Although traditionally men and women bathed together, single-sex bathing is nowadays the norm. According to onsen etiquette, you take off your clothes and put them temporarily in a basket or locker in the bathing area. Then you wash and rinse yourself thoroughly outside the bath to ensure cleanliness, as the baths are only destined for soaking and relaxing. Although most onsen are considered public baths, I visited several ryokan where private time could be reserved by the hour. No bathing suits or towels are worn in the baths. The temperature of the water can be very high, so be careful not to stay in too long! Often the water originates from hot springs, especially at ryokan in the countryside.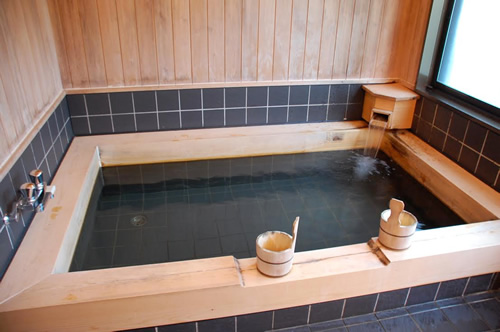 A typical Onsen in Japan.
Once back to my room, dressed in the yukata of the house and seated on floor cushions or in a chair without legs at a low table, a hostess in kimono would usually serve a kaisaki, a traditional multi-course meal, beautifully displayed and decorated with leaves and flowers. Dinners in ryokan need to be booked in advance, as they are very elaborate and always freshly served. They often include sake with a plate of appetizers, miso soup, a main meal with fish and meat, pickles, sauce, steamed vegetables, and ingeniously cut fruits as dessert.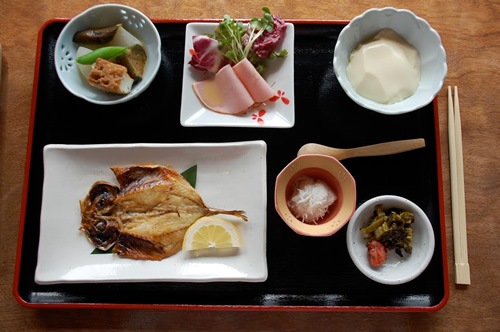 Japanese breakfast.
After the hostess would have cleared the dishes, she would push the table aside, lay out a futon mattress on the floor, and make my bed. On some futons I slept like a baby, others were a bit too hard for comfort and could keep me awake during the night.
The next morning, the routine would be repeated in reverse: the mats were rolled up again, the table put in place, and a meal served. Fish was often the mainstay of my breakfasts in traditional ryokan.
Hanok in South Korea
Hanoks were traditionally not inns, but Korean residential homes made of natural materials and featuring curvy tiled or thatched roofs, ondol (underfloor) heating, and wooden screen doors with paper panels. They often face south for maximum sunlight, ideally with the mountain at their back and a river in front. Also in hanoks you sleep on futons on the floor.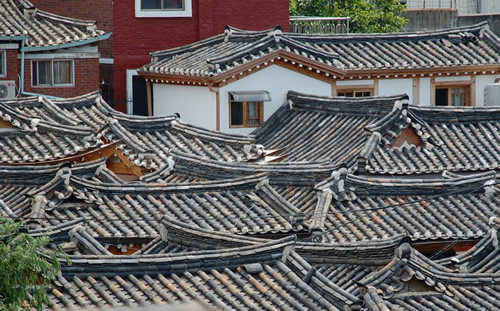 Roofs of Hanoks in Seoul.
Not too many traditional hanoks in South Korea have survived, partly because they became outdated and had to make place for more modern developments, partly because they were mainly made of wood and clay, materials that were not conducive to long-term preservation. Those hanoks that did survive the Korean War and post-war redevelopment, are restored with the help of the Korean government, and now feature modern amenities and Western-style toilets. Since living in hanoks came into fashion again, new ones are built as well.
Clusters of old hanoks can still be found in Seoul (Bukchon area), Jeonju, and Hahoe. Some of them have been transformed into guesthouses for travelers eager to familiarize themselves with Korea's history and customs.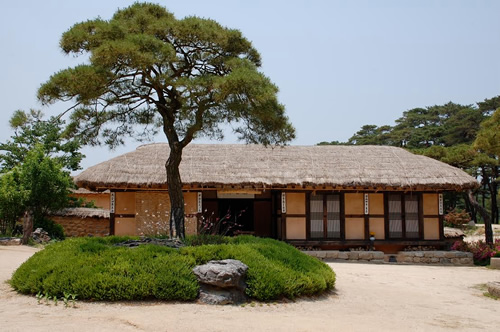 Hanok (traditional guesthouse) in Hahoe village, South Korea.
In de hanoks of Hahoe village, close to the city of Andong, members of the famous Ryu family have lived for centuries along the Nakdong River, which meanders in a large S-shape through the hills of the nearby mountain Hwa.
Unique characteristics of these beautifully renovated hanoks are that the houses face the river in different directions rather than only south, and that the straw-roofed houses (for peasants) are placed in a circular form around the tile-roofed ones (for the nobility). On the covered porch of my hanok guesthouse Rak-Ko-Jae, Korean or Western breakfast was served in the morning, and bibimbap, a typical Korean dinner with rice, vegetables, meat and egg, at night.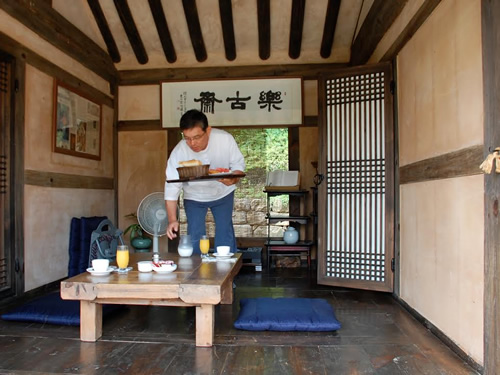 Breakfast on a porch of a Hanok.
Bibimbap, a typical Korean dinner.
Another notable feature of Hahoe village is the Mask Dance Museum, displaying masks from Korea and beyond. In the summer time, there is also an open-air Mask Dance Theatre with regular performances of Korea's most traditional folk plays presented by the villagers themselves. For generations, satirized dramas between allegorical characters representing the various social classes used to relieve tensions among the village families. Although a tad touristy, all is set in superb scenery, which also lends itself well to lovely walks in Hahoe and surroundings.
Ger in Mongolia
A Mongolian ger (yurt in other countries) is a cylindrical tent made of boards, poles, and wool felt. It can be put up and taken down quickly, which is important for nomads who move around often in search of green pastures for their livestock. There is only one small door, which faces south—away from the cold Northern wind—and there are no windows. In the middle of the cone-shaped space is a stove, and its chimney ends in a small opening at the top of the tent. Beds, cooking utensils, a few trunks for clothing and other belongings, and a couple of floor cushions are placed along the sides.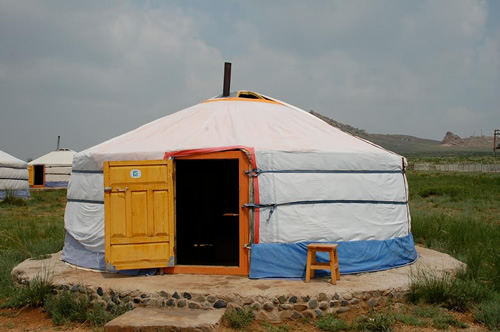 Oufside of Mongolian Ger.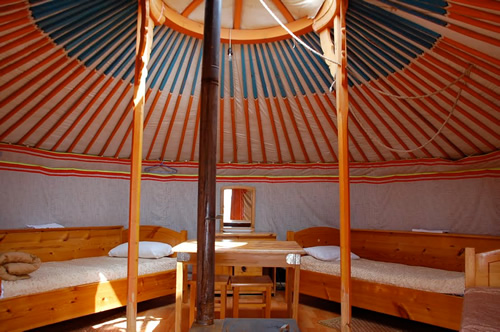 Inside a Mongolian Ger.
Although Mongolian gers are obviously not ancient structures like Japanese ryokan and Korean hanoks, they are traditional in the sense that ancestors of today's nomads spent their lives in exactly similar circumstances over past centuries, dating back to the times of the great Genghis Khan.
During summer time, clusters of gers are set up for tourists all over the country. Often there is some kind of tourist attraction nearby, such as sand dunes, hot springs, Buddhist monasteries, or a national park.
While staying in a ger in Hustai National Park, not too far from the capital Ulaanbaatar, I watched a group of wild horses coming out at sunset to drink at the river. And to add some traditional flavor, a band with horse head fiddle instruments performed in the camp at night.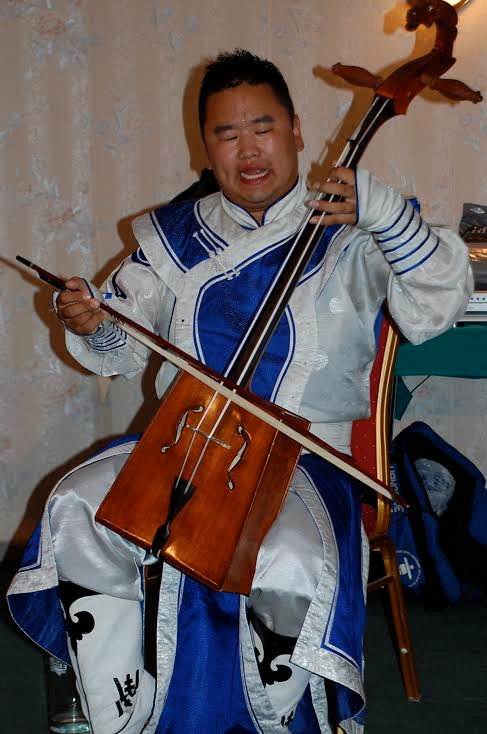 Horse head fiddle band "Domog," performing in ger camp
Although staying in a tourist ger camp can certainly be a pleasant experience, the closest you get to the traditional life style of the Mongolian nomads is, of course, visiting them in their own habitat. My most memorable moments in Mongolia have been those spent in authentic, colorfully decorated gers where we were welcomed with a smile and a traditional sniff bottle; where hosts offered us airag, salted tea, and local meals; where they proudly paraded in their traditional outfits, gave moving throat singing performances, and showed us how to shear a sheep; and where we were told fascinating stories about eagle hunting, wrestling matches, and surviving the long and cold Mongolian winters. For me, that was the authentic traditional experience. I hope to come back to experience it again one day soon.
Lies Ouwerkerk is originally from Amsterdam, The Netherlands, and currently lives in Montreal, Canada. Previously a columnist for The Sherbrooke Record, she is presently a freelance writer and photographer for various travel magazines.
Related Topics

Independent Travel
Accommodations Abroad

Related Articles (See all Lies' articles here)

Solo Travel in Japan
China's Ethnic and Cultural Diversity: Along Yunnan's Ancient Tea and Horse Caravan Road
Solo Travel in Yogyakarta, Indonesia
Venturing Along With the Nomads of Mongolia's Wild West
Bhutan's Paro Tshechu Festival
An Expression of Gross National Happiness in the Land of the Thunder Dragon
Cultural Travel in Tana Toraja, Sulawesi, Indonesia
In the Footsteps of Field Biologist Alfred Wallace: Exploring the Islands of the Indonesian Archipelago