Pintxo Bars — Spain's Social Network
Slow Snacking with Local Flavors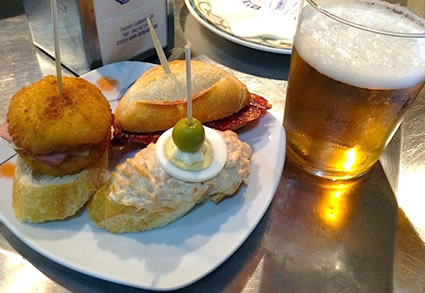 My first pintxo bar experience with a typical variety of pintxos and a cerveza (beer), courtesy of Bar Eibartarra in San Sebastián.
In the United States, there are typically two types of restaurants: fast food chains that look to get their customers in and out as quickly as possible (but at a fairly cheap price), and more formal sit-down restaurants that allow their customers to sit around and have a few drinks before or after they eat their food (although guests pay for the privilege).
In Spain, many restaurants fit both molds. However, the best traits of both — places offering cheap bites with the ability to sit (or, more likely in Spain, to stand) around for a while — are combined in pintxo bars.
Chris, right, deliberates over a large selection of pintxos from Bar Eibartarra in San Sebastián.
Most common in the Basque and Navarre regions of northern Spain, these bars offer a wide selection of pintxos, a term most commonly used to describe a small snack placed on a piece of bread with a toothpick or skewer through it (the words pintxo and pincho literally meaning "thorn" or "spike," in Basque and Spanish, respectively).
As ubiquitous a term as sandwich and appetizer, pintxos can be made with literally any type of food. The most common type of pintxos are made with meats such as jamón (ham) or chorizo (sausage), cheeses, seafood, or a combination of different ingredients.
Pintxos or Tapas?
There are exceptions to the term: not all pintxos have a toothpick or skewer through them, and not all are placed on small pieces of bread. The Spanish word tapas, meaning "small snack" or "appetizer," is often synonymous with pintxos, depending on the region of Spain you are in, and who you happen to ask.
A young Spaniard described pintxos and tapas as lo mismo (the same) as we made only slightly awkward small talk while waiting for drinks on St. Patrick's Day in Barcelona.
Pintxo Bars as Communal Gatherings
Regardless of what they are called, what they are made with, and how they are presented, pintxos have a greater role in Spanish culture than mere finger food. Pintxo bars serve as a communal gathering point and an excuse for socializing.
During my week in Barcelona and San Sebastián, Spain, I visited numerous pintxo bars with my fellow classmates (who quickly became my new friends), and the experience was different from anything I have encountered back home in America.
After eating various tapas in Barcelona, which mostly served as appetizers preceding larger meals, I came to expect the same routine in San Sebastián. Luckily, I was wrong. I was exposed to a completely new way of eating and socializing.
Typically, pintxo bars have their full offerings laid out down the length of their bar. Customers walk in and simply ask for a plate; they can then select whatever pintxos they desire and a drink, usually a glass of beer or wine.
The bars usually have tables, but more often, people will stand and place their food on ledges built into the walls inside or outside of the bars.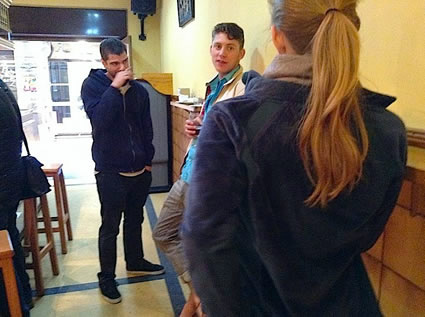 (From left) Chris, Evan, and Rachael talk over pintxos and cervezas.
On Thursday nights in San Sebastián, young and old alike head out on the town to participate in the local version of a bar crawl. Revelers visit numerous bars during the course of the evening, drinking, and eating pintxos, at each stop along the way.
It's the Spanish version of a social network, allowing friends and strangers to mingle with one another, while enjoying food and drinks.
When asked why Thursdays were the chosen nights to go out, San Sebastián native Andrés, 28, said it was what he and his friends "have always done since university." A quick search of multiple San Sebastián bar and nightclub websites typically showed drink specials being offered on Thursday nights.
Perhaps it's similar to the reason Thursday nights are popular with the college-age crowd in the United States — with fewer classes offered on Fridays, the weekends start on Thursday nights, and many bars cater to that, by offering specials then.
On the Thursday night I was in San Sebastián, many pintxo bars offered specials on pintxos and drinks, causing the streets to flood with people by around 11:00 p.m.
A Life Apart From Social Media
On any night, pintxo bars are local establishments that allow neighbors to catch up on the latest talk about town — a real-life version of the Facebook timeline that reminds me of a time before social media was an ever-present entity in my life.
My time at pintxo bars was spent enjoying the food, drinks, and company, instead of using my smartphone and social media.
While it was initially nerve-wracking not feeling constantly connected to the world around me, it eventually turned into a very calming and welcoming experience (which immediately vanished when I returned to the United States, sadly enough).
As for the actual pintxos themselves, most were pretty good, others, not quite so much. That was a matter of personal taste and preference. Given the actual quality and variety, overall the food was always top-notch.
Jamón, Jamón, and more Jamón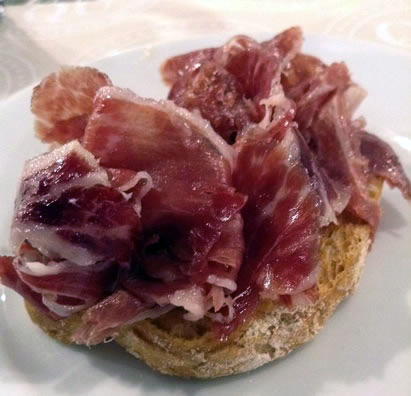 The use of thinly-shaved jamón (Spanish ham) is common in many pintxos. Courtesy of Quasi Queviueres in Barcelona.
My favorite pintxos all centered around the use of jamón — the extremely delicate, buttery, salty, nutty, melt-in-your-mouth ham for which Spain is rightfully famous.
While I was always willing (and did) try a variety of pintxos during my time in Spain, I usually added at least one incorporating jamón into my selection of three pintxos (four if I was feeling extra hungry).
Eating great food while in Spain was expected. What was not expected, however, was the experience I had while eating at pintxo bars: the feeling of camaraderie with my fellow travelers and new friends while sharing great food in a fascinating country. It was a time I truly enjoyed, and cannot wait to experience again.
Nick Irving is a recent college graduate from Central Connecticut State University who specializes in public relations and social media. His study abroad trip to Spain was his first experience traveling outside the United States, and has certainly fueled his desire to travel more in the future. He is currently in the post-graduation job search looking for work in the field of public relations and communication.