Edible Culture: Ten Creole Specialties to Try in Martinique
Article and photos by Darrin DuFord
Published 5/25/2015
Langouste grillée at Le Littoral.
As a sea-bound corner of France in the Caribbean, Martinique reflects its geography and its fusion of historical influences, most notably in its Creole cuisine. French and Native American culinary techniques meet African and Caribbean ingredients as well as South Asian spices on this island where even her most famous musical export, the band Kassav, took its name from the Creole word for cassava, one of the accompanying staples of Martinican meals.
Here are some Creole dishes you will encounter in Martinique at eateries that range in ambience from roadside barbecues to air-conditioned brasseries.
Boudin Créole (blood sausage)
A mainstay of the Creole appetizer menu, the boudin créole, also called boudin noir, is a blood sausage without any hint of bloody flavor. The pork blood is mixed with pork fat, bread crumbs, and spices such as cloves, allspice, and hot pepper powder before being stuffed in casings and lightly boiled in water seasoned with chives.
The filling is soft and spreadable, so after poking a hole in the end of the boudin casing, the filling can be squeezed onto bread or toast. The restaurant Barracuda, an open-air eatery on the beach of Anse Mitan, makes a smooth boudin créole ready for spreading onto slices of a fresh baguette. Typically, 5 to 8 euros will buy you a trio of boudins for a substantial appetizer.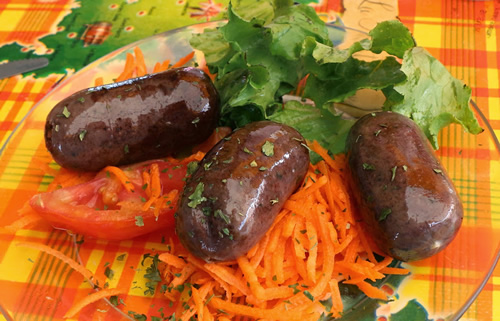 Boudin creole at Restaurant Barracuda.
Crabes Farcis (stuffed crab)
The crabe farci is often served in a reusable plastic shell that could be mistaken for a child's toy, complete with beady, painted eyes. A squirt from a wedge of lime adds a fruity acid note that cuts across the pleasantly heavy mixture of milk, lard, breadcrumbs, hot pepper, green onions, and crab meat. The hot peppers are employed to gently warm the palate, and thus do not overpower any of the other flavors.
Expect to spend 8 to 12 euros per pair, not counting the cost of bringing home the plastic shells if the restaurant allows you to purchase them.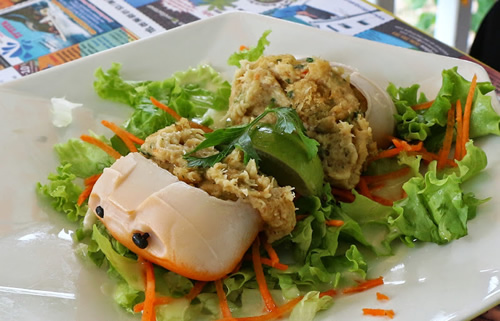 Crabes farcis at Le Littoral.
Accras de Morue (cod fritters)
Accras de morue don't have the familiar flaky texture of cod because the meat is minced before mixed with green onions and hot pepper. Like all fried food, accras de morue should be fried to order, as is done at the café stalls at the west end of Fort-de-France's 113-year old covered spice market, a wonderland for foodies. I found that a browse through the market's tables of muscade (nutmeg), graines de bois d'inde (allspice berries), a variety of peppers, and other seasonings of Martinican cuisine—as well as rows and rows of fresh produce such as papayas and christophines (wrinkly gourds also known as chayotes)—would amply prime my appetite, so there is no wonder that the café chefs chose to set up shop at such a strategic location.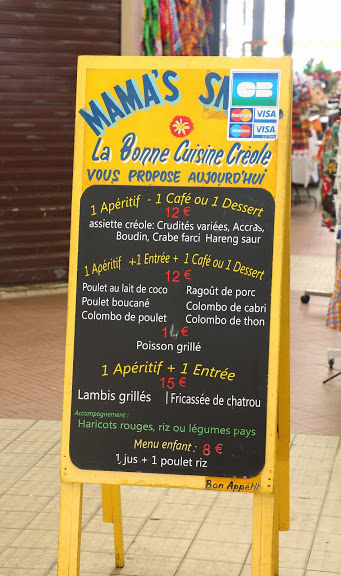 The menu for Mama's Snack, a lunch kiosk inside Fort-de-France's spice market.
A plate of three or four accras, garnished with carrot and lettuce, should cost no more than 5 to 7 euros.
Accras de morue at Mama's Snack in the spice market of Fort-de-France.
Langouste Grillée (grilled lobster)
The lobster species patrolling the bottom of Martinique's waters and the rest of the Caribbean is the spiny lobster, a crustacean that lacks the hulky front claws of its cousin from Maine and Canada's maritime provinces. The bases of the spiny lobster's antennae, however, reveal small caches of sweet knuckle meat. The spiny lobster is often split in half, grilled, and topped with sauce chien—literally dog sauce, a chunky condiment whose ingredients include chives, onions, peppers and lime juice, but none of man's best friend.
The restaurant Le Littoral, overlooking the waterfront of Anse D'arlet, does a brisk business in langoustes grillées at 25 euros for half a lobster served with sides of calabaza squash, cassava, and rice.
Lambi (conch)
Lambi is one of Martinique's most flexible ingredients. It stars in ravioli and in fricassees, and it even turns up in crêpes. This marine gastropod resembles octopus in texture and flavor, and it takes well to Martinique's thick, citrusy, tomato-based fricassee, especially when richened with a dollop of crème fraîche. Le Moulin à Cannes, the restaurant at the Depaz rum distillery, serves a tender conch fricassee that is best enjoyed while taking in the view of the Caribbean Sea from the dining room's open-air vantage point at the base of Mount Pelée. Expect to pay around 22 euros for a lambi-based entrée.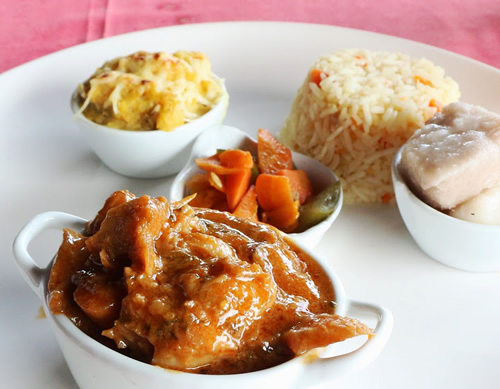 Conch fricassee at Le Moulin à Cannes.
Ouassou (freshwater crayfish)
While a native species of ouassou can still be found at seafood markets, the most common species gracing dinner plates was introduced to the island in 1974. Originally from the Indo-Pacific region, the latter ouassou has thinner, longer front claws and a fat, buttery-sweet tail.
The Café Dubuc, on the Caravelle Peninsula, serves ouassou fricassee, which doubles as an accompaniment to the three-piece house band playing jazzy versions of Martinique's mazurkas and biguines on the patio dining room on Sunday nights. Typically, 25 to 30 euros will score you three or four ouassous per order. Don't forget to suck the heads.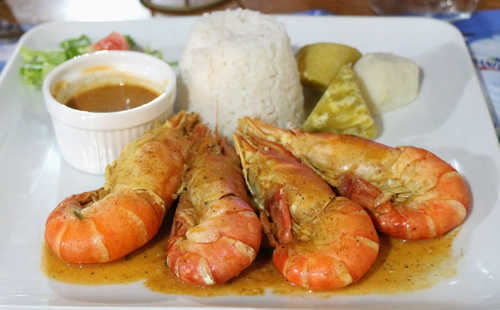 Ouassou fricasee at Café Dubuc.
Poulet boucané (Martinican barbecued chicken)
The gastronomic odyssey that is poulet boucané successfully rescues chicken from the boringly safe dinner category and elevates it to a memorable experience. The grill chef first marinates on-the-bone chicken in lemon or lime juice, garlic, and shallots for several hours, or even overnight; only then does the chicken meet the fire of the barbecue. Finally, the chef tops the crisped-up skin of poulet boucané with sauce chien.
Poulet boucané may very well be Martinique's answer to Texas' barbecue tradition. Or, it could be the other way around. Let us not forget that the word "barbecue" is believed to have originated from a word in the language of the Taíno, an indigenous Caribbean nation, that referred to the technique of cooking meat on a rack over hot coals.
Poulet boucané can be found at barbecue stands on the beach, roadside barbecues, or waterfront restaurants. The café stalls in the Fort-de-France spice market offer specials, like a combination of accras de morue, poulet boucané, and a coffee for 12 euros. By itself, the dish may cost from 10 to 14 euros, depending on whether a takeout or sit-down restaurant is chosen.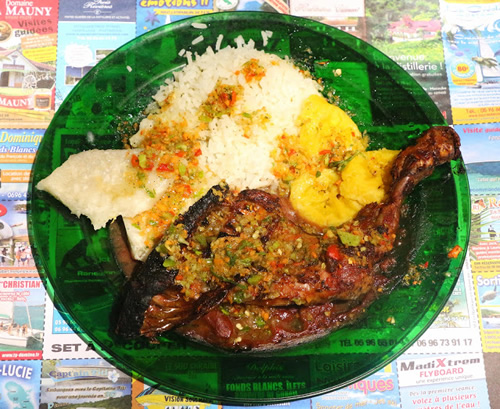 Poulet boucané at Mama's Snack at the spice market in Fort-de-France.
Colombo Dishes
When France abolished slavery in 1848, Tamil laborers began arriving in Martinique and other French Caribbean islands, and the laborers brought their curry with them. The islands adopted and adapted the spice blend and named it Colombo, after the city of Sri Lanka from where many of the laborers traveled. Mild when compared to most curry spice blends from the Indian subcontinent, Colombo flavors fish, chicken, goat, and pork in Martinique, usually in an aromatic stew containing julienned carrots, mangos, and coconut milk.
L'embarcadère, a marina-side restaurant in Pointe du Bout, serves a satisfying on-the-bone chicken colombo; in Sainte Anne, the restaurant Le Rendez-Vous serves a tender fish colombo on its covered patio that looks out onto the Caribbean Sea. Colombo dishes usually run between 10 and 14 euros; fish may cost a euro or two extra.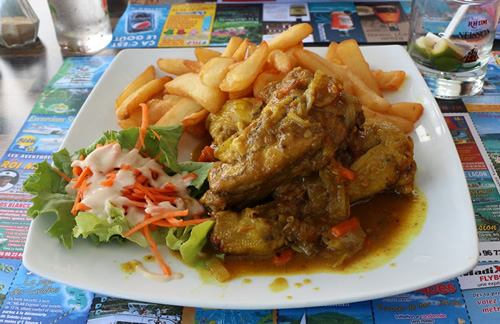 Colombo de poulet at L'embarcadère.
Rhum Agricole
Almost every island in the Caribbean distills rum, but Martinique's rhum agricole stands out because Martinique's distilleries utilize fresh cane juice, not the leftovers from the sugar-making process. Such attention and expense instill the rum with a pronounced aroma of sweet, fresh cane. Tasting rooms at the distilleries are great ways to sample the company's offerings as well as a fun way to learn about rum making. The distillery of St. James, near the town of Trinite, welcomes visitors with a rum museum, while the Depaz distillery allows visitors to walk on a self-guided tour around the facility's grounds and distilling equipment. Travelers to the Caravelle Peninsula can visit the tasting room of the Hardy distillery and meet the seventh generation owner.
Rhum Agricole is the main ingredient in the iconic ti-punch (from the French word petit, or "little," although there's nothing little about the drink's strength). Made from Martinican rum, fresh lime and island sugar, the drink runs around 5 euros and may be served with a glass of sugar and a spoon beside the neat rum, or sugar may already be added in.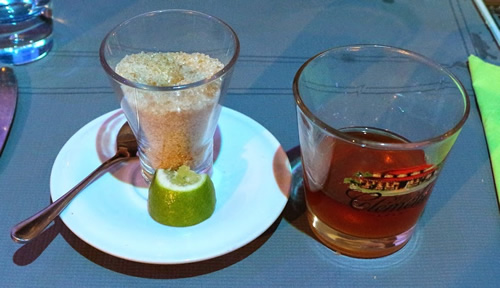 A ti-punch at Le Foyaal, Fort-de-France. The imbiber adds sugar and lime juice to taste.
Curry Terrine
The terrine—France's chunky, meaty spread held together with pork fat—enjoys a loyal following in Martinique. A variety of brands, shipped over from mainland France, are available in the supermarkets. But on the shelf next to the Parisian offerings, the terrine connoisseur can find a few locally made brands that Martinicans have Creolized with spice blends such as curry.
Terrines do not require refrigeration until after they are opened, so they are ideal for a picnic on the beach with a fresh, warm baguette from one of Martinique's ubiquitous boulangeries. Grocery stores throughout the island, as well as Fort-de-France's outpost of Carrefour—sell terrines. A brightly-lit grocery store chain where Martinicans stock up on every day groceries, Carrefour might not be a place the guidebooks recommend, but it is worth a visit just to people-watch and shop side-by-side with the Martincans for whatever humble shelf-stable eats they prefer (Carrefour also sells freshly baked baguettes in the morning—you can't miss the scent when you walk in, as the stack is by the entrance).
A jar rarely runs more than 6 euros and is one of the easiest and most inexpensive ways to simultaneously explore the multiple facets of Martinique's culinary terrain with your tongue.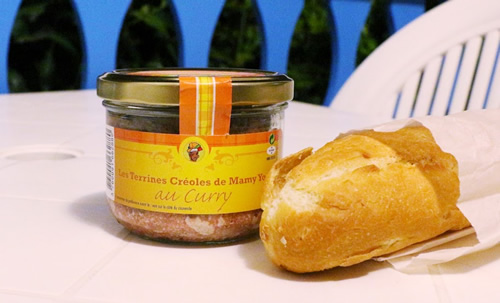 Curry terrine.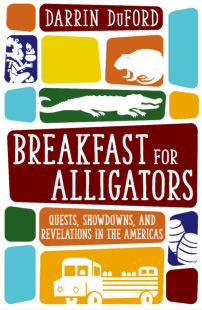 Related Topics
Culinary Travel