13 Reasons Why Martinique is a Great Winter Destination
Article and photos by Lies Ouwerkerk
Senior Contributing Editor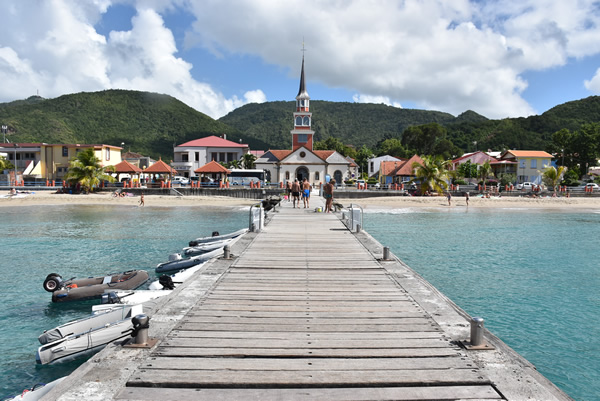 Les Anses d'Arlet beach in Martinique.
The winter weather was pretty brutal in my hometown Montreal, with lots of snowfall, slippery roads, and temperatures far below the freezing point. When –30 Celsius (-22 Fahrenheit) became the norm rather than the exception, I fled south and exchanged my heavy snow boots for summery flip-flops for a couple of weeks. I flew down to Martinique, one of the French outposts in the Lesser Antilles in the Caribbean Sea, and here are 13 compelling reasons why:
1. Tropical Climate
Martinique enjoys a warm and stable climate year-round, with temperatures hovering between 25C (77F) and 30C (86F) during the day. It can rain every month of the year, but that should not be a deterrent since downpours often don't last longer than a few minutes. The sun rises and sets around 6:00 a.m. and 6:00 p.m. Trade-winds, blowing from East to West, provide a welcome breeze.
N.B.: The rainier season falls in the period between June and October. Hurricanes are most likely to hit the island in August and September.
2. Beaches, Boating, and Snorkeling
Most white sand, palm-fringed beaches, and calm azure-blue waters are in the southern part of Martinique, from L'Anse-Mitan, Les Anses d'Arlet, Diamant, and Sainte-Anne to the more secluded Les Salines in the far South.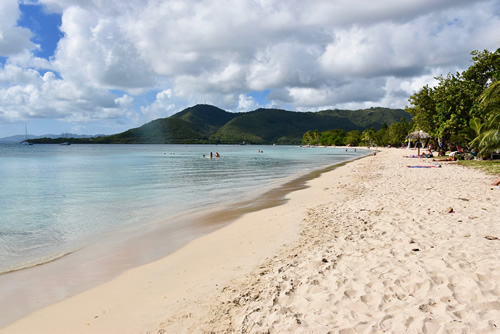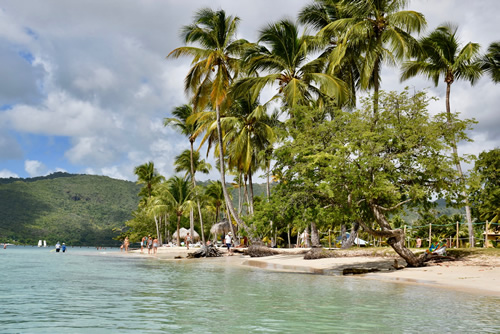 Beach of Sainte Anne.
N.B.: Topless sunbathing is allowed. Plage de la Petite Anse des Salines, at the end of Les Salines, is popular with LGBTQ travelers.
Grey and black sand cover the beaches of the northern part of the island — including Anse Couleuvre, Anse Noire, and Anse Turin — due to two gigantic volcanic eruptions of Mount Pelée in 1902. A more secluded beach is Anse Céron in Le Prêcheur, at the edge of Martinique's tropical forest.
N.B.: Be aware of strong currents as well as rugged, narrow roads to reach the wilder, more secluded beaches in the North.
The Atlantic side of the island has cliffs, coral reefs, and stronger winds. Close to La Trinité is the magnificent Caravelle Peninsula Nature Reserve, a paradise for nature lovers and hikers. There are two marked hiking circuits from the car park of Château Dubuc, an old sugar plantation, along which lovely secluded coves are found. Anse Tartane is a small beach with big waves.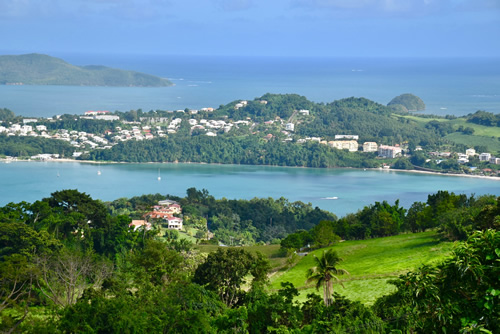 East coast near La Trinité.
Lastly, there are some lovely islets and sandbanks on the southeast side of Martinique, called the Fonds Blancs, only reachable by boat (motor boats can be chartered in Le Francois and Le Robert), where one can safely swim, snorkel, and dive. Sailboats, yachts, or catamarans, with or without a skipper, can be rented in several marinas, including the one in Le Marin. Also, check out Martinique Excursion for traditional yole sailing lessons and guided kayak tours.
3. Great Hiking Opportunities
Martinique's forests, mountains, volcano, coast, and pastures provide great hiking trails for all levels. The paths are called traces and were created by the early colonists and missionaries when traversing the island. Mount Pelée, a dormant volcano, can be climbed from various points of departure: Morne Rouge, Ajoupa-Bouillon, Grand-Rivière, Macouba, and Le Prêcheur, and offers stunning views in all directions. For hiking the volcano, consult La Montagne Pelée.
N.B.: Bring plenty of water and warm clothes, as the top is often shrouded in mist and cloud. Also, paths and boulders can be slippery.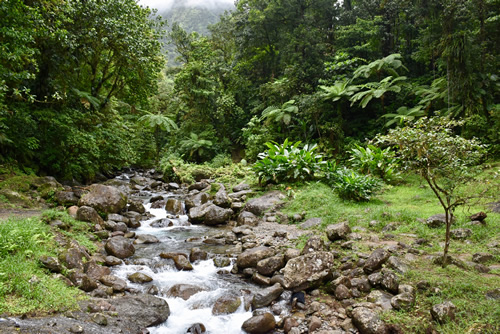 Tropical forest along "La Trace des Jesuites" in Northern Martinique.
4. The French Factor
Martinique is an overseas region of France, and due to the influence you can feast on fresh baguettes, croissants, éclairs, and macarons. You can also try out your best French, Martinique's official language. Most people also speak Antillean Creole, which includes elements of French, Carib, and African languages. Antillean Creole was initially a transitional language developed in plantation settlements in the 17th and 18th centuries between groups that spoke mutually unintelligible languages.
The island's population consists of descendants of African slaves and laborers recruited from India after the abolition of slavery in the 19th century, as well as descendants of early French settlers who are still largely dominating the island's economy (békés). Also, a small percentage of citizens from France live and work on the island, called métropolitains
For those seeking to learn or improve their French language skills, there are various language schools offering courses lasting from one week to a year, predominantly in the capital, Fort-de-France. Language schools include (but are not limited to) Les ateliers FL and Confluent Immersion.
N.B.: Not much English is spoken in Martinique.
5. Unique Cuisine Martiniquaise
The Martinican kitchen is characterized by a unique blend of different cultures including French, West Indian, African, and Indian influences. Befitting an island, there is a strong emphasis on fresh fish and seafood. Spices and local products such as cassavas, bananas, and eggplants also dominate Martinique's culinary landscape.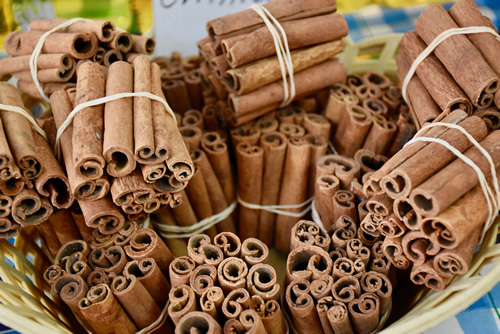 Cinnamon at the spice market is one of many spices used in the local cuisine.
N.B.: See 10 Creole Specialties to try in Martinique by writer Darrin DuFord. Another good source for Creole food is The Blog of Tatie Maryse and the Cuisine Antillaise.
At the cooking school of Tatie Maryse, I took a most inspiring Creole cooking class with a few other foodies, and made codfish fritters (accras), Colombo chicken, and a coconut flan in their state-of-the-art kitchen, located in a restored traditional house in Le Lamentin, near Fort-de-France. Although their courses are given in French, the instructors of Tatie Maryse's staff also speak English.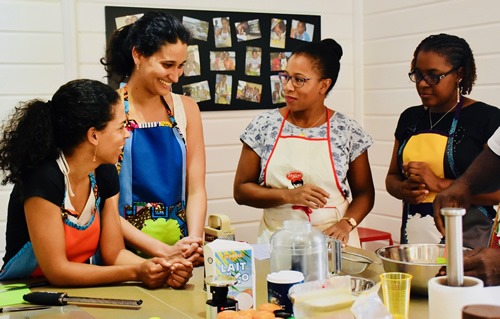 Cooking lesson at Tatie Maryse.
Some great restaurants tried and tested, include:
La Chaudière (fresh, local produce), Morne Rouge
Le Petibonum (right at the beach where Columbus landed), Le Carbet
Le Trou Crabe (seafood), Le Carbet
L'Habitation Céron (combined with a garden visit), Le Prêcheur
Le Vieux Foyal (with jazz music), Fort-de-France
Villa Factory (upscale, fine dining), Fort-de-France
Chez Jojo (at the beach), Anse a L'Ane
Another very worthwhile experience was "eating at a local," arranged by the company Beyond the Beach: Martinique Excursion. I had most interesting conversations with my charming hosts, Caro and Marco, who have a lovely home in the hills of Les Anses d'Arlet, with a huge deck overlooking the Bay of Fort-de-France. There they served the famous Ti' Punch, an aperitif of white rum with lime and cane syrup, and a superb lunch of tuna tartlets, chicken curry with plantains, and a coconut blancmange.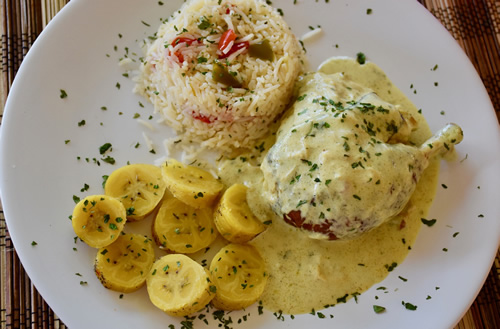 Lunch at a local, thanks to charming hosts, Caro and Marco.
6. Fascinating but Turbulent History
In 1502, on his fourth journey, Christopher Columbus landed briefly on Martinique, which at the time was populated by Carib Indians who had already wiped out the original inhabitants of the island, the Arawaks. Spain did not show any interest in Martinique, so it was only after 1635, when the French governor of St. Kitts accidentally landed on the island, that serious colonization started to take place, and the capital of Saint-Pierre was founded. Soon, the French monopolized the island and eliminated the indigenous Indians. Huge sugar cane plantations were established, and during the 17th and 18th centuries, African slaves were shipped to Martinique to work on them, followed by immigrant workers from Sri Lanka and India after the abolition of slavery in the mid-19th century. During the Napoleonic Wars, Martinique was briefly in the hands of the British.
In 1902, Mount Pelée erupted twice, becoming the worst volcanic disaster of the 20th century, and killing over 28.000 people. After Saint-Pierre, once dubbed "the Paris of the Caribbean" was decimated to "the ruins of Little Pompei," Fort-de-France became the capital of Martinique.
All over the island, there are testimonies of Martinique's past, from museums of slavery, sugarcane, and the French painter Paul Gauguin (who lived and painted half a year on the island), to historic sites like the Diamond Rock where the French and English battled for hegemony of the region, the remnants of a grand theatre in Saint-Pierre, old sugar plantations like Habitation Clément, and the beheaded statue of Napoleon Bonaparte's first wife, empress Joséphine, who was born and raised on the island as Marie Josèphe Rose Tascher de la Pagerie, daughter of a planter.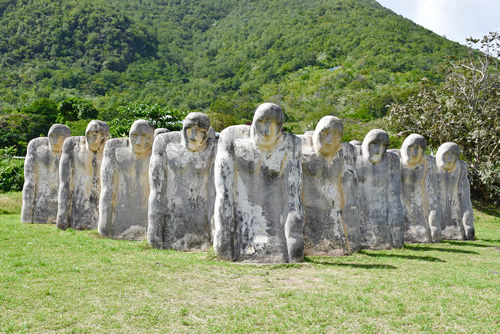 Memorial at L'Anse Caffard by Martinican Laurent Valère to commemorate slaves and sailors who perished during a ship disaster in 1830.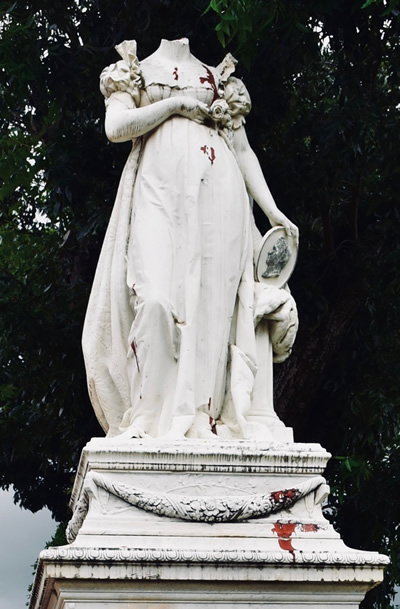 Statue of empress Joséphine, first wife of Napoleon Bonaparte, beheaded because of her alleged influence on Napoleon to re-establish slavery.
7. Traditional Architecture
Many original buildings have been destroyed by past earthquakes, fires, and cyclones. Structures, from simple wooden structures for slaves and stone mansions for rich planters — featuring covered galleries, shuttered windows, and decorative lambrequins — to strategic forts and imposing cathedrals built after French models, have disappeared or been damaged. But enough has been saved, renovated, or reconstructed to get a glimpse of Martinique's architectural past. You can still see the huts in Slave Savannah in Trois-Ilets, the beautiful cupola and façade of the Schoelcher Library, and the former Hôtel de Ville in Fort de France, nowadays surrounded by ultramodern structures like the recently completed Court House.
Former slave house in Les Anses d'Arlet.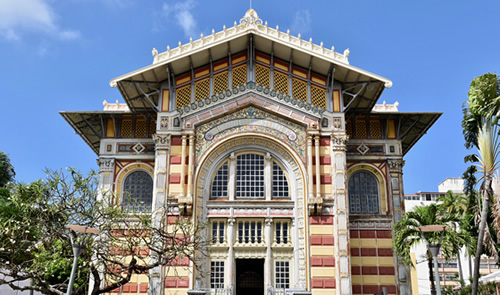 Façade of Schoelcher Library, Fort-de-France.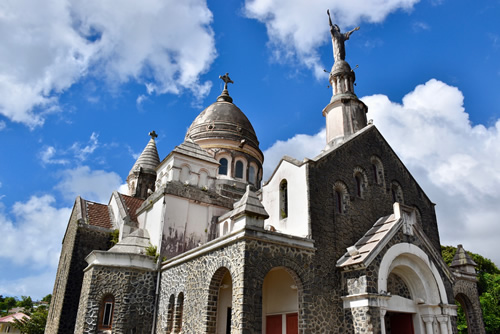 Balata church, modeled after the Sacré Coeur in Paris.
8. Holidays and Festivals
The biggest and most animated celebration of the year is Carnaval, known by the islanders as Vaval, a 4-day event with parades, dancing, masquerades (i.e. people dressed in banana leaves, coated in sugar syrop or charcoal, or cross-dressing) and glitzy costumes, in which steel drums and participatory songs such as bélé and biguine vide — legacies of the slave music tradition — play a vital role.
The Caribbean Gospel Festival in October, as well as the "Jazz à la Martinique" and the "Carrefour Mondial de Guitare" in early December, are also musical highlights. Updates on festivals and events can be found at the Martinique Tourist Office.
Held each year in August is "Le Tour de Yoles Rondes," a regatta in which traditional fishing boats compete sailing around the island. The gommier, already used before Columbus arrived on the island, is carved from the rubber tree, and the yole is made from wood. They both have rectangular sails and a crew of about 10 people who lean on poles to navigate the vessel.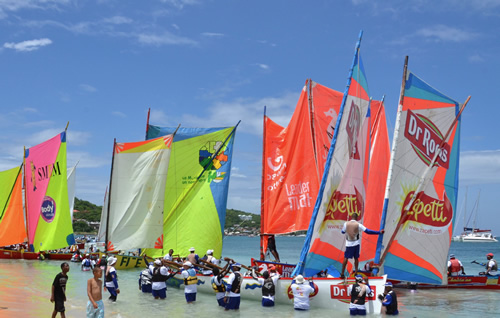 Yole regatta around the island.
9. World-Famous Rum
Martinique is famous for its rum, derived directly from cane stalks, without the addition of sugar molasses — a byproduct of a refining process used in the more commonly known industrial rum. The pure and unprocessed rum is called rhum agricole and bears the AOC (appellation d'origine controlée) marker in recognition of its excellence.
Along "La Route des Rhums" there are at least 14 distilleries where visitors are invited to free tastings and explanations about production methods and the rhum agricole history. More info is available on the Martinique Rum Route. My favorite experiences: the family-owned Neisson Distillery and Habitation Clément, including its Botanical Park and art collection of Caribbean artists.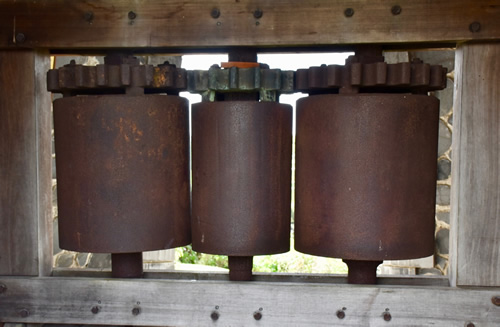 Old sugar cane press at Trois Rivières Distillery.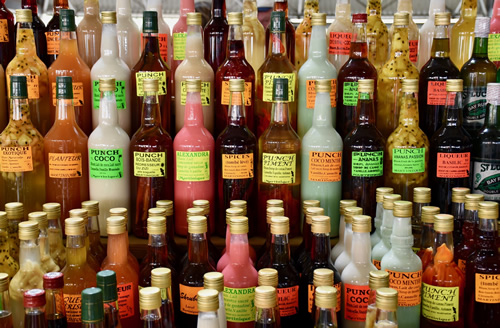 A wide variety of rum-based punch bottles sold at the local market. You can also buy the pure rhum agricole loved by many.
10. Island of Flowers
Carib Indians called the island Madinina, island of flowers, for its extraordinary variety of exotic flowers, fruits, and vegetables. There are many excellent parks and gardens open to visitors, from cultivated to wild ones, including Jardin de Balata, Jardin de la Montagne, Jardin de Bonneville, Domaine d'Eméraude, and An Mao The Legacy of Ancestors.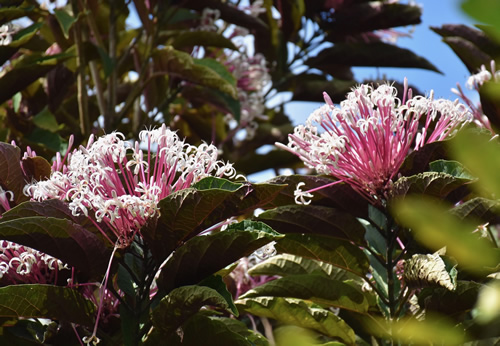 Exotic flower in Jardin de Bonville.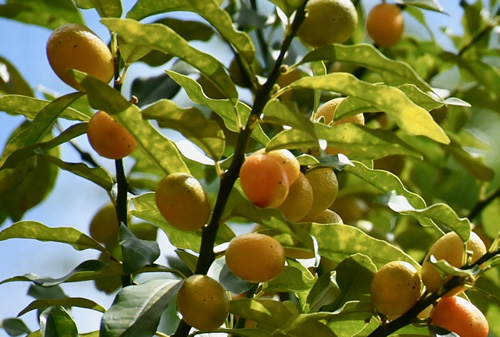 Kumquat tree.
11. A Touch of Black Magic: Quimbois
Although the majority of the population is Roman Catholic, enough people still follow ancestral rituals, which Africans brought with them from their homelands during slavery and colonialism. Quimboiseurs, believed to have powers to heal the sick, predict the future, and negotiate with the devil, are still practicing behind the scenes with talismans and magic potions derived from plant roots.
N.B.: Better not navigate the Route de la Trace at night, as supernatural spirits are believed to inhabit the forest!
12. Staying in Local Homes, Apartments, Guesthouses or Boutique Hotels
Martinique has only a few big, all-inclusive hotels, which gives the island a less-touristy, more relaxed ambiance (except for the port of Fort-de-France, where huge cruise ships daily drop off hordes of people). Most visitors rent rooms, apartments, and villas, or stay in guesthouses and boutique hotels. See VRBO, Airbnb, and Bedroom Villas for the accommodations that suit you best.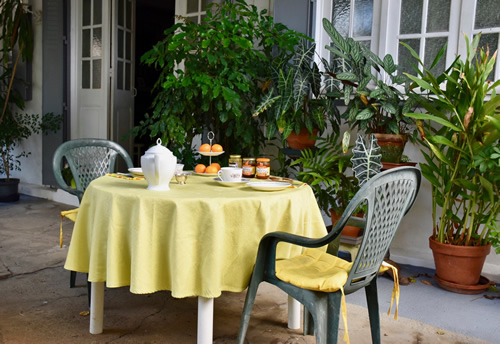 A homey feeling at a local rental.
13. Cheap Flights
Many air companies offer direct flights from European and North American cities to Martinique's only airport Aimé Césaire, named after the island's famous politician, writer, poet, and activist (1913-2008). Cheap flights with Norwegian Air from New York, Boston, Providence, Miami, and Fort Lauderdale, can be had for under $100 each way.
What You Also Need to Know About Martinique
Public transport on the island is limited and not always reliable. Unquestionably, in my view, the best option to explore Martinique is by renting a car at the airport. Taxis are expensive; collective taxis (Taxico), both local and interurban, are cheaper, but only leave once they are filled up, with no fixed timetable. Transportation that does function very efficiently is the boat service between Fort de France and other coastal destinations such as Case-Pilote, Les Anses d'Arlet, L'Anse a l'Ane and others such as Vedettes Tropicales. There is also an inter-island ferry (www.express-des-iles.fr) between Martinique, Guadeloupe, St. Lucia, Marie Galante, and Dominique.


Martinique's currency is the Euro, and ATMs are widely available. Most places accept credit cards but refuse dollars in cash.


Highly recommended: Use insect repellent and sleep under a mosquito net.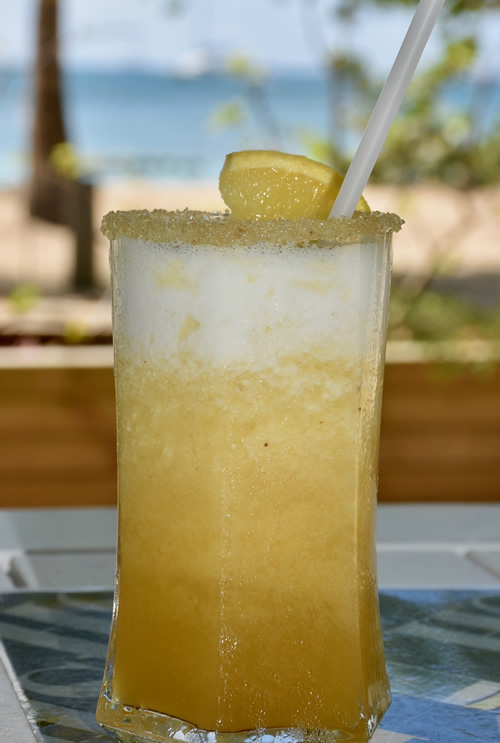 Enjoying lounging at the beach.
Lies Ouwerkerk is originally from Amsterdam, The Netherlands, and currently lives in Montreal, Canada. Previously a columnist for The Sherbrooke Record, she is presently a freelance writer and photographer for various travel magazines.