Creative Wining and Dining in Paris
9 Alternatives for Solo Travelers
Article and photos by Lies Ouwerkerk
Senior Contributing Editor
Resources updated 9/26/2023 by Transitions Abroad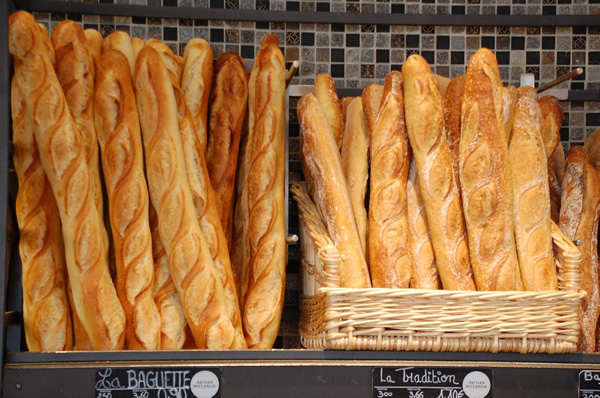 Fresh crusty French baguettes. Few breads smell or taste better.
With fresh butter, cheese, ham, jams, or as an indispensable part of most meals, it is one of the best deals in France as a center or part of a great budget dining experience for the solo traveler in Paris.
Are you a confirmed solo traveler, but also one who would enjoy some company to have a drink or eat a meal with once in a while? For your current or next visit to Paris, wishful thinking no more! With the following imaginative ideas you can both have your cake as a solo traveler, and eat it too in the company of others. And the opportunity to connect with true Parisians may well be the icing on that cake!
1) Join a Food Walking Tour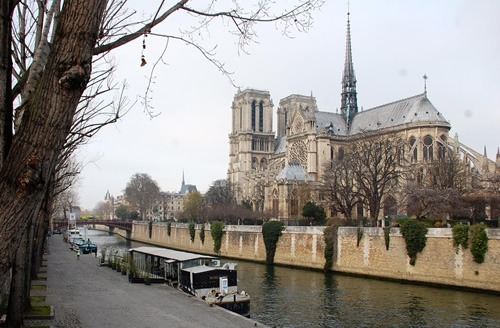 A walking tour around Paris will often take you along the Seine river to see interesting angles of the city.
Food walking tours combine wandering through interesting neighborhoods on foot with visiting local delicatessen shops and restaurants, and sampling their products like cheese, wine, breads, charcuterie, patisserie, chocolates, macaroons, and other specialties. Often led by English speaking guides who are passionate foodies themselves, the tours are peppered with lots of info about the area, suppliers, and products sampled along the way.
You may visit a typical fromagerie (cheese shop) during a walking tour of Paris.
For more on food walking tours in Paris, visit:
Flavors of Paris: Gastronomic Food Tours
2) Take a Cooking Class
If you are a foodie, cooking classes in Paris especially fun! Typically, you start class by purchasing fresh ingredients at a farmers market, followed by a few hours of instruction and hands-on cooking, and topped off by savoring the gourmet meal you have prepared. The classes take place mornings, afternoons, and evenings, are kept to a maximum of 6-8 people, are often offered in English, and take place either in a school or restaurant, or in the intimacy of a home kitchen. Check reviews and pick the class with your favorite food and setting!
For more information on cooking classes in Paris, visit:
Cook'n With Class: French Cooking School in Paris
La Cuisine Paris: Cooking Classes
Lefoodist: Cooking Class in Paris
L'Atelier Des Chefs (in French, but includes listings of cooking workshops in Paris)
3) Eat at a Local's Home
Various companies link travelers to local chefs and talented home cooks with whom a gourmet meal can be enjoyed in their own home. I booked a dinner at Loly's place in a multicultural neighborhood in the 19th arrondissement, and received a very warm welcome with aperitif and appetizers in her cozy apartment that exuded the ambience of a world traveler.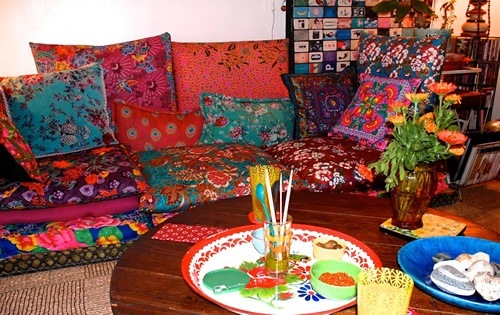 Inside the apartment of host Loly, where a great vegan meal was enjoyed.
Although always interested in food, Loly was originally a lawyer in the music business. A few years ago, however, she decided to become more serious about vegan cooking, and grew so convinced that that's the way to eat, that she gladly gave up her longtime job to "wake up" others. Since then, she gives workshops and classes in vegan cuisine, caters and serves vegan Sunday brunches in a cafe, has a stand with vegan food at Le Marché St. Honoré, and cooks for travelers in her own home kitchen. As she is one of the few known vegan cooks in Paris, she is often asked to cater to celebrities who require vegan meals when visiting the city, among them several famous actors and politicians.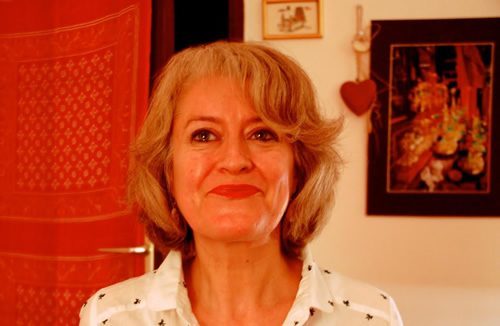 Our host, Loly.
Although not a vegan myself, I absolutely loved her carefully prepared 3-course meal: a starter of spicy soup with parsnips and carrots with a dollop of soya cream, a main course of quinoa, roasted vegetables and marinated tofu, and a dessert with yogurt made from almond milk and coco. Since we had so many topics to talk about (her food, travels, and being raised in a mobile home by gypsy parents who earned their living with a merry-go-round at fun fairs), the evening flew by much too quickly. All in all, a wonderful way to get to know extraordinary people you would otherwise not easily meet!
For more information on eating with locals, visit:
Eatwith (search for Paris to enjoy an immersive travel experience eating with locals in Paris)
Airbnb (offers a neighborhood guide to Paris)
4) Look for a Small Restaurant with Counters
It is quite common in Paris to sit alone on a terrace and watch life pass by, or perhaps to eat at a stand-up counter in a café/brasserie. Because these are informal settings, it is often easy to strike up a conversation with people next to you. Parisian apartments are usually small, so many locals, whether single or not, are used to eating out this way.
Cozy counter seating or zinc bars where you stand elbow to elbow, can be found at for instance: La Poissonnerie, Rue du Seine (6th); Le Siffleur de Ballons, Rue de Citeaux (11th); Miznon, Rue des Ecouffes (4th); and L'Avant Comptoir, Carrefour de l'Odeon (6th). Some other welcoming, small, and good restaurants: Candelaria, Rue de Saintonge (3rd); La Mascotte, Rue des Abbesses (18th); Brasserie Flo, Cour des Petites Ecuries (10th); Le Golden Pat, Rue de Mazagran (10th); and La Sauterelle, Rue Montcalm (18th).
5) Join a Communal Table
There are several restaurants in Paris where joining a table with unknown people is the norm rather than the exception. At a communal table made of reclaimed wood, for instance, you can break bread with other guests at Le Pain Quotidien. I happily joined some Parisians and foreigners during a Sunday brunch at their venue in the Marais, but they have other locations in the city as well. "Le Pain Quotidien" serves delicious and wholesome artisan bakery products, made with organic ingredients, as well as soups, quiches, eggs, yogurt, organic spreads, pates, charcuterie, cheeses, and a bowl of piping hot chocolate.
Bouillon Chartier, located in the theater district, is a legendary, more than a century-old, bustling brasserie (originally a soup kitchen) with big mirrors, glass-globe fixtures, and coat racks high above the tables, serving simple, very affordable, traditional dishes. The servers, still dressed in black vests and white aprons, seat solo guests or couples at already occupied tables. As this is a well-known feature of Le Chartier, nobody looks surprised. I just smiled, introduced myself, and enjoyed a lively conversation with an adorable Parisian couple.
| | |
| --- | --- |
| | |
| Le Pain Quotidien is a busy chain in France that generally serves good food. | Le (Bouillon) Chartier is a busy legendary brasserie, where the food is excellent. |
6) Buy Finger-Licking Food at One of the Many Specialty Shops or Farmers Markets, and Devour it in Le Jardin Du Luxembourg, Les Tuilleries, or on any Bench in your Vicinity
Although this suggestion may generate interesting chats with vendors, but not necessarily meal partners, it is still a great way to savor Parisian delicacies and avoid resorting to fast food or room service. It may be hard to find a supermarket in Paris, but there are tons of small neighborhood shops and boutiques, where products like cheese, appetizers, meats, salads, and breads can be purchased. The best of the best have obtained the lifelong title of "Meilleur Ouvrier de France" ("Best Worker of France") through passing tough competitions in their field, but there are many more excellent artisan (which means their products are made on the premises) shops even without such honorable title. Vendors are usually very proud of their wares and will take the time to advise you.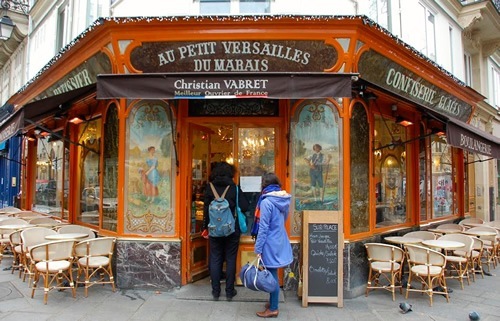 One of the shops in Paris run by a designated "Meilleur Ouvrier de France" ("Best Worker of France"). That's cultural pride.
As for bread, nothing in the world compares to good crusty French baguettes, so enjoy them while you can, ideally fresh and still warm! I am told that you have to look for pointy ends, since these are the ones made by hand. In most places, you can also buy a half one. Paris has an annual contest for the best baguette in town (Le Grand Prix de la baguette de la ville de Paris), and the winner will provide bread for the French president for one entire year.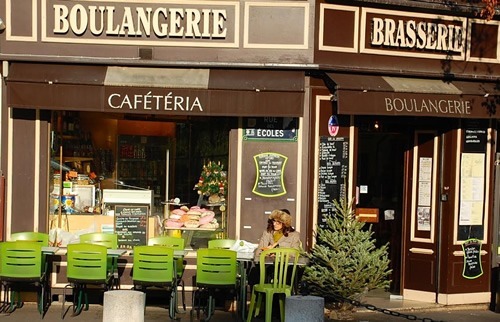 A typical boulangerie (bakery), in this case also a brasserie, in the student section of Paris is one of many options for good food, an early breakfast, and people watching as the day goes on and tables fill.
In shops, remember the rule "just look, don't touch": wait in line and point, instead of grabbing the article you want. Also, the French are not used to eating in the street, but sit down with their food and relax. Picnicking in the park is quite common, though, and there are benches and chairs galore.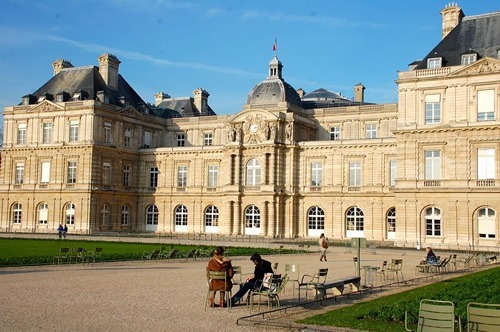 A casual picnic at beautiful (and often flower-covered) Jardin du Luxembourg is common for students and people of all ages.
Finally, don't forget to visit one of the farmers markets in the city, or the older covered markets such as Le Marche des Enfants Rouges, Rue de Bretagne (3rd), or Le Marche Saint-Quentin, Boulevard de Magenta (10th). In various markets, there are little restaurants offering excellent, affordable meals.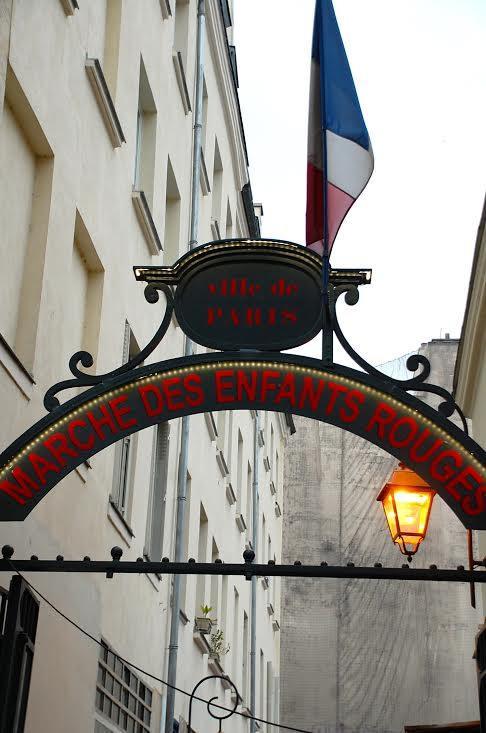 Entrance to "Le Marche des Enfants Rouges."
Like a Local: Top 10 Markets in Paris
A list of street markets can be found at (good local blogs about markets pop up and go, so these links are more dependable.):
Timeout's recommendations for top markets of all kinds in Paris
7) Volunteer Some English Vocabulary or Grammar
On Saturday nights, a "language exchange salon" is hosted by a Parisian, Michael, at his home close to the Notre Dame Cathedral. In exchange for a few words of English, you can enjoy a drink and meet with locals at a Meetup weekly gathering or contact Michael, the organizer, directly at talktime@muszlak.com.
8) Have a Drink at a Wine — or Cocktail Bar
In Paris, cocktail bars, wine bars, cellars, and rooftop bars are in! Small, crowded spaces are often conducive to meeting and talking, so this can be an easy way to mingle.
Some recommended places: the rooftop bar of Le Perchoir, Rue Crespin du Gast (11th), reservation needed; Le Barav, Rue Charles-Francois Dupuis (3rd), bring your own wine; Andy Wahloo, Rue des Gravilliers (3rd); and La Conserverie, Rue du Sentier (2nd).
In the decadent and gorgeous setting of cocktail bar Le Carmen — composer Bizet's former residence in Montmartre — book lovers gather every few weeks not only to drink a cocktail together, but also to swap their favorite books. A great way to strike up a conversation, whether about literature or anything else. The Tale of Three Cities Book club at Le Carmen in Rue Duperre (9th).
9) Experience Paris the Parisian Way: Join a Local for Breakfast, a Picnic along the Seine, a Drink in a Wine Bar, a Lunch at His/Her Home, or Even a Meal in your Own Place
Since my knowledge of Paris was a bit rusty and in need of a tune-up, I signed up for a one hour meeting with Hanna, an art director, at a brasserie close to her apartment in the 9th arrondissement. Over coffee and croissants, I could fire off any question about current Parisian life, typical foods, places not to be missed, and new neighborhoods to pay attention to. She also talked about her own experiences in the city of lights, and compared it to life in Sweden, her country of origin. After the informative and animated talk, she immediately followed up per email with a PDF, full of valuable addresses and websites.
See also some other fun ways of spending a couple of hours in the company of locals.
Finally, there are many websites and blogs on the topic of restaurants, food, drinks etc. in Paris, and some bloggers regularly post their favorite spots and special events:
David Lebovitz: Living the Sweet Life in Paris
Wendy Lyn: Paris is my Kitchen
Lies Ouwerkerk is originally from Amsterdam, The Netherlands, and currently lives in Montreal, Canada. Previously a columnist for The Sherbrooke Record, she is presently a freelance writer and photographer for various travel magazines.