A Guide to Third Wave Coffee Culture in Paris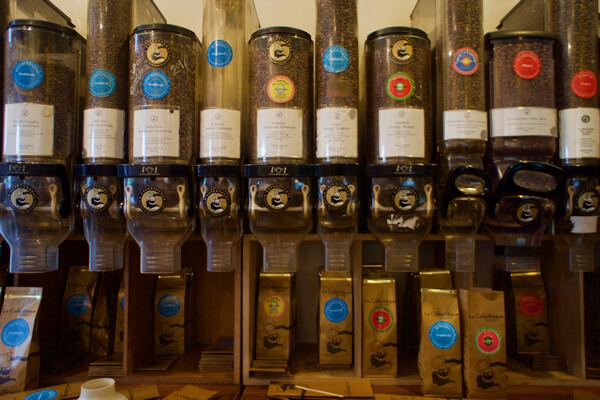 Coffee beans at La Caféothèque, the mother of all third wave cafés in Paris.
Tucked discretely across the Seine from the famed Île Saint Louis, hovering on the edge of the hip Marais district on a quiet side street off the main boulevard, you'll find La Caféothèque, the mother of all third wave cafés in Paris. This is ground zero for finally getting a decent cup o' joe in a city famous for its famous cafés, though ironically notorious for having horrible coffee. In fact, Oliver Strand recently wrote about why Paris had such awful coffee in an article (now famous among coffee aficionados) titled: "Why is Coffee in Paris So Bad?"
It used to be the case that, whether you ordered an expresso or café au lait, a subpar coffee was saved only by the view, those bustling city plazas and charming squares found anywhere in Paris. Today — although the views are still charming and a bitter, over-roasted café creme is never far away — the coffee culture of Paris is slowly changing. Coffee shops, like La Caféothèque, though still somewhat exceptional, are now easier to find. The evolution is not surprising. What's surprising is that it took so long!
Parisians and the French are used to talking about food and drink at great length. They are concerned with terroir — the origin of nearly all their food and beverages. They are curious about the side of the hill where the wine grapes were grown, how much sun they received, and what sort of winter weather might have affected the grapes. The lively analysis of the quality of soil, sunlight, varietals, and seasonal shifts in temperature often mentioned when discussing wine grapes transfers well to the appreciation of coffee, especially now that the coffee re-education process is just taking off.
Parisian Café Rituals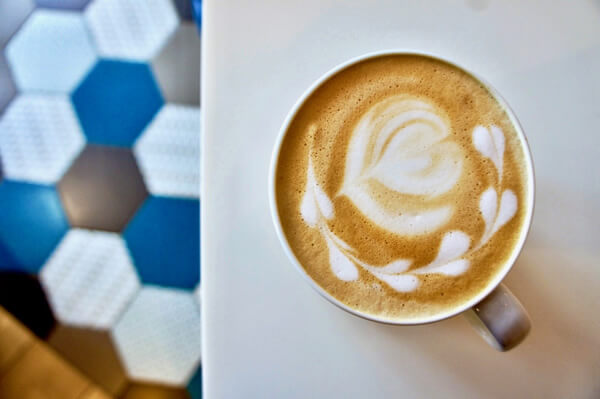 A café creme at bleu olive.
Parisians still typically begin their day with a shot of espresso and a croissant taken at the counter of their favorite neighborhood café before hustling off to work. Later in the morning, they'll often take a longer coffee break with a friend, relax on the terrace if it's sunny, and enjoy the company. Paris is still not a "coffee-to-go" culture, though with the penetration of Starbucks into the market it is more and more commonplace.
There are four types of coffee generally served: espresso (hot water steamed through ground coffee), doppio (espresso with a dollop of milk foam) café creme or latte (espresso with steamed foamy, creamy milk) and americano (espresso with hot water). All of these are caffeinated. Decaf is practically unheard of, as is drip coffee. The Euro-sounding size terms popularized by American coffee shops (such as "grande" and "venti") aren't taken for anything more than their literal Italian meanings in Europe: "big" and "twenty," respectively. Instead, European cafés serve drinks according to the number of espresso shots desired (i.e., single cappuccino or double espresso).
These days, if you really did need that venti quad-shot, no foam, extra vanilla latte, a Starbucks is around the corner somewhere, and popular with the locals who, you might have guessed it, spend more time sitting in the café chatting with their friends than bustling out the door, coffee in hand.
Third Wave Cafés: Community, Arts, and the Digital Nomad
La Caféothèque from the outside is far from pretentious.
La Caféothèque lounge is casual inside.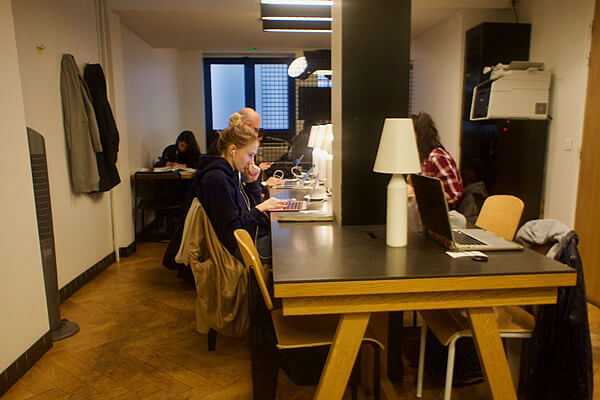 Working space for digital nomads at Craft.
What makes this new coffee scene interesting for so many is how many of these cafés, following the lead of La Caféothèque, work with the community to promote the arts through open mic nights for poetry, jazz and many other small events that bring people together. At the same time, they are invested in the digital nomad work culture, making many of these cafés possible working spaces for those invested in working from the comfort of their laptops.
Recommended Cafés in Paris
Below are just a few of the wonderful cafés and roasters that are ready to serve you your next double cappuccino on your next trip to the City of Light. Now, that this century-old coffee culture is undergoing a revolution, this revolution is more in the quality of the coffee itself, not so much in how it is enjoyed.
Caféothèque (52 Rue de l'Hôtel de Ville, 75004) As everyone knows, a great coffee starts with a great bean. Since 2005, Caféothèque has been serving up single-origin roasts. The beans are roasted in-house, so in the cozy, pillow-lined booths and chairs, the comforting smell of fresh-roasted goodness always hangs in the air. It remains one of the few cafés in Paris to roast beans in-house.
Belleville Roasters (10, rue Pradier, 75019) has become the go-to bean roaster for cafés looking for a terroir-specific, high quality, sustainably produced beans that are roasted to perfection. David Flynn, an American who relocated to Paris after traveling the world to study coffee and the art of being a barista, founded the café in 2013. Belleville holds coffee tastings every Saturday from 11am - 6:30pm.
Judy (18 rue de Fleurus, 75006), located just a block away from the popular Luxembourg Garden, this bright, cozy, kid-friendly joint works with Coutume to source their silky smooth coffee. Vegetarian and vegan-friendly options abound, with gluten-free menu choices, including Buddha Bowls, kale-layered club sandwiches, and fresh-squeezed juices.
Craft (24, rue des Vinaigriers 75010) serves up Lomi beans (see below) and pulls their espresso from a heavy-duty Marzocco machine. Known in particular for their flat whites, Craft has a fantastic dedicated co-working space. There is a private space that can be reserved for groups in the back and a long table for laptop users connecting for free (with purchase) to the wifi. In the front of the café is a space in front dedicated for those who prefer to chat with their friends or curl up with a book.
Lomi (3b rue Marcadet, 75018) is a microroaster founded in 2010 that doubles as a hip warehouse café. Most known for their chemex pour over, Lomi is a must-stop for any coffee aficionado or want-to-be aficionado where not only are the classics made with their bright, clean beans but where they are not afraid to experiment, such as with the surprising (in a good way) blue-cheese coffee. Many of the best third-wave coffee joints in Paris serve-up Lomi beans.
Radio Days (15 rue Alibert, 75010) is a spot for those who take their coffee with some graphic novels and vinyl on the side. Although the coffee shop sports a rotating torrefaction that has taken beans from Stumptown, Coutume, Keen Coffee, and KB Cafeshop, the real draw is the vinyl collection to enjoy with your flat white. Organic homemade treats are also available.
My list is just a beginning. Explore all the great third-wave coffee shops popping up around the City of Light. Sit down, chat with a friend, or relax with a book. Just remember to enjoy the view with your delicious café creme.
Lucas M. Peters recently penned and photographed the Moon Morocco Travel Guide with Avalon Publishing. His articles, essays, short stories, poems, photos and videos have appeared with Creative Nonfiction, Ploughshares, The Voyage Report and various other magazines and websites. He has been a travel consultant for The Travel Channel and is the editor-in-chief of the Journey Beyond Travel travel web series. 

Lucas lived in Morocco from 2009-2015, where he taught English Composition, Literature and other courses at Al Akhawayn University. He now lives in Paris with his wife and son, and keeps a dad blog at www.papaparisien.com. He can sometimes be found giving students a hard time at the Sorbonne, where he adjuncts. 3-4 times a year, he still travels Morocco, visiting friends, family, researching and finding moments to capture.