How to Survive and Thrive Living in Korea as an EFL Couple
Article and photo by Jonathon Engels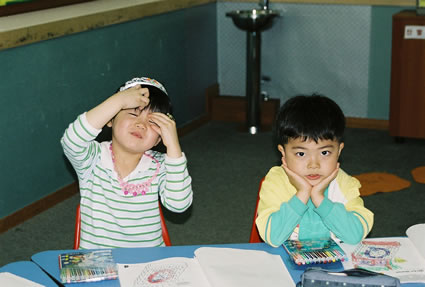 Teaching two personalities for one task!
South Korea is a great place to begin an EFL career. As seemingly every Korean child undertakes learning English, language hagwons (private academies) are everywhere, and jobs are plentiful. In addition, accepting one of the thousands of posts in Korea comes with paid airfare, school-supplied housing, and a bonus for contract completion. Many teachers I worked with had come to pay down school debts quickly. Nearly all of us were new to the field.
Yet, life in Korea was not without its challenges. The cultural differences were far more vast than, for example, a U.S. citizen teaching in Mexico or a Brit living a year in Italy. Everything was largely unfamiliar: the alphabet, the food, living in a 15-story building, not owning a car, and gender roles. However, I met my eventual wife within my first three months in Korea. Emma is British, though my mother had predicted she would be Korean.
Over the next 2-plus years, we worked in a little suburb of Seoul, Ansan (barely over half a million people), deciphered some of the great mysteries regarding how to survive Korea as an EFL couple. We may not have arrived as an item. Yet, by the time we left, we had mentored many an incoming duo on the fine points of the EFL life in Korea, from sharing a 1-room apartment to working and living together to where to buy the best kimbap.
Housing is a Friend of the EFL Couple in South Korea
In our first year, Emma and I technically lived in separate domiciles. The "apartments" were tiny 1-room closets with a one-burner electric stove atop a mini-fridge, single basin metal sinks, and a window at about head-level. In reality, her apartment functioned mainly as a closet, and we squeezed into my tiny abode, smaller than the average guest bedroom in the U.S. We grew to know each other well very quickly.
When we signed up for a second year in Ansan, we did so as a couple. We managed a significant upgrade in our housing situation. Living in one apartment instead of two also saved money, so in year two in South Korea, our apartment effectively doubled in size. We also managed to find a place with massive windows. In addition, we only had to pay one set of bills.
Housing Tips for Living in South Korea
Buy a toaster oven; it turned out to be completely worth it. Ovens are not standard in Korean houses, so this is how you subversively cook your frozen tater tots, pizza, and so on. At some point, after all, you will need a break from kimchi and rice. Plain old toast becomes quite a treat.
Use a yo (the traditional Korea-style mattress), basically a fancy sleeping mat, which is nice because the heating comes from within the floors in Korea. We could then remove the bed for more space during the day. In addition, you get that "living like a local" feeling going on in your apartment.
Be wary of little lofts that seem cool at first. All three of the aforementioned apartments above had lofts in them. However, the steps were treacherous, and the space was an uncomfortable four-foot high, so we eventually didn't even bother sleeping there.
For Expats, Helping Each Other Comes Naturally
One of the most common problems expats run into is loneliness. The sense of solitude is especially likely in Korea. The cities are often dense with people in a hurry. They can't speak English, so communication is sometimes challenging. Many single friends struggled, their appreciation of the local customs waning in the face of culture shock. Missing home, some latched on old flames or fixated on former lives and wound up even lonelier.
Emma and I were fortunate in that we always had each other to turn to when things got confusing: navigating the grocery store or going to the bank. Even though we may not have been able to translate or explain everything to each other, it means a lot to live with someone who has empathy for your experience. Your partner may even take the reins when you can no longer handle the cultural maze alone. Compatible couples have such support built into their relationship. We also had someone to field irrational vents when a cultural "norm" — spitting, slurping, burping — finally rubbed us the wrong way.
Tips for Coping and Integrating as an Expat Couple
Make friends with other foreigners or expats. Most of us are excited about making international friendships, but having less intrinsically challenging acquaintances is also essential. Even as a couple, it is sometimes nice to give your partner a break and discuss life issues with someone else.
Tackle difficult tasks as a team. Simple things like buying a subway pass or paying bills can be difficult even after you get the hang of it. Sharing the responsibility eases the frustration. In addition, it's a classy move to help those aforementioned single friends when possible.
Become a regular around town. Emma and I are vegetarians, which is surprisingly difficult to explain in Korea. Consequently, we frequented the same three or four restaurants. Our faces became recognized and appreciated by locals to whom we couldn't speak.
Scheduling Should Work for You
A great thing about Korean academies is that teachers generally work once daily rather than for hourly wages, as in much of the world. Teachers put in their time, go home, and pursue a life outside school. Hourly jobs often equate to split shifts (working the morning and evening) and a more school-centered existence. For Emma and me, as a couple, our schedules in Korea had many more advantages.
Daily life in Korea brought us into a good ebb and flow. Emma, a kindergarten teacher, started work in the morning and finished in the late afternoon. I was an elementary-middle school person, arriving in the early afternoon and teaching until nine at night. Our schedules gave us some personal time at home, allowed us to have midday coffee or ice cream together, and spurred us into distinct household responsibilities. The timing just worked right.
Tips for Scheduling
Work different shifts if possible. It gives each of you time to pursue your interests. I used my quiet mornings to write (and listen to basketball games), and Emma learned to play guitar or paint in the afternoons. Having a different schedule as a couple keeps life from being too smothering.
Take advantage of time off. A beautiful thing about working for the same company is that rogue days off and holidays are the same. Planning to do something these days, getting out to explore rather than huddling in the apartment, always made them better.
Recognize your role. Because Emma left earlier, I always made breakfast. At the same time, she got ready for work, made the bed, did the dishes, and so on. She had dinner ready when I got home. Our schedules allowed us to pick up the slack for each other at just the right moments.
Breaking Up is Hard to Do
Every year, when it's time to start looking for our next job (Emma and I are now married and have remained traveling EFL teachers), we eventually find our thoughts turn to South Korea for a few days. Good memories inspire us to start shuffling through Korean job boards and researching how to obtain our work visa from abroad. Therein, we run into the problem. The current visa process requires returning to our respective home countries, England and the U.S., for in-person interviews with the Korean consulate nearest to our place of birth.
Flying to the U.S. and England for a job is too expensive, so we give up on the quest and choose somewhere new. We inevitably find positions in another part of the world without daily fresh tofu and such a dizzying array of mushrooms. We learn about a new culture yet still remember South Korea fondly. We have learned how to live there without much ado but never how to return.
| | |
| --- | --- |
| | Jonathon Engels earned an MFA in creative writing. He has lived, worked and/or volunteered in seven different countries, traveling his way through nearly 40 countries between them. His many interests include permaculture, veganism, and ways to live sustainably. |