Teach English in South Korea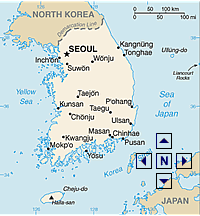 Articles on Teaching English in South Korea
CIEE
Teach English in South Korea
The CIEE Teach in South Korea program places enthusiastic individuals in established, trusted, private English language immersion schools in and around Seoul, South Korea for year-long teaching positions. Program benefits include a well paid teaching position (including bonuses and relocation allowance), in-country orientation, rent-free accommodations for the duration of the teaching contract, airfare, travel and medical insurance, and CIEE pre-departure and emergency support. Optional pre-departure TEFL certification is available.
Dave's ESL Cafe
South Korean Job Forum
A very busy forum and full of useful posts and inside information about teaching English and living in South Korea. Be sure to browse the forum before making any final decisions in order to receive a variety of different perspectives.
Footprints
Teaching Abroad in South Korea
Are you ready to teach English in South Korea? Our free service connects you to a reputable school paying a good salary. Most contracts require only a BA (in any discipline) and provide free housing/airfare. South Korea's low cost of living allows you to live a good lifestyle, save money, and travel. We also have frequent positions in China where demand for teachers is exploding. With over 10,000 teachers placed abroad and a 95% approval rating, Footprints Recruiting is a great choice for your adventure abroad.
Geovisions
Get Paid to Teach in South Korea
This is a paid position with an annual salary. Gain international teaching experience while enriching the lives of students in South Korea. As a native speaker you can become an asset to educational establishments by improving the standard of English in South Korea. Teaching can be an amazing opportunity to make a difference in the lives of others, while experiencing the rich culture of the Eastern world. If you are a native English speaker and you have a desire to live and teach in one of the most sought after destinations for English teachers, this is your opportunity.
Greenheart Travel
Teach English in South Korea
A free program, meaning no fee, with all expenses absorbed by the South Korean government, and a salary of $1,600-$2,200 a month. 30 days of paid vacation and flight reimbursement, with one-year contracts, and health coverage by the South Korean National Health Insurance system.
Park English South Korea
The Ministry of Education of South Korea hires native English-speaking teachers throughout the nations public schools starting this year. English is the international language for commerce & industry and as a native speaker you can become an asset to educational establishments by improving the standard of English in South Korea. Teaching English in South Korea can be an excellent alternative to the traditional post-graduate employment path.
Reach To Teach Recruiting
Teaching English in South Korea
Teach English with EPIK in South Korea
Reach To Teach is an official partner of the EPIK program in South Korea. Each year, we send hundreds of teachers to teach all over the country in the South Korean public school system. We come with an excellent reputation amongst our teachers, and we strive to ensure that your year abroad will be an opportunity of a lifetime that you'll never forget! Why work with us? We've got a great reputation for being an honest and caring organization that cares for its teachers. Plus, our services are 100% free!
Teach English at a South Korean Private School
Reach To Teach works with dozens of great schools throughout South Korea. We carefully screen all of our schools to ensure that our teachers are going to be treated well and have an incredible experience abroad. Our teachers enjoy our ongoing support from when they first apply right up until contract completion. Apply today and find out why Reach To Teach comes highly recommended by ESL teachers around the world.