Living in New Delhi, India
Choose Your Own Adventures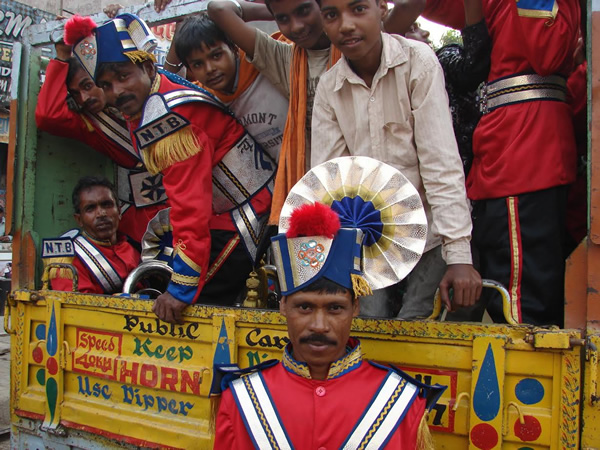 Musicians in New Delhi on their way to a wedding.
Many countries export their culture through the mélange of cuisine and music, and India is no exception. The sensory overload of India—from strong spices to bright fabrics—has seeped into the imagination of other cultures. Curry houses and Bollywood films thrive far from the streets of New Delhi, and Hindi words like "guru" and "jungle" have been incorporated into other languages.
Internship with an NGO
My wife and I moved to New Delhi for an internship with an Indian non-governmental organization (NGO). Like many, for us the reward of travel is more than snapshots in front of monuments. Choosing Delhi was based on the opportunity to it offered to volunteer for a long period. We volunteered with The Society of Participatory Research in Asia (PRIA), an international center for learning and the promotion of participation and democratic governance. Through their 25 year experience working with grassroots communities, PRIA acts as a bridge between impoverished communities and committees of policy makers. PRIA's guiding philosophy is that "knowledge is power," and they run various programs to help people participate in government programs in India, the world's largest democracy.
History of Delhi
Delhi is the heart of the nation, where decisions are made and money is generated. The Indian network of locomotive transportation is the world's largest. In 1911, Britain moved the capital from Calcutta to Delhi to be situated closer to the center of the sub-continent they controlled. British architects designed New Delhi to complement the ancient capital of Old Delhi, which was build by various Mughal emperors. Over time, the city has changed from these original purposes. Delhi offers the advantages and disadvantages of being the capital. The allure of higher wages promises prosperity for rural workers, who migrate to search of a better living. Young men and women from other regions come to study at the country's best universities. Once people come to the city they often stay. Without the infrastructure to accommodate them, Delhi is bursting in population. The influx has resulted in bottleneck traffic, polluted streets, and fierce competition in anything from getting a seat on the bus to securing pre-school admission for 5-year old children.
The Charms of Delhi
Fortunately for my wife and I, as well as the other 12 million people who live there, we were delighted to find that Delhi is full of charm. Away from the incessant brouhaha of traffic horns and just behind the dusty streets, reside oases of serenity and beauty. Pleasure gardens built for 16th century princesses are used by families as picnic grounds, with swans and ducks swimming next to immaculately pedicured gardens. Ancient forts host music festivals celebrating the diversity of South Asian music. On every Sunday in another part of the city, streets are taken over by booksellers. While they no longer sell books by the kilo as they once did, the tarpaulin sheets are filled with English books in a variety of conditions. From university level textbooks to not-for-sale copies of editor proofs, the book market contains hundreds of potential literary treasures waiting to be read.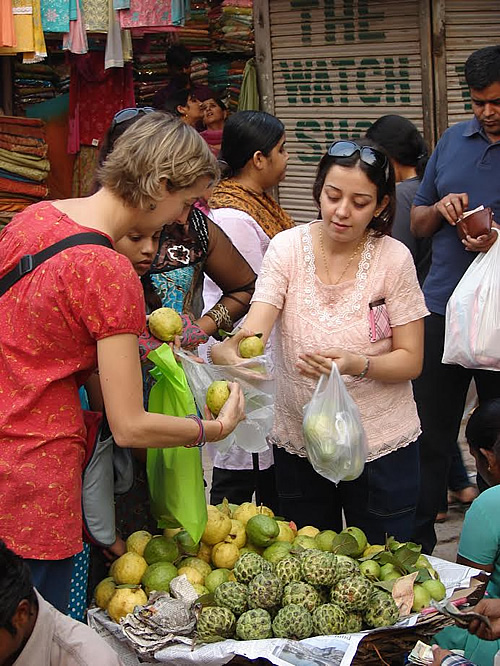 Getting advice from a local in New Delhi about the best guavas.
South Delhi and Transportation
PRIA is based in South Delhi, and not the nicest part of south Delhi. It is a fairly bland suburb surrounded by second tier universities and military encampments, known as an "institutional area." Auto rickshaw drivers know the address, but the intersection along the main though fare is so infamous that service is refused at certain times of the day. Foreigners are always charged more than the usual price, so bartering with auto rickshaw drivers becomes a daily annoyance. While each 3-wheeled yellow and green vehicle is mandated to have a meter, often it is "broken," "does not work," or drivers simply refuse to use it. A mixture of humor and forcefulness is needed to agree on the real price that locals pay.
Taking in New Delhi Culture
Delhi's size reflects a large variety of cultural pursuits. India is increasingly important on the world stage, and Delhi attracts both Indian and foreigners seeking to help shape that future. The diversity of life is reflected in the availability of lectures by visiting academics while foreign embassies promoting their own culture with film festivals and sponsored talks. The International Centre and The Habitat Centre provide daily cultural programs from dance to Christmas recitals.
The memories that resonate most about living in Delhi relate to being on a busy street. School children pass by children of the same age who work as "ragpickers"—the descriptive term for people who collect bottles and paper for a pittance. Monkeys steal fruit out of the hands of unwary pedestrians and temple elephants walk down to the river to be washed. Cows wander, sniffing out snacks that they receive from piles of waste or benevolent street sellers. Army cadets march past MBA students leaning on their motorbikes, both reaching into their pockets to give change to an impoverished old lady.
When you step onto the street, you step into Indian culture. Street sellers and school children would ask friendly questions about our origins and our favorite cricketer. When lost, crowds would gather to help us find our way. As directions could not always be trusted—Indians find it hard to admit that they do not know an answer, preferring instead to gesture vaguely in an uncertain direction—crowd gatherings could happen several times in an afternoon. The advantage to staying far from tourist haunts is that hawkers did not operate at our local hang outs, and people were curious and happy to interact with us. Hours could be spent wandering the backstreets, drinking with chai wallahs and learning about the diversity of life in Delhi.
Ultimately, this sense of hospitality permeates our experience of volunteering in India. While India's economy thrives under large economies of scale, they retain their tradition of treating visitors as they would a visiting god—whether guests are from another village or a country far away. People are interested and welcoming to strangers, an attitude that is often undervalued in other places. Far from being a city to avoid at all costs, Delhi is a place full of adventures to be discovered and interesting people to meet.