Travel and Living in Delhi
Learning to Love a Great City in India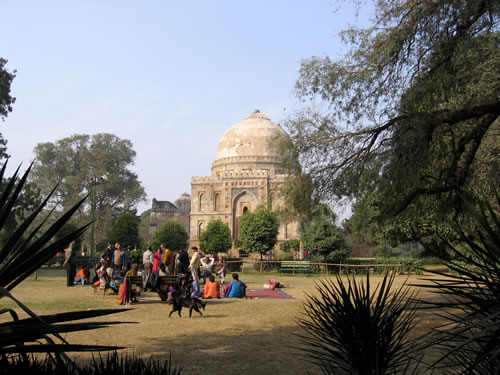 Lodhi Garden, central New Delhi, is a park and the site of the tombs of the Lodhi emperors.
I miss the smell of Delhi. I lived there for a total of six months over the course of the past three years, and now I am back in Toronto. Toronto is a big modern city and it essentially smells like a parking garage; Delhi is a megalopolis with an ancient history. Delhi smells like cooking fires, tropical flowers, pollution, animals, sewage, incense, and who knows what else. Delhi does not always smell good, but it always smells like something!
I love Delhi for its smells and for the following reasons: it is diverse, colorful, enigmatic, and bursting with life. But these are also among the reasons that many tourists—who are often new to India, having just touched down at Indira Gandhi International Airport—find it so overwhelming.
But I was no doubt lucky. I was spared the usual Delhi arrival dramas that so many tourists sordidly recount, as they detail every shock and trauma. The aggressive taxi drivers. The windowless room in a Pahar Ganj hotel. The child beggars in Connaught Place.
A Slower Pace of Life
The night I arrived for the first time at Delhi's airport, I was picked up by an old friend and taken to his family's house in genteel and prestigious South Delhi. (Editor's note: see below for information on living like a local in Delhi for those who are not fortunate enought to be greeted at the airport by family friends.) I woke up the next morning to sunlight streaming through my window and the lyrical sounds of birds singing and vegetable sellers calling their wares as they bicycled slowly through the upscale neighborhood. I walked onto the family's massive white marble terrace, glowing with the warm sun of a December morning, and was offered tea and breakfast (toast, vegetable omelet, curds and paranthas) by one of the servants (even many middle- and lower-income families in India have live-in servants). He brought out a small table and set it in front of me, and I ate on the terrace.
After breakfast—at about noon—a shawl-wallah arrived and spread gorgeous shawls and fabrics out for the ladies of the house to view, while we sipped tea in the sun. I bought several inexpensive wool shawls and two "suits" (three-piece tunic, pants and scarf), one in bright orange cotton and another in teal blue silk. The entire process was unhurried, relaxed, and enjoyable. That was my introduction to India.
My easy landing set the tone for subsequent adventures in India and taught me that India, and Delhi, does not have to be a rugged travel challenge, fraught with anxiety, culture shock, and suspicion. Living with an Indian family in Delhi, I was able to see the city through their eyes—and I discovered a slower pace of life as well as many lovely places to walk, eat, shop, socialize and relax in the capital of the world's largest democracy.
Tips for Visiting Delhi
My advice is, first of all, is not to believe all the negative you things you hear about Delhi. Delhi can be, and is, a sophisticated, cosmopolitan city that has a rich history stretching back thousands of years. It has been the capital of at least seven or eight great civilizations, and each of them has left monuments worth exploring.
Second, do not stay in Pahar Ganj or even Connaught Place. Try Karol Bagh, Sunder Nagar, Vasant Vihar and, especially, anywhere in South Delhi. Traditionally, Delhi was badly served in terms of mid-range options. The 5-star hotels are gorgeous, but expensive; and the inexpensive options tend to be dirty, windowless dumps in Pahar Ganj. These days, there are more and more guest houses and small hotels popping up in much more pleasant areas.
Third, plan your tourist activities in Delhi strategically. Delhi is massive and it takes hours to drive from one end to the other. Concentrate sight-seeing in one area per day. One day in Old Delhi (Red Fort, Chandni Chowk, Jama Masjid), one day in Central Delhi (India Gate, Connaught Place, Humayun's Tomb), one day in South Delhi ("Lotus" or Baha'i Temple, Qutb Minar, Akshardham Temple). Go through a reputable travel agency or good hotel and hire a car-and-driver. Again, it may seem a bit pricey, but it is worth it.
Fourth, do not run from one tourist extravaganza to another. Delhi offers an embarrassment of riches when it comes to cultural heritage and historic sites. It would be crazy to attempt to see the entire city in a few days. Schedule yourself some downtime and do what the locals do: Go for a leisurely stroll in Lodhi Gardens. Have a long tea break (or other refreshing beverage) at the Imperial Hotel. Take your time and visit the moving sites associated with Mahatma Gandhi: Raj Ghat, where he was cremated, is in the center of a big park; Birla House (aka Gandhi Samadhi) is where he was assassinated. Take a yoga class at the Sivananda Centre in Greater Kailash. Shop at upscale Khan Market and have lunch at one of the cafes.
I have learned much from my travels and yoga studies in India over the past few years. But one of the most important things I have learned is that your attitude to travel in India will color and influence your experience. I encourage people to go without fear, anxiety or suspicion. Visit India with openness, trust and the willingness to learn, change, and grow.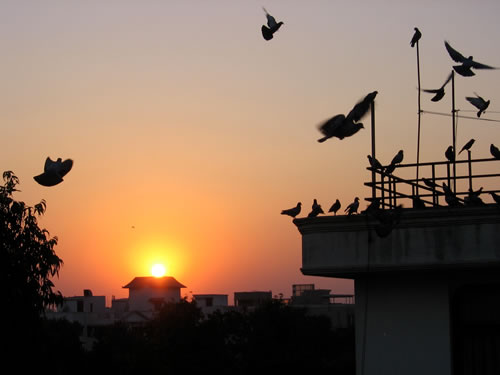 A sunset photo from the family's terrace in South Delhi; the birds are pigeons and they are well-fed twice a day in this household.
Living like a local
You do not have to spend a lot of money or have rich friends to stay in the tree-lined, upscale neighborhoods of Delhi. Many relatively inexpensive guest houses are opening in some of the best areas, and there are other services that can help you live like a local, but not spend like a millionaire.
Search the Internet for guest houses or bed and breakfasts in Delhi. Or try these sites:
Craig's List Delhi posts many service apartments and most of them seem to be in "posh" South Delhi. Look under sublets/temporary and vacation rentals.