Volunteer in India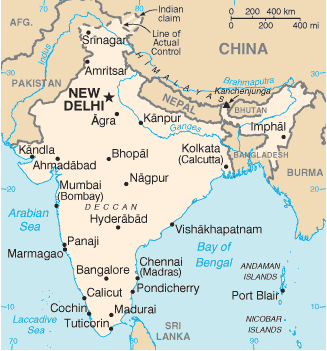 Featured Articles on Volunteer Work and Service in India
Volunteer Abroad in New Delhi, India with Cross-Cultural Solutions
New Delhi—As a volunteer in New Delhi, you'll experience an amazing adventure against the backdrop of some of the most incredible landscapes and cityscapes you've ever encountered. As part of your volunteer service work in India, you'll work alongside one of a variety of progressive local organizations to support efforts that will help pave the road to better lives for countless members of a fascinating, but often polarized culture.

On each program, after volunteering for the day, you'll be able to walk around your neighborhood or explore some of the gorgeous spots nearby. We proudly believe we provide the perfect mix of quality work, cultural immersion, adventure, and relaxation—all while having 24/7 access to CCS staff and support. Make that life-changing decision to become a CCSer today!
Dates: One Week to Three Months
Costs: Contact Us for Pricing and Availability
Contact: Cross-Cultural Solutions, 2 Clinton Place, New Rochelle, NY 10801.
Tel: US Toll Free: 1-800-380-4777
Email: info@crossculturalsolutions.org
Website: www.crossculturalsolutions.org/destinations/volunteer-india-new-delhi

Featured
Volunteer Abroad in Dharamsala, India with Cross-Cultural Solutions
As a volunteer in the misty highlands of Dharamsala with CCS, you'll work in the lower section alongside organizations whose efforts support children's education and women's rights—a powerful mission in one of the world's most awe-inspiring, historically significant settings.

On each program, after volunteering for the day, you'll be able to walk around your neighborhood or explore some of the gorgeous spots nearby. We proudly believe we provide the perfect mix of quality work, cultural immersion, adventure, and relaxation—all while having 24/7 access to CCS staff and support. Make that life-changing decision to become a CCSer today!
Dates: Summer only
Costs: Contact Us for Pricing and Availability
Contact: Cross-Cultural Solutions, 2 Clinton Place, New Rochelle, NY 10801.
Tel: US Toll Free: 1-800-380-4777
Email: info@crossculturalsolutions.org
Website: www.crossculturalsolutions.org/destinations/volunteer-india-dharamsala

Featured
Volunteer Abroad in India from US$250
International Volunteer HQ (IVHQ) offer affordable volunteer abroad programs in either Delhi or Dharamsala, India from only US$250. Volunteers can participate in a wide range of programs including Childcare, Health, Slum Teaching (in Delhi only) and Teaching English. IVHQ sends thousands of volunteer travelers worldwide annually—you will not find a more affordable, high quality and trustworthy volunteer travel company.
Cost: Program Fees start from US$250.
Dates: Programs start on the 1st and 3rd Monday of each month. Duration: Volunteers can volunteer for periods ranging from 1 week to 24 weeks.
Contact: International Volunteer HQ, PO Box 8273, New Plymouth, NEW ZEALAND.
Tel.: US/Canada Toll Free: 1-877-342-6588; UK Toll Free: 0-800-234-1621; Australia Toll Free: 1-800-557-380; International: +64 6 758 7949.
Email: info@volunteerhq.org
Website: www.volunteerhq.org

Featured
Volunteer in India
The Indian subcontinent has a vibrant culture full of fascinating and unforgettable sights, smells, and sounds! ELI works with organizations in the South India to create volunteer opportunities that benefit locals that give volunteers a unique cultural learning experience while giving back to the communities. Placements are available in women's projects, health, teaching, and more. All placements are set up on an individual basis based on the needs of the local organization and the specific skills of the volunteer.
Dates: Throughout the year — 2 weeks to 6 months
Cost: Varies by length of stay
Contact: ELI, 1557 Ogden St. #5, Denver, CO 80218
Tel.: 303-321-8278
Email: info@eliabroad.org
Website: www.eliabroad.org

Featured
Globe Aware
Fighting Poverty in India
Participate in Globe Aware's India program and combat poverty by working with slum dwelling and other disadvantaged children in the community of Jaipur. In this "Pink City," volunteers will work with rescued child laborers, assist at day care centers, and provide support for local teachers, in addition to completing beautification activities for public facilities. Volunteers will be accommodated in one of several modest hotels which all have running hot-water, Western-style toilets, and electricity. During leisure time, volunteers can have dinner with a local family, visit a traditional carpet factory, take an elephant ride, or walk through the colorful streets. Come and fight poverty in India and enhance the lives of poverty-stricken children in ways that you can only begin to imagine.
Dates: Please refer to our website for trip dates
Cost: $1380
Contact: 6500 East Mockingbird Lane, Suite 104, Dallas, TX 75214
Tel: 1-877-LUV-GLOBE
Email: office@globeaware.org
Website: www.globeaware.org

Featured
A Broader View Volunteers Corp
Volunteering with a Non Profit Charity Overseas
A Broader View Volunteers is an U.S. Non profit charity.
We work in 27 countries with over 245 programs, including Argentina, Belize, Chile, Peru, Ecuador, Colombia, Costa Rica, Nicaragua, Honduras, Belize, Guatemala, Uganda, Tanzania, Kenya, Ghana, Zambia, South Africa, Cameroon, Rwanda, Nepal, India, Vietnam, Philippines, Cambodia, and China.
With A Broader View (ABV), you'll be immersed in another culture, collaborate with your host community on a development project, and work side by side with local youth while building your own leadership skills. ABV works year round from 1-week to 12-week programs.
Dates: Ongoing programs, year round, you choose your dates of arrival and departure.
Cost: From US$895 for one week to US$2240 for 12 weeks (you can tax deduct the expenses). Program fee includes: personalized Volunteer Placement, cultural education, meals, accommodation, pre-departure guidance, 24/7 country staff, tax deducted fees, the option to fundraise within our website, and more.
Contact: A Broader View Volunteers Corp, 236 Glen Place, Elkins Park, PA 19027.
Tel.: 866-423-3258 or 215-780-1845 (US), (020) 3289-9896 (UK), (02) 8003-3474 (AU).
Fax: 215-887-0915 / Skype: Abroaderview.org
Email: volunteers@abroaderview.org, info@abroaderview.org
Website: www.abroaderview.org

Featured
Volunteer in India — Delhi, Dharamshala / Palampur, Kolkata and Bangalore starting $249 only!
Volunteer in India with one of the oldest established volunteer programs in India. Volunteering India has received over 2500 volunteers since 2004. Volunteering India programs are available in New Delhi, Dharamshala/ Palampur, Kolkata and Bangalore, with costs starting at only $249. We also have special programs for summer volunteering in India, group programs for schools and universities as well as planned trips for families who would like to volunteer in India.

Volunteers can choose to join programs in Teaching English, Orphanage work, Women Empowerment, Childcare Programs, Disabled Children, Mini Break Trips, Summer Programs, Dental Elective, Medical & HIV programs in India.

Dates: Starting every Monday throughout the year.
Cost: Starting $249 only.
Contact: Volunteering India, 10, Siri Fort Road, Ground Floor, New Delhi 110049 INDIA
Tel.: +91-9716 235 166. From UK: +44-2081339939. From US/Canada: +1-347 410 9730
Email: info@volunteeringindia.com
Website: www.volunteeringindia.com

Featured
Make a REAL difference in India with Love Volunteers — from just US$310!
Love Volunteers, the world's fastest growing independent volunteering organization, has provided safe, meaningful and truly affordable volunteering abroad opportunities to thousands of volunteers from all over the world. Become a Love Volunteer in India and get the experience of a lifetime whilst helping those in real need on one of our community-based projects! Visit our website to check out our range of community-based projects and find out how you can make a REAL difference!
Dates: Flexible/Open Start Dates
Cost: Program fees start from just US$310!
Contact: Love Volunteers
Tel.: US: +1 415 800 4993, UK: +44 1865 522 688, NZ: +64 21 443 243
Email: help@lovevolunteers.org
Website: www.lovevolunteers.org

Featured
Volunteer & Travel Program in India with Idex
The Idex program in India continues to follow our ethos of "Travel that Matters" and provide an opportunity to the travellers to have a safe, enjoyable experience that leaves them more developed than they were before the start of a trip. The way this program is designed, and delivered, leaves the travellers as well as the local communities enriched with each other's presence.

All this is managed through the well-tested and established processes of Idex to ensure that the interactions and activities are responsible towards the benefit of local communities, volunteers and local institutions.
Dates: Available on every alternative Mondays
Cost: US$760 for 2 weeks includes all services from airport to airport
Contact: GoIdex (Under the Aegis of Idex)
Tel.: +91-141-4034907
Skype: nawhalamit
Facebook: www.facebook.com/idexworld
Email: amit.sharma@goidex.com
Website: goidex.com

Featured
STOP Paying Too Much Money For Volunteering India!!
Volunteer in India from $150/week! Sankap Volunteer offers most Affordable, Meaningful and Safe volunteer programs in India. We directly place volunteers with non-profit programs that mean volunteers pay much less. Apply for early and get up to 15% off on all volunteer and travel combined volunteer programs! Booking is now open for Summer Program 2019!
Dates: Year-round
Cost: US $150/week & 15% Discount
Tel.: +91 759 734 1551 | +91 759 734 1552
Email: info@volunteersindia.org
Website: volunteersindia.org

Featured
Blossom Trust
Volunteer Projects in India
Blossom Trust offfers a variety of projects in India, including volunteering on organic/eco-friendly farm, volunteering in support of women's health issues. Please the website for details.
Visit: www.blossomtrust.org.in
Cosmic Volunteers
Volunteer Projects in India
Our programs in India include teaching English, orphanages, healthcare, and working with street children. Volunteer locations include Mumbai, Chennai, and Bangalore. This is a unique opportunity to learn about and contribute to communities in India in a meaningful way.
Visit: www.cosmicvolunteers.org
Foundation for Sustainable Development
Volunteer to Implement Sustainable Practices in India
FSD partners with grassroots organizations around the globe to improve the socioeconomic status of marginalized populations. We have sites in Jodhpur and Udaipur India. Volunteer in Microfinance/Micro-enterprise, Gender Equity, Community Development, Environment, Public Health, Youth and Education, or Human Rights.
Visit: www.fsdinternational.org
Global Choices
Volunteer in India
This program will give you a chance to make an important contribution to the Indian society, while gaining knowledge about the country and its culture. Volunteering will provide you with new friends, new skills, the opportunity to explore a new country and culture, learn a language and have a rewarding travel experience which can often be life changing. A typical volunteer at Global Choices gets the opportunity to experience and participate in the rich and diverse cultures and traditions of India. Voluntary workers need to possess basic English language skills and motivation to contribute to the society.
Visit: www.globalchoices.co.uk
Global Vision International (GVI)
Volunteer with Children in India
This volunteer program is based in Kerala, known as "Gods own Country," where you will teach in a local school attended by children from disadvantaged families. Days are spent assisting local teachers in the classrooms, and also taking small tuition groups and activity lessons before and after school. The focus is on improving conversational English of students from Lower Kindergarten through to Grade 6, as well as introducing sports and arts. Your assistance will help keep students in school and greatly aid the overwhelmed teachers as well as making a huge difference in these kids' lives.
Himalayan Education Lifeline Programme (HELP)
HELP supports impoverished schools in the Himalayas with both financial and volunteer resources.
Visit: www.help-education.org
Index
Volunteer & Travel Program in India with Idex
The Idex program in India continues to follow our ethos of "Travel that Matters" and provide an opportunity to the travellers to have a safe, enjoyable experience that leaves them more developed than they were before the start of a trip. The way this program is designed, and delivered, leaves the travelers as well as the local communities enriched with each other's presence.
All this is managed through the well-tested and established processes of Idex to ensure that the interactions and activities are responsible towards the benefit of local communities, volunteers and local institutions.
Visit: www.goidex.com
Joining Hands
Volunteering in India
Joining Hands facilitates placement of volunteers among over 25 partner-NGO's which work at the grassroots level with diverse communities on varied social issues (education, health care, income generation, environment). The duration of the programs is flexible, depending on the availability of the volunteer and the NGO's need. A volunteer can start year-round. Locations: Delhi, Haryana, Rajasthan and Uttar Pradesh.
Visit: www.joininghandsindia.org
Kaya Responsible Travel in India
Kaya volunteer and travel in India provides participants with a unique and meaningful way of getting to know one of the most diverse countries on the planet. Learn how to cook authentic Indian food, immerse yourself in the culture and practice your Hindi while lending a helping hand. Work in projects such as community health, education, child care, or social work. With Kaya Responsible Travel, we ensure that your project suits your interests as well as the needs of the community.
Visit: www.kayavolunteer.com/India
SMILE Society
International Volunteer Programs in India
SMILE (member of CCIVS, UNESCO) , a registered NGO from India, welcomes international students and seniors to participate in our short- to long-term projects for the street and poor children in India. Your valuable participation can change many needy children's lives. Groups and individuals are welcome to take part in our projects with a nominal program cost which will cover your food and shared accommodations.
Visit: www.smilengo.org
United Planet
Volunteer Abroad in India
United Planet's Quests offer volunteers the opportunity to learn, teach, work, engage and immerse themselves in a culture outside their comfort zone. Ages 18 and up are invited to enroll. Live in India for 6 or 12 months and volunteer on an education or social project! Volunteers live with a local host family, participate in cultural activities and excursions, and receive 24/7 support – a true immersion experience that allows you to build relationships that last a lifetime.
Contact: Please give the United Planet Team a call at 617-874-8041 or email quest@unitedplanet.org. More information can be found at: www.unitedplanet.org. Feel free to visit us from 9 AM to 5 PM at United Planet, Boston Harbor Shipyard and Marina, 256 Marginal Street, Boston, MA 02128.
Volunteering with India
Offfers a variety of volunteer projects such as Teach English in Rural Areas, Women Empowerment, Street Children Program, Work with Elephants, and Theater Volunteering.
WWOOF INDIA
Volunteers for Organic Farms in India
WWOOF is a network that allows volunteers to live and learn on organic properties/farms. It brings together Hosts and Volunteers ("WWOOFers") helping each other to make a healthier world. WWOOF India was started on 15 Aug 2007, it promotes cultural understanding of the many diverse peoples and cultures around the world through the intercultural exchange that takes place while sharing in the daily life of others.
WWOOF India focus on sustainable livelihoods and addressing issues of poverty, through community mobilization around income-generation activities combining cultural, craft and ecological dimensions of rural life.
Visit: www.wwoofindia.org
WorldTeach
Teach Abroad in India: Summer Program
As a WorldTeach India Summer Volunteer, you will serve in semi-urban Ladakh by providing students and teachers with English language instruction. For those schools that have access to computers, you will work in a dual capacity, providing some English as well as some computer literacy instruction. Placements will span grade levels from middle to high school.
Application deadline for the summer is April 15th. See website for start and end dates.
Yearoutindia
Reach and Teach: English and Arts Teachers Needed in South India
Are you adventurous? Enthusiastic? Resourceful? Flexible? Patient? Can you teach? and do you have a big heart? If you have any or all of these and want to work on "REAL" teaching projects, then...Yearoutindia is looking for enthusiastic individuals with an interest in teaching and art to live and teach at our partner schools set high up in the beautiful Western Ghat mountain ranges in South India.
Visit: www.yearoutindia.com