Escape the Prague Tourists to These 7 Top Czech Destinations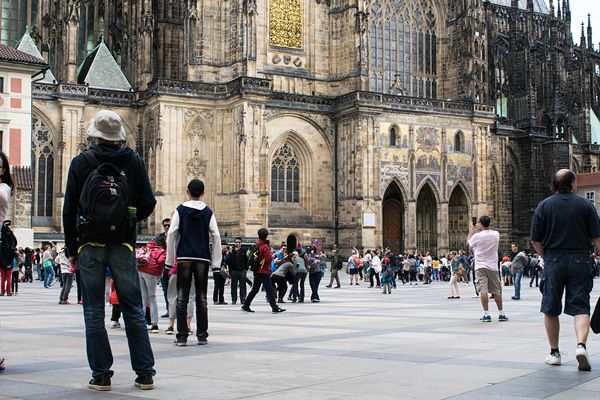 Tourists congregating around the Cathedral in Prague.
Prague is a gorgeous city, the best-preserved living museum in Europe, a spellbinding place in the morning as the sun is coming up. Then the tourist hordes emerge from their hotels and tour buses, and it doesn't feel so magical anymore.
Once thousands of tourists jam the historic streets of Old Town, you can see why the Czech capital is starting to show up on all those "overtourism" lists of crowded capitals. Scammers come out to prey. Food and drink prices are double what you will find in the rest of the country.
Some 80% of visitors to the Czech Republic never venture beyond Prague, which is a real shame, since it is a sizable country with a lot to see. The historic buildings stretch from border to border. With mountains, spa towns, beer towns, and a wine region to explore, there's a big payoff to spending more time in a wider area. Here are seven destinations to put on your list that are easy to reach from the largest city.
Moravian Wine Country
Moravia wine cellars. Photo © Tim Leffel.
When I toured Moravia by bike more than a decade ago, few people seemed to know about the extensive greenway system or the vineyard culture here. Word still hasn't gotten out in a big way, despite this being one of the best cycling destinations in Europe. Here you seldom have to compete with cars. You can taste some of the best 100 Czech wines of the year at the Wine Salon of Valtice, tour the wine museum in Mikulov, or bike past grand estates built by the Liechtensteins right off the greenways. Along the way, you'll see plenty of castles, vineyards, and village wine cellars that have been used for centuries.
Getting there: You can arrive in Znojmo by train from Vienna to the south or take a bus or train from Prague to multiple towns in the region. Alternately, spend some time in Brno (covered in this article) first and find even more connections from there.
Brno — the Second City in the Czech Republic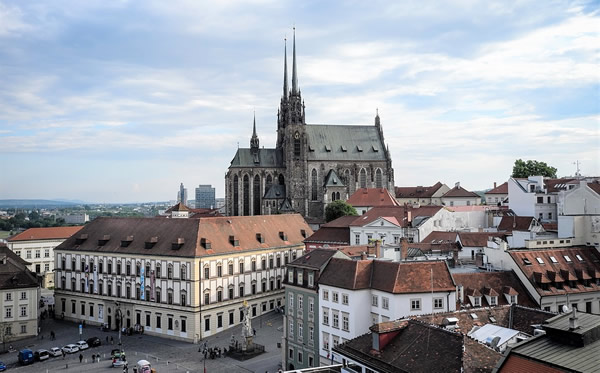 Brno Cathedral and old city.
The Czech Republic's second-largest city gets a fraction of the visitors of Prague, but is a hip metropolis defined by a young student population. It has some of the best bars and restaurants in the country, but they're priced for locals, not foreigners. If you are fascinated by the macabre, see 5,000 skeletons at what's billed as "the world's second-largest ossuary" and you can book a room to sleep inside an underground nuclear bunker from the late 1950s.
Getting there: Connections are frequent between Prague and Brno and the ride of less than three hours by bus or train is a scenic one to enjoy.
Olomouc — Baroque History on Display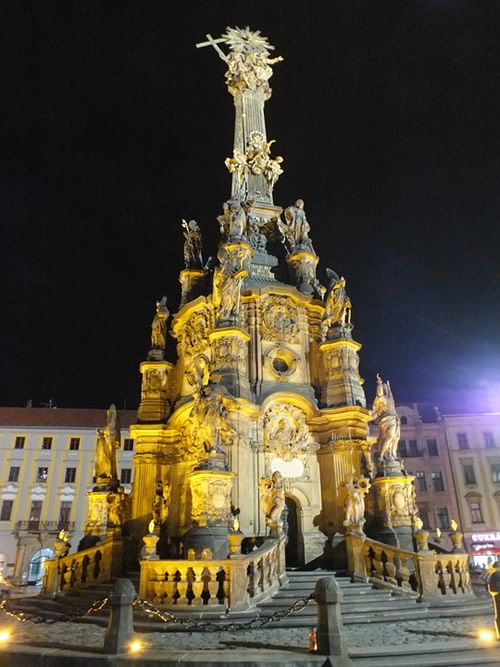 Holy Trinity Column in Olomouc.
The fourth-largest city in the country is best known for its Holy Trinity Column, a UNESCO World Heritage site that's the largest freestanding Baroque sculpture in Central Europe. Also known for its six spectacular historic fountains and its astronomical clock dating back 500 years, this city has formal gardens, fortresses, and churches to explore. For something more active, head to the hiking trails of the nearby Jeseniky Mountains. 
Getting there: The train from Prague is cheaper ($9-15) and faster (2.5 hours) than the bus, or you can make this your first stop from Bratislava — 3 to 4 hours away — if coming from Slovakia. It's also a short hop from Brno.
Pilsen — Home of Pilsner
The Czech Republic is one of the original beer-exporting regions of the world, and its pilsner style has spread around the world. There's nothing like the original though, and they have been making it here for more than 175 years. Visit Pilsen, also known as Plzen, to check out the brewery museum and tour the Pilsner Urquell brewery. Walk through the historic tunnels under the city that go for 17 kilometers or see a giant gothic church or Europe's second-largest synagogue.
Getting there: It takes about an hour and a half to get to Pilsen by train or bus from Prague, so this is another destination you can visit on a day trip or same-day local tour booked locally.
Cesky Krumlov — the Little Prague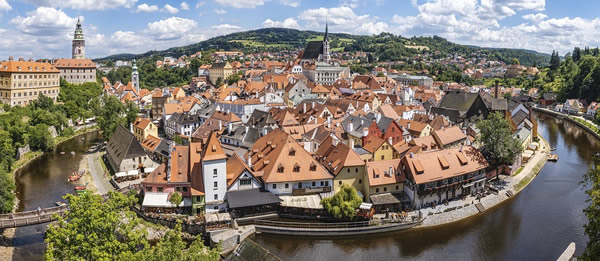 Cesky Krumlov historic center.
In the far south of the country, near the Austrian border, lies the UNESCO World Heritage Center of Cesky Krumlov. If you want the spectacular historic buildings of Prague with a fraction of the people in your photos, spend a few atmospheric nights here instead. Dominated by a 13th-century castle and traversed by bridges over a river, it's a great city for going back in time while wandering the narrow streets or going to a show at a 17th-century Baroque theater. You can explore five centuries of history without seeing 500 other foreigners on every block.
Getting there: Arrive in Cesky Krumlov within four hours by bus or train from Prague for just $8 to $18 depending on comfort level. There are multiple departures per day.
Bohemian Switzerland National Park
Bohemian Switzerland National Park. Photo © Tim Leffel.
Forests, rock towers, and Europe's largest sandstone bridge might not be the first things that come to mind for the Czech Republic. Head two hours north of Prague by bus or day tour, however, and you're in a strange landscape where parts of the Chronicles of Narnia movie were filmed. In this area, the beer is cheap, the food is often farm-to-table, and you can get a workout hiking in the mountains.
Getting there: Take a bus or train from Prague to Decin and be in the largest local city in less than two hours, but this is a vast wooded area that's hard to explore by public transportation only. Rent a car or book a tour with Northern Hikes.
Teplice Spa City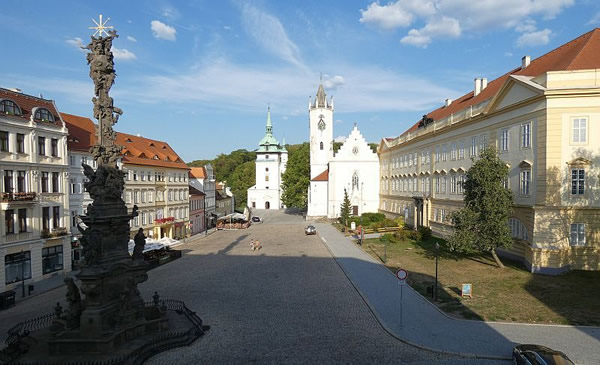 Teplice square. Photo © Tim Leffel.
The best-known Czech spa city where you can take in the mineral waters is Karlovy Vary, by the German border, but some months you are just trading one set of tour buses for another there. Head to Teplice though and you will find bargain lodging and only a few other tourists. Teplice is the oldest spa area in all of Central Europe, visited by heads of state over centuries, as well as the likes of Beethoven, Chopin, Wagner, and Goethe. After your soaking, ride the local trolley bus up to the overlook point where there's a historic castle and then relax outside in a pub on the main square with a $2 pint of great beer.
Getting there: Teplice is close enough to Prague to reach on a day trip, just an hour and a half each way by bus or train at $4-8 each way.
For more information, see the in-depth VisitCzechia or the local tourism site for each location, which is usually available in English.
Tim Leffel is author of several books, including A Better Life for Half the Price: How to prosper on less money in the cheapest places to live. See more on his Cheapest Destinations Blog.