Life on an Internship Abroad in Madrid, Spain
No Pasa Nada: How I Learned to Stop Worrying and Love the City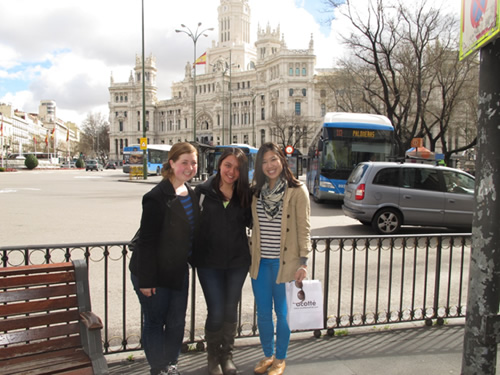 With friends in front of El Palacio de Comunicaciones at Plaza de Cibeles.
I made the rather unconventional choice of spending my final semester of college abroad in Madrid. While I've been fortunate enough to travel the world, I jumped at the chance to be more than a tourist, to immerse myself in a culture. And I've always fancied myself a calm pragmatist, able to deal with just about any travel snafu. But I panicked when I learned that you can't connect an American and a European power strip via a converter and blew out the electricity during my first night in my host family's apartment.
My host mother, Isabel, a goddess of tranquility, came down the hallway with a flashlight to ask me what had happened. Convinced she would hate me forever, I explained the situation in halting Spanish. She just smiled and uttered three words: "No pasa nada." Within minutes, she fixed the problem, wished me a good night, and retired to bed.
Over the next four months, I would hear that phrase, which roughly translates to "no worries," countless times and in numerous situations. Looking back over the last semester, I see that it perfectly encapsulates my experience in Madrid.
Whether it's a leisurely stroll through El Parque de Buen Retiro, the first heavenly sip of chocolate a la taza, or a passionate crowd screaming at the referee at a Real Madrid match, every moment I've spent in this uniquely beautiful city is a reminder that life is too fleeting to agonize over the little things. Like a hearty dinner and bottle of wine in the company of good friends, you must try to enjoy every extraordinary moment.
Why Madrid?
I'd taken Spanish classes since high school and wanted to increase my fluency. Also, I knew I wanted to be in an urban setting. Madrid was a perfect fit. Not only is Madrid's central location ideal for traveling to other Spanish cities, but it is also an easy point of departure for visiting other European countries: I lived only ten minutes from Barajas International Airport.
Predeparture
Language
Make sure to brush up on your Castellano before you go. Compulsory English classes are a recent installation in the Spanish education system, so communication can be difficult if you don't have at least a basic grasp of the language.
Also, note that I said Castellano. Most Spanish language education in the States emphasizes Latin-American Spanish, which differs slightly from Castilian Spanish. For example, Spain uses the vosotros conjugation, whereas Latin America uses Uds. There are some minor vocabulary differences, too: juice is zumo, not jugo; you say "Jesus," not "Salud" after someone sneezes.
While it can be confusing initially, your conversation partners will likely help you correct any mistakes. Try to maximize your Spanish speaking (and minimize English usage); it won't be long before you chatter away like a pro.
Visa/Travel Documents
Getting a 6-month visa to study in Spain isn't necessarily complicated. Still, it is a tedious one and involves many documents. It would help if you started as soon as possible, as it takes around 4 to 6 weeks to process the application. It cost me $160 for the visa processing fee.
Medications
While you'll be able to get ibuprofen (ibuprofena) and acetaminophen (Paracetamol) at the pharmacies (easily identifiable by their neon green crosses), prescription medications are much harder to obtain. Contact your medical provider and insurance company well before your departure date. Approving a large quantity of medication may take longer than expected. What I was told would be a 2-day process wound up taking almost two months.
Money Matters
Don't forget to inform your bank that you'll be abroad: nothing's worse than needing to withdraw cash ASAP only to find that your account has been frozen because of "suspicious foreign activity."
Choosing a Program
I attend Boston University, which offers many study abroad programs worldwide. The BU Study Abroad Program in Madrid is large and well-established, with several levels depending on each student's interests and Spanish proficiency. (See links for detailed information on each Level.)
Classes
Students with advanced Spanish can enroll at Universidad Autonoma de Madrid, a Spanish university, and take classes that count towards their major. There is also the option of interning at a Spanish company.
I chose to do an internship but to study at the Instituto Internacional, where all students are American, and the classes focus more on Spanish culture and current events. I took History of Spain, Spanish Architecture, and Spanish Film. All were taught in Spanish. The Instituto also houses the study abroad programs for Stanford, NYU, and Syracuse.
Internship
The internship placements are managed through a company called EUSA. A few months before departure, I had an interview with an EUSA representative that gauged my Spanish proficiency and allowed me to express my interests (namely, that I am a pre-med student and hoped to gain clinical experience). I was placed at a private hospital north of Madrid. I shadowed physicians in the ER, pediatric ward, labor and delivery, and pharmacy. The 20 hours I logged each week at work were instrumental in improving my Spanish.
Internships are available for almost any career path: other students were placed in companies such as adoption agencies, marketing companies, non-profit organizations, and fashion publications.
In total, there were 107 students in the internship program, with 93 BU students and 14 students from other universities.
Program Highlights
Excursions
The BU Madrid staff organized four excursions: Toledo, El Escorial, Segovia, and a choice between Sevilla and Granada. The cost for each trip was included in tuition.
Reembolsos
To encourage cultural immersion, the program reimbursed students up to seven euros for any cultural activity experienced in Spain. We brought in our receipts for everything from museum admissions to futból tickets to cinema stubs (for Spanish-made films) twice a month.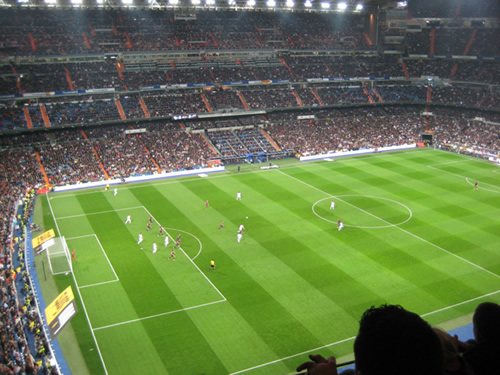 Taking in the Real Madrid vs. Barcelona game at Santiago Bernabeu.
Getting Around Madrid
The Empresa Municipal de Transportes (EMT) is fantastic. The Madrid Metro system is one of the cleanest and most efficient I've ever encountered. It's also one of the most affordable, especially if you get the abono mensual. You must schedule an appointment at a participating Metro station to get the monthly pass. It's very worth it—for 35 euros a month (if you are under 25 years old), you'll have unlimited access to the Metro, the bus, the light rail (Renfe), and the night buses (El Buho).
The high-speed AVE train is excellent if you plan to travel to other Spanish cities, such as Barcelona or Valencia. It's not cheap, but it's very efficient. Plus, you might run into a celebrity or two. When we took our group trip to Sevilla, Princess Letizia (wife to the heir apparent to the throne) was on board our AVE train!
Living With a Host Family
All students in the BU Program live with host families. Eating dinner every night with my host mom and sister definitely helped improve my Spanish. In addition, living with a host family gives you a rare peek into the lives of a typical Madrid household.
Three meals were provided each day, except for Friday and Saturday dinners, for which we were given a stipend by the program coordinators.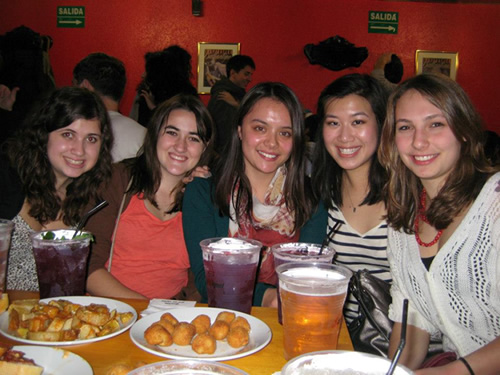 A Friday night at El Tigre with friends.
Job Opportunities
Having a specific visa to work in Madrid would be best. Still, there are plenty of under-the-table teaching and babysitting opportunities. BU maintains a job and volunteering opportunity board on its Madrid website.
Or you can ask around—I got my tutoring job through my host mom. I spent an hour with her two teenage nieces each week, conversing in English and helping them with their homework.
If you want to make Spanish friends and improve your Castellano simultaneously, try signing up for an Intercambio, where you get matched with a Spanish student learning English. Then you hang out at a café while you speak Spanish, and they speak English. It's a win-win situation—and it's free!
Food, Glorious Food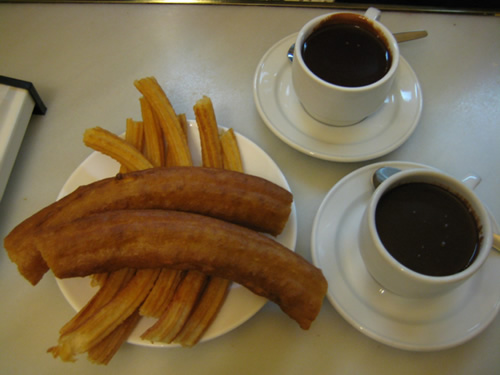 The churros y porras con chocolate at San Gines.
The Spanish eating schedule is markedly different from the American and can take some getting used to. Desayuno (breakfast) is typically eaten at 8 a.m., Comida (lunch) at 2 p.m., and cena (dinner) at around 9 p.m. It's a long wait between meals, so feel free to enjoy a merienda (snack) or two if your stomach starts growling.
There's much more to Spanish cuisine than sangria, tapas, and paella! First and foremost, jamón is practically a way of life. There are countless varieties of prosciutto-like cured ham, ranging from the relatively inexpensive jamón serrano to the gourmet jamón ibérico, which can sell for up to $100 a pound but is well worth the cost.
Another must-try for any visitor to Madrid is cocido madrileño (a stew of garbanzo beans), morcilla (blood sausage), and vegetables. Other favorites include croquetas and tortilla española.
Wine is relatively inexpensive, and I've become addicted to tinto de verano, a mix of gaseosa and red wine that tastes like sweet, wine-flavored soda. If you've got a sweet tooth, the piping hot churros con chocolate from Chocolateria San Gines are a national treasure.
Worry not if you absolutely cannot live without your peanut butter and other American snacks. While uncommon, such products are available in select supermarkets and the specialty chain store "Taste of America." (It's worth a visit to understand what other cultures think of American food!)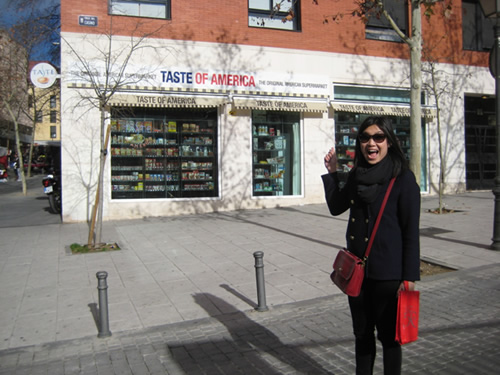 Taste of America grocery store in Madrid (did you think I was joking?).
What to Do, What to See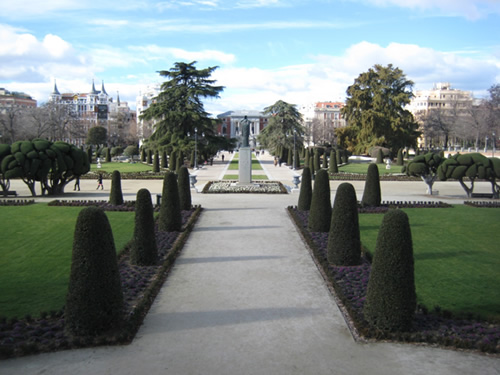 El Parque de Buen Retiro.
My host mom often describes must-see places as vale la pena—worth the trouble. Here's my short list of sites that are most certainly so. (Make sure to bring your Student ID for admission discounts!)
For history buffs:
El Palacio Real
El Parque de Buen Retiro
For art aficionados:
El Museo Nacional de Prado: houses Velazquez's Las Meninas
El Museo Reina Sofia: houses Picasso's Guernica
El Museo Thyssen-Bornemisza
For those who love a good time:
El Estadio Santiago Bernabeu: nothing like a heated Real Madrid match!
Kapital: a 7-floor discoteca that guarantees an unforgettable night
Culture shock
The Spanish are warm—sometimes too friendly to the uninitiated American—and welcoming people. Forget your standards of personal space. While limits do exist, especially in the workplace, get used to literally face-to-face conversations, hands clasped around your waist or back as a way of greeting, and of course, the double kisses or besos that serve as both hello and goodbye.
Also, don't be shocked by the rampant public displays of affection between young couples. (After all, that dignified-looking abuela sitting next to them on the Metro isn't perturbed.) Just think of it as free entertainment: I'm still pretty impressed by one couple's downright acrobatic elevator PDA.
On Xenophobia in Madrid
For people of color, it should be noted that large-scale immigration to Spain is a relatively new phenomenon, and many Spaniards have not yet adjusted to the increasing ethnic diversity of the country. As a Taiwanese-American growing up in highly diverse California, I'd never experienced discrimination.
However, many madrileños think nothing of pulling their eyes back into a "slanty eye" to describe an Asian person. Since this is a rather offensive gesture, I was shocked when one of the doctors at my internship used it during casual conversation.
I asked one of my professors about it, and she explained that the idea of "political correctness" is not particularly prevalent in Madrid and that pulling back one's eyes should not be considered offensive. It seemed to be a "that's just the way it is" mentality, so I didn't push the matter further.
Final Thoughts
It's hard to believe I have less than a month left in this fascinating city before I return to Boston to graduate. Soon, I won't be able to tap my abono and head anywhere in Madrid. I won't be able to stroll down the Paseo Del Prado, marveling at the neoclassical and baroque architecture that lines the walkway. Nor will I be able to sample the endless, delightful culinary offerings at El Mercado de San Miguel.
There's so much left to do, so many places I'd planned to go, and I want to see it all. Cramming all of that into 30 days seems an impossible mission. I am already savoring the memories I have made and cherishing the incredible people I have met, and leaving Madrid with a few stones unturned doesn't seem so bad. Well, you know what they say. No pasa nada.