Moving to the UK: The Rules for Settling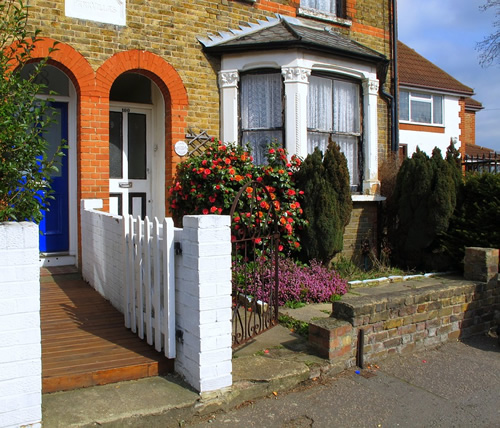 A house in London. Apartment rentals are more common.
There are many things about the UK to fall in love with, but one that probably won't charm you is the British penchant for regulations. Whether you're opening a bank account or applying for a driver's license, there's always a plethora of rules to be followed. Here's a distilled guide to what you need to know to make the UK home.
Obtaining Visas
This is your first hurdle and, unless you're from Switzerland or a county in the European Economic Area and can therefore work in the UK without permission, it must be overcome before arrival. While some people enter the UK on a holiday visa and then look for work, this is risky. Suspected job seekers without a valid visa are regularly turned back at the airport.
A variety of visas allow you to work in the UK. One work permit requires sponsorship by an employer. That means lining up work before you arrive. To check out the variety of visas for work and residence, most very stringent, please check out WorkPermit.com as changes are constant and the near certainty of BREXIT complicates matters.
The Ancestry Visa is available to Commonwealth citizens with a grandparent born in the UK. But if you're hoping to get one, move quickly. The British Home Office signaled last November that this visa may be abolished in the future.
Opening a Bank Account
Foreigners often report difficulties in setting up UK bank accounts. The main problem is providing sufficient documentation. Most banks ask for your passport, a letter from your employer, and proof of your residential address. The last two can be difficult if you don't yet have a job or you're flat-sharing and your name isn't on the bills or lease. If possible, open an account before leaving home through a bank with UK branches.
A second challenge is getting credit cards or overdrafts. Foreigners new to the UK are deemed to have no credit rating, no matter how good their rating at home. Some expats overcome this by providing letters of introduction or account statements from their banks back home. As a safeguard, maintain at least one credit card from your home country.
Renting a Home
Be forewarned, renting in the UK is expensive. To find out just how expensive, see a property rental website for average rents in different areas. The good news is that many rental properties are furnished, so you can save on shipping or buying furniture.
Most properties are rented through real estate agents. For agents in your area, see www.arla.co.uk. If you're looking for a high-end property, a relocation consultant can show you homes listed by a range of agents and help negotiate a rental contract. Students and twentysomethings on working holidays often rent rooms in shared properties. Try LOOT or TNT magazine for listings.
Obtaining a Driver's License
Consider whether you really need to drive, particularly if you live in London, where roads are congested, parking is scarce, and public transport is usually efficient. If you do decide to drive, here's the lowdown on getting a license.
If your license was issued in another EEA country, you can drive on it for three years after entering the UK. Those with non-EEA licenses can drive for 12 months but must then apply for a provisional G.B. license and sit a written and practical driving test. See the Government of UK Department of Transport for more information on driver's licenses.
Finding a Job in the UK
Lining up work before you arrive can be difficult, particularly if you need an employer to sponsor your visa. Sponsorship is expensive and an administrative hassle, so you'll have more luck if your skills are in short supply in the UK. Even then, truthfully finding work is not an easy task in the UK given constant changes tightening entry requirements and the recessionary current economy. There are work permit sites which will help explain and perhaps even expedite the process. Often the best pathway in is to be transferred from your home company, sometimes as an intern, unless you bring in a significant amount of income for investment or have a skill no one else possesses (rather rare, of course). Students are allowed to work up to 20 hours a week while studying and full-time in the summer.
Some recruitment agents can arrange jobs for you while you're still at home, but most prefer to deal with you in the UK.
You may have more success with Internet job sites and online newspapers such as The Guardian and The Times.
You can also learn more about UK-style job-seeking. FOCUS Information Services runs workshops on the rules and idiosyncrasies of British CVs, interviews, and work practices. And when you're in a new country learning the rules can make all the difference.