Travel to Dalat, Vietnam
The Gem of the Highlands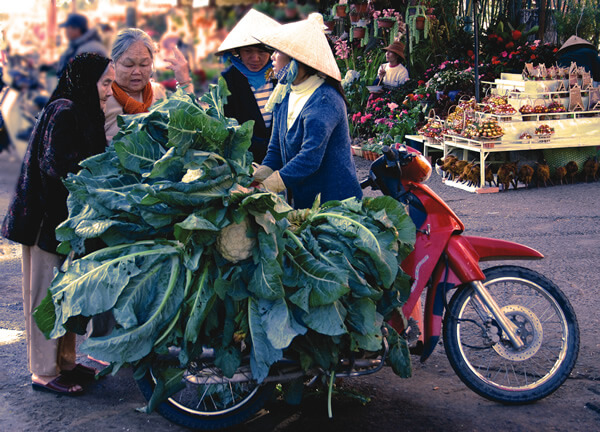 A local woman sells cauliflower in Dalat, Vietnam.
Vietnam's Dalat—nicknamed "The City of Love," "Le Petit Paris," and "City of Eternal Spring"—has long been popular with Vietnamese and expatriate artists and writers who have taken up residence in villas around town. The area, originally inhabited by the Lat and Ma hill tribes which now live in nearby Chicken Village and Lat Village, increased in popularity during the French colonial era. More than 2,000 beautiful French villas dot the area.
The central part of town is clustered on the northwest side of Xuan Huong Lake where the majority of restaurants, markets, banks, cafes and budget accommodations are found. Footpaths and roads circle the lake, making for easy hikes and bike rides. There are three large cafes built on stilts over the lake. Though better known for their views than food, they do make for convenient rest stops if you decide to make the 3-kilometer hike around the lake.
Dalat is hilly and its sights are spread out, so renting a motorbike or arranging a taxi for a half day or full day is a smart way to see outlying areas. If you select accommodations near Lake Xuan Huong, many sights in town are within walking distance. For outlying areas, Dalat has a unique crew of motorbike guides called Easy Riders. They are all locals, speak fluent English or French, and for $8 per day will guide you around town and the area.
Bao Dai's Summer Palaces
Emperor Bao Dai built three large palaces in Dalat. The most-visited is referred to as Dinh 3, built in 1933 in art deco style and set in a pine grove near the Pasteur Institute southwest of the lake. Inside are portraits, busts and sculptures of the deposed imperial family, with the royal living quarters upstairs. Entrance fee 5000d. Other Bao Dai palaces in Dalat, called Dinh 1 and Dinh 2, are sporadically open to the public, but frequently used for government functions. Of the three different palaces, Dinh 1 is the most picturesque. Check with Easy Rider guides to see if it's open to the public at the time of your visit.
Dalat Flower Gardens
Dalat is known all over Vietnam for its flowers. Set next to Xuan Huong Lake, the Dalat Flower Gardens were established in 1966 by the Vietnamese government, and are refined continually. Among the tastefully arranged flora are orchids, hydrangeas, fuchsias, and ferns. Plants and flowers are also for sale, including special fern fibers used to stop bleeding in traditional oriental medicine. Across the road from the Flower Gardens are nurseries with various types of bonsai trees, artfully laid out around the lake.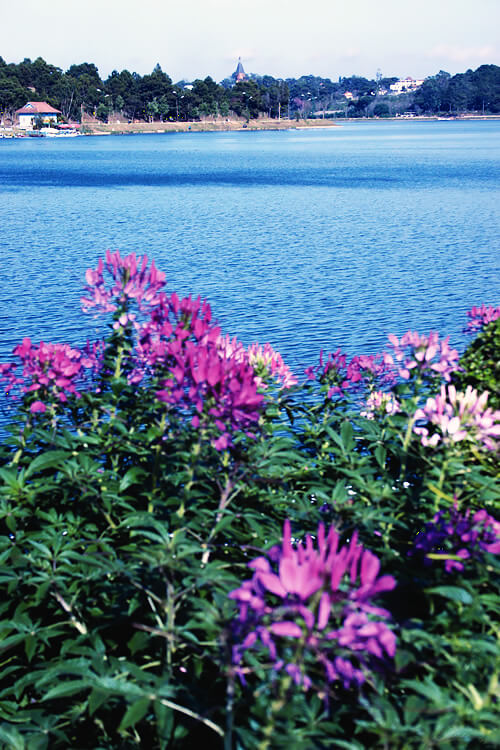 Visitors to Dalat often hike or bike the many footpaths and roads circling Xuan Huong Lake

.
Pagodas
Lam Ty Ni Pagoda, near Hang Nha House, with its decorative front gate was constructed as recently as 1961. Its only monk, Mr. Vien Thuc, speaks English, French and Thai and has arranged flowerbeds, trellis-shaded pathways, and gardens around the pagoda. The chief attraction here, though, is Mr. Vien Thuc himself and his collection of art—he has turned out more than 100,000 works of art, including "instant paintings" that he sells. On the other side of town, Linh Son Pagoda sits on top of the hill overlooking central Dalat and is well worth a visit, if only to see its giant bell made of bronze and gold. Behind the pagoda are coffee and tea plants, to which monks and novices tend. Linh Son Pagoda is not often visited by tourists, but its grounds serve as a neighborhood park, making it a peaceful retreat.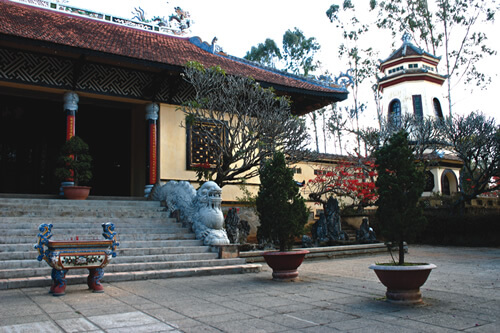 Linh Son Pagoda, which overlooks central Dalat, is a peaceful retreat off the tourist path.
Hang Nga House and Gallery
Nicknamed "crazy house" by locals, the Hang Nga House is southwest of Xuan Huong Lake. The owner, Ms. Dang Viet Nga, is an architect and designed the place with cave sitting rooms, giant spider webs made of wire, a concrete giraffe tea room, and towering fish heads containing guest rooms should you decide to stay overnight. Along the helter-skelter hallways and stairways are various cozy nooks and crannies set up as small sitting rooms with desks, chairs, and coffee tables. There is a small admission fee of 5000d after which you can browse around the passageways, guest rooms, or linger in one of the sitting rooms and take in the atmosphere. Ms. Nga, a well-known Dalat personage given to incense and hippie clothing, may even be present and show you the highlights of her unusual buildings and galleries.
Architect Dang Viet Nga designed the Hang Nga House (referred to as "the Crazy House" by locals), which is open to visitors for a small admission or to paying guests overnight.
If You Go
Vietnam Airlines has daily flights to Dalat from Ho Chi Minh City that take 50 minutes. The airline has a shuttle bus service into Dalat that will drop you off at your hotel. The airport now serving Dalat is one hour from town.
Getting Around
Sinhcafe Travel – The Sinh Tourist offers a wide variety of tours around Da Lat by foot, and around the city by boat, bus, and train.
Accommodations
There are plenty of hostels in Da Lat if you choose to go that path.
For more comfortable accommodations, try Empress Hotel, a pleasant and convenient mid-range hotel right next to the lake. Dalat Palace offers luxury rooms.
Food
But there are also plenty of places to eat on the cheap.
Lyla Restaurant offers Vietnamese food in huge portions and is very inexpensive.
V Cafe, 1 Bui Thi Xuang St., across the road from the Trung Can Hotel. Entrees inexpensive. Vietnamese and Western food.
Stop and Go Cafe, A visit to Dalat would not be complete without having a coffee at the garden villa of the Stop and Go Cafe—a hangout for local and expatriate artists and writers
Cafe de la Poste, across the street from the main post office near the Dalat Palace; French food at reasonable prices, especially the lunch set menu.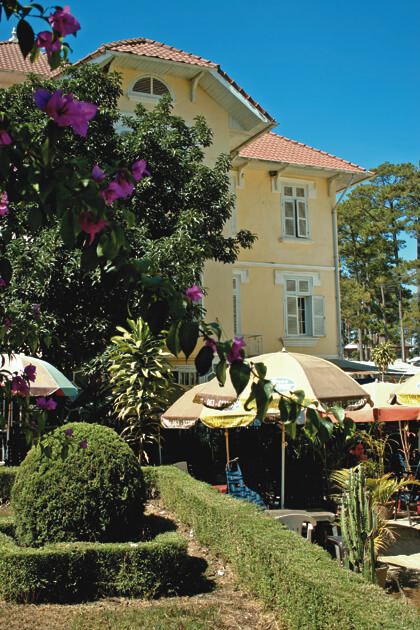 The French Cafe de la Poste attracts diners with its affordable set lunch menu.