Making a Difference
Volunteering and Education Abroad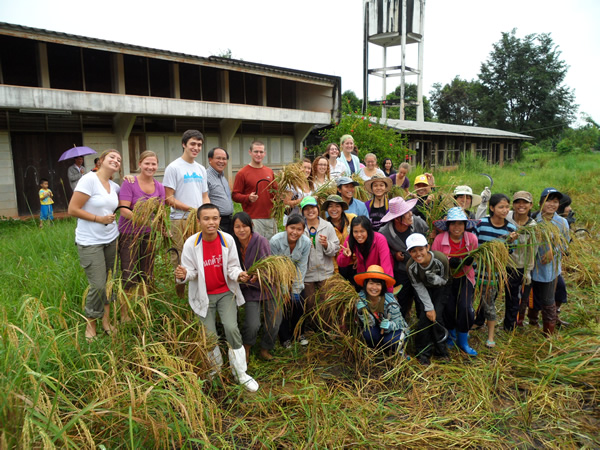 Volunteer in Thailand. Photo courtesy of Worldteach.
The number of student volunteers is growing, and the significance of their work, both in the U.S. and overseas, cannot be underestimated. Students involved in humanitarian assistance overseas have been invaluable in fostering cross-cultural sensitivity and in promoting social development on a community level. Student volunteers work in hospitals, clinics, schools. They are active in local government, agriculture, environmental development, business, and in many other areas.
International educators have an opportunity to integrate volunteer projects into the curriculum of education abroad programs so that students can receive academic credit for their courses and field experiences in volunteer projects. As with internships, why not give credit to student volunteers in accredited and approved academic programs? The prinicipal objection is that these activities do not fit the traditional view of an academic experience. There's also the problem of how to evaluate the content of volunteer experiences.
Evaluation
International volunteer academic programs should be designed to provide students with the maximum learning experiences, and the content should be monitored closely by the sponsoring organization. One requirement of a combination study and volunteer program might be a journal and a topical paper to be evaluated by a faculty supervisor or resident director. A formal evaluation should also be completed by the volunteer director; debriefing meetings should include all the parties concerned. International student volunteers would then receive credit in conjunction with their participation in academic courses.
Rationale
At Michigan State Univ. faculty members are exploring ways to incorporate the concept of service-learning in the classroom. Stephen Esquith, an MSU Professor of Philosophy, has said that "just as service-learning adds to the intellectual rigor of the work done in the classroom, it also enables some faculty to see their own research interests in a clearer light."
Students are looking for practical activities to supplement their academic work. International volunteering allows them to test the validity of their academic and career choices while contributing to society.
Advantages
Benefits of Service-Learning

• Students will gain a better understanding of other cultures, resulting—in the words of Jawaharlal Nehru, former Prime Minister of India—in "the widening of the mind and of the spirit."

• If the volunteer project requires the knowledge of a foreign language, an increase in foreign language competency is assured. Nothing enhances language learning more than total immersion in the society where it is spoken.

• Culture shock can be traumatic and affect performance, but cultural adjustment can be an important learning experience.

• The volunteer makes a difference in society, if for no other reason than his commitment to enhance and improve his environment.

• International volunteer work is increasingly significant for students as a way to learn about America's role in the world and in understanding global issues.
All of the above benefits would give the student an edge in placement in multinational and international companies, in government agencies, and in educational organizations.
Financial Aid
As part of an accredited and approved academic program student volunteers would be eligible to receive federal financial aid. The program does not have to be in the student's major subject area. Unfortunately, many international educators are unaware of international volunteer organizations and financial aid administrators may view them as third party providers.
Organizations
The fact is that many of the following organizations, among others, provide high-quality programs and promote excellence in international volunteerism:
The organizations above only a few examples of exemplary programs. More information about these and other members of the International Volunteer Programs Association (IVPA) can be found on their website: www.volunteerinternational.org. Editor's note: information is also available in the Volunteer Programs section of the Transitions Abroad website.
Under the Higher Education Act 3rd-party providers can enter into written agreements with U.S. eligible institutions or act as a liaison on behalf of a foreign institution—if they provide no more than 50 percent of the educational program. This means that students who are enrolled in their home institutions in an approved accredited overseas volunteer project with academic course content are eligible for federal student aid.
Volunteer programs, like internships, provide a world of opportunities for students in business, women's studies, agriculture, arts and letters, social sciences, education, social justice, etc. Student volunteers become partners with their overseas colleagues in contributing to grassroots solutions to the problems of areas like healthcare, education, and social development.
As educators, we have a responsibility to assist students who are committed to serving the needs of overseas societies. Why deprive students of that opportunity if no academic barriers exist and if educators are diligent in maintaining academic excellence? Everyone benefits: students, faculty, volunteer organizations, our overseas partners, and society as a whole. In promoting international volunteering for credit we are heeding the words of William James: "Act as if what you do makes a difference, it does."
CHARLES GLIOZZO is Adjunct Professor and Consultant, Institute of International Health and former Professor, Office of the Dean, International Studies and Programs at, Michigan State Univ.