Volunteer in Peru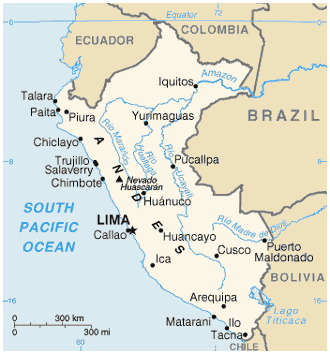 Featured Articles on Volunteer Work in Peru
Volunteer Abroad in Peru with Cross-Cultural Solutions
When you volunteer in Peru, you'll discover a truly unique country. As you explore its ancient ruins, canopied jungles, and epic coastline, you'll understand, Peru is quite literally the stuff of legend. Volunteering in Peru, you'll work alongside and for the benefit of these people, supporting grassroots efforts to provide essential services to those in need.

On each program, after volunteering for the day, you'll be able to walk around your neighborhood or explore some of the gorgeous spots nearby. We proudly believe we provide the perfect mix of quality work, cultural immersion, adventure, and relaxation—all while having 24/7 access to CCS staff and support. Make that life-changing decision to become a CCSer today!
Dates: One Week to Three Months
Costs: Contact Us for Pricing and Availability
Contact: Cross-Cultural Solutions, 2 Clinton Place, New Rochelle, NY 10801.
Tel: US Toll Free: 1-800-380-4777
Email: info@crossculturalsolutions.org
Website: www.crossculturalsolutions.org/destinations/volunteer-peru

Featured
Projects Abroad in Peru
Projects Abroad is the world's leading short-term international volunteer organization.
Projects start year-round and last from one week to a year. Opportunities exist in teaching, child care, social work, conservation, medicine, nursing, midwifery, dentistry, nutrition, archaeology, and sports. Programs are for ages 16+.
Dates: Start any day you choose.
Cost: Please see our website for prices.
Contact: Projects Abroad, 80 Broad St, Floor 32, New York NY 10004.
Tel: US Toll-free 1 888 839 3535.
Email: info@projects-abroad.org
Website: www.projects-abroad.org

Featured
Volunteer Abroad in Cusco or Lima, Peru from US$180


International Volunteer HQ (IVHQ) offer affordable volunteer abroad programs in either Cusco or Lima, Peru from only US$180. Volunteers can participate in a wide range of programs including Teaching English, Childcare, Medical, Construction and Renovation, Special Needs and Jungle Conservation. IVHQ sends thousands of volunteer travelers worldwide annually—you will not find a more affordable, high quality and trustworthy volunteer travel company.



Cost: Program Fees start from US$180
Dates: Programs start every Monday in Cusco, and the on the 1st and 15th of each month in Lima. Duration: Volunteers can volunteer for periods ranging from 1 week to 24 weeks.
Contact: International Volunteer HQ, PO Box 8273, New Plymouth, NEW ZEALAND.
Tel.: US/Canada Toll Free: 1-877-342-6588; UK Toll Free: 0-800-234-1621; Australia Toll Free: 1-800-557-380; International: +64 6 758 7949.
Email: info@volunteerhq.org
Website: www.volunteerhq.org

Featured
Globe Aware
Care for Cuzco, Peru: Heart of the Inca Empire
Come to Cuzco with Globe Aware and take part in providing educational opportunities for impoverished children from rural communities. Service projects include improvements and maintenance to facilities through activities like painting classrooms, creating gardens, or constructing desks and beds. There is ample time to work directly with the children after they finish their school day, and you may also visit a local family to help construct a Lorena stove for household heating. Volunteer vacationers can make a scheduled excursion to Machu Picchu (at the volunteer's expense), and to other surrounding ancient sites which are in very close proximity. Accommodations include dormitory style rooms with running water, flushing toilets, and electricity. Be ready to be dazzled by this vibrant city, the most popular destination in Peru, and to experience what was once the heart of the powerful Incan empire!
Email: office@globeaware.org
Website: www.globeaware.org

Featured
A Broader View Volunteers Corp
Volunteering with a Non Profit Charity Overseas
A Broader View Volunteers is an U.S. Non profit charity.
We work in 27 countries with over 245 programs, including Argentina, Belize, Chile, Peru, Ecuador, Colombia, Costa Rica, Nicaragua, Honduras, Belize, Guatemala, Uganda, Tanzania, Kenya, Ghana, Zambia, South Africa, Cameroon, Rwanda, Nepal, India, Vietnam, Philippines, Cambodia, and China.
With A Broader View (ABV), you'll be immersed in another culture, collaborate with your host community on a development project, and work side by side with local youth while building your own leadership skills. ABV works year round from 1-week to 12-week programs.

Dates: Ongoing programs, year round, you choose your dates of arrival and departure.
Cost: From US$895 for one week to US$2240 for 12 weeks (you can tax deduct the expenses). Program fee includes: personalized Volunteer Placement, cultural education, meals, accommodation, pre-departure guidance, 24/7 country staff, tax deducted fees, the option to fundraise within our website, and more.
Contact: A Broader View Volunteers Corp, 236 Glen Place, Elkins Park, PA 19027.
Tel.: 866-423-3258 or 215-780-1845 (US), (020) 3289-9896 (UK), (02) 8003-3474 (AU).
Fax: 215-887-0915 / Skype: Abroaderview.org
Email: volunteers@abroaderview.org, info@abroaderview.org
Website: www.abroaderview.org

Featured
Volunteer Abroad in Peru for 1 - 12 Weeks
United Planet's Quests offer volunteers the opportunity to learn, teach, work, engage and immerse themselves in a culture outside their comfort zone. All ages and skill levels are invited to enroll. Join us from 1 to 12 weeks — you can volunteer in a healthcare facility, on conservation projects, and more! Volunteers live with a local host family, participate in cultural activities and excursions, and receive 24/7 support — a true immersion experience that allows you to build relationships that last a lifetime.

Contact: Please give the United Planet Team a call at 617-874-8041 or email quest@unitedplanet.org.
More information can be found at: www.unitedplanet.org and for United Planet's Peru programs at: www.unitedplanet.org/volunteer-abroad/short-term/peru.
Feel free to visit us from 9 AM to 5 PM at United Planet, Boston Harbor Shipyard and Marina, 256 Marginal Street, Boston, MA 02128.

Featured
Awaiting Angels
Volunteer Helping Orphans in Peru
There are volunteering opportunities with orphans available in four beautiful cities of Peru. Volunteers have the opportunity to participate in a variety of educational and community aid programs. This will give volunteers a chance to make an important contribution to the people of Peru and while doing so gain an in depth experience of the country and its culture that will stay with them the rest of their life. Awaiting Angels seeks to improve the quality of life for children from disadvantaged backgrounds. We provide nurturing care and educational programmes based upon the universal concepts of children rights stated by the UNICEF.
Visit: www.awaitingangels.org
CREES Volunteer
Volunteer Directly with the Ngo in Peru — Rainforest Conservation
Take a less traveled road and throw yourself into a meaningful adventure in the heart of the Peruvian Amazon Rainforest. Work alongside local communities and a team of experts in conservation and help ensure a sustainable future for the Amazon and its people. Join a group of passionate people determined to protect the incredible diversity of the region and generate truly sustainable development that creates decent livelihoods in harmony with the natural environment.
Discover Corps
Peru: Spirit of the Andes
Journey to the heart of the Inca Empire to volunteer at a school for indigenous children.
Relive the past at Machu Picchu while writing your own new stories in the Sacred Valley. Make a difference in the lives of the Quechua people while immersing yourself in the rich culture of the Andes.
Contact: info@discovercorps.com, discovercorps.com
Expand Peru
Volunteer in Peru with programs including centers for early development, and primary and secondary schools in rural areas.
Visit: www.expandperu.org
Kaya Responsible Travel in Peru
Kaya volunteer and travel in Peru allows participants to live and help in one of the most historical and beautiful countries in the world. We have opportunities throughout Peru, in projects such as educating youth, teaching English, working with disabled orphans, assisting with rescued animals, and helping at medical clinics. You can also choose to take an intensive Spanish language course before or during your volunteer program.
Contact: info@kayavolunteer.com, www.kayavolunteer.com/Peru
Kiya Survivors
Volunteer with Special Needs Children in Peru!
Volunteer at our vibrant and exciting center near Cusco, Peru. Work with children and young people who have special needs or have been abused or abandoned. Kiya Survivors provide love, support, education, and therapy for special needs children, young people and their families. Our projects make a huge difference to the communities and the families that we work with. Volunteering with Kiya Survivors is a fun and hugely rewarding experience!
Visit: www.kiyasurvivors.org.
Love Volunteers
Volunteer Work in Peru
Thousands of volunteers have trusted Love Volunteers with their travel and volunteer aspirations. Love Volunteers, the world's fastest growing independent volunteering organization, provides participants with the chance to experience new cultures while helping those in real need. Join us for a voluntary service project in Peru that is affordable, responsible, and safe! Visit our website to check out our range of community-based projects and find out how you can make a REAL difference!
Majon University.Com
Volunteer Language Teachers in Cuzco, Peru
Our evening language academies are staffed by native speaking teachers, who are also volunteers in our morning program to educate extremely poor children who are unable to get into a regular school. Our academies help pay for the children's programs and our tuition is always the lowest in our area.
Visit www.majonuniversity.com
Mundo Verde Spanish School
Spanish school has links with development project in the rainforest and with many other volunteer projects to which students can be assigned (no fee).
Visit: www.mundoverdespanish.com.
Peruforyou Volunteers
PeruForYou is a cultural exchange program for people interested in working as a volunteer and learning about social and development issues in Peru.
Visit: www.peruforyou.com
Peru's Challenge
Help create sustainable communities in the Andes while exploring gorgeous Peru
Volunteer with Peru's Challenge, a non-profit in Cuzco that works with communities to make them self-sustainable through building schools, teaching kids, helping with health/hygiene, providing clean and safe drinking water, visiting families at their homes and more. As you volunteer, you also get to take Spanish lessons and tours through the Sacred Valley, Machu Picchu, Lima, Cuzco and more depending on whether you stay for 4, 8 or 12 weeks. Come join us and better the lives of many children.
Visit: www.peruschallenge.com
Volunteers for Peace
VFP offers over 3000 projects in more than 90 countries every year, including Peru! Project cost starts at $500, which includes food and accommodation. Types of project include construction, environmental, agricultural, social, work with kids, renovation, art and culture and more! Since 1982, VFP has exchanged over 32,000 volunteers worldwide. Start planning your volunteer adventure or learn how to get involved at VFP.org!
Contact: 7 Kilburn St. STE 316, Burlington, VT 05401; tel. 1 (802) 540-3060; info@vfp.org, vfp.org