Volunteer in South America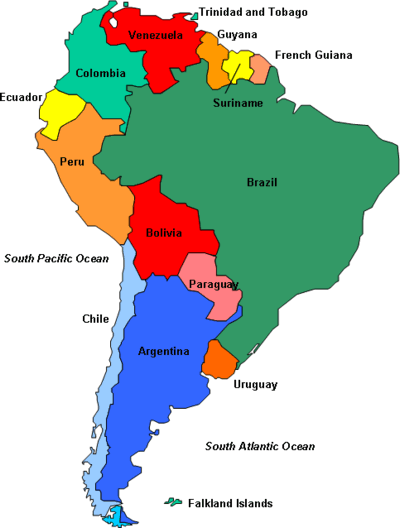 Volunteer in South America — Peru, Ecuador, Chile, Brazil and Argentina
Come experience a rich cultural immersion while participating in a meaningful volunteer program! ELI partners with local organizations in Peru, Ecuador, Chile, Brazil and Argentina to match volunteers with local organizations. All placements are made on an individual basis. Possible volunteer projects include animal rescue, soup kitchens, at-risk youth, teaching, adult education, special needs kids, construction, environmental conservation and more! ELI can set up Spanish classes in conjunction with a project to make sure participants get the most out of this experience. Programs are available throughout the year for lengths of time varying from two weeks to six months.
Dates: Programs are available throughout the year and dates are flexible.
Cost: Program fees start at $515. The cost will depend on the country and duration of the program. Program fees include airport pickup, accommodation, and meals.
Contact: ELI, 1557 Ogden St. #5, Denver, CO 80218
Tel.: 303-321-8278
Email: info@eliabroad.org
Website: www.eliabroad.org

Featured
Projects Abroad in Bolivia, Jamaica, Ecuador, Peru, and Argentina
Projects Abroad is the world's leading short-term international volunteer organization. Projects start year-round and last from one week to a year. Opportunities exist in teaching, child care, social work, human rights, animal care, farming, building, conservation, archaeology, sports, performing arts, medicine, business, microfinance, international development, and journalism. Programs are for ages 16+.
Dates: Start any day you choose.
Cost: Please see our website for prices
Contact: Projects Abroad, 80 Broad St, Floor 32, New York NY 10004.
Tel: US Toll-free 1 888 839 3535.
Email: info@projects-abroad.org
Website: www.projects-abroad.org

Featured
Globe Aware in South America
Care for Cuzco, Peru: Heart of the Inca Empire
Come to Cuzco with Globe Aware and take part in providing educational opportunities for impoverished children from rural communities. Service projects include improvements and maintenance to facilities through activities like painting classrooms, creating gardens, or constructing desks and beds. There is ample time to work directly with the children after they finish their school day, and you may also visit a local family to help construct a Lorena stove for household heating. Volunteer vacationers can make a scheduled excursion to Machu Picchu (at the expense of the volunteer), and to other surrounding ancient sites which are in very close proximity. Accommodations include dormitory style rooms with running water, flushing toilets, and electricity. Be ready to be dazzled by this vibrant city, the most popular destination in Peru, and to experience what was once the heart of the powerful Incan empire!
Dates: Please refer to our website for trip dates
Cost: $1250
Contact: 6500 East Mockingbird Lane, Suite 104, Dallas, TX 75214
Email: office@globeaware.org
Tel: 1-877-LUV-GLOBE
Website: www.globeaware.org

Featured
Volunteering in Argentina — Road2Argentina
Road2Argentina partners with many local non-profit organizations, schools, orphanages and community centers in Buenos Aires in order to provide assistance to those in need. These partnerships provide our volunteers the opportunity to involve themselves in meaningful projects and make a difference during their time here in the city. They are also a great way to hone one's Spanish and see a less touristy side of Buenos Aires.

Volunteers can also join a team of biologists who take care of hurt species of the endangered Andean Condor and be part of an unique conservation program in Buenos Aires.
Dates: Year round with start dates every Monday.
Cost: Our programs are affordably priced to fit student budgets. Promotions and discounts available. Please visit our website for up-to-date program costs.
Contact: Road2Argentina, Area Tres Coworking, El Salvador 5218, Buenos Aires (CABA), Argentina.
Tel.: +1-347-974-3705 (USA); +54-11-5121-1764 (Argentina).
Email: info@road2argentina.com
Website: www.road2argentina.com

Featured
Wildlife Experience in Ecuador
Interested in helping to rehabilitate the endangered wildlife, rather than looking at animals from far away or on TV? This program will give you exactly what you want. As local experts we offer you the chance of a lifetime—3 different animal rescue centers in only 4 weeks! Explore the Amazon Rainforest, the Andes Highlands and the Coast of Ecuador while helping in the rescue centers of each region. This one-of-a-kind program also offers you a one-day training of animal handling before starting your adventure. Get involved without emptying your pocket!
Dates: Year round
Contact: Lead Adventures, Juan Leon Mera 1574 y La Pinta (2nd floor office 2A) Quito - Ecuador
Tel.: US/Canada 1 800 579 3905 or Ecuador 5 932 254 1633
Email: info@lead-adventures.com.
Websites: www.lead-adventures.com

Featured
True Galapagos Experience
Volunteer in one of the wonders of the world trying to preserve the unique habitat of the Galapagos. You will get your hands dirty with conservation projects while also being able to island-hop and take in the beauty of the archipelago. This land-based program combines sightseeing tours, a comprehensive lecture on the Galapagos by a veteran scientist, and the opportunity to be part of the conservation work going on in the islands.

We offer 10 days, 2 week, and 3 week programs. We can also personalize your program if you would like to extend your stay.
Dates: Year round
Cost: 10 Days: $1690, 2 Weeks: $1990, 3 Weeks: $2190
Contact: Lead Adventures Ecuador & Galapagos, Juan Leon Mera 1574 y La Pinta (2nd floor office 2A) Quito - Ecuador
Tel.: US/Canada 1 800 579 3905 or Ecuador 5 932 254 1633
Email: info@lead-adventures.com.
Websites: www.lead-adventures.com


Featured
Connect-123 Volunteer Programs in Buenos Aires, Argentina
Connect-123 links you to volunteer projects in Buenos Aires, Argentina, according to your interests and skills, in health care, community service, education, and many other fields. Health care projects include working directly with doctors on medical research projects, providing non-medical care to patients, attending ward rounds and helping the nursing staff care for patients. Social work, and education projects include working at a legal advice center, assessing the impact of community-based interventions, helping with public health awareness campaigns, mentoring street children, teaching English, caring for infants and toddlers at orphanages, working with youth regarding issues related to HIV/AIDS, sexuality and adolescence, and helping to build schools and houses for disadvantaged communities.
What's included: Finding a volunteer project that specifically meets your needs; arranging secure, high-quality, centrally-located accommodation based on your budget; assisting with local transport and providing advice on public transport routes; airport meet and greet service; a complete preparation and orientation information pack; advice, assistance, and guidance before, during, and after your stay; group-rate discounts; and 24/7 emergency support and assistance.
Dates: Both start dates and durations are flexible. Typical durations range from 1 to 6 months.
Cost: Please see website for details.
Contact: Connect-123 International Internship and Volunteer Programs
USA Tel: (800) 731 6406 (toll free)
Email: info@connect-123.com
Website: www.connect-123.com/programs/volunteer/buenos-aires-argentina/

Featured
Wildlife Animal Rescue in the Andes and Amazon
Animal Rescue Program welcomes volunteers to come and be the caretakers of beautiful and exotic animals who have been victims of animal trafficking or mistreatment. Volunteers will be responsible for helping to foster their transition back to the wildlife while living in two different and beautiful regions of Ecuador— the Amazon Rainforest and the Andes.
Contact: Lead Adventures, Juan Leon Mera 1574 y La Pinta (2nd floor office 2A) Quito - Ecuador
Tel.: US/Canada 1 800 579 3905 or Ecuador 5 932 254 1633
Email: info@lead-adventures.com.
Websites: www.lead-adventures.com


Featured
Make a REAL difference in Central and South America with Love Volunteers!
Love Volunteers has been trusted by thousands of volunteers to travel abroad and immerse themselves in new cultures, whilst providing help where it is really needed. Join the world's fastest growing independent volunteering organization on an affordable, safe and responsible voluntary service project in one of our 9 locations throughout Central and South America for a truly memorable experience! Visit our website to check out our range of community-based projects and find out how you can make a REAL difference!
Contact: Love Volunteers
Tel.: US: +1 415 800 4993, UK: +44 1865 522 688, NZ: +64 21 443 243
Email: help@lovevolunteers.org
Website: www.lovevolunteers.org

Featured
Discover Corps
Volunteer Vacations with Purpose in South America
Volunteer vacations for adults and families in South America, including Peru, and the Galapagos. Immerse yourself in a different culture while giving back, engaging in hands-on cultural workshops, and connecting with fascinating people. Volunteer to support children, animals and the environment. 1 to 2 week all-inclusive packages.
Visit: discovercorps.com
Fundacion Aldeas de Paz
Volunteer and Internship Opportunities in Venezuela
Our challenging community development projects in humanitarian, educational and environmental fields improve the living qualities of an underprivileged young generation, mostly members of local Pemon Indian communities. We promote the "Culture of Peace" through cross-cultural exchange and voluntary community service. We aim to empower young people and enable them to develop their potentials and improve their own lives, fundamental elements for a just collective social reality.
Visit: www.peacevillages.org
Foundation for Sustainable Development
Volunteer in Grassroots Development in South America
FSD partners with grassroots organizations around the globe to improve the socioeconomic status of marginalized populations. Volunteer in South America at our sites in Argentina or Bolivia. Volunteer in Microfinance/Micro-enterprise, Gender Equity, Community Development, Environment, Public Health, Youth and Education, or Human Rights.
Visit: www.fsdinternational.org
SCI (Service Civil International)
SCI is an exchange organization that sends volunteers on 2-3 week international work projects and long term 3-12 month opportunities in over 50 countries, including many in South America. For all overseas camps the fee is US$235. Workcamps include shared accommodations, group self-cooked meals and basic health/accident insurance, without additional cost, unless otherwise noted in the camp description. SCI promotes voluntary service to impact social, environmental and humanitarian issues.
Visit: www.sci.ngo for an application.
Volunteer Latin America
Provides international volunteers with a comprehensive and affordable solution to finding volunteer work opportunities in Central and South America. You tell us where and what you would like to do and we will provide you with everything you need to get involved via your own personalised information pack. Our extensive knowledge of the region ensures you are unlikely to find some of the projects we offer elsewhere. Volunteer Latin America is not only a great source of affordable voluntary work but a means to finding some of the best schools to learn Spanish.
VolunteerSouthAmerica.Net
Free and Low-Cost Volunteering in South America
Website lists free and low-cost volunteer opportunities in South America. The site is designed for backpackers / independent travellers looking for a real volunteer experience abroad, without paying any middle-man or agency fees.
Worldteach
Volunteer Teaching in South America
WorldTeach is a non-profit organization that has sent thousands of volunteers to teach in countries all around the world. WorldTeach currently places volunteer teachers of EFL or ESL in various locations throughout Ecuador for a year or a summer, and Brazil for the summer. Most volunteer teachers live with host families.
Contact: WorldTeach, One Brattle Square, Suite 550, Cambridge, MA 02138, USA; Tel./Fax: 857.259.6646 ext. 201/857.259.6638; info@worldteach.org; worldteach.org
Youth International
Service Learning in South America
Travel in local style and share adventures in South America with a small group of like-minded backpackers aged 18 to 25, led by two experienced leaders. You will travel through Bolivia, Peru, Ecuador, and the Galapagos Islands. You will learn about the local culture by living it yourself, through volunteer service work and homestays with local families in a variety of communities. The South America program also includes an intensive Spanish course.
Visit: www.youthinternational.org.