Volunteer in Asia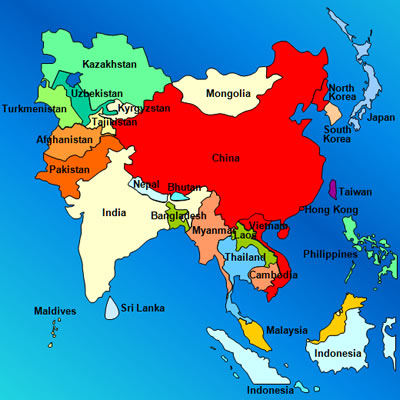 With over 40 countries from Japan to Thailand to Pakistan, Asia provides an incredible diversity of learning and service opportunities for international volunteers. China and the former Soviet nations of Central Asia seek volunteer English teachers. India offers dozens of direct service and sustainable development volunteer opportunities. Even countries that used to be somewhat closed to outsiders, such as Mongolia and Vietnam, now welcome volunteers in health, education, and economic development—Volunteer Abroad Editor, Zahara Heckscher.
Volunteer in Asia
Come experience a rich cultural immersion while participating in a meaningful volunteer program! ELI partners with local organizations in Bali, China, India, Nepal, the Philippines, Thailand, and Vietnam to match volunteers with local organizations in need of volunteers. All placements are made on an individual basis depending on the skills and goals of the volunteer, the needs of the organization, and the length of the program. Programs are available throughout the year for lengths of time varying from two weeks to six months.
Dates: Programs are available throughout the year and dates are flexible.
Cost: Program fees start at $515. The cost will depend on the country and duration of the program.
Contact: ELI Abroad, 1557 Ogden St. Ste. 5, Denver, CO 80218
Tel.: 303-321-8278
Email: info@eliabroad.org
Website: www.eliabroad.org

Featured
Projects Abroad in China, Nepal, Mongolia, Myanmar, Vietnam, Cambodia, Thailand, Sri Lanka, and the Philippines
Projects Abroad is the world's leading short-term international volunteer organization. Projects start year-round and last from one week to a year. Opportunities exist in teaching, child care, social work, conservation, human rights, international development, building, sports, medicine, journalism, business, law, culture and community immersion, and animal care. Programs are for ages 16+.
Dates: Start any day you choose.
Cost: Please see our website for prices.
Contact: Projects Abroad, 80 Broad St, Floor 32, New York NY 10004.
Tel: US Toll-free 1 888 839 3535.
Email: info@projects-abroad.org
Website: www.projects-abroad.org

Featured
Volunteer Abroad in Cambodia from US$350
Affordable volunteer opportunities available in Phnom Penh, Cambodia from US$350. Volunteers can participate in Teaching, Orphanage/Childcare, Computer Support and Human Rights. IVHQ sends over 5000 volunteer travelers worldwide annually — one of the world's most popular volunteer placement organizations!
Cost: Program Fees start from US$350.
Dates: Programs start on the 1st and 3rd Monday of each month. Duration: Volunteers can volunteer anywhere from one week to six months.
Contact: International Volunteer HQ, PO Box 8273, New Plymouth, NEW ZEALAND.
Tel.: +64 6 758 7949.
Email: volunteer@volunteerhq.org
Website: www.volunteerhq.org

Featured
Globe Aware
The Path Less Taken: Laos
In Globe Aware's program in Laos, volunteers will help the gentle citizens of Laos to recover from the heavy trauma the country experienced after bombing in the Vietnam War. Volunteers will work alongside Buddhist monks at both a government orphanage and village schools to complete a variety of community projects. Projects can include general repairs and improvements on facilities, as well as teaching basic English and assembling and distributing wheel chairs for those injured by land mines. Accommodations include a modest hotel in the center of town with hot water, flushing toilets, and electricity. During leisure time, volunteers can boat on the Mekong River, visit famous temples and caves, and get to know the people of Laos. Lend a helping hand in Laos and be part of bringing restoration and recovery to a peaceful society that has endured years of devastation.
Dates: Please refer to our website for trip dates
Cost: $1140
Contact: 6500 East Mockingbird Lane, Suite 104, Dallas, TX 75214
Email: office@globeaware.org
Tel: 1-877-LUV-GLOBE
Website: www.globeaware.org

Featured
Connect-123 Volunteer Programs in Shanghai, China
Connect-123 offers meaningful volunteer projects in China, according to your interests and skills, in education, health care, community service and many other fields.Volunteer programs include teaching English at local schools, caring for pediatric patients at local hospitals, assisting at animal shelters, working with children with autism or other disabilities, assisting the elderly at retirement homes and caring for infants and toddlers at orphanages.


Dates: The Shanghai program has fixed dates; it will run over the months of June and July 2018. Dates for summer 2019 have yet to be determined.
Cost: The program fee includes facilitating a volunteer experience in Shanghai, China that specifically meets your needs; arranging secure, high-quality, centrally-located accommodation based on your budget; assisting with local transport and providing advice on public transport routes; airport meet and greet service; a complete China preparation and orientation information pack; advice, assistance, and guidance before, during, and after your stay; group-rate discounts; and 24/7 emergency support and assistance. For current pricing, please see website.
Contact: Connect-123 China
USA Tel: (800) 731 6406 (toll free)
Email: info@connect-123.com
Website: www.connect-123.com/china/volunteer/

Featured
Make a REAL difference in Asia with Love Volunteers
Love Volunteers' participants have the chance to travel abroad and experience new cultures all while providing essential support to communities in real need. Join the world's fastest growing independent volunteering organization now! Participate in Love Volunteers' voluntary service projects in one of our 9 locations throughout Asia and have a truly exciting experience volunteering abroad. Visit our website to check out our range of community-based projects and find out how you can make a REAL difference!
Contact: Love Volunteers
Tel.: US: +1 415 800 4993, UK: +44 1865 522 688, NZ: +64 21 443 243
Email: help@lovevolunteers.org
Website: www.lovevolunteers.org

Featured
A Broader View Volunteers Corp
Volunteer with a Non Profit Charity in Asia
We work in 27 countries with over 245 programs, including countries in Asia including Cambodia, China, India, Nepal, Philippines, and Vietnam.
With A Broader View (ABV), you'll be immersed in another culture, collaborate with your host community on a development project, and work side by side with local youth while building your own leadership skills. ABV works year round from 1-week to 12-week programs.
Dates: Ongoing programs, year round, you choose your dates of arrival and departure.
Cost: From US$895 for one week to US$2240 for 12 weeks (you can tax deduct the expenses). Program fee includes: personalized Volunteer Placement, cultural education, meals, accommodation, pre-departure guidance, 24/7 country staff, tax deducted fees, the option to fundraise within our website, and more.
Contact: A Broader View Volunteers Corp, 236 Glen Place, Elkins Park, PA 19027.
Tel.: 866-423-3258 or 215-780-1845 (US), (020) 3289-9896 (UK), (02) 8003-3474 (AU). Skype: Abroaderview.org
Fax: 215-887-0915
Email: volunteers@abroaderview.org, info@abroaderview.org
Website: www.abroaderview.org

Featured
STOP Paying Too Much Money For Volunteering India!!
Volunteer in India from $150/week! Sankap Volunteer offers most Affordable, Meaningful and Safe volunteer programs in India. We directly place volunteers with non-profit programs that mean volunteers pay much less. Apply for early and get up to 15% off on all volunteer and travel combined volunteer programs! Booking is now open for Summer Program 2019!
Dates: Year-round
Cost: US $150/week & 15% Discount
Tel.: +91 759 734 1551 | +91 759 734 1552
Email: info@volunteersindia.org
Website: volunteersindia.org

Featured
Panda Caring and Nature Conservation Volunteering Programs in Asia!
Asia Internship is dedicated to providing the most affordable and high-quality culture immersion programs in Asia to students and recent graduates from all over the world. Our programs include: Internship, Volunteering, Travel, Study, and unique Culture Experience.

We offer programs in the following countries: China, Vietnam, Thailand, Cambodia, Nepal, Indonesia and Laos. Our programs include Panda Volunteering in China, Community School Teaching in Bali, Elephant Center Conservation Volunteering in Laos, Post-earthquake Community Recovery in Nepal and more. We believe traveling and participating are the best education. Through our supervised, well-designed programs, one will develop professionally and personally by living and working in a business setting in an Asian company and volunteering in the most needed NGOs.

Dates: All year round
Cost: Volunteering Programs starts from USD200/week
Tel.: 8613882209316
Email: hi@asia-internship.com
Website: www.asia-internship.com

Featured
Discover Corps
Volunteer Vacations with a Purpose in Asia
Volunteer vacations for adults and families in Asia, Africa and Latin America, including India and Thailand. Immerse yourself in a different culture while giving back, engaging in hands-on cultural workshops, and connecting with fascinating people. Volunteer to support children, animals and the environment. 1 to 2 week all-inclusive packages.
Contact: info@discovercorps.com, discovercorps.com
Global Vision International (GVI)
Volunteer with Children in Laos
Volunteer with children and experience the unique culture of Luang Prabang, a UNESCO World Heritage Site, where you will not only help the local children improve their English, increasing their chances for better education and employment opportunities, but also serve as a role model and respected community member.
At the weekend volunteers will be free to sight see and explore the local area. Past volunteers have enjoyed sunsets from the top of Mount Phu Si, swimming in the Khuang Si Waterfalls, marveling at local temples, scenic boat trips up the Mekong to the Pak Ou Caves, trekking, rafting or taking an elephant tour.
Volunteer with Buddhist Novice Monks in Laos
Teach English in the ancient city of Luang Prabang, where to escape the poverty cycle, many young men in Laos choose to become monks. While the education provided is inexpensive, it is also over crowded, and as a result teachers are often overwhelmed. By volunteering to teach English you will help improve the quality of education that many receive, which in turn will help many students and their families improve their quality of life.
Volunteers will have time off at weekends to explore one of the last places in Asia still left relatively untouched by tourism.
Contact: 888 653 6028; info@gviworld.com.
Index
Volunteer & Travel Program in Asia with Idex
The Idex programs in Thailand, Vietnam, India, Nepal and Sri Lanka continue to follow our ethos of "Travel that Matters" and provide an opportunity to the travellers to have a safe, enjoyable experience that leaves them more developed than they were before the start of a trip. The way this program is designed, and delivered, leaves the travelers as well as the local communities enriched with each other's presence.
All this is managed through the well-tested and established processes of Idex to ensure that the interactions and activities are responsible towards the benefit of local communities, volunteers and local institutions.
Contact: www.goidex.com
Princeton in Asia
PiA supports young teachers across Asia in countries including China, Japan, Hong Kong, Kazakhstan, South Korea, Malaysia, Singapore, Taiwan, Thailand, Laos, and Vietnam;
Visit: piaweb.princeton.edu
SCI (Service Civil International)
An exchange organization that sends volunteers on 2-3 week international work projects and long term 3-12 month opportunities in over 50 countries, including many in Asia. For all overseas camps the fee is US$235. Workcamps include shared accommodations, group self-cooked meals and basic health/accident insurance, without additional cost, unless otherwise noted in the camp description. SCI promotes voluntary service to impact social, environmental and humanitarian issues.
Visit: www.sci.ngo for an application.
VIA (Volunteer in Asia)
Offers a variety of programs and services which facilitate dialogue and understanding between people–a powerful tool for building peace. A Stanford program, VIA promotes full-circle exchange by providing volunteer and service-learning opportunities in Asia, and educational programs for Asian students in the United States. Since 1963, VIA has sent over 1600 volunteers to 14 different Asian countries. Non-government and non-religion affiliated, VIA is a private non-profit which promotes cross-cultural exchange between Asia and the U.S. Fellowships and scholarships are available to those who qualify.
Contact: info@viaprograms.org; www.viaprograms.org
Volunteers for Peace
Volunteer Workcamps in Asia
VFP offers over 3000 projects in more than 90 countries/regions every year, including Asia! Project cost starts at $500, which includes food and accommodation. Types of project include construction, environmental, agricultural, social, work with kids, renovation, art & culture and more! Since 1982, VFP has exchanged over 32,000 volunteers worldwide. Start planning your volunteer adventure or learn how to get involved at VFP.org!
Visit: www.vfp.org
Youth International
Service Learning in Asia
The world becomes your classroom with Youth International's 3-month experiential learning program through Asia. Teams of up to 14 people between the ages of 18 and 25 travel together with two group leaders. You travel through 3 countries: Thailand, India, and Nepal, using local transportation and carrying a backpack. The program includes volunteer community service work, homestays with local families in a variety of socio-economic settings.
Contact: Youth International, 2319 Woodbury Lane, Evergreen, CO, 80439 USA; tel. 1-720-270-3323; info@youthinternational;org, www.youthinternational.org.