Volunteer in Bolivia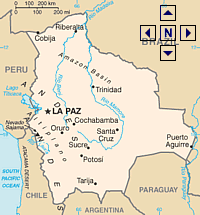 Projects Abroad in Bolivia
Projects Abroad is the world's leading short-term international volunteer organization.
Projects start year-round and last from one week to a year. Opportunities exist in teaching, child care, social work, equine therapy, canine therapy, sports, performing arts, medicine, nursing, dentistry, physical therapy, nutrition, veterinary medicine, and journalism. Volunteers may also take Spanish and/or Quechua language lessons. Programs are for ages 16+.
Dates: Start any day you choose.
Cost: Please see our website for prices
Contact: Projects Abroad, 80 Broad St, Floor 32, New York NY 10004.
Tel: US Toll-free 1 888 839 3535.
Email: info@projects-abroad.org
Website: www.projects-abroad.org

Featured
Amizade Global Service-Learning
Volunteer Service and Development in the Andes — short-term
Amizade has maintained partnerships with community organizations in Cochabamba, Bolivia for more than twelve years. Despite its beautiful scenery and perfect climate, Bolivia is one of the poorest countries in all of the Americas and faces a variety of social and economic challenges. During the Amizade program, you'll have the opportunity to support ongoing school construction projects in cooperation with rural indigenous communities. No prior construction experience is necessary, as Amizade works with local masons who have become adept at working with volunteers
Visit: amizade.org
Foundation for Sustainable Development
Volunteer in Grassroots Development in Bolivia
FSD partners with grassroots organizations around the globe to improve the socioeconomic status of marginalized populations. Volunteer at Cochabamba, Bolivia. Volunteer in Microfinance/Micro-enterprise, Gender Equity, Community Development, Environment, Public Health, Youth and Education, or Human Rights.
Visit: www.fsdinternational.org
Kaya Responsible Travel in Bolivia
Kaya Responsible Travel promotes experiencing the world and its beautiful cultures in a way that most respects and benefits the local people, traditions and environment. We are dedicated to promoting sustainable development, empower our host communities abroad, and creating educated, compassionate global citizens. With Kaya volunteer programs, you can choose a project that fits your personal and/or professional interests, working with wildlife, the environment, or people.
In Bolivia you can volunteer while working with children, wildlife, abused women, or health and medical in the community.
Visit: www.kayavolunteer.com
Sustainable Bolivia
Volunteer Projects in Bolivia
Sustainable Bolivia supports local and international volunteers interested in making a lasting impact. It arrange a mutually beneficial volunteer experience through a variety of projects including education, global health, ecotourism, art and research, working with NGOs, and more..
Visit: www.sustainablebolivia.org
Volunteer Bolivia
Education Assistants
Volunteer Bolivia has been offering quality volunteer positions in Cochabamba, Bolivia since 2002. The in-country staff creates a custom-designed service learning experience that will not only link you with a needy children's project but also with the Bolivian people and culture. There is a minumum commitment of one month and a beginner's level of Spanish.
Visit: www.volunteerbolivia.org
Volunteer Challenge
Volunteer in Bolivia
Enhance your skills while you share your gap time with Bolivians. Volunteer Challenge offers a wide variety of volunteer projects such as Conservation, Special Education, Teaching English, Music Instruction, Museums, Sports, Media, Creative Education, Marketing etc. Spanish lessons, food and accommodation are included in the program fee.
Visit: www.volunteerchallenge.com