Volunteer in Tanzania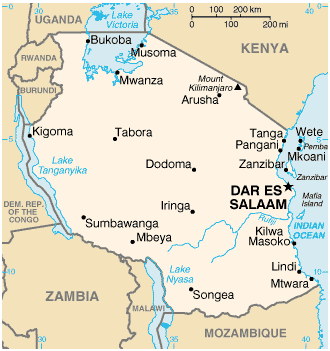 Volunteer in Tanzania with Cross-Cultural Solutions
Among the most prevalent issues in Tanzania are those presented by the lack of resources, residual effects of a colonial past, and the impact of HIV/AIDS. With Mount Kilimanjaro as a stunning backdrop for your volunteer work in Tanzania, you'll have a chance to work side by side with vulnerable people to build better, healthier futures.

After volunteering for the day, you'll be able to walk around your neighborhood or explore some of the gorgeous spots nearby. We proudly believe we provide the perfect mix of quality work, cultural immersion, adventure, and relaxation—all while having 24/7 access to CCS staff and support. Make that life-changing decision to become a CCSer today!
Dates: One Week to Three Months
Costs: Contact Us for Pricing and Availability
Contact: Cross-Cultural Solutions, 2 Clinton Place, New Rochelle, NY 10801.
Tel: US Toll Free: 1-800-380-4777
Email: info@crossculturalsolutions.org
Website: www.crossculturalsolutions.org/destinations/volunteer-tanzania

Featured
Volunteer Abroad with United Planet: 1-12 Weeks
United Planet's Quest Volunteer Abroad program offers you or your group a life-changing opportunity to interact with local communities through customized work experiences, cultural activities, and home stays. United Planet Quests are offered in more than 25 countries from 1-52 weeks. Volunteer opportunities in Tanzania include a variety of opportunities to work with children and education, including at a chidcare center, teaching English in a primary school, or working with disabled young adults.
Dates: All year around.
Cost: $2595 (2 weeks) - $5745 (12 weeks).
Contact: Please give the United Planet Team a call at 617-874-8041 or email quest@unitedplanet.org. More information can be found at: www.unitedplanet.org. Feel free to visit us from 9 AM to 5 PM at United Planet, Boston Harbor Shipyard and Marina, 256 Marginal Street, Boston, MA 02128.

Featured
Projects Abroad in Tanzania: Volunteer in Arusha, or Dar es Salaam
Projects Abroad is the world's leading short-term international volunteer organization.
Projects start year-round and last from one week to a year. Opportunities exist in teaching, child care, social work, orphanages, human rights, building, medicine, nursing, midwifery, dentistry, journalism, sports, film production, a Maasai community immersion project, and microfinance. There is also the option for volunteers to take Swahili language lessons. Programs are for ages 16+.
Dates: Start any day you choose.
Cost: Please see our website for prices.
Contact: Projects Abroad, 80 Broad St, Floor 32, New York NY 10004.
Tel: US Toll-free 1 888 839 3535.
Email: info@projects-abroad.org
Website: www.projects-abroad.org

Featured
Volunteer in Tanzania
Volunteer with a community based organization in Tanzania! ELI works with organizations in three distinct communities in Tanzania: the Meru, Maasai, and in Dar es Salaam to create volunteer opportunities that benefit the locals while giving volunteers a unique cultural learning experience while giving back to the communities. Possible projects include working in orphanages, teaching, HIV/AIDS education, Women's Empowerment, Microfinance, and reforestation. All placements are set up on an individual basis based on the needs of the local organization and the specific skills of the volunteer.
Cost: Program fees start at $795 and include airport pickup, accommodation, and meals.
Dates: Programs are available throughout the year and dates are flexible.
Contact: ELI, 1557 Ogden St. #5, Denver, CO 80218
Tel.: 303-321-8278
Email: info@eliabroad.org
Website: www.eliabroad.org

Featured
Volunteer Abroad in Tanzania from US$270
International Volunteer HQ (IVHQ) offers affordable volunteer abroad opportunities based in Arusha, Tanzania from only US$270. Volunteers can participate in Childcare, Medical and Teaching programs, working with rural and urban Tanzanian communities and villages. IVHQ sends thousands of volunteer travelers worldwide annually—you will not find a more affordable, high quality and trustworthy volunteer travel company.
Dates: Programs start on the 1st and 15th of each month. Duration: Volunteers can volunteer for periods ranging from 1 week to 24 weeks.
Cost: Program Fees start from US$270.
Contact: International Volunteer HQ, PO Box 8273, New Plymouth, NEW ZEALAND.
Tel.: US/Canada Toll Free: 1-877-342-6588; UK Toll Free: 0-800-234-1621; Australia Toll Free: 1-800-557-380; International: +64 6 758 7949.
Email: info@volunteerhq.org
Website: www.volunteerhq.org

Featured
A Broader View Volunteers Corp
Volunteering with a Non Profit Charity Overseas
A Broader View Volunteers is an U.S. Non profit charity.
We work in 24 countries with over 245 programs, including including Belize, Chile, Peru, Ecuador, Colombia, Costa Rica, Nicaragua, Honduras, Belize, Guatemala, Uganda, Tanzania, Kenya, Ghana, Zambia, South Africa, Cameroon, Rwanda, Nepal, India, Vietnam, Philippines, Cambodia, and China.
With A Broader View (ABV), you'll be immersed in another culture, collaborate with your host community on a development project, and work side by side with local youth while building your own leadership skills. ABV works year round from 1-week to 12-week programs.
Dates: Ongoing programs, year round, you choose your dates of arrival and departure.
Cost: From US$895 for one week to US$2240 for 12 weeks (you can tax deduct the expenses). Program fee includes: personalized Volunteer Placement, cultural education, meals, accommodation, pre-departure guidance, 24/7 country staff, tax deducted fees, the option to fundraise within our website, and more.
Contact: A Broader View Volunteers Corp, 236 Glen Place, Elkins Park, PA 19027.
Tel.: 866-423-3258 or 215-780-1845 (US), (020) 3289-9896 (UK), (02) 8003-3474 (AU).
Fax: 215-887-0915 / Skype: Abroaderview.org
Email: volunteers@abroaderview.org, info@abroaderview.org
Website: www.abroaderview.org

Featured
Make a REAL difference in Tanzania
Love Volunteers, the world's fastest growing independent volunteering organization, has provided safe, meaningful and truly affordable volunteering abroad opportunities to thousands of volunteers from all over the world. Become a Love Volunteer in Tanzania and get the experience of a lifetime whilst helping those in real need on one of our community-based projects! Visit our website to check out our range of community-based projects and find out how you can make a REAL difference!
Contact: Love Volunteers
Tel.: US: +1 415 800 4993, UK: +44 1865 522 688, NZ: +64 21 443 243
Email: help@lovevolunteers.org
Website: www.lovevolunteers.org

Featured
Focus in Africa — Teaching Project
Volunteers support the local teachers in educating and playing with children. TEFL graduate volunteers are most welcome! They get involved in teaching English to children, teachers and local adults. (A TEFL qualification is useful but not required.) Volunteers help develop the children's creative skills through crafts like painting, drawing, and coloring. They may also engage in developmental games with the children as well as singing and dancing with them. Volunteers are asked to assist with the general upkeep of the school to help maintain a pleasant learning environment.
Dates: Start any time all year.
Cost: $US 125 per week – all inclusive.
Tel: +255 755 218 062
Email: info@focusinafrica.com
Website: www.focusinafrica.com

Featured
Focus in Africa — Medical Volunteer Program Placement in Tanzania
If you are looking for valuable hands-on medical experience, there are opportunities in the hospitals in Arusha. As a medical intern, you might also work at rural health posts and community clinics. Participants spend the majority of their internship assisting a doctor/healthcare professional. Work responsibilities vary with your education, skills, and previous experience.

Interns interested in joining this internship must have health care certification such as an ID as a medical student, EMT or paramedic certification, or nursing or physician's credentials. Interns may also help in health camps, distribute medication, advise patients about health, nutrition and sanitation as well as counsel patients. Interns might also participate in the treatment of minor injuries and wounds and/or maintain medical journals.
Dates: Start any time all year.
Cost: $US 125 per week – all inclusive.
Tel: +255 755 218 062
Email: info@focusinafrica.com
Website: www.focusinafrica.com

Featured
Focus in Africa — Musical Education Project
Our music volunteer's typical day may include some of the following: Teach music lessons to primary school students. Arrange fun learning and performance activities. Teach basic music theory. Explore the local art and music scene. Get to know the children at the Good Hope Orphanage and assist in their daily chores. Plan outdoor activities and games at the primary school. Spend quality time with the children reading, coloring, watching movies, etc.
Dates: Start any time all year.
Cost: $US 125 per week – all inclusive.
Tel: +255 755 218 062
Email: info@focusinafrica.com
Website: www.focusinafrica.com

Featured
Focus in Africa — HIV/AIDS Project
Volunteers in this program will care for HIV/AIDS infected children and adults encouraging their involvement in educational activities with an emphasis on teaching safe sex. Educational materials are provided.  A volunteer might do counseling and education in hospitals and communities; assist various HIV/AIDS organizations with their community outreach programs including hospice care, voluntary HIV counseling/testing and homecare visits.   A volunteer might also assist in the counseling of caretakers and the distribution of medicine and food. 

Medical training is not necessary for all aspects of the program, but a background in HIV/AIDS and basic health care is preferred. Volunteers without medical background will help to educate and entertain children and other practical tasks. You will likely be asked to help with informal teaching for children and adults. Your role could include activities with HIV/Aids victims as well as assisting in nurseries, children's homes, and helping adults practice their English.

Volunteers will need to be pro-active in organizing activities they particularly want to get up and running.

Dates: Start any time all year.
Cost: $US 125 per week – all inclusive.
Tel: +255 755 218 062
Email: info@focusinafrica.com
Website: www.focusinafrica.com

Featured
Focus in Africa — Orphanage Program Placement in Tanzania
Volunteer in one of the several orphanages in Arusha. A typical day might include the following:

Assist with breakfast and prepare the children for school. Volunteers accompany the children both to and from school.
Teach English 3-4 hours a day in the local school. Upon the children's return, organize free time activities and help with homework.
Small children (ages 2-6 years) remain in their orphanages where volunteers who choose not to teach engage with the children. All sorts of fun activities such as sports, art, games, reading books, and music are welcomed and encouraged.
Organize skill training and free-time activities for the children who are too old to go to school.

Every orphanage has its own routine. Some are located in rural areas.
Work is from 20-30 hours per week. Volunteers are accommodated in a separate room at the orphanage or with host families. Local food is provided three times a day. Room sharing with another volunteer is possible.

Dates: Start any time all year.
Cost: $US 125 per week – all inclusive.
Tel: +255 755 218 062
Email: info@focusinafrica.com
Website: www.focusinafrica.com

Featured
Adventures in Health, Education, and Agricultural Development, Incorporated (AHEAD, inc.)
If you seek a medium term volunteer experience, are interested in Tanzania or Ghana, and want more of a grassroots experience than other programs offer, consider AHEAD, Inc.
Visit: www.aheadinc.org
Global Service Corps (GSC)
Volunteer Programs with Local Homestays in Tanzania
Program participants live with families in Tanzania homes providing a unique cultural experience while volunteering on service and development projects. We help developing communities learn to function more sustainably, while expanding the perspectives of participants as responsible global citizens. Project areas include health, HIV/AIDS prevention, and sustainable agriculture for nutrition and hunger relief. Participants have the opportunity to work on meaningful projects in hospitals, health clinics, schools, farms, and community and government organizations, depending on their interests. Excursions and Swahili language training are included. Undergraduate and graduate level credits qualifying for financial aid available. Volunteer programs are on-going and year-round.
Visit: www.globalservicecorps.org.
Global Volunteers
Volunteer in Tanzania!
Work on village development projects including teaching, building classrooms and dormitories, and supplying books and other school materials.
Health Volunteers Overseas
Program in Tanzania
HVO is a teaching and training organization. HVO volunteers train local health care providers. Only accepts volunteers who are doctors, nurses, and other health professionals; preference for those who have experience as educators. Most programs have a minimum of one month. Fees are minimal but volunteers cover their own airfare.
Visit: hvousa.org
Madventurer
Volunteer in Tanzania
Paying volunteers participate in expeditions and community work in Tanzania, Ghana, Uganda, Kenya, and Togo (among other non-African countries).
Visit: www.madventurer.com.
Volunteers for Peace
VFP offers over 3000 projects in more than 90 countries every year, including Tanzania! Project cost starts at $500, which includes food and accommodation. Types of project include construction, environmental, agricultural, social, work with kids, renovation, art and culture and more! Since 1982, VFP has exchanged over 31,000 volunteers worldwide. Start planning your volunteer adventure or learn how to get involved at VFP.org!
Contact: 7 Kilburn St. STE 316, Burlington, VT 05401; tel. 1 (802) 540-3060; info@vfp.org, vfp.org.