Volunteer in Nicaragua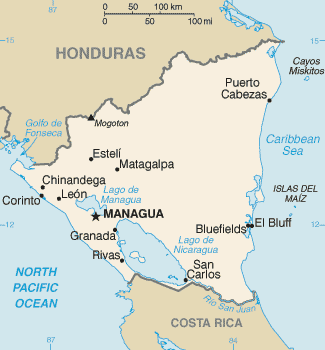 Featured Articles on Volunteer in Nicaragua
Abundance Farm
Volunteer Opportunities and Guest Stays at Family Homestead in Nicaragua
Family Farm is focused on self-sufficiency. Guest stays and volunteer opportunities are available.
Amigos de las Américas (AMIGOS)
Accept the Challenge — Volunteer in Nicaragua this Summer!
AMIGOS operates in nine countries throughout the Americas . With AMIGOS, you'll be immersed in another culture, collaborate with your host community on a development project, and work side by side with local youth meanwhile building your own leadership skills. AMIGOS summer projects range from 4-9 weeks and are open to students from 16-25 with basic Spanish proficiency. AMIGOS programs in Nicaragua focus on youth leadership in the fields of public health, children's rights, and creative expression.
Contact: info@amigosinternational.org, amigosinternational.org
Casa Alianza/Covenant House Latin America
Volunteers work with street children in Mexico, Guatemala, Honduras and Nicaragua for 6-12 months. Accommodations vary according to country.
Contact: SJO 1039, PO Box 025216, Miami, FL 33102-5216. Administrative HQ: Volunteer Co-ordinator, P.O. Box 2050-1734, San Pedro, San José, Costa Rica; 011-506-253-5439; www.covenanthouse.org.
El Porvenir
Volunteers are needed for 2-week work experience trips in Jan./Feb. and July/Aug. to construct water and sanitation facilities and help with reforestation in Nicaragua.
Contact: jobs@elporvenir.org; www.elporvenir.org
ELI Abroad
Volunteer in Nicaragua
Volunteers live in the beautiful colonial city of Granada as they participate in programs that benefit the locals while giving them a unique cultural experience. Volunteers can work with at-risk youth, teach, community development projects, or environmental projects.
Contact: info@eliabroad.org, www.eliabroad.org
Foundation for Sustainable Development
Volunteer in Grassroots Development in Nicaragua
FSD partners with grassroots organizations around the globe to improve the socioeconomic status of marginalized populations. Volunteer in Central America at our two sites in Nicaragua, Tola and Ciudad Sandino. Volunteer in Microfinance/Micro-enterprise, Gender Equity, Community Development, Environment, Public Health, Youth and Education, or Human Rights.
Contact: info@fsdinternational.org, www.fsdinternational.org
MADRE
Voyages with a Vision, Guatemala & Nicaragua, an International Women's Human Rights Organization. In Guatemala, learn about the fight to end abusive labor conditions in sweatshops and the human rights struggles of Indigenous women and youth. Then travel to Nicaragua to learn about Indigenous Peoples' and African-descent communities' efforts to defend their rights and resources in the autonomous region of the country's Caribbean Coast.
Contact: travel@madre.org, www.madre.org. Tel: 212.627.0444. 121 W. 27th St. #301, New York, NY, 10001.