Volunteer in Australasia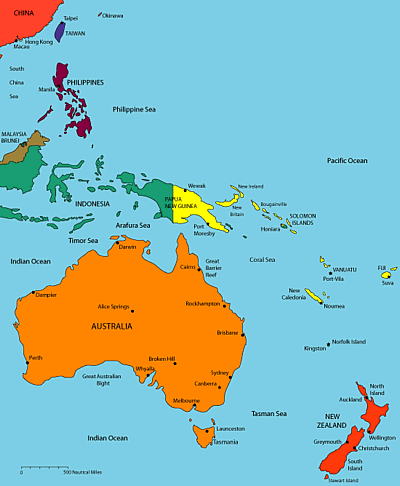 Featured Articles on Volunteering in Australasia
Projects Abroad in Samoa
Projects Abroad is the world's largest international volunteer organization. Trusted by over 122,000 volunteers. Discover 25 exciting countries across 5 continents: Argentina, Belize, Cambodia, China, Costa Rica, Ecuador, Fiji, Ghana, Jamaica, Kenya, Madagascar, Mexico, Mongolia, Nepal, Peru, Philippines, Romania, Samoa, Senegal, South Africa, Sri Lanka, Tanzania, Thailand, and Vietnam. Volunteer programs start year-round and last from one week to a year. Opportunities exist in teaching, childcare, social work, conservation, community development, medicine, human rights, journalism, international development, language courses, and more! Programs are for ages 16+.


Dates: Start any day you choose.
Cost: Please see our website for prices
Contact: Projects Abroad Inc. 600 B Street, Suite 300, San Diego, CA, 92101.
Tel: (+1) 212 244 7234.
Email: info@projects-abroad.org
Website: www.projects-abroad.org

Featured
United Planet's Gap Year/6 Months+ Learning Exchange in New Zealand
United Planet offers long-term volunteer opportunities to those planning a gap year down under! New Zealand is the ideal location for such a Quest. Among rich scenery and stunning beaches, there is plenty to do during your downtime! Volunteers typically stay with host families, although alternative independent housing can be arranged in certain cases. Long-term volunteering can provide a true immersion experience. Participants have the chance to explore all that New Zealand has to offer while giving back to local communities by conducting a variety of community development projects. Projects include environmental preservation, community development projects, and farm work.

Contact: Please give the United Planet Team a call at 617-874-8041 or email quest@unitedplanet.org.
More information can be found at: www.unitedplanet.org and for United Planet's New Zealand programs at: www.unitedplanet.org/volunteer-abroad/long-term/new-zealand.
Feel free to visit us from 9 AM to 5 PM at United Planet, Boston Harbor Shipyard and Marina, 256 Marginal Street, Boston, MA 02128.

Featured
Volunteer Abroad in Indonesia for 4-52 Weeks
Securing its independence after World War II, Indonesia has continued in its important role as a trade region, which dates back to the seventh century. Since declaring independence, Indonesia has been turbulent, with challenges posed by natural disasters, corruption, separatism, a democratization process, and periods of rapid economic change. Hot springs, exotic animals, and beautiful rock formations leave little for volunteers to want in this magnificent country.
Contact: Please give the United Planet Team a call at 617-874-8041 or email quest@unitedplanet.org.
More information can be found at: www.unitedplanet.org and for United Planet's Indonesia programs at: www.unitedplanet.org/volunteer-abroad/long-term/indonesia.
Feel free to visit us from 9 AM to 5 PM at United Planet, Boston Harbor Shipyard and Marina, 256 Marginal Street, Boston, MA 02128.

Featured
Conservation Volunteers Australia (CVA)
CVA has been organizing short- and long-term voluntary conservation projects, including tree planting, walking trail construction, and wildlife surveys in Australia since 1982. "Each year, Conservation Volunteers involves over 10,000 volunteers, plants 1 million trees and trains 1,000 groups and individuals."
Discover Corps
Volunteer Vacations with Purpose in Australia
Volunteer vacations for adults and families in Australia. Immerse yourself in a different culture while giving back, engaging in hands-on cultural workshops, and connecting with fascinating people. Volunteer doing wildlife conservation. 1 to 2 week all-inclusive packages.
HELP Exchange
Volunteer Projects in Australia and New Zealand
An online listing of host organic farms, non-organic farms, farmstays, homestays, ranches, lodges, B&B, inns, backpackers hostels and even sailing boats who invite volunteer helpers to stay with them short-term in exchange for food and accommodation (board and lodging).
Involvement Volunteers International
Volunteer Projects in Australia and New Zealand
IVI has links with projects around Australia and New Zealand (as well as worldwide). Placements include animal care, conservation, education, farming, social services, and more.
New Zealand Department of Conservation (DOC)
Volunteer Projects in New Zealand
Runs conservation projects throughout New Zealand. Addresses and Calendar of Volunteer opportunities are listed on the website (i.e. volunteers needed to carry out wildlife surveys and clean up remote beaches.
Volunteers for Peace
VFP offers over 3000 projects in more than 90 countries every year, including Australia, New Zealand and Indonesia! Project cost starts at $500, which includes food and accommodation. Types of project include construction, environmental, agricultural, social, work with kids, renovation, art & culture and more! Since 1982, VFP has exchanged over 32,000 volunteers worldwide. Start planning your volunteer adventure or learn how to get involved at VFP.org!
WWOOF—Australia (World Wide Opportunities on Organic Farms)
Distributes the Australian WWOOF Book, with the addresses of about 1,800 member farms in Australia looking for short- or long-term voluntary help. Membership costs AU$70 (which includes accident insurance and an app) and includes a list of farms and volunteer work opportunities.
WWOOF—New Zealand
Membership costs NZ$40 and includes a list of almost 1,200 organic farms. You must have a working holiday visa to participate.