Volunteer in Australasia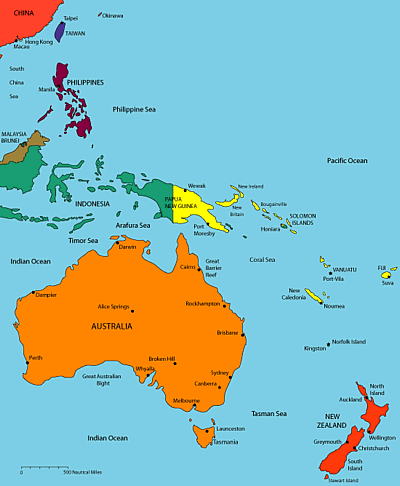 Featured Articles on Volunteering in Australasia
Projects Abroad in Samoa
Projects Abroad is the world's leading short-term international volunteer organization.
Projects start year-round and last from one week to a year. Opportunities exist in teaching, childcare, nutrition, physical therapy, sports, journalism & a community village project. Programs are for ages 16+.
Dates: Start any day you choose.
Cost: Please see our website for prices
Contact: Projects Abroad, 80 Broad St, Floor 32, New York NY 10004.
Tel: US Toll-free 1 888 839 3535.
Email: info@projects-abroad.org
Website: www.projects-abroad.org

Featured
Volunteer Teaching in Micronesia
The Federated States of Micronesia are located in the Pacific Islands. In partnership with the Departments of Education of Pohnpei, Kosrae, and Chuuk, WorldTeach volunteers' jobs in the Federated States of Micronesia include teaching English, math, and science in public high schools and colleges. Join us as we work toward creating meaningful cultural exchange in Micronesia!
Contact: WorldTeach, One Brattle Square, Suite 550, Cambridge, MA 02138, USA.
Tel./Fax: 857.259.6646 ext. 201/857.259.6638
Email: info@worldteach.org
Website: worldteach.org

Featured
Conservation Volunteers Australia (CVA)
CVA has been organizing short- and long-term voluntary conservation projects, including tree planting, walking trail construction, and wildlife surveys in Australia since 1982. "Each year, Conservation Volunteers involves over 10,000 volunteers, plants 1 million trees and trains 1,000 groups and individuals."
Discover Corps
Volunteer Vacations with a Purpose in Australia
Volunteer vacations for adults and families in Australia. Immerse yourself in a different culture while giving back, engaging in hands-on cultural workshops, and connecting with fascinating people. Volunteer doing wildlife conservation. 1 to 2 week all-inclusive packages.
Visit: discovercorps.com
HELP Exchange
An online listing of host organic farms, non-organic farms, farmstays, homestays, ranches, lodges, B&B, inns, backpackers hostels and even sailing boats who invite volunteer helpers to stay with them short-term in exchange for food and accommodation (board and lodging).
Visit: www.helpx.net
Involvement Volunteers
Volunteer Projects in Australia and New Zealand
IVI has links with projects around Australia and New Zealand (as well as worldwide). Placements include animal care, conservation, education, farming, social services, and more.
Visit: www.volunteering.org.au.
New Zealand Department of Conservation (DOC)
Runs conservation projects throughout New Zealand. Addresses and Calendar of Volunteer opportunities are listed on the website (i.e. volunteers needed to carry out wildlife surveys and clean up remote beaches.
Visit: www.doc.govt.nz
New Zealand Trust for Conservation Volunteers
National organization that maintains an online register of conservation projects throughout New Zealand for the benefit of volunteers including international volunteers. Many project organizers provide free transport and accommodations.
Volunteers for Peace
VFP offers over 3000 projects in more than 90 countries every year, including Australia! Project cost starts at $500, which includes food and accommodation. Types of project include construction, environmental, agricultural, social, work with kids, renovation, art & culture and more! Since 1982, VFP has exchanged over 31,000 volunteers worldwide. Start planning your volunteer adventure or learn how to get involved at VFP.org!
Visit: vfp.org
WWOOF—Australia (World Wide Opportunities on Organic Farms)
Distributes the Australian WWOOF Book, with the addresses of about 1,800 member farms in Australia looking for short- or long-term voluntary help. Membership costs AU$70 (which includes accident insurance and an app) and includes a list of farms and volunteer work opportunities.
Visit: wwoof.com.au
WWOOF—New Zealand
Membership costs NZ$40 and includes a list of almost 1,200 organic farms.
Visit: www.wwoof.co.nz.