Volunteer in Argentina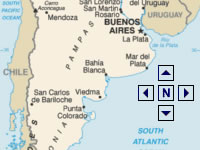 Volunteer Participant Reports from Argentina
Projects Abroad in Argentina
Projects Abroad is the world's leading short-term international volunteer organization.
Projects start year-round and last from one week to a year. Opportunities exist in teaching, child care, social work, equine therapy, sports, medicine, dentistry, journalism, human rights, animal care, canine therapy, and farming. Volunteers can also take Spanish language courses. Programs are for ages 16+.
Dates: Start any day you choose.
Cost: Please see our website for prices.
Contact: Projects Abroad, 80 Broad St, Floor 32, New York NY 10004.
Tel: US Toll-free 1 888 839 3535.
Email: info@projects-abroad.org
Website: www.projects-abroad.org

Featured
Volunteering in Argentina — Road2Argentina
Road2Argentina partners with many local non-profit organizations, schools, orphanages and community centers in Buenos Aires in order to provide assistance to those in need. These partnerships provide our volunteers the opportunity to involve themselves in meaningful projects and make a difference during their time here in the city. They are also a great way to hone one's Spanish and see a less touristy side of Buenos Aires.

Volunteering with a condor conservation project in Patagonia is also available.
Dates: Year round with start dates every Monday.
Cost: Our programs are affordably priced to fit student budgets. Promotions and discounts available. Please visit our website for up-to-date program costs.
Contact: Road2Argentina, Area Tres Coworking, Malabia 1720, Local 11B, Buenos Aires (CABA), Argentina.
Tel.: +1-347-974-3705 (USA); +54-11-5121-1764 (Argentina).
Email: info@road2argentina.com
Website: www.road2argentina.com

Featured
Connect-123 Volunteer Programs in Buenos Aires, Argentina
Connect-123 links you to volunteer projects in Buenos Aires, Argentina, according to your interests and skills, in health care, community service, education, and many other fields. Health care projects include working directly with doctors on medical research projects, providing non-medical care to patients, attending ward rounds and helping the nursing staff care for patients. Social work, and education projects include working at a legal advice center, assessing the impact of community-based interventions, helping with public health awareness campaigns, mentoring street children, teaching English, caring for infants and toddlers at orphanages, working with youth regarding issues related to HIV/AIDS, sexuality and adolescence, and helping to build schools and houses for disadvantaged communities.
What's included: Finding a volunteer project that specifically meets your needs; arranging secure, high-quality, centrally-located accommodation based on your budget; assisting with local transport and providing advice on public transport routes; airport meet and greet service; a complete preparation and orientation information pack; advice, assistance, and guidance before, during, and after your stay; group-rate discounts; and 24/7 emergency support and assistance.
Dates: Both start dates and durations are flexible. Typical durations range from 1 to 6 months.
Cost: Please see website for details.
Contact: Connect-123 International Internship and Volunteer Programs
USA Tel: (800) 731 6406 (toll free)
Email: info@connect-123.com
Website: www.connect-123.com/programs/volunteer/buenos-aires-argentina/

Featured
Volunteer Abroad with IVHQ in Argentina from US$300
Affordable volunteer opportunities available in Argentina. Volunteers can participate in Teaching, Childcare, Elderly Care, Community Development, Special Needs and Healthcare. IVHQ places thousands of volunteer travelers abroad every year — one of the world's most popular volunteer organizations!


Cost: Program Fees start from US$300
Dates: See website for particular country program start dates.
Duration: Volunteers can volunteer anywhere from one week to six months.
Contact: International Volunteer HQ, PO Box 8273, New Plymouth, NEW ZEALAND.
Tel.: +64 6 758 7949.
Email: volunteer@volunteerhq.org
Website: www.volunteerhq.org

Featured
ELI Abroad
The vibrant city of Buenos Aires, also known as "the Paris of the South", is the backdrop for the meaningful volunteer programs ELI offers in Argentina. Participants can volunteer with orphans and at-risk youth or work in a soup kitchen, helping to get food to the neediest residents of Buenos Aires. Spanish language classes can also be arranged to make sure that participants can get the most out of this rich cultural immersion experience!
Dates: Programs are available throughout the year and dates are flexible.
Costs: Program fees start at $790. The cost will depend on the program and duration of the program.
Contact: ELI, 1557 Ogden St. #5, Denver, CO 80218
Tel.: 303-321-8278
Email: info@eliabroad.org
Website: www.eliabroad.org

Featured
Academic Programs International
Volunteer in Argentina
Enrich your life and the lives of others by choosing to lend a heart and hand to at-need projects. API offers service work in Argentina on a variety of projects.
Contact: 301 Camp Craft Road, Suite 100, Austin, TX 78746 United States; tel. 5126008900; api@apiabroad.com, www.apiabroad.com
EIL Intercultural Learning
Volunteer in Argentina
Volunteers assist with sorting, classifying and distributing donations at the Food Bank. in Cordoba. Volunteers are also needed to teach conversational English to adults at centers in Buenos Aires, Salta and San Martin de los Andes. Volunteers help with games, songs, meals and teaching English in small towns throughout Argentina. The volunteer will travel daily back and forth from the homestay by local bus.
Contact: info@volunteerabroad.ie, www.eilireland.org/volunteer-abroad/countries/argentina
Foundation for Sustainable Development
Volunteer to support Sustainability in Argentina
FSD partners with grassroots organizations around the globe to improve the socioeconomic status of marginalized populations. Volunteer in La Plata, Argentina in Microfinance/Micro-enterprise, Gender Equity, Community Development, Environment, Public Health, Youth and Education, or Human Rights.
Contact: info@fsdinternational.org, www.fsdinternational.org
GIC Argentina
Choose from a variety of challenging and rewarding positions, including volunteering in a health clinic, working with street children or in an orphanage, helping at a community clinic for the poor, working with disabled children, or teaching English, among many other volunteer positions.
Contact: info@gicarg.org, www.gicarg.org
InsightArgentina
Customized Volunteer Placements in Argentina
InsightArgentina (IA) is the volunteer program of HelpArgentina, a US non-profit organization based in Buenos Aires. We offer highly customized volunteer placements to international volunteers (both individuals and groups) in 70 local NGO's throughout Argentina. Our volunteer placements are based on the interests and experience of volunteers, and the needs of organizations, in fields including Education and Youth Outreach, Environment, Sport and Recreation, Health and Nutrition, to name just a few. We have more than 5 years of experience in the Argentine social sector, and have placed over 600 volunteers in organizations that meet HelpArgentina's criteria for best practices and accountability.
La Confluencia
Patagonia Voluntourism and Adventure Travel
La Confluencia ecolodge and farm runs voluntourism programs throughout the summer (Nov-Feb.) in Patagonia, Argentina. Participants will help with an number of projects within the Rio Azul Protected Area (part of the world's largest UNESCO Temperate Rainforest Preserve) such as trail maintenance, footbridge construction, and selective eradication of invasive species, as well as social assistance projects involving the local community, such as vegetable garden development, greenhouse construction, and home repairs. Depending on individuals' interest and fitness levels, various wilderness adventure options can be combined such as whitewater rafting and kayaking, trekking, horseback riding, and climbing / rappelling.
WWOOFing at La Confluencia, Patagonia
La Confluencia farm and ecolodge in Patagonia hosts WWOOFing volunteers each summer season (Nov.-Feb.). Candidates willing to make two-month commitments will be given priority. Projects will include vegetable garden planting and harvesting, food preservation, grain harvesting and threshing, sustainable wood harvesting / milling, and natural (straw bale) construction, among other others. Outdoor adventure and education options (whitewater kayaking, rafting, mountain bike, trekking, climbing / rappel) take place right from our "backyard" in the Rio Azul Protected area, part of the world's largest UNESCO Temperate Rainforest Preserve.
Vist: laconfluencia.com
United Planet
Volunteer Abroad in Argentina
United Planet's Quests offer volunteers the opportunity to learn, teach, work, engage and immerse themselves in a culture outside their comfort zone. Ages 18 and up are invited to enroll. Live in Argentina for 6 or 12 months and form intercultural relationships as you work with urban youth at centers focused on bringing art and culture into the lives of young people. Volunteers live with a local host family, participate in cultural activities and excursions, and receive 24/7 support – a true immersion experience that allows you to build relationships that last a lifetime.
Contact: Please give the United Planet Team a call at 617-874-8041 or email quest@unitedplanet.org. More information can be found at: www.unitedplanet.org. Feel free to visit us from 9 AM to 5 PM at United Planet, Boston Harbor Shipyard and Marina, 256 Marginal Street, Boston, MA 02128.
Voluntario Global
Volunteering and Internships in Buenos Aires
Voluntario Global is an NGO in Buenos Aires offering volunteer and internships of varying length.
Contact: comunicaciones@voluntarioglobal.com.ar; www.voluntarioglobal.com.ar