Jobs in Europe
Seasonal Work Opportunities and Paid and Unpaid Internships Year-Round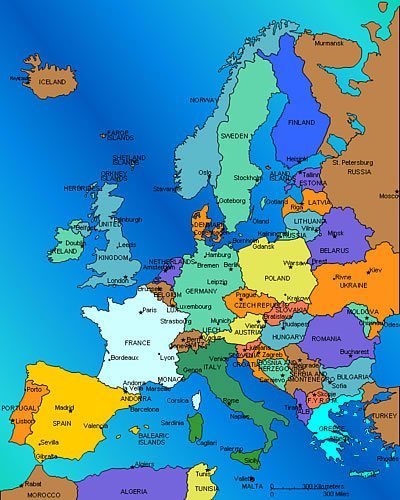 Jobs in Europe

Key Employers in Europe
English Teaching Jobs in Europe
Internships in Europe
Volunteer Work in Europe
Teach English in Europe with InterExchange Working Abroad — No Teaching Certificate Required
InterExchange Working Abroad's Teach English programs give you the chance to live in some of the most exciting countries in Europe! Whether you want to improve your second-language skills or explore a new culture, we have Conversation Coach and Teaching Assistant programs in Austria, France, Germany, Italy and Spain. Choose between private home lessons or classroom instruction and varying program lengths. Room and board is provided and short work hours allow for exploring—see Europe as a local, not as a tourist!
Dates: Year-Round
Cost: $895+
Contact: InterExchange Working Abroad, 100 Wall Street, Suite 301, New York, NY 10005
Tel.: 212-924-0446
Email: workabroad@interexchange.org
Website: www.InterExchange.org/workingabroad

Featured
Au Pair Abroad
InterExchange offers au pair programs in the U.S., Europe, Australia and New Zealand. Start Your Adventure Now! Live as an extended member of your host family and provide child care in exchange for room and board and a weekly stipend. Brush up on your language skills and gain firsthand experience of a new culture! Some programs also offer insurance, language classes and paid vacation. InterExchange is a nonprofit organization and a designated J-1 Visa sponsor in the U.S. with over 40 years of experience arranging cultural exchange programs.

Dates: Year-Round
Cost: Varies
Contact: Interexchange, Inc., 100 Wall Street, Suite 301, New York, NY 10005, USA.
Tel.: 212.924.0446. Toll-free: 1.800.597.3675 :
Email: workabroad@interexchange.org
Website: www.InterExchange.org

Featured
BUNAC Intern in Britain
BUNAC's Intern in Britain program is your opportunity to set yourself apart in today's job market by gaining a taste of professional life and work experience for up to 6 months. You'll show future employers that you are driven, cultured and can work effectively in an overseas environment, whilst enhancing your resume in London – one of the world's most loved and respected cities for business and lifestyle. As BUNAC is the largest A-rated Tier 5 visa sponsor, we work alongside the Home Office to sponsor you to legally intern in either England, Scotland, Wales or Northern Ireland. Participants are required to arrange their internship before obtaining the UK visa, and we give you continued support and guidance on the whole process.
Dates: All year round
Cost: $775
Contact: BUNAC USA, 585 N. Juniper Drive Suite 250, Chandler, AZ 85226
Tel.: 866-220-7771 or 1-800-GO-BUNAC
Email: info@bunacusa.org
Website: www.bunac.org/usa

Featured
BUNAC Work In Ireland
With it's rolling emerald green hills and cities with cobble stoned streets and rivers running through them, life in Ireland is absolutely picturesque. Work in cities like Dublin, Galway, Limerick and Cork for up to 12 months in your field of choice. BUNAC's full-support package will assist you first in securing the work authorization, prepare you for departure and connect you with our in-country partner office in Dublin. You'll even have time to soak up the history, the literature and the Irish folklore on your work lunch break. Ah, to be in Ireland.
Dates: Year round
Cost: From $360
Contact: BUNAC USA, 585 N. Juniper Drive Suite 250, Chandler, AZ 85226
Tel.: 866-220-7771 or 1-800-GO-BUNAC
Email: info@bunacusa.org,
Website: www.bunac.org/usa

Featured
Work in Spain
We offer immersion Spanish courses all year round at special prices, jobs in hospitality management all around Spain, affordable internships in different cities throughout Spain, culinary arts in top hotels, field trips for schools and colleges, unpaid volunteer programs, Spanish online courses, and Dele preparation exams.
Dates: All year round, any time, any program.
Cost: From US $100 per week.
Contact: Instituto Hemingway, Bailen 5, 2 Dcha. 48003 – Bilbao, Spain.
Tel.: +34 94 416 7901. Fax: +34 94 416 57 48
Email: info@institutohemingway.com
Website: www.institutohemingway.com

Featured
Career-related Internships in Spain
Connect-123 helps you find career-related internships in Barcelona, Spain in business, education, human rights, health care, journalism and many other fields. From your first days on the job, roll up your sleeves and dive in, working on real projects that make a real contribution to local organizations. Proficiency in Spanish is not a requirement.
What's included: Finding an internship that specifically meets your needs; arranging secure, high-quality, centrally-located accommodation based on your budget; assisting with local transport and providing advice on public transport routes; airport meet and greet service; a complete Spain preparation and orientation information pack; advice, assistance, and guidance before, during, and after your stay; group-rate discounts; and 24/7 emergency support and assistance. We can also arrange Spanish classes, which are optional.
Dates: Both start dates and durations are flexible. Typical durations range from 1 to 6 months.
Cost: Please see website for details.
Contact: Connect-123 International Internship and Volunteer Programs
USA Tel: (800) 731 6406 (toll free)
Email: info@connect-123.com
Website: www.connect-123.com/programs/internships/barcelona-spain/

Featured
Rise Above Your Competition! Intern in Europe with CEA
CEA's internship programs extend beyond traditional domestic internships or study abroad programs to provide you with expansive skills that get you noticed. Our extensive network of business, non-profit, and non-governmental organization (NGO) contacts around the world allows us to offer quality internship placements aligned to your needs.

Internship placements secured by our locally based staff in Dublin, London, Prague, Paris, Florence, Rome, Barcelona, and Seville offer an exceptional combination of academic rigor and professional experience to help you get the most from your investment. Engage in a CEA internship abroad and rise above your competition!
Dates: 8-week summer programs and 16-week fall and spring semester programs available.
Cost: Programs start at $5,195. See CEA website for details.
Contact: CEA Study Abroad
Email: internship@ceastudyabroad.com
Website: ceastudyabroad.com/internships

Featured
Intern in Dublin with Stint Ireland
Stint Ireland will work with you to find your perfect internship match, whatever that might be! Professional internship placements in the buzzing, cosmopolitan city of Dublin, an unforgettable Irish experience with regular cultural events and excursions around Ireland, and full support every step of the way from housing and visa arrangements to career guidance and local advice.
Dates: Flexible start and end dates
Cost: €2,460
Contact: Stint Ireland, 76 Thomas Street, Dublin 8
Email: info@stintireland.com
Website: www.stintireland.com

Featured
Teach English in Summer Camps in Italy & Austria
Teach English to Italian and Austrian children aged 6 to 14 years old in a fun, interactive summer camp environment throughout Italy and Austria during Summer 2018. Travel, meet new people, and immerse yourself in a new culture!
Dates: June through to September 2018; with various start dates.
Cost: Tutors pay for their travel costs to Assisi, Italy for orientation week and after their final camp.
Contact: Ashleigh Poerio, Then English Camp Company, Santa Maria degli Angeli, Assisi, Italy.
Email: info@theenglishcampcompany.com
Website: www.theenglishcampcompany.com

Featured
A.C.L.E. (Associazione Culturale Linguistica Educational)
Sends native English speaking Tutors to camps located throughout Italy. A.C.L.E. seeks enthusiastic and dependable people to work as English Camp Tutors for children. Provides accommodation, transport, meals, weekly cash wages, and an orientation course.
Adriatic Dolphin Project, Blue World Institute of Marine Research.
Students with a background in biology or geography may be accepted as interns. Paying volunteers join researchers in the ancient village of Veli Losinj, Croatia over the summer.
American-Scandinavian Foundation
Places summer trainees in engineering, chemistry, computer science, or business throughout Scandinavia, mainly Finland and Sweden. Also places American students and recent graduates over the age of 21 in schools and companies in Finland to teach English.
American Village: Camp Counselor in France at American Village Camps
Work in France next spring or summer! Now hiring: English Language Counselors starting in March 2018. Salary: 1170 euros per month. Meals and housing are also included. Location: One of our language villages in France. Exact location announced after hire. American Village Camps seek energetic, creative, initiative-takers who are native English speakers and love working with children. Our camps run from February to October, annually.
Atlantis Youth Exchange
Recruits those who would like to be working guests in Norway in agriculture or tourism, trainees in agriculture, and au pairs.
BEST Programs: Internships in Italy, Spain and Belgium
Offers a variety of internships along with language courses.
Cultural Vistas: Internships Abroad
An organization that is dedicated to providing a wide variety of cultural exchange programs for both inbound and outbound students worldwide. Cultural Vistas offers programs offering a variety of personalized professional internships and training programs in Europe in countries such as France, Germany, Ireland, Spain, Switzerland, and the U.K.
CEI France: Working Holiday Visas
Work in France program can assist higher education students over 18 from outside Europe to obtain temporary work permits to work and travel in France for 4-12 months starting any time. All candidates must be conversant in French.
Diverbo's "Pueblo Ingles" — Discover Spain in an English Conversation Holiday
Pueblo Ingles has been described as an inspiring cultural adventure, an enriching personal journey, and a unique, human experience. Each week twenty Native English speakers are sponsored to stay in a beautiful, picturesque 4-star resort in Spain so they can converse with Spanish professionals who want to improve their English. Accommodation, food and wine are provided in exchange for your conversation. It's a unique and enjoyable experience and the best way to learn about Spain if you don't speak the local lingo.
Embassy of France: The Teaching Assistant Program in France
Offers you the opportunity to work in France for 7 months teaching English to French elementary and secondary school students. Each year, nearly 1,100 American citizens aged between 20-35 and permanent residents teach in public schools across all regions of metropolitan France and in the overseas departments of French Guyana, Guadeloupe, Martinique and Réunion. The program offers a monthly stipend of €790 (net).
La Giraudiere: Work and Stay in Southwest France helping a learning project.
Work and experience the French lifestyle at La Giraudiere, where people from around the world help restore and renovate a small hamlet, a place of learning that is being brought back to life at the same time adding to the lives of those who help make it happen. All kinds of skills are required to help supervise the volunteer and internship programs. In return for your work you will receive accommodations, 3 meals a day, advice, french lessons, training, excursions, transfers, and so much more!
National Trust: Community Learning and Volunteering
Working holidays and outdoor conservation camps throughout the U.K. year-round.
Nine Muses Au Pair
Placement service for au pairs in Greece. Also offers Greek language lessons.
Nínukot
Work on holiday farms in Iceland, country guesthouses, restaurants or campsites in beautiful Iceland. Work includes cleaning the rooms, waiting on guests, assisting in kitchen or checking guests in at reception. Au pair options as well.
REMPART
Needs volunteers to care for and restore endangered monuments throughout France. Many other inexpensive projects, often offering room and board for the small daily program fee. See website for more information.
Seasonworkers.com
A U.K. site, provides a very diverse listing of jobs for all seasons around the globe. Also provided are tools by which those who have such work experience may stay in touch and network with past co-workers via their active messageboard.
Trees for Life: Volunteer
Volunteers needed to restore the native Caledonian Forest in Scotland.
WWOOF (Willing Workers on Organic Farms)
Provides a list of countries worldwide, including Europe, where members may exchange volunteer farm work for food, accommodation and opportunities to learn about organic lifestyles.