Jobs in Barcelona: Options for the Creative
A cafe in Barcelona for a break after your day at work.
It has become quite difficult to find work in Europe without a proper work permit, but I have found that with a little bit of creativity and tenacity it is still possible to find short-term work and odd jobs. In my case, I managed to work and survive in the Catalan capital of Barcelona for a whole year. After spending my entire sophomore year in a study abroad program at the University of Barcelona, I knew I couldn't go home right away. There were far too many fascinating and undiscovered places to see and there was no reason not to start right away.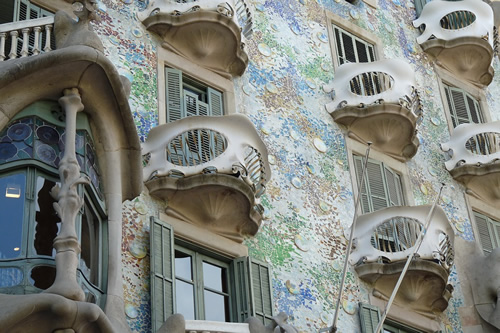 Gaudi's buildings, unique park designs, cathedral, and other works in Barcelona are just one aspect of its seductive character.
A friend agreed to put me up for two or three weeks until I found a room and a job. I had practically no money and no credentials, certifications, connections, or plans. But I knew the city well, spoke fluent Spanish, and spoke just enough Catalan to fool a native for a few minutes. A year later, I looked back at a diverse history of odd jobs: I had passed out beauty school fliers, made espresso at a small café, did some English tutoring, worked as a bilingual receptionist and bookkeeper, and held down the night shift at a youth hostel. I ended up with just enough money to buy a ticket home and enjoy my final month in Barcelona without working.
Preparation for Finding Jobs in Barcelona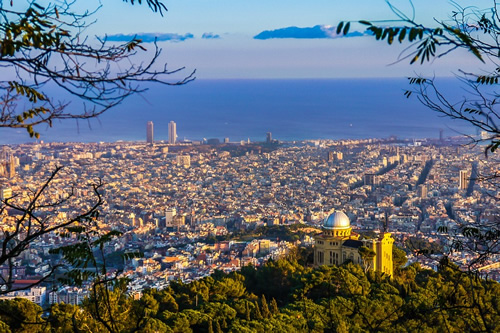 Barcelona is a big city with many short-term job options, including summer internships.
Know the language: The main reason I obtained most of my jobs was because I could speak fluent English and Spanish, although most jobs could also have been done with just a basic knowledge of Spanish. Keep in mind that in Spain you don't speak Español, you speak Castellano—they will call you on it. If you've been trained in Latin American Spanish, I'd suggest asking a professor or finding a book on your own about Spanish from Spain. Many words are different, and the meanings of some common words can be embarrassingly skewed. Understanding basic Catalan will help you as well, but it is difficult to find Catalan classes before going to Spain. Catalan is similar to Spanish and French, but with a different pronunciation.
Watch L'Auberge Espagnole: A jointly produced French and Spanish film made in 2002 about international students living in Barcelona. Besides the entertainment it offers, the movie provides a very realistic account of foreigners adapting to Spanish life, as well as the cultural norms and courtesies imposed by the Catalans. This is the most accurate representation of international student life in Barcelona that I've seen and feel like its worth seeing for anyone planning to take the journey. In the US you'll find it under its original French title or 'The Spanish Apartment.'
Browse Craigslist for jobs and apartments in the city. The website can be navigated in English and Spanish. A lively Facebook forum called Barcelona Expats can be very helpful and informative about all things Barcelona relating to the needs of potential and current expats.
Go for a Walk: Don't underestimate walking the neighborhood to search for job postings. I've found that Spanish people prefer human interaction and face-to-face meetings. The Spanish have a strong sense of local identity, whether it is connected to their country, state, city, or street, Most employers will post an ad on their door before going to a website like Loquo.com.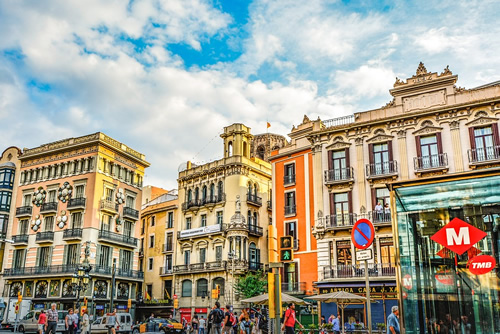 Barcelona is a great walking city where you can seek jobs door to door..
Prepare Your Resume: On a similar note, if you are applying for a job in Spain, people want to know who you are and what you look like— not just your qualifications. Nearly all professional resumes I saw in Spain included the applicant's sex, marital status, date of birth, nationality, children, and most importantly—a head shot. This might seem unnecessary, but a lot of places don't take applications without photos. My suggestion is to get a passport-type photo in one of the booths in the subway, and paste it onto your resume. I also recommend including a small section at the bottom detailing your interests so that potential employers can dig yet deeper into your personality and lifestyle. It is important to offer your resume in both English and Spanish. If you can't write a resume in proper Spanish, but could manage speaking it for a job, get some free student help through a language exchange (see more on this below). Finally, be aware that in Spain, and across most of Europe in general, the common term for "resume" is CV, or Curriculum Vitae. The most commonly requested information I saw in job postings was "cv con foto."
Find a Language Exchange: A free language and culture exchange, or "intercambio," is an invaluable and highly recommended resource to take advantage of in Barcelona. Generally, two people speaking different native languages meet weekly/monthly for an hour or two conversing or correcting homework for equal amounts of time in each other's native language. First and foremost, conversation in Spanish with a native will do far more for you than any text book. You can bring your resume and cover letter to be edited. You also gain valuable contacts in the city and make new friends.
There are two ways to go about finding a cultural or language exchange. Loquo.com has an "intercambio" or exchange category where locals and visitors alike are searching for conversation in other languages—mainly English. Another place to find postings, or leave your own, is on the inside wall of the University of Barcelona's central campus, which houses their foreign language department. The campus is located in Plaça Universitat, just around the corner from Plaça Catalunya. Take the metro Red or Purple line to "Universitat" and head for the only building that bears resemblance to a University. People post fliers all over this campus, though the bulk of them are just outside the cafeteria. Most students on campus are studying English as well as other languages, and are constantly looking for native speakers to exchange conversation.
If you're a woman, be aware that many Spanish men are more aggressive in their courting tactics than Americans, and when a listing specifically requests a female speaker, they may be less interested in actually learning a new language. A good general rule is to always meet your exchange partner at a café, school, or any other public place.
Types of Jobs Available in Barcelona
Fliers and Posters: This was a one-time gig that paid about seven euros an hour. There was a big college fair going on at Plaça Espanya where I passed out fliers for a private beauty school a few hours a day. From there, I walked the length of the "Diagonal" avenue all the way to Passeig de Gracia putting up posters for the school. I ended up with about 100 euros. This job didn't require any English, and very little Spanish apart from what was necessary to actually get the job, and it was a nice way to explore the city. There are also an unlimited supply of jobs for people wanting to pass out club and discotheque fliers in well-populated and touristy areas. Be aware that you'll need to initial each flier and get paid only on commission—and you'll be working in a pick-pocket hotbed until 3 a.m.
Barista: I found this job walking through my neighborhood. There was a Canadian flag in the window and a poster in English looking for a part-time barista. I'd never made coffee before but spoke English, and I accepted their rate of six euros an hour. Nearly all restaurants, cafes, and bars in the central city require visas and there's no shortage of European Union citizens to fill those positions. I was told that if anyone "official looking" came in, I should pretend I was just a friend helping out. However, getting a food service job without a work permit is a pretty rare occurrence in Barcelona, and depends a lot on luck.
Private English Tutor: Without any degree or certification I managed to find a few English tutoring jobs. It wasn't easy to do. I went to quite a few interviews for school or business English classes but without a TESOL/TEFL certificate or the equivalent, the only tutoring jobs I could find were private. With my only qualification being a native English speaker, I found it easiest to teach beginners and children. I kept my focus on pronunciation as opposed to gritty grammar. I charged 10 euros an hour, but experienced private tutors can expect to earn a livable income.
Internships, including Summer and Seasonal: While there is often a fee attached by internship organizations who connect you to all kinds of businesses—from web design to sales—in Barcelona, the experience can be a great resume builder.
Bilingual Receptionist: In my interview, the current American receptionist and Spanish co-owner shot questions at me in both languages. After making it through a second interview, I was offered a part-time job working as a receptionist. Nine to three, six days a week, for the part-time salary of 300 euros a month. I was eventually let go with friendly regret and a bottle of Spanish wine for my inability to handle the company's bookkeeping.
Hostel Worker: By far the best job I had, and I would recommend it to any under-qualified and uncommitted traveler. I worked at a pretty small hostel on Escudellers, just a few short blocks from both La Rambla and Plaça Reial with only two front-desk employees. Spanish and English were imperative, not to mention a little patience. Larger hostels that have more than one person at the front desk don't always require fluency in both English and Spanish, so this may be a better route if you're not comfortable with your Castellano. I was hired to work the night shift, 5 p.m. to 9 a.m. four nights a week, all day Saturday and Sunday, and one day off each week. The job required a lot of getting up in the middle of the night, speaking in two languages at once, calling cabs, and recommending local haunts. If you don't already know, Barcelona is infamous for petty theft, and I had to deal with the local police on multiple occasions—over the phone and in person—whenever a hostel guest was robbed. There were great perks to go along with the job as well. I received 800 euros a month and a private room, although I shared bathroom facilities with guests. The hostel provided laundry facilities, a wireless internet, a nice patio, a full kitchen, and a cozy lounge—all at my disposal. A lot of the guests cooked meals and had drinks in our kitchen and would often offer a serving to their gracious hostess. Aside from getting free and unsolicited meals and drinks from guests, most people left behind a few things for the taking. I was almost able to sustain myself completely on the half-used bags of pasta and forgotten shampoo bottles that guests left behind each day. With the perks of this position, my personal expenses were next to nothing. I was able to save almost all of my salary, and put it towards my last hurrah in Barcelona as well as buy a plane ticket home.
In the end, this all would not have happened without some support from my parents and my student loans, though it still would have been possible with the right initiative. If you can find a decent job at a hostel, English language school, or restaurant, you should be able to live comfortably for as long as you wish. If you are just trying to extend your vacation or study abroad for a semester, there are plenty of odd jobs to be had. Just be cautious and choose wisely. Barcelona is at once full of scams and pickpockets, culture and adventure, and invaluable experiences for travelers.