Student Work Abroad Programs and Paid Summer Internships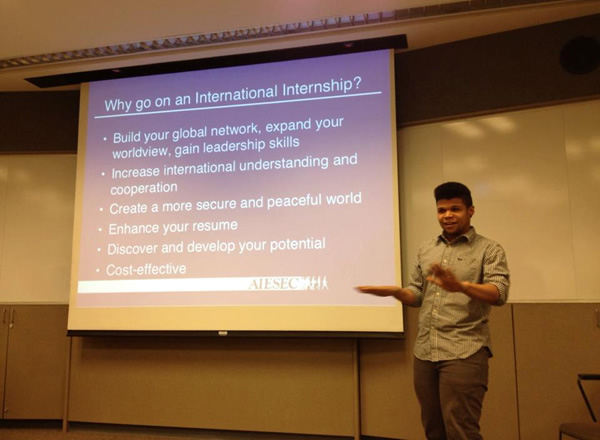 U.S. citizens need work permits to work legally in other countries and get paid. The student work abroad, internship, and work exchange programs listed below may be able to help you achieve this goal. Many take place during the summer, when students have finished their studies, and think forward to their careers. Internships are often paid after a small fee to the placement agency, though not all, as the experience working abroad is often invaluable by itself in building your international and personal resume.
Student Work Abroad Programs from InterExchange
InterExchange, a nonprofit organization with more than 50 years of cultural exchange experience, offers work and experiential learning programs for U.S. citizens around the world, including Au Pair, Teach English, Spanish Immersion and Work & Travel programs through InterExchange Working Abroad.

For non-U.S. citizens, InterExchange offers several inbound cultural exchange programs, including sponsorship and support services for international interns and trainees hosted by U.S. businesses; au pair placements across the United States; U.S. summer camp jobs; and work and travel programs in the U.S. Visit our website for more information.
Dates: Year-Round, Placements last 1 week to 2 years, depending on the program
Cost: Varies
Contact: Interexchange Working Abroad, 100 Wall Street, Suite 301, New York, NY 10005, USA.
Tel.: 212-924-0446; toll-free 1.800-597-3675.
Email: workabroad@interexchange.org
Website: www.InterExchange.org

Featured
BUNAC Working Adventures Worldwide
Since 1962, BUNAC have been enabling all young people to discover the world through life changing work and travel adventures. We are experts in providing programs that span a long list of countries: the UK on our Intern in Britain program, and Intern in Ireland programs. We provide assistance in getting your work permit and job hunting support in-country in Australia, New Zealand, and other locations. To find out more information, visit our website. 

Dates: Year-round
Contact: BUNAC USA, 585 N. Juniper Drive Suite 250, Chandler, AZ 85226
Tel.: 866-220-7771
Email: info@bunacusa.org,
Website: www.bunac.org/usa

Featured
LEAPNOW: Transforming Education — LEAPYEAR Program
Choose LEAPYEAR and embark on the most unique first year of college on the planet. Travel abroad for 10 weeks in Latin American or India with a group of your peers. Explore your interests in depth and get real-world experience during your 3-month individual internship chosen from over 6,300 options in 126 countries. Journey inward during 8 weeks of inner-directed retreats that will lay the groundwork for stepping into the world and providing a space to integrate your amazing experiences. Do all of this while receiving college credit! Experience the world while getting your degree.
Dates: February – August 2018
Cost: See website for details
Contact: LEAPNOW: Transforming Education,11640 Highway 128, Calistoga, CA 94515
Tel.: 707-431-7265
Email:info@leapnow.org
Website: leapnow.org

Featured
AIESEC is a worldwide student-run organization that generates thousands of paid internships, summer and year-round, each year in nearly 120 countries. The internships range from those with a business or technical focus to teaching English. You can only apply through campus chapters.
American-Scandinavian Foundation is an organization with a website that lists both study and work programs. Nonprofit organization offers paid internships in Scandinavia in engineering, teaching English as a foreign language, business, and agricultural fields. Apply for internships by late Dec. ASF also assists with obtaining work permits for Scandinavia.
Cultural Vistas is a nonprofit organization that offers paid internship programs worldwide in engineering and science. They can also assist in obtaining work permits for paid career-related practical training in most fields for both students and college graduates.
IAESTE is a non-profit organization that offers paid internships in 80+ countries for students of science, engineering and the applied arts. Low placement fees.
Teaching Assistantship Program in France (TAPIF): Paid Employment in France. Official information on study and work in France from the French government. Administers placement programs such as the Teaching Assistant and Internship in France for Americans between the ages of 20 and 35, with a payment of €790/month. Teaching positions are also available in such French-speaking overseas departments as French Guiana, Guadeloupe, Martinique, and Réunion.
Work Your Way Around The World by Susan Griffith. Not a program, but an authoritative guide that will help you look for and find short-term jobs while abroad. Extensive country-by-country narratives include firsthand reports by students and recent graduates.