Contracts Teaching English in Japan
The Westgate University Program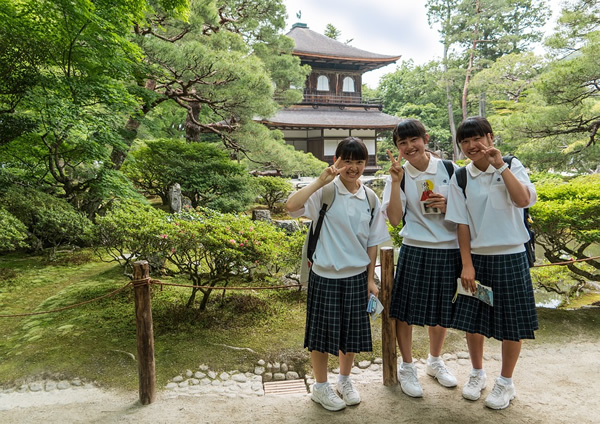 Students in Japan.
The prospect of teaching in Japan is an exciting one, yet it can also seem quite daunting. Many people are put off by the length of contracts offered by most Japanese schools. Major companies like AEON, and ECC require a 1-year commitment.
There are some alternatives though. Websites such as Gaijinpot.com supply an extensive list of teaching jobs that include both long- and short-term contracts.
The biggest company that deals in short-term contracts is the Westgate Corporation. For anyone who has at least one year of teaching experience and a desire to teach in Japan, Westgate might just be the best place to start. Based in Tokyo, the university program provides potential teachers with the opportunity to work for just three or four months, either in the spring or fall term.
For the person who really wants to experience Japan but is still uncertain about living there, this contract is ideal. It gives you a chance to get used to life in Japan—living costs, customs, places to go, etc. At the same time, you are not under any major obligation. The three or four months (whichever contract you choose) will go by very quickly. It almost feels like an extended vacation. From that point of view is also perfect for the teacher who wants to explore many different countries while working.
English Classes Fun for Students
On top of all that, the classes are fun. Despite the fact that it is a university program, the English lessons are not part of the student's actual curriculum. They are given the chance to study English on campus, but they have to pay for it. Students are therefore much more likely to be enthusiastic.
Like most English schools, Westgate's main objective is to ensure students are having fun. To aid teachers, there are plenty of resources available, including lesson plans, pictures, board games, etc. Each lesson is 50 minutes long. On average, an employee will teach six classes and have four open classes. Access to the internet is available during these free periods, and this proved extremely helpful with lesson planning.
One complaint expressed by some teachers was that once they had finished their lesson plan, they then had to go and teach that very same lesson six times during the course of the day. This can prove monotonous at times; however, it also gives teachers the chance to really work on and perfect their lessons.
For most teachers the day finishes at around seven and then they have to face up to the heavily crowded trains. This is one of the major pitfalls of living in Tokyo. It is an extremely busy city and can get a little much at times. Every once in a while it is good to take a break, and working with Westgate you are entitled to all the national holidays plus a week off near the half-way stage of your contract. When you consider how short the contract is, the break is generous, especially by Japanese standards.
Overall, Westgate was a very pleasant company to work for. A lot of trust was placed in the teacher. Teachers are provided nice apartments and a good salary. Everything is done to make things as comfortable as possible for employees. It is not hard to see why so many teachers renew their contracts.
For More Info
Requirements for Westgate
A degree plus one year of teaching experience as well as an interest in Japan.
Application Process
The interview is done over the phone after the applicant has completed the online application forms.
Websites for Teaching English jobs in Japan
Matthew Hernon worked for Westgate.